Top 8 Best Nightlife Cities In The United States
Dance clubs, music, drinks, and fun activities, these cities in the United States come alive at night, with people hanging out and enjoying their time and dancing the night away.
If you want to enjoy a nightlife full of joy, music, beers, and dancing, You don't have to travel far in America to find a destination that has great nightlife. The United States' vibrant cities offer everything from dive bars to swanky hotel lounges to trendy dance clubs. But some locales cater to night owls better than others. Check out these wonderful and perfect cities for nightlife where you can hang out with your friends all night long.
1. Miami Beach, Florida
Photo: EDM Sauce
Miami Beach is a south Florida island city, connected by bridges to mainland Miami. Wide beaches stretch from North Shore Open Space Park, past palm-lined Lummus Park to South Pointe Park. The southern end, South Beach, is known for its international cachet with models and celebrities, and its early-20th-century architecture in the Art Deco Historic district with pastel-colored buildings, especially on Ocean Drive.
As much as Miami is known for bright sunshine, it's also famous for its glittering nightlife. At the heart of the excitement, you'll find some of the most popular Miami Beach nightclubs and lounges right in the legendary Fontainebleau. Rock your night to four unique bars and clubs, each with its own flavor and décor, ranging from subdued to epic. Choose your style, from intimate lounges with a mellow vibe to high-energy nightclubs with celebrity hosts and DJs scratching their popular versions of today's thumpin' hits. Sip trendy cocktails and exclusive wines developed by renowned industry leaders and experience VIP bottle service fit for a rockstar. Fontainebleau Miami Beach's nightlife always has something special going on and don't be surprised if high rollers and A-listers are in the house and keeping it all to themselves until the wee hours.
2. Las Vegas
Photo: Vegas Magazine
Las Vegas, often known simply as Vegas, is the 26th-most populous city in the United States, the most populous city in the state of Nevada, and the county seat of Clark County. The city anchors the Las Vegas Valley metropolitan area and is the largest city within the greater Mojave Desert. Las Vegas is an internationally renowned major resort city, known primarily for its gambling, shopping, fine dining, entertainment, and nightlife. The Las Vegas Valley as a whole serves as the leading financial, commercial, and cultural center for Nevada.
Sin City, America's Playground, the Entertainment Capital of the World ... all worthy names for this Nevada hot spot. Think of Vegas as a theme park rather than a city – it can awe as much as it can overwhelm, and that's part of the appeal. This is a city where inhibitions are not welcome: Every night, Las Vegas draws pleasure mongers to the brightly lit Strip like moths to a flame. While you may not want to go as far as to reenact "The Hangover," you certainly don't want to leave without experiencing a bit of "Viva Las Vegas."
Today, Las Vegas can provide any kind of vacation you can imagine. You can opt for the traditional high-roller getaway complete with all-nighters at the blackjack table or TAO Nightclub. Or you can make it all about luxury with visits to hotel spas, high-end boutiques, and gourmet restaurants. Las Vegas is also a great jumping-off point for outdoor activities, such as hiking in Red Rock Canyon or visiting the Hoover Dam via a helicopter tour or a bus tour. You can even bring the kids along: Underage travelers will get a kick out of a Cirque du Soleil performance, the Bellagio Fountain show, and the Neon Museum.
3. New York City, New York
Photo: The Telegraph
NYC is rightfully known for its nightlife. Whether that means sophisticated cocktail dens, friendly dive bars, or bottle-service-only dance clubs, the City's after-dark entertainment is just as electrifying as it ever was. In this section, find out where to drink, dance, and listen to music—all around the five boroughs.
The top shopping destination in the USA has also the best nightlife destinations in the world. Depending on how you want to spend your time here, the Big Apple can be overwhelming. Each neighborhood has its own brand of bars and clubs. It is also the most expensive city in America and ranked as the least relaxing city according to a recent survey. Well, who wants to relax when you can have fun all night?
4. New Orleans, Louisiana
Photo: Tripster
New Orleans is a consolidated city-parish located along the Mississippi River in the southeastern region of the U.S. state of Louisiana. With a tabulated population of 383,997 in 2020, it is the most populous city in Louisiana. Serving as a major port, New Orleans is considered an economic and commercial hub for the broader Gulf Coast region of the United States.
New Orleans is known for its European-style architecture, mouth-watering Creole cuisine, and all-around good-time vibes. And as its backbone is music: Jazz, blues, rock 'n' roll, and Zydeco tunes ooze from every city crevice. But for many, the main reason to visit is Mardi Gras, an over-the-top party with Carnival traits, such as masks, music, floats, and merriment. Even if you don't make it to Mardi Gras, you'll still find a party year-round, with revelers pouring out of Bourbon Street clubs until the wee hours of the morning and a festival of some sort almost every weekend.
5. Chicago, Illinois
Photo: Choice Hotels
Chicago, officially the City of Chicago, is the most populous city in the U.S. state of Illinois, and the third most populous city in the United States, following New York City and Los Angeles. With a population of 2,746,388 in the 2020 census, it is also the most populous city in the Midwestern United States and the fifth most populous city in North America. Chicago is the county seat of Cook County, the second-most populous county in the U.S., while a small portion of the city's O'Hare Airport also extends into DuPage County. Chicago is the principal city of the Chicago metropolitan area, defined as either the U.S. Census Bureau's metropolitan statistical area (9.6 million people) or the combined statistical area (almost 10 million residents), often called Chicagoland. It is one of the 40 largest urban areas in the world.
America's third-largest city has been described in a myriad of ways throughout its lifetime. When Thomas Edison and Nikola Tesla were competing for the right to use their forms of electricity to illuminate the 1893 World's Columbian Exposition (also known as the Chicago World's Fair), Chicago was known as a city of industry. When Prohibition set in, notorious mobsters like Al Capone transformed Chicagoland into their own dangerous playground. And intense immigration surges throughout the 20th century brought a host of new identities to the Windy City, including Greek, Polish, Italian, Irish and Jewish.
6. Nashville, Tennessee
Photo: Culture Trip
Nashville is the capital and most populous city of the U.S. state of Tennessee. The city is the county seat of Davidson County and is located on the Cumberland River. With a population of 689,447 as of the 2020 United States census, it is the 21st most populous city in the United States and the third most populous in the Southeastern United States.
Named for Francis Nash, a general of the Continental Army during the American Revolutionary War, the city was founded in 1779. The city grew quickly due to its strategic location as a port on the Cumberland River and, in the 19th century, a railroad center. Nashville seceded with Tennessee during the American Civil War; in 1862 it was the first state capital in the Confederacy to fall to Union troops. After the war, the city reclaimed its position and developed a manufacturing base.
There's so much to the city rather than just country music. This place has bars that feature live music, dancing parties, karaoke, and a lot more that can keep you entertained all night long. There are all kinds of music in the restaurants and bars along Broadway in the 12 South area. Enjoy the city's longneck bottles along with dancing to the grooves.
7. Los Angeles, California
Photo: DJ Mag
Los Angeles is a sprawling Southern California city and the center of the nation's film and television industry. Near its iconic Hollywood sign, studios such as Paramount Pictures, Universal, and Warner Brothers offer behind-the-scenes tours. On Hollywood Boulevard, TCL Chinese Theatre displays celebrities' hands- and footprints, the Walk of Fame honors thousands of luminaries, and vendors sell maps to stars' homes.
A place where you can enjoy your nights in sports bars, comedy clubs, theatre performances and let's not forget nightclubs as well. LA's nightlife has always had musical performances that stand out from the rest. If you want to explore more, you can visit LA's five top outdoor ice skating rinks and have some fun with friends and family.
8. Austin, Texas
Photo: The Austinot
Austin is the capital city of the U.S. state of Texas, as well as the seat and largest city of Travis County, with portions extending into Hays and Williamson counties. Incorporated on December 27, 1839, it is the 11th-most populous city in the United States, the fourth-most-populous city in Texas, the second-most-populous state capital city after Phoenix, Arizona, and the most populous state capital that is not also the most populous city in its state. It has been one of the fastest-growing large cities in the United States since 2010.
Known as the "Live Music Capital of the World," Austin boasts more live music venues per capita than anywhere else in the nation. It has witnessed the early careers of several famous musicians, including Stevie Ray Vaughan, Janis Joplin, and the Dixie Chicks. Despite significant growth in recent years, Austin maintains a quirky, laid-back atmosphere that you won't find in other Texan cities. Outsiders tend to see the city as a home base for wacky characters, but Austinites revel in their eccentricity and proudly flaunt the city's motto, "Keep Austin Weird."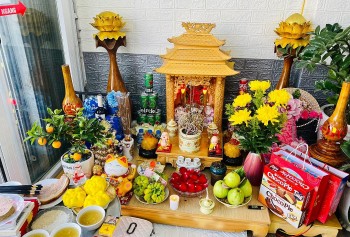 Handbook
Learn more about an ancient Vietnamese tradition that may bring you good fortune!