Top 8 Most Beautiful Homestays in Meo Vac, Ha Giang
During this autumn time, Meo Vac is one of the most famous traveling destinations in Vietnam for tourists.
Meo Vac locates in the Dong Van karst plateau park of Ha Giang province. It is the highland district in the North pole of Vietnam with a majestic view and peaceful atmosphere. Meo Vac is not only a charming land but also an ideal destination for tourists who love exploring and experiencing.
Meo Vac is considered one of the most well-known tourist destinations in Ha Giang. Even though it is just a small town, but its simple lifestyle and friendly people have drawn in many tourists from around Vietnam. In this article, we will introduce to you some of the best choices for homestays you can choose in Meo Vac on your trips.
1. Lo Lo Homestay & Cafe Meo Vac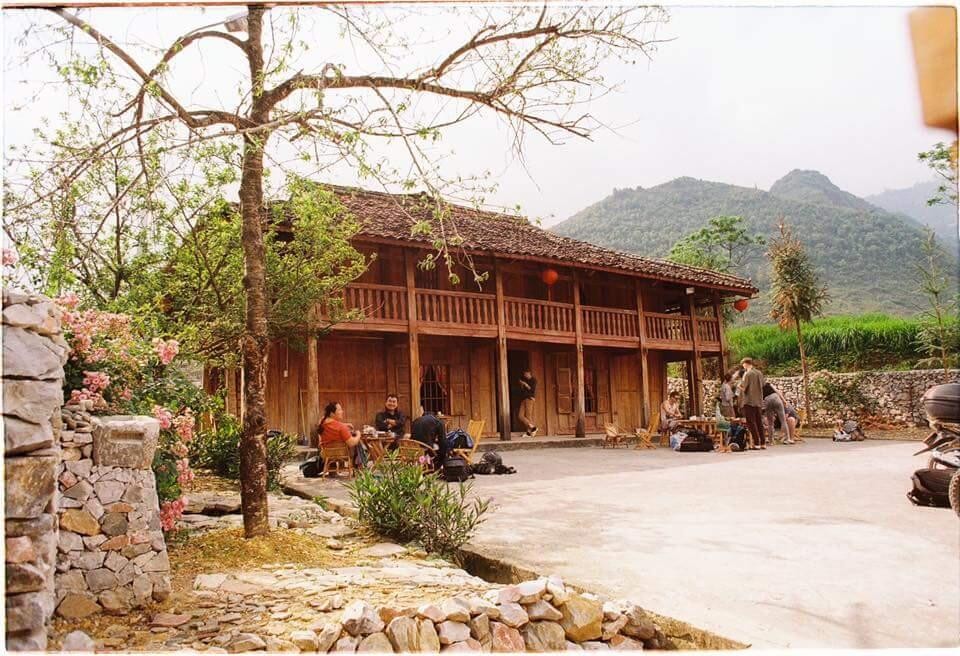 Photo: Wecheckin
Address: Sang Pa A village, Meo Vac town center, Ha Giang
This used to be the place of traditional cultural activities of the Lo Lo people, an ethnic minority group of about 4000 individuals in Vietnam. Coming to Lo Lo Homestay, tourists will have a chance to explore and learn about the unique cultures of this minority group living in Meo Vac.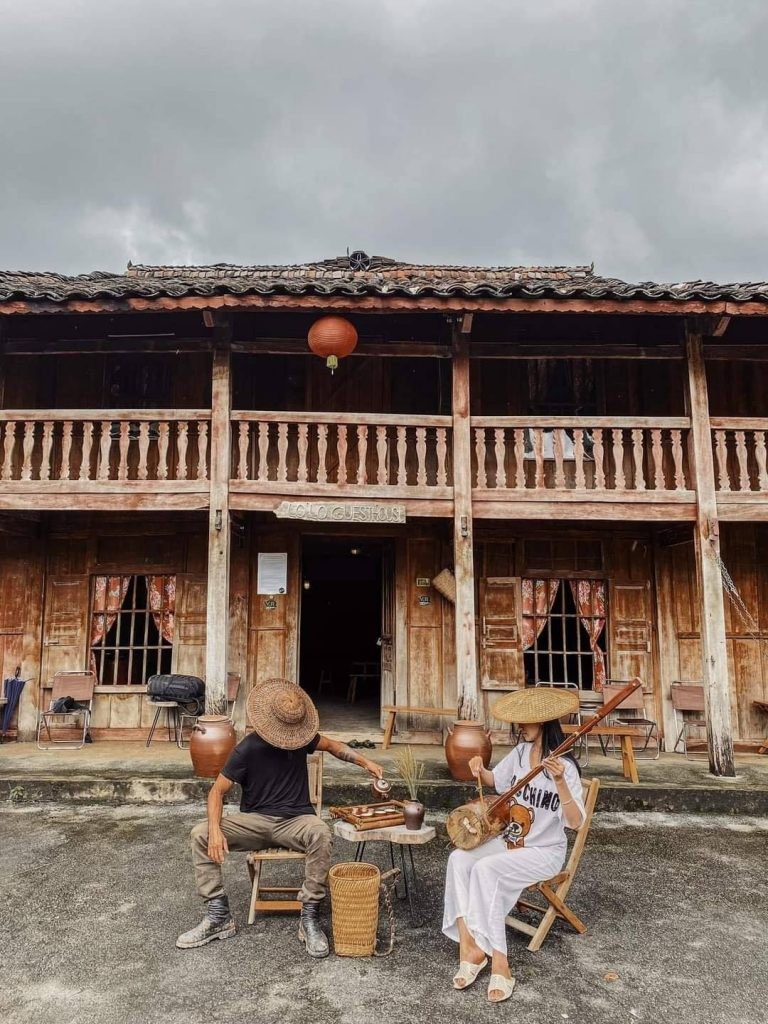 Photo: Wecheckin
The stilt house is located on a hill overlooking the majestic scenery of the rocky plateaus. Behind the homestay, you will see many trees such as peach, pear, and plum trees that can only be found in Ha Giang. The quiet, peaceful space with equipment and necessities that meet the tourist's needs such as wifi connection, hot water, washing machine, kitchen, etc.
The homestay also has a large front yard for people to gather around with their friends, sing together, or camping. The staff here is friendly and willing to help anyone with careful guidance and great service. If you are looking for a lovely place to stay in Meo Vac, do not forget to come here.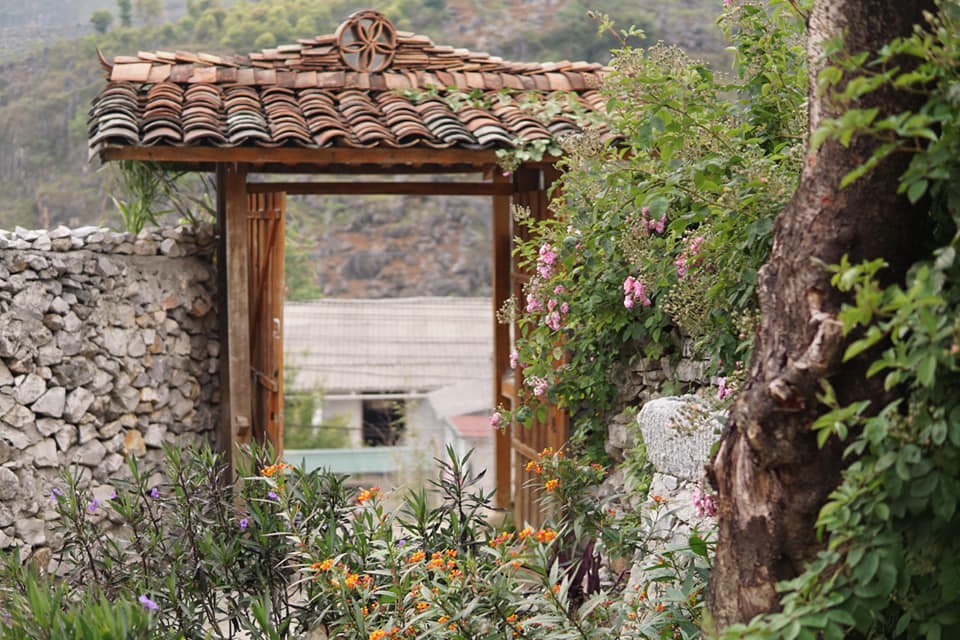 Photo: Wecheckin
2. Meo Vac_Auberge de Meo Vac – Mountain Lodge
Address: February 3rd Road, Meo Vac, Ha Giang
This homestay is also known as "The Inn of Dreamy Travelers". This is an old house called "Chung Pua", which was built like a fortress with 4 rows of roofed houses, connecting to form a quadrangle. Currently, the house has been restored and becomes a lovely place for guests to stay when they come to Meo Vac.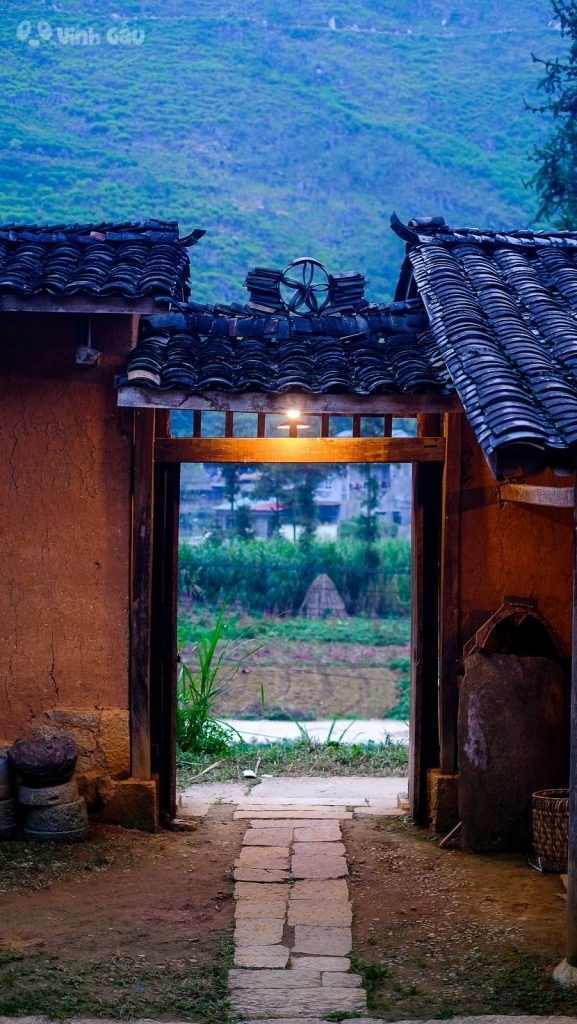 Photo: Vinh Gau
The homestay has its own characteristics to houses in the highlands of Ha Giang. From the roofs, and the earthen walls, to the wooden column of the house, all seem to recreate the image of traditional houses perfectly.
The rooms here are quite small and simple, but warm, with full types of equipment and everything guests, need to be comfortable. You can also enjoy the special meals of the H'Mong ethnic people in Ha Giang.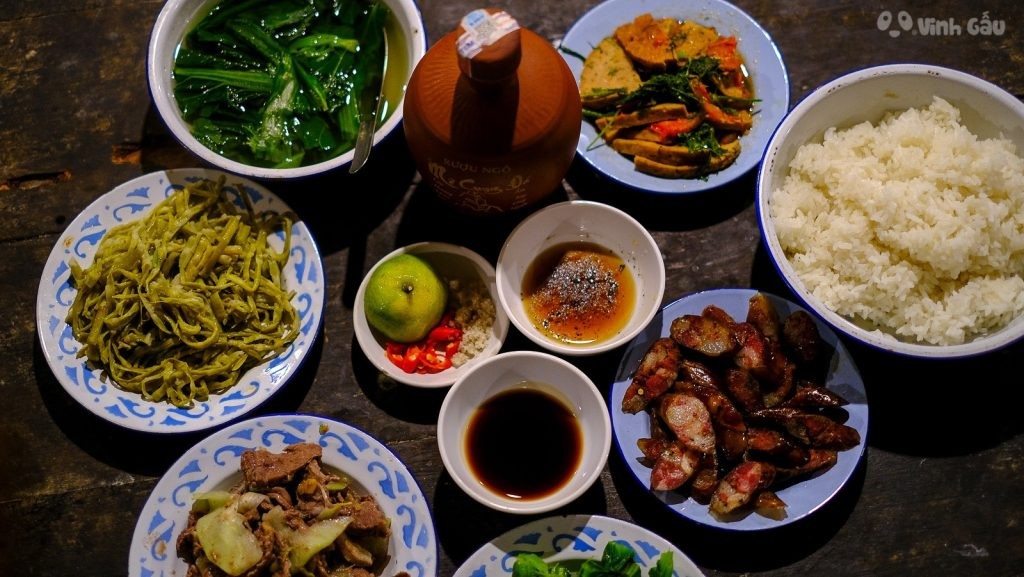 Photo: Wecheckin
There are 3 types of rooms including 3 single rooms, 2 double rooms, and dorm rooms that can accommodate about 12-14 people.
3. Meo Vac Valley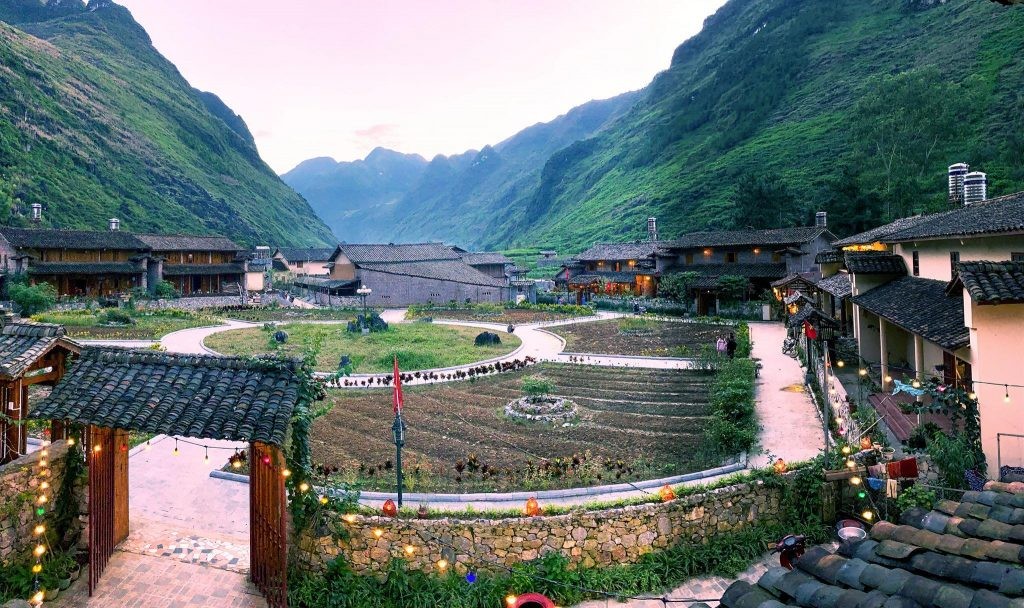 Photo: Wecheckin
Address: House A5, Zone A, Mong Meo Vac Ethnic Community Cultural Tourism Village, Ha Giang
Meo Vac Valley is a petit house located in the Hmong Cultural Village, in a small valley at the foot of Ma Pi Leng Pass.
The homestay is surrounded by tall mountains and hills, with a beautiful panoramic view of the natural scenery. It has full facilities, spacious rooms, and reasonable prices, which are convenient and comfortable for visitors staying here. Especially, the owner and the staff are friendly and enthusiastic and will give guests the best advice for a wonderful trip.
4. Ma Le Homestay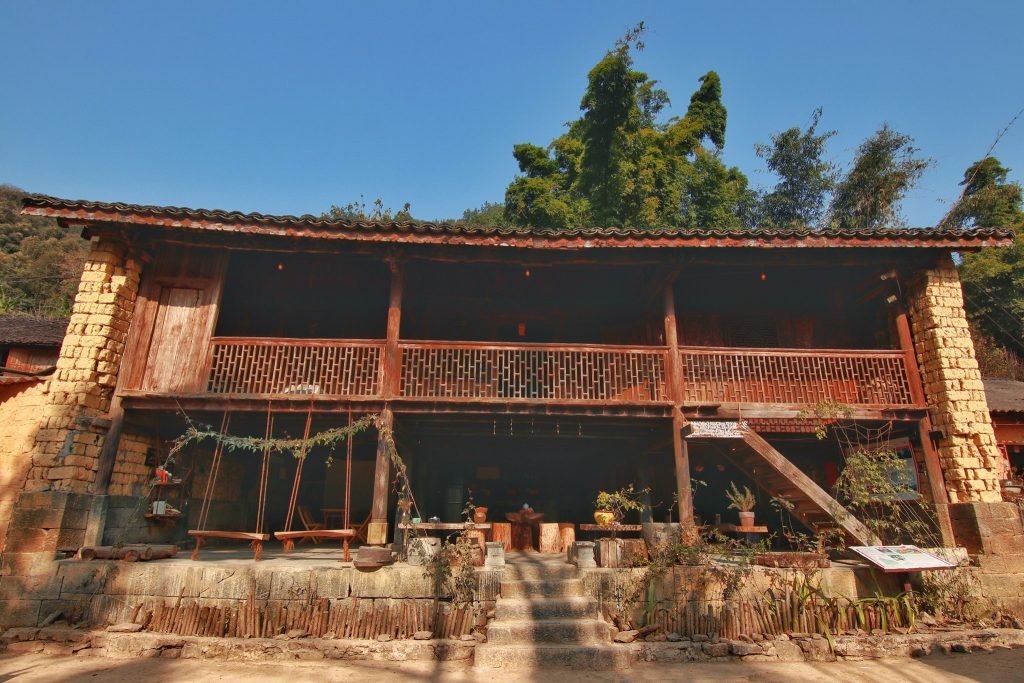 Photo: Wecheckin
Address: Ma Le Commune, Dong Van District, Ha Giang Province
Ma Le Homestay is a 200-year-old house in Ha Giang of Giay people, which is located in a small village with an alluring view. There are only about 20 houses in Ma Le, but the unique cultures of the Giay ethnic minority are highlighted and become the main theme of the homestay.
Even though this is not the most beautiful homestay in Meo Vac, Ma Le is still one of the best-recommended spots for tourists to stay when they travel to Ha Giang. The rooms at Ma Le have a balcony overlooking the mountains, and the visitors can enjoy the fresh air and the typical cool weather of Vietnam's northern mountainous areas.
The prices in Ma Le are reasonable and affordable for most tourists coming here. The owner of the homestay is an excellent cook and is also willing to help tourists understand more about the life of local people living in Meo Vac.
5. Meo Vac Clay House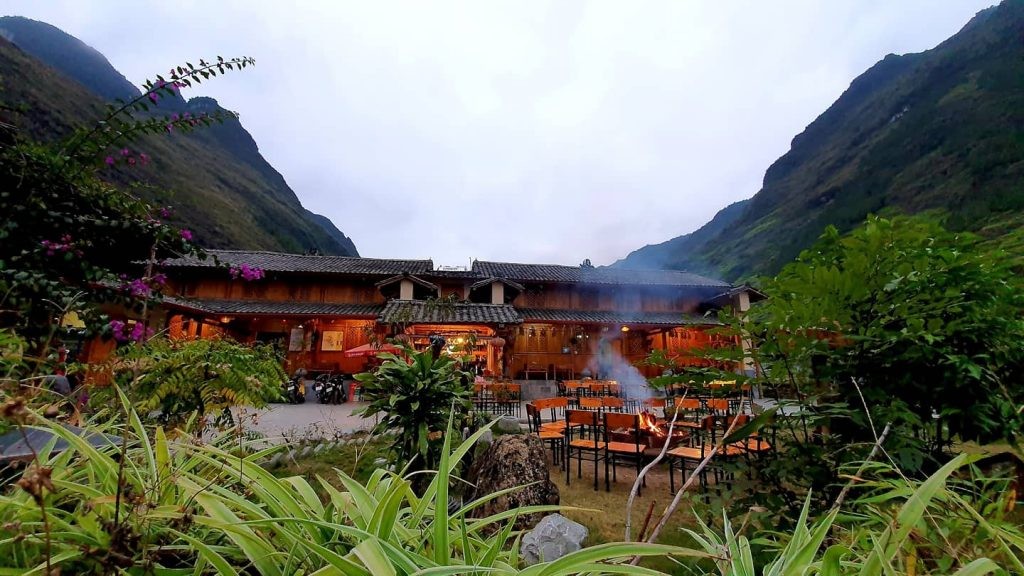 Photo: Wecheckin
Address: Cultural tourism village of the Mong ethnic group - Pa Vi - Meo Vac - Ha Giang Meo Vac, Ha Giang
Meo Vac Clay house is located in the Mong Ethnic Cultural Village, and the design is typical of the Mong people. Mong community tourism village is very well planned, and all are homestays gathered together to form a park in the middle.
The homestay is spacious, airy, and comfortable, with the mountains surrounding the place, creating a dreamy and majestic view. Nothing is better than waking up in the early morning, and having a hot cup of coffee while waiting for the foggy sky to clear, revealing beautiful, poetic scenery.
There are also foot massage services, and herbal baths for tourists to relax. The room is beautiful, luxurious, and comfortable, with a heating pad to keep you warm as the nights can be cold.
6. Little Yen's – Homestay
Photo: Wecheckin
Address: Pa Vi, Meo Vac, Ha Giang
Homestay is located right in the cultural village, near the majestic Ma Pi Leng pass and the market area, so it is very convenient for tourists to find and travel there.
This homestay will provide you with everything you need: comfortable rooms, delicious food and friendly staff. Guests coming here are mostly foreigners, so the services are very diverse. Not only a place to stay, Little Yen's Homestay is also a place to teach free English to local children. Little Yen's promises to bring the best experience and most affordable prices for tourists staying here.
7. Mong Lodge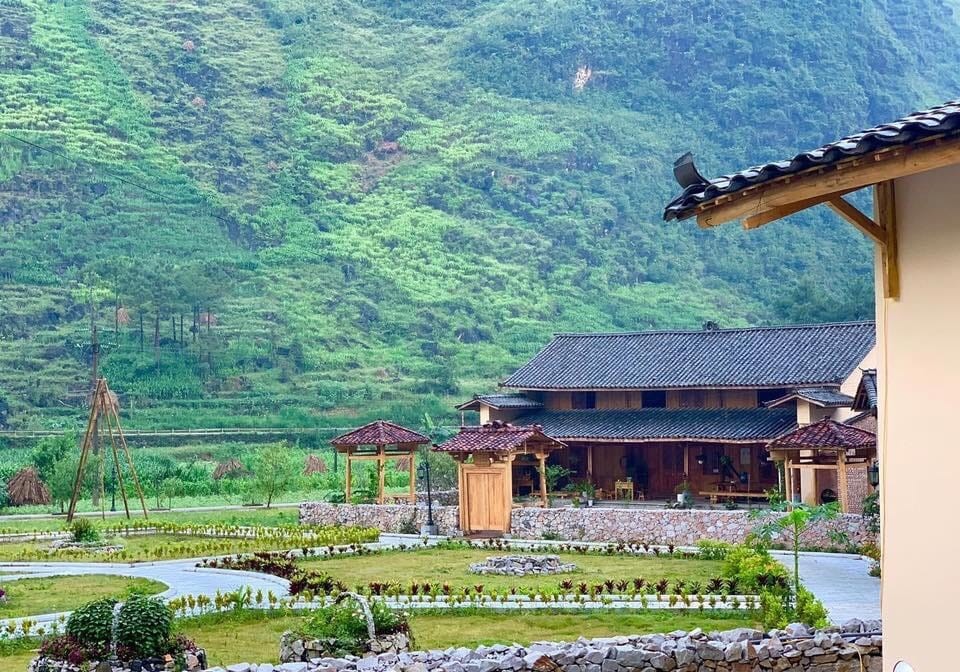 Photo: Wecheckin
Address: Hmong Ethnic Community Cultural Tourism Village Pa Vi Ha Hamlet, Meo Vac District, Ha Giang Province
Mong Lodge Meo Vac is located within the Hmong Ethnic Community Cultural Tourism village. The homestay is spacious, and clean, and brings a comfortable and welcomed feeling for tourists. The owner can speak English fluently, and the staff is friendly and enthusiastic.
In Mong Lodge, tourists will have their breakfasts served in the morning, and there are also lunch, dinner, and outdoor BBQ parties. The homestay has three kinds of rooms: single rooms, double rooms, and dorm rooms at a reasonable price.
At the homestay, there are free bicycles for those who want to roam around, immersing in the slow and peaceful life of Ha Giang.
8. Vivi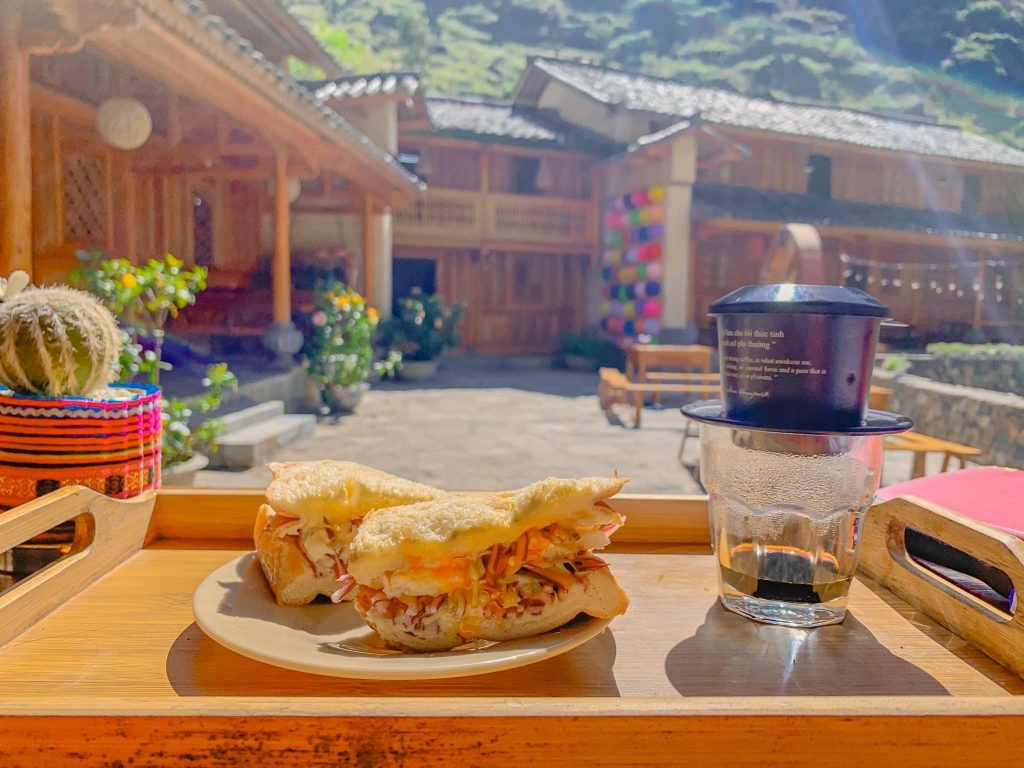 Photo: Wecheckin
Address: Pa Vi Ha Hamlet, Pa Vi Commune, Meo Vac District, Ha Giang
This is considered one of the most beautiful and charming homestays in Meo Vac. The owner and the staff are friendly with guests coming here, which creates a great impression the first time. You will not find anywhere else with such a peaceful and quiet atmosphere than this place, where you can rest and enjoy your time away from all the stress. This will be the best choice for any travelers coming to Meo Vac.
How to get to Meo Vac
The main ways to get around Meo Vac are by walking or taking a taxi. A few people may choose to rent a motorbike if they feel comfortable driving themselves, but most would prefer to just pay a driver. In Meo Vac town, visitors can safely walk around the streets as most things are situated close together.
Taxis can be used to travel to some of the nearby communes or to get from Meo Vac to Dong Van. Taxis can be expensive, depending on where you want to go, but travelers can get the best rates by asking their accommodation to pre-arrange a ride for less.
When to visit
Meo Vac's elevated mountain location means that unlike most of Vietnam, the town has 4 seasons throughout the year. Normally, Vietnam is known for having two – a wet and a dry, but in the northern parts of the country, the temperatures can drastically drop come wintertime. The off-season in Meo Vac spans most of the year as tourism drops from January to September.
Better weather conditions start in October and last until December. These fall months tend to have less rain and heat. The months also fall during a time when foreigners have vacations for the end of the year holidays, so more people are traveling internationally. While it can get cold, visitors shouldn't need more than a light jacket if they visit Meo Vac in the fall.
Amazing Cultural Sites across Vietnam

In the eye of foreign tourists, Vietnam appears colorful, from the magnificent landscape to the diverse culture and rich cuisine in these destinations.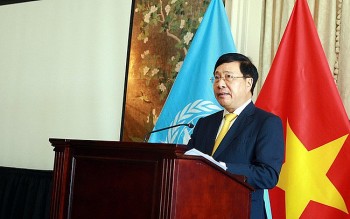 Friendship
Deputy Prime Minister Pham Binh Minh has asserted Vietnam's strong support for and commitment to the UN's role in leading and coordinating multilateral efforts to respond to global challenges.