Top Most Beautiful Tiny Houses in the World
Tiny houses might not have much interior space, but there's plenty of room for creativity. The following are some of the most luxurious and inventive residences around the world still cozy enough to qualify as tiny houses.
In recent years, nonprofits and private contractors have been offering increasingly original designs and amenities for this eco-friendly architectural trend, which in some cases undermine this housing option's affordability.
Working Amp House
The best thing about this 400-square-foot home in Fayetteville, Arkansas, isn't the main house, it's the attached 120-square-foot trailer that both looks and functions as a giant amplifier. This was the brainchild of Trans-Siberian Orchestra's electric violinist Asha Mevlana, who enlisted the help of designer Brian Crabb, among others, to build the adjoining L-shaped structure for her to play outdoor concerts at home and on the road.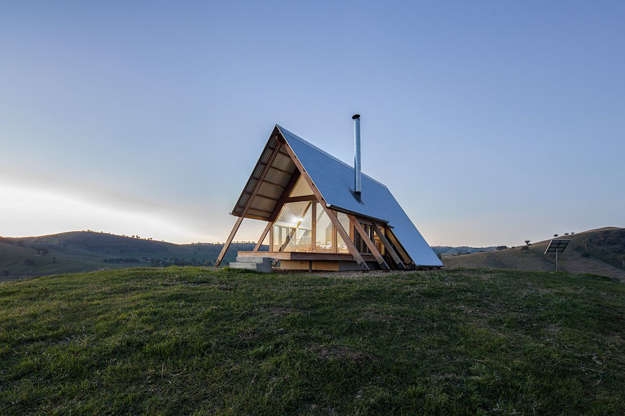 Photo: Crystal Zull Photography/ via MSN
This aerial view of the house shows the spaciousness of the home's deck area, which Mevlana uses as a stage that she sometimes shares with local musicians and those passing through town.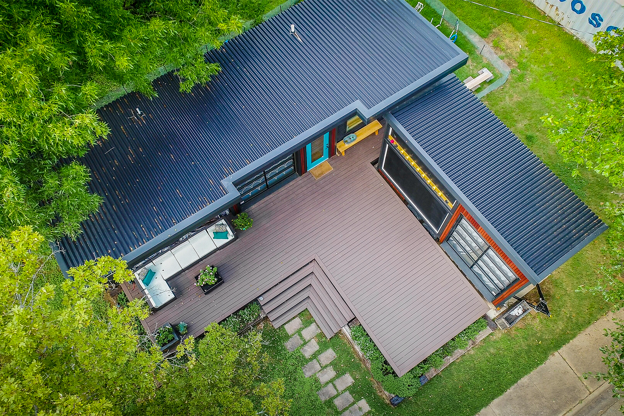 Photo: Crystal Zull Photography/ via MSN
The pot rack in Mevlana's kitchen lowers and raises via a welded bicycle crank pulley system. The kitchen countertops are Silestone, and the room also features a full-size cooktop and range, refrigerator, and stacked washer/dryer.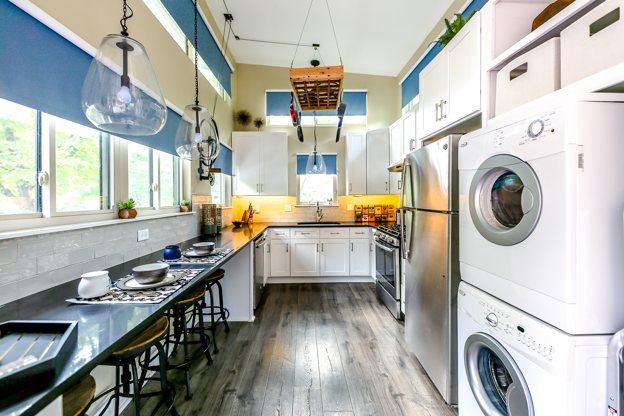 Photo: Crystal Zull Photography/ via MSN
Next to the kitchen is a living room space with a full-size couch. The garage door can be raised to bring the outside in and make the room feel even larger, according to MSN.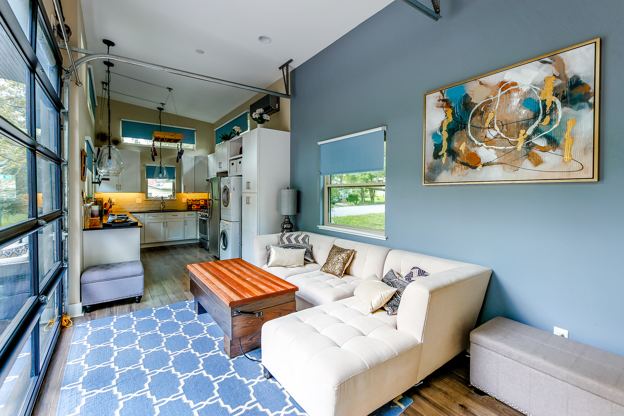 Photo: Crystal Zull Photography/ via MSN
Moon Dragon
Olympia, Washington, resident and small-living specialist Zyl Vardos built this evocatively named tiny house in 2016 using Dutch-style doors, mahogany ply walls, cork floors, large sleeping loft, full kitchen, and a curved shape reminiscent of a Hobbit home or other fairy tale dwelling. Priced at $117,000, the Moon Dragon house design isn't available to build until 2023.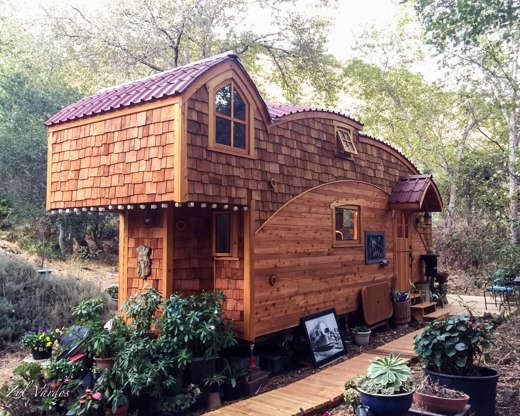 Photo: Crystal Zull Photography/ via MSN
One of Vardos' design stamps are windows of many different sizes, shapes, and even colors (he uses stained glass in some of his tiny houses). He also notes that his windows have solid wood frames, high-performance low-emissivity glass, stainless hinges, and weather sealing.
Vardos says that he builds some of his tiny houses "overwide" — the Moon Dragon is 9 feet across, allowing for plenty of elbow room in the kitchen, which also serves as a desk area. The loft bedroom even has a balcony and two closet spaces.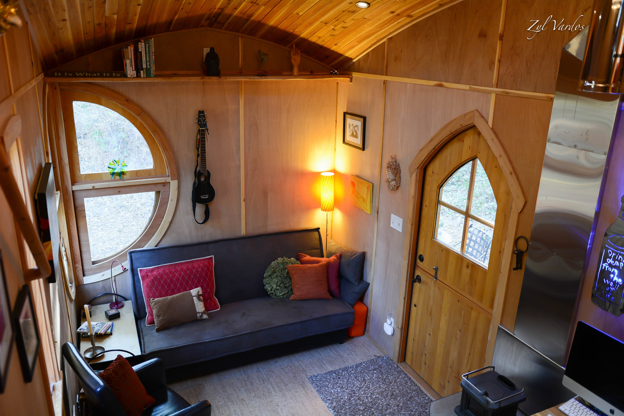 Photo: Crystal Zull Photography/ via MSN
The large, round corner windows and Dutch door let tons of natural light into the Moon Dragon's living space during the day, while the mahogany plywood walls allow for warm glows at night.
The tiny home's split Dutch door is accompanied by a custom porch light. Vardos works with a lot of custom craftsman and vendors to add details to his tiny structures.
Escape Homes' Vista
Introduced in 2016, this modernist design quickly became a bestseller for the Wisconsin-based contractor Escape Homes, which has been building well-equipped tiny homes and delivering them directly to customers for roughly 25 years. The 175-square-foot Vista sells for $54,354 and comes with pre-finished cedar siding and panoramic windows on the outside, hardwood flooring and optional kitchen range on the inside, and recycled cell foam insulation to help lodgers withstand any weather conditions.
Photo: Crystal Zull Photography/ via MSN
This tiny home's kitchen features maple cabinets, a stainless steel sink, butcher block countertops, and open shelving. Though it's not shown here, the model also offers an optional cooktop and range.
The home's panoramic windows combined with pine-lined walls and ceiling allow for tons of natural light. Escape Homes offers an optional pop-up flatscreen TV with Blu-ray option, too.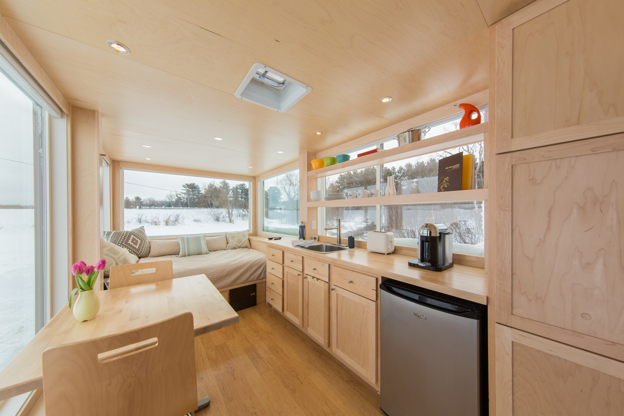 Photo: Crystal Zull Photography/ via MSN
The bedroom model comes with a double bed — with an option to upgrade to a queen size. The bedroom also features LED lighting and under-bed storage, and the panoramic windows in this space open.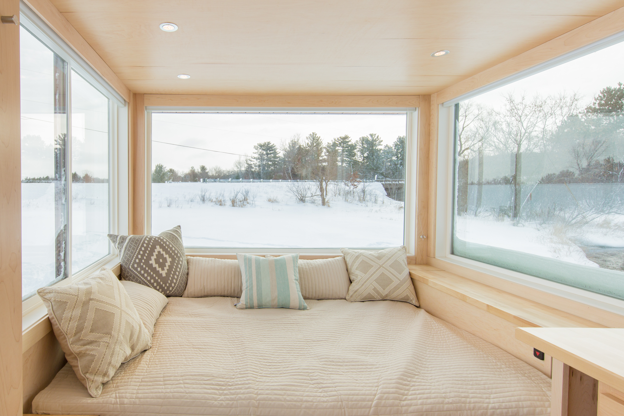 Photo: Crystal Zull Photography/ via MSN
Le Koroc
The Quebecois woodworkers at Daigno designed this tiny-house boat to be the perfect sustainable base for a summer lake trip, with a millwork cedar structure sitting atop a floating pontoon base. The boat draws from solar panels for electricity and propane fuel for its cooktop and heater, while the sink and shower use a custom-built system to draw clean water from a cistern or directly out of the lake. The most basic form of Le Koroc starts at $108,000.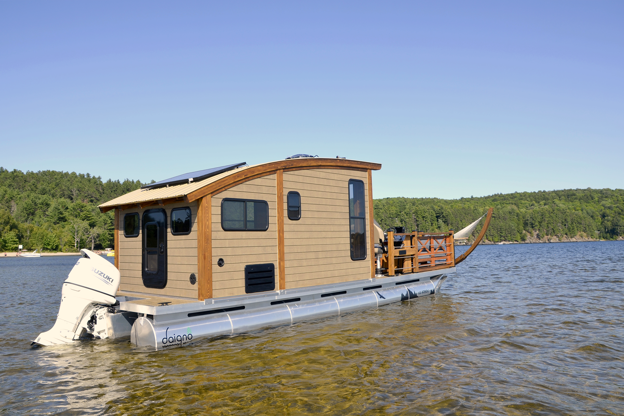 Photo: Crystal Zull Photography/ via MSN
With an emphasis on environmentally friendly products, this tiny home's interior uses responsibly logged white cedar and a lightweight architecture for a lower carbon footprint on the road and on the water.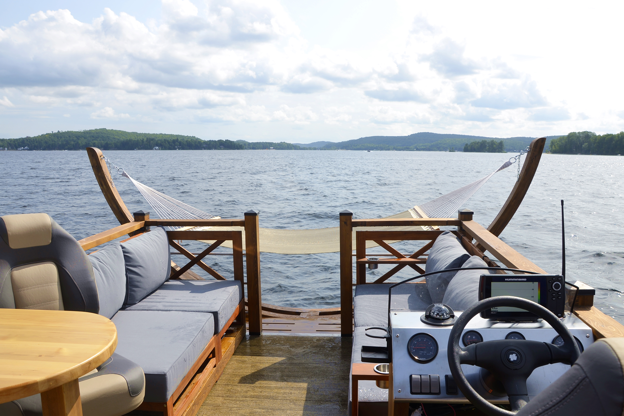 Photo: Crystal Zull Photography/ via MSN
A more expensive and larger version of Le Koroc — the L'équinoxe — allows for a hammock to be installed at the tiny home's bow end. This model incorporates a bistro table and stools, mini-bar, barbecue, and other additional features. It starts at $112,000.
In addition to stellar views out a wide window, the Le Koroc kitchen includes a two-burner propane stove, mini-fridge, and stainless steel sink.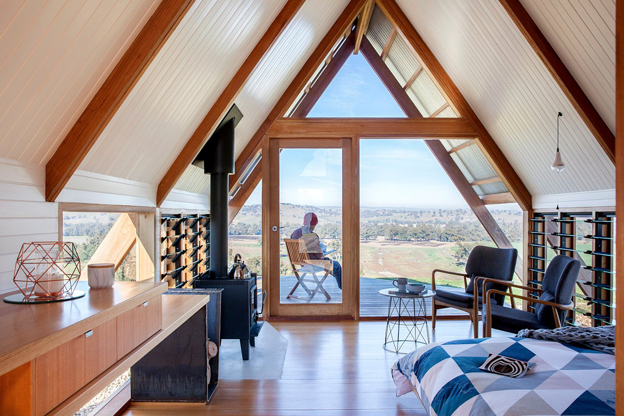 Photo: Crystal Zull Photography/ via MSN
JR's Hut
Located on a popular estate for weddings in New South Wales, this Australian tiny home is purposely remote from other dwellings to create a sense of off-the-grid solitude amid the area's rolling hills.
The JR's Hut's A-frame structure is an architectural standout built of local timber, steel, and galvanized iron. Though not many square feet, high ceilings give the impression of plenty of space.
Photo: Crystal Zull Photography/ via MSN
The open floorplan puts the bedroom, living area, and fireplace all in one area, while the glazed front wall and sustainable Australian hardwood deck make it easy to enjoy the scenery at all times.
This corner of the hut highlights views of the surrounding Murrumbidgee River flats and nearby rolling hills.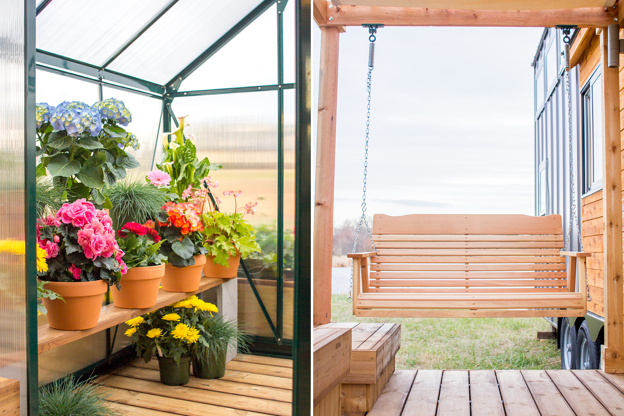 Photo: Crystal Zull Photography/ via MSN
Elsa
Built by Oliver Nest Tiny Homes, the Elsa is one for anyone who'd like to downsize without giving up their garden. The 323-square-foot main house has a bedroom loft and full kitchen and living area with pullout couch to accommodate guests, while an adjoining 85-square-foot trailer consists of a covered mini greenhouse to complement the wooden deck and porch swing. The model was previously listed and sold for $81,000.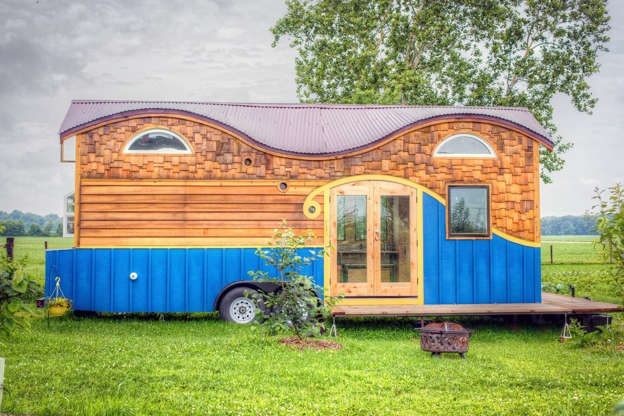 Photo: Crystal Zull Photography/ via MSN
The Elsa tiny home was built on a 28 foot by 8.5 foot trailer, including three 7,000 pound axels. Since tiny homes on wheels don't have a separate foundation, investing in a heavy-duty trailer bed foundation is essential to make sure that the home is well anchored. Originally, the Elsa came out to be 323 square feet, though Mary is currently in the process of redesigning the floor plan of the house to include a separate back bedroom, which will increase the overall square footage, as reported by Build With Rise.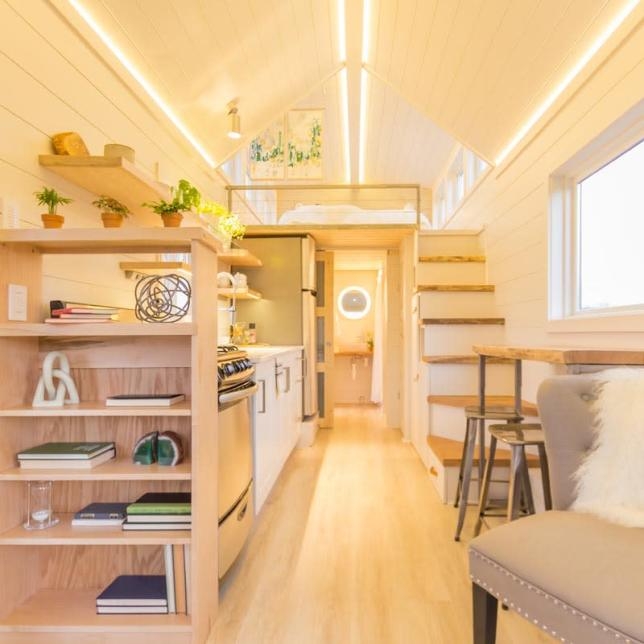 Photo Credit: Olive Nest Tiny Homes
Even with the original floor plan, however, the 323 square feet home includes a full-sized kitchen with a stovetop and oven. A pivoting bar allows for extra flexibility, depending on the number of occupants inside the home. When shifted next to the wall, the bar offers enough space for two people to comfortably eat. When guests are over, however, the bar can be pivoted out to allow for two extra people to share the table.