Top Ten Best Kids' Shows To Stream On Netflix
A great children's show is entertaining, sure, but it's also intellectually nutritional. That's why it's up to you to find a great Netflix series for your kids. Here is the list of top 10 best kids shows on Netflix that you should know.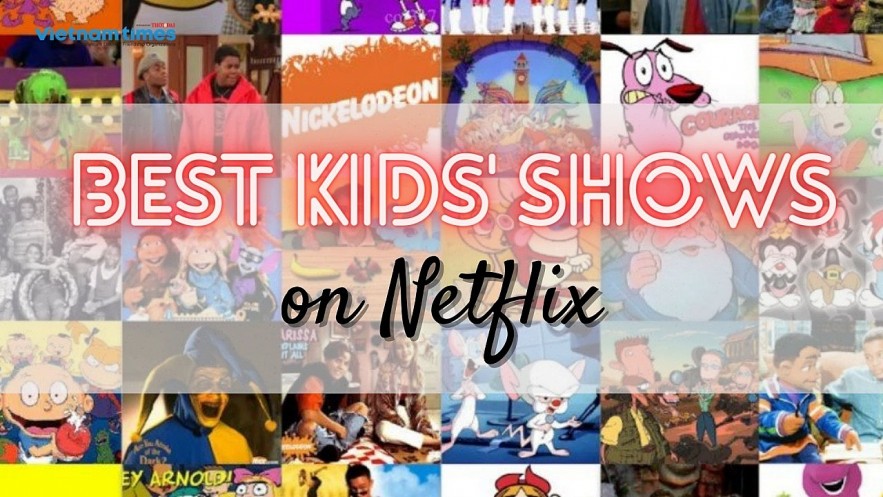 Best Kids Shows On Netflix. Photo: VNT.
When it comes to children's television, there's something so convenient about streaming something on Netflix. It's always on, the next episode is automatically at the ready, and you don't have to deal with commercials for things that your kids will inevitably bug you to buy after getting the jingles stuck in their heads. You just fire it up and start watching whatever you want.
But what to watch? Thankfully, there's a lot of choice, and the best Netflix kids' shows can rival the quality of prestige television for adults. For the littlest ones, you can find shows that teach them new words, help them identify emotions, or introduce them to the music.
1. Trolls: The Beat Goes On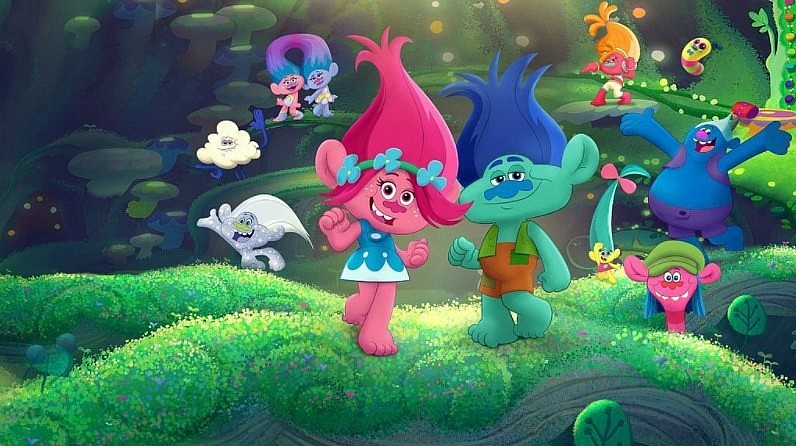 Photo: amomsimpression.
Parents need to know that Trolls: The Beat Goes On! features short (11 minutes each), playful cartoons with the characters from the hit Trolls movie, albeit with a mostly new voice cast (who do a great job). There are terrific messages hidden within the characters' kooky adventures and catchy tunes -- Poppy (Amanda Leighton) has to let go of her perfectionism and control-freak tendencies, while Branch (Skylar Astin) learns how to forgive. That said, some parents may find the show's potty humor a tad excessive, and some of the visual jokes (like the scene in a Bergen dungeon that features a leather-clad prison guard barking orders) are a bit eyebrow-raising.
The lighthearted Queen Poppy and the stick-in-the-mud Branch get up to more musical adventures in the spin-off series to Trolls. The bright colors and cute designs make this a pleasure to watch, as well as listen to.
2. Hilda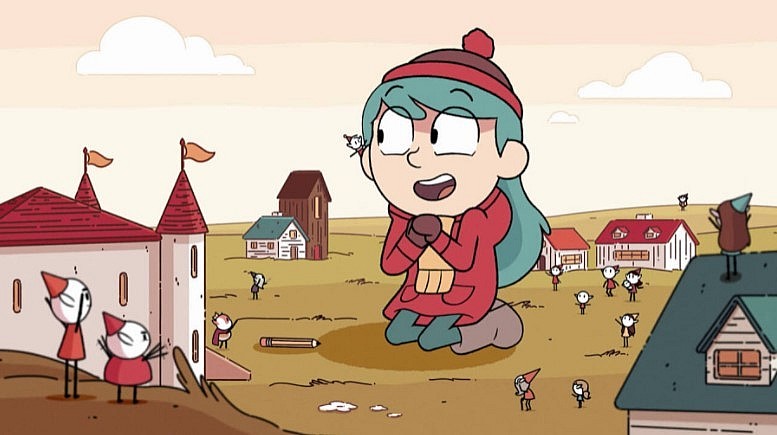 Photo: theseriesregulars.
Based on the comic book by British author Luke Pearson, comes this adorable, happy-go-lucky animated series, Hilda. There aren't enough words to describe how much joy this series brings, despite however old you may be. Hilda follows the story of a young little girl who lives with her mom in the wilderness amongst mythical creatures such as elves and giants. However, circumstances beyond their control move them into the big city where Hilda must learn to navigate through an entirely new environment, and perhaps the scariest thing of all–humans.
This animated series is absolutely uplifting and the type of show that reminds you what it's like to be a kid and how imagination once ruled our minds and took us to places beyond our wildest dreams. The best part about Hilda, is well, Hilda and her adorable British accent that has hooked you from the get-go, theseriesregulars reported.
Hilda is precisely the type of show that one should watch when you need to lift your spirits because despite it's spooky moments, it brings a certain level of optimism and sunshine into your life (and seriously, this is despite however old you may be). Hilda's imagination and her love for the wilderness make up the heart of the show, and there is a beautiful simplicity to her character that leaves your heart warm and gushy.
3. Carmen Sandiego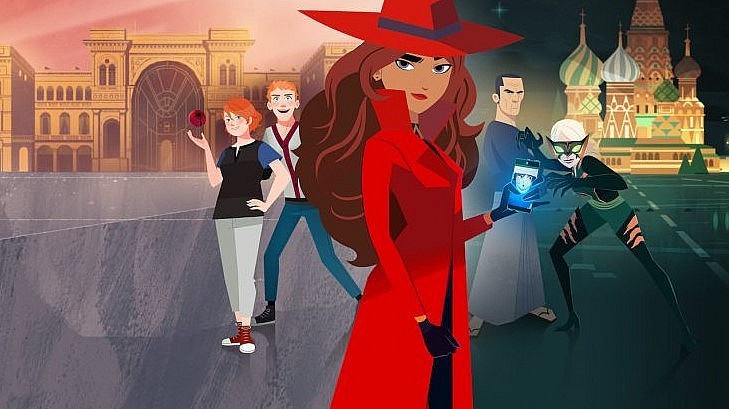 Photo: summary.
In this series, Carmen Sandiego is a master thief who uses her skills for good (while still imparting a lot of information about geography and history). Adults will recognize the voices of Gina Rodriguez from Jane the Virgin and Finn Wolfhard from Stranger Things. If the kids enjoy it, there's an interactive special: Carmen Sandiego: To Steal or Not to Steal, that launched on March 10.
A beautifully-animated series about a woman and her team traveling around the world, celebrating Halloween-like traditions of different cultures, all without any fear of social distancing. Living vicariously through Carmen Sandiego (Gina Rodriguez) is always a thrill, and if you are a fan of Seasons 1 & 2 of the show, Season 3 is definitely more of the same. If you watch it for only one thing, watch it for this: It makes masks fun again.
the season's fast-paced heists and informative world travels continue to be a delight. The show introduces a host of new, colorful characters, on both sides of the conflict, some of whom will hopefully return in future episodes.
4. Kipo and the Age of Wonderbeasts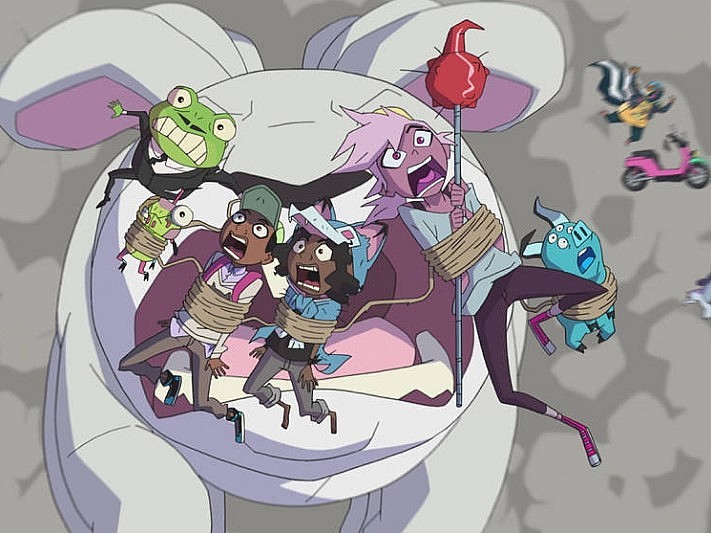 Courtesy: Netflix
There have been plenty of post-apocalyptic shows on Netflix, animated and otherwise, and they all involve the same thing: A person banding together with unlikely new friends to help each other survive. In that respect, Kipo And The Age Of Wonderbeasts is no different. But creator Radford Sechrist has made a strong case that his show is the best of that lot. In the first episode, he's done a great job of setting up Kipo's situation and the skills she's going to need to survive above ground. We will also be introduced to a world where these wonderbeasts don't just roar and grunt, but will have actual intelligence and communicate in English (among the celebrity animal voices: Deon Cole, John Hodgman, Joan Jett, and Lea DeLaria).
Sechrist also made the right decision to animate Kipo in anime style, despite the American origins of the show. Much of the action is smoother than traditional anime, but the slight judder in action, paired with the expressiveness of the characters' faces, are a great match for the voices. Fukuhara is especially good at Kipo, who doesn't pretend to know how to survive in this world and needs people like Wolf (and later, Benson, played by Coy Stewart) to teach her about all of these wonderbeasts. At the same time, we're going to see Kipo's memories of being with her father and her life underground, opening up yet another world to explore.
What unspools across its three seasons is a master class in high-stakes animated adventure full of fantastic world-building and extremely empathetic characters, anchored by a protagonist who wears her heart on her tattered sleeve. The Miyazaki vibes are strong in this one, from its gorgeous landscapes to its unbending sense of hope.
5. Jurassic World: Camp Cretaceous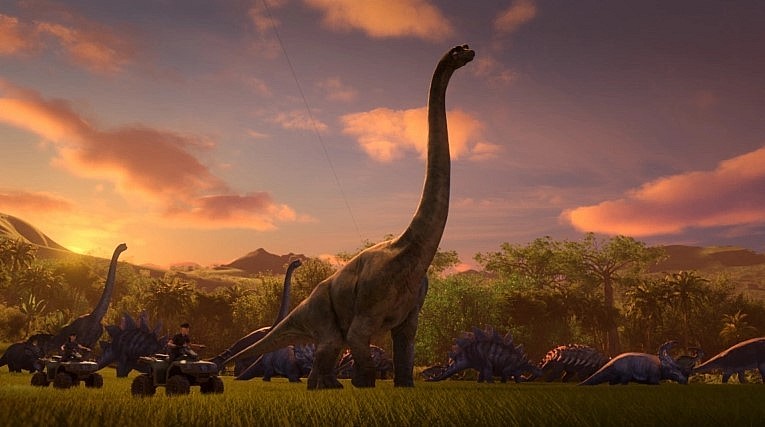 Courtesy: Netflix
If you're familiar with the legacy of Jurassic Park, you know the premise: there's a theme park full of genetically engineered dinosaurs (where some catastrophe always happens). Based on the events of the first season, the series takes place concurrent to the events in Jurassic World, in which a monstrous original dinosaur engineered by Dr. Henry Wu, the Indominus Rex, escapes to terrorize the park.
Dreamworks provides some really glorious animation, giving lavish details to herds of dinosaurs. One particularly beautiful scene involves bioluminescent parasaurolophuses; another is the emergence of an imperfect ankylosaurus baby emerging from her shell and imprinting on one of the campers. The inventions and conceits of the film series—especially the gyroscopes—are used with finesse. And as per usual with a Dreamworks project, the amount of time invested in creating sympathetic characters who the audience will root for is spot on.
One for budding paleontologists (that's all kids, right?) and anyone who loves their adventure to come with a side order of relatable teen drama. Jurassic Park director Steven Spielberg put his name to it, so expect things to get scary and life-threatening as a group of high-schoolers head to dino-haven Isla Nublar. The show's third season recently just dropped, so there's loads of episodes to keep any dinosaur-mad little ones entertained.
6. Waffles + Mochi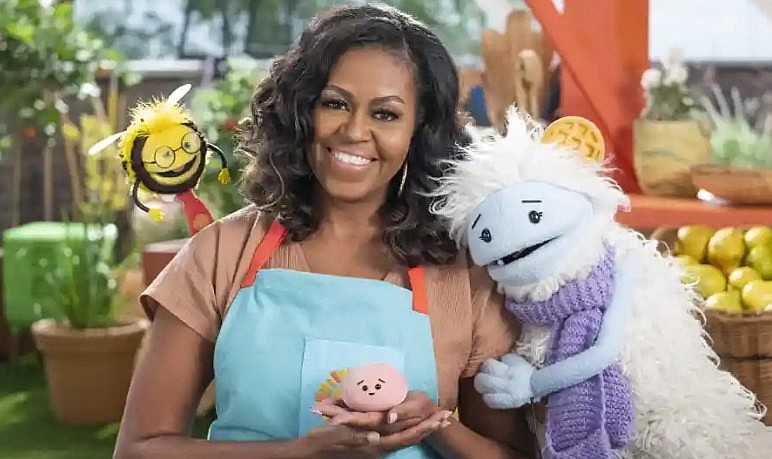 Michelle Obama in Waffles + Mochi: nutritional, geographical, emotional – a soup any open-hearted person can get behind. Photograph: Adam Rose/AP
The former first lady teams up with puppets to educate children about food in an overstuffed yet likable new Netflix series.
Waffles + Mochi, created by Erika Thormahlen and Jeremy Konner, with episodes directed by Konner and Alex Braverman, plays like the instructive, puppet-human collaboration formula of Sesame Street applied to nutritional and culinary literacy, with a dash of childlike whimsy. Waffles (puppeteer Michelle Zamora) is a half-Yeti, half frozen Eggos creature (with endearing waffles for ears), who does the speaking to companion Mochi's (a palm-sized puppet version of the Japanese food) wordless sounds. The duo are from the "land of frozen foods" (a gesture at diets that involve little to no cooking) and journey to a charmingly animated neighborhood grocery store in New York, where they aspire to get jobs sorting food. There they meet "Mrs O": Michelle in cameo as a friendly neighbor, accompanied by a neurotic busy bee, maintaining the winsome persona of her post-office years – loose, chatty, grounded.
Each of the 10 episodes, which run 20-25 minutes, focus on a different base ingredient, from produce such as tomatoes, mushrooms and corn to pantry staples including salt, herbs & spices, rice, pickles and water. Via the shopping cart, the puppets travel widely, from Peru to Japan to Oakland, for visits with local chefs and big names recruited by the Obama banner: Samin Nostrat of Salt, Fat, Acid, Heat instructs on tomatoes, while José Andrés endearingly whips up gazpacho while dancing. The travels wrap with a generally unassailable lesson from Mrs O – on moderation and trusting one's taste (salt), for example, or patience (pickles), or how families, to put it in kids speak, come in all shapes, sizes and color (rice AKA Mochi's lineage).
7. True and the Rainbow Kingdom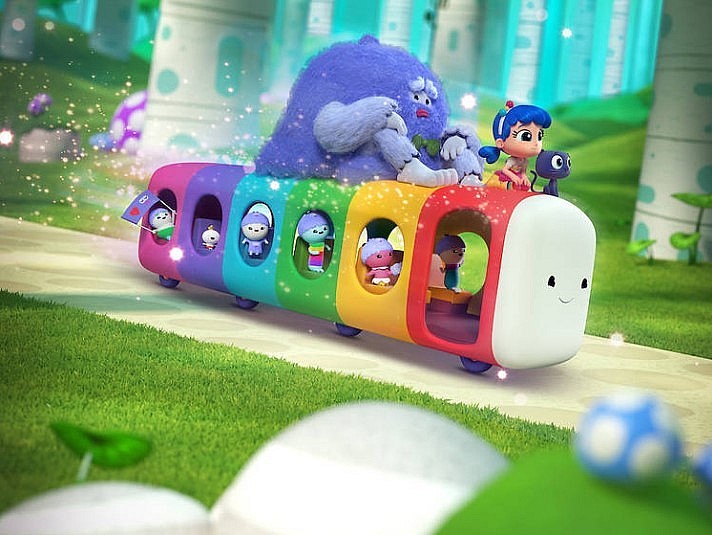 Image: Netflix
True and the Rainbow Kingdom stands out as a show that is great to watch with the little ones, you might even have a few laughs along the way.
Parents need to know that True and the Rainbow Kingdom is an animated series whose main character helps her friends solve their problems with a combination of magic and old-fashioned determination. The show is rich in positive examples of compassion, empathy, and kindness, made even more obvious in contrast to the actions of True's self-absorbed friend, Grizelda. The stories are less simplistic than many others geared toward the preschool set, and viewers will notice that the characters' efforts often don't achieve the desired result on the first (or even second) try, requiring patience and perseverance to prevail. Vibrant animation, whimsical characters, and wonderful music round out this endearing series.
These are super cute little fun balls that all look a little different depending on their function. If you think of them as giggling glitter Pokémon then you are on the right track and the writers obviously 'borrowed' that aesthetic. The wishes gurgle their own names and display unique traits that complement their power so in each episode their appearances are fun to watch out for, especially when it is genuinely unclear how they will be useful at first.
True and the Rainbow Kingdom is another sickeningly sweet show that is generally available by the fistful all over Netflix. But once you've had a few episodes skip past your eyes you'll find yourself chuckling and, heck, maybe even humming some of the songs. True does the typical repetitive thing in that certain key stages of the episode will have the same glitzy animation and tune combo – like True collecting or using any of her wishes. These moments invariably delight children but, gosh darn it, they are actually pretty satisfying as an adult too.
8. Ask the StoryBots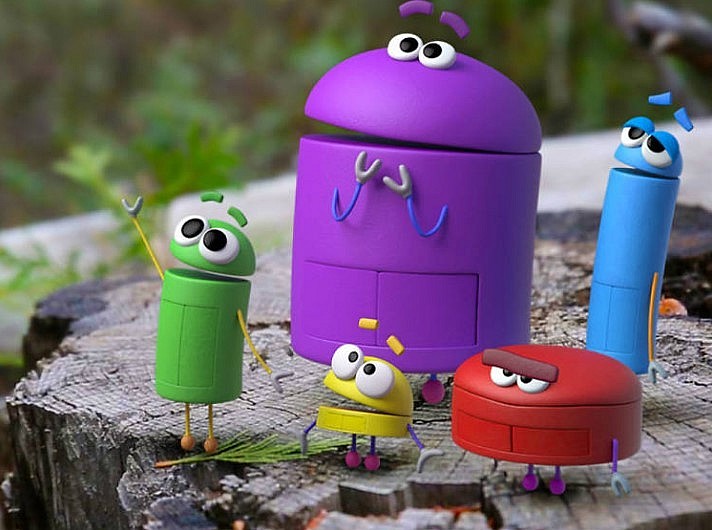 Courtesy: Netflix
While a ton of children's programming is connected to social-emotional themes (read: Daniel Tiger) the brilliance of Ask the StoryBots is that it's rooted in curiosity about the real world. Children ask questions like "what is gravity?" or "what is DNA?" and the StoryBots answer those questions. The creators of the series set out to make a show that they themselves would want to watch with their kids. And, the efforts hows. StoryBots is fun, funny and smart.
A stealthily educational franchise loaded with great original songs, Storybots follows the tradition of Sesame Street and The Electric Company, with a cadre of inquisitive alien robots (and special guests ranging from Kevin Smith to "Weird" Al, Snoop Dogg, Ali Wong and Edward Norton) spending each episode on life's biggest questions: Why do we need to brush our teeth? Where does rain come from? How do we catch a cold? And, crucially, what happens when we flush the toilet?
9. The Magic School Bus Rides Again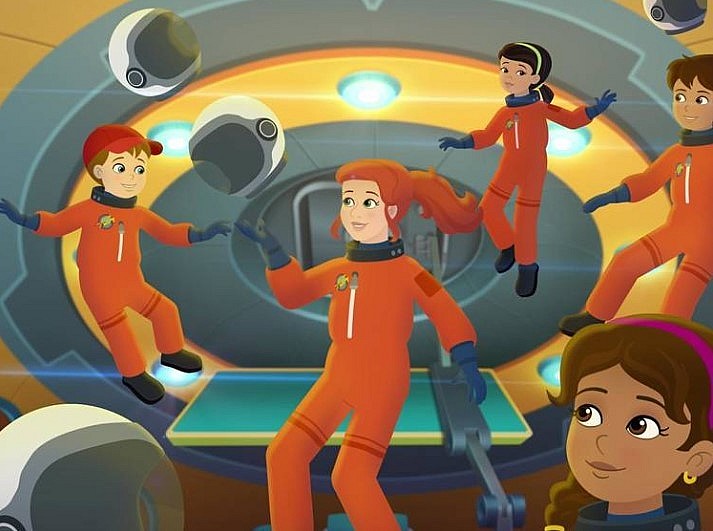 Courtesy: Netflix
The Magic School Bus rides again! The '90s gem follows Ms. Frizzle and her class as they journey on epic field trips. Now, a new generation is ready to devour the lovable series, with SNL's Kate McKinnon pulling voice duty as the world's most cosmic teacher. The Magic School Bus Rides Again: Kids in Space is a super-sized special episode of Netflix's Magic School Bus reboot, clocking in at 46 minutes of quality animated EDUTAINMENT. The bus is extra-magic this time, taking the form of a rocket piercing Earth's atmosphere and zooming to the International Space Station, where there will no doubt be some quality learning experiences.
When The Magic School Bus first rolled through the grey box in our living room 25 years ago to the sweet sounds of Little Richard's opening theme song, we exalted at the highlight of our elementary school storytime coming to life. Now you can relive the magic with your own kids and the Friz's little sister Fiona at the wheel, voiced by Kate McKinnon. Everything special about the original is still intact, with delightful guest stars and zany field trips through the microscopic, galactic, Cretaceous, and oft-overlooked parts of our time-space continuum providing a solid STEM overview for any age group. Plus, this time around Lin-Manuel Miranda serenades us through the opening titles. Seat belts, everyone!
10. The Worst Witch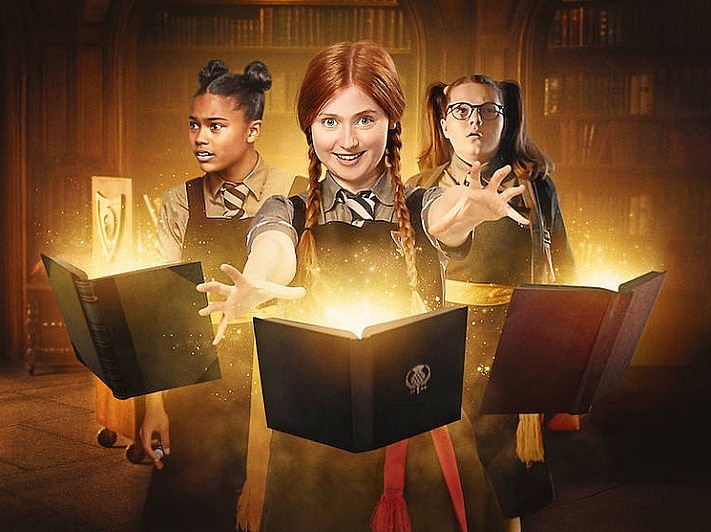 Courtesy: Netflix.
With nods to Harry Potter, The Worst Witch bookscome to life in this charming, fantastical Netflix series. During season four, the odd-witch-out, Mildred, competes against Ethel in a slew of magical pursuits in order to be named Head Girl. Based on an iconic British book series of the same name, and starring awkward Mildred Hubble, the action takes place in a boarding school complete with broom flights, and mischief. Student-professor tensions didn't hurt its appeal. The Worst Witch is a lighthearted adventure soap set in Cackle Academy that'll give schoolchildren with a flair for the occult a colorful mix of fringe role models and grand setpieces. As the show's budding witches grasp at their newfound powers and navigate the complexities of pre-teen life, your kids will laugh and cry alongside Mildred's missteps.
For a show centred on magic, the magic itself is not on high demand but whatever effects the show does employ are good. The show is shot at Peckforton Castle at Cheshire and Burg Hohenzollern in Germany, both gorgeous locations. Most of the production design is like a simpler Hogwarts, and that gives it a feeling of being a real school.
The Worst Witch is a simple but sweet and heart-warming show for young girls (and boys) on Netflix. It is the kind of television that takes empathy, goodness and having a value system as its base to weave a transient story that all kids would enjoy. At just half an hour per episode, its a breezy watch.
Top 7 Best Vietnamese Films on Netflix

Vietnam's film industry has recently received multiple international awards from Busan Film Festivals, Asian Film Festivals, or Vegas Movie Awards. If you are struggling to ...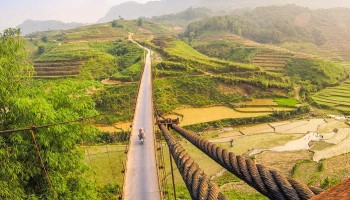 Travel
Visitors rate the 7 most amazing roads in Vietnam, weaving through mountains, jungles, and beaches, according to Lonely Planet magazine.