Tourists book tickets for holidays despite Covid-19 pandemic
Famous tourist destinations are expected to be crowded despite Covid-19 warnings, according to the booking data from leading travel firms.
After over a month without a single case of community transmission, many Vietnamese have booked to join tours during the four-day break (April 30-May 3) which marks Reunification Day (April 30) and Labor Day (May 1), according to VnExpress.
As of Tuesday, Vietravel reported it had reached 95 percent of its bookings target for the holiday. The company expects to serve a total 15,000 travelers, with many choosing to visit Sa Pa, Ha Long, Hanoi in the north, Phu Quoc Island in the south and coastal city Da Nang in the central region.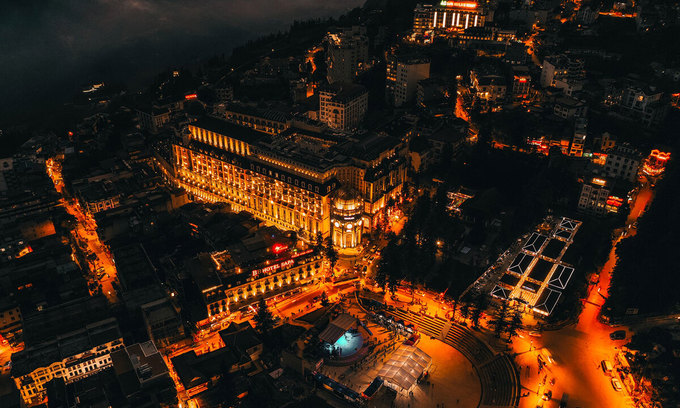 An aerial view of Sapa Town centre in Northern Vietnam. Photo: VnExpress
A company representative said no customers have canceled or delayed their tours despite complicated Covid-19 developments in neighboring countries.
Nguyen Cong Hoan, general director of Hanoi Redtours, said trips to the northeast region, including Ha Giang Province and Sa Pa Town in Lao Cai Province, or the central region were fully booked two weeks ago.
Hoan said after the Covid-19 outbreaks, Vietnamese now tend to visit nearby tourist destinations, with no one requesting to cancel their tours.
In addition to pandemic prevention measures as per Health Ministry protocol, Hanoi Redtours has asked all customers to submit health declarations before departure and install Bluezone, a Bluetooth-based app that helps determine if a person has come in contact with a Covid-19 patient.
Tran Thi Bao Thu of Fiditour, said Phu Quoc, Con Dao (in the south), Ha Giang and Sa Pa (in the north) and Da Lat (in the Central Highlands) are the most booked destinations during this holiday. Currently, her company has yet to receive any requests for tour cancelations.
Hanoitourist also reported all of its four-day tours had already been sold out.
Authorities' concerns over Covid-19 risks, however, are on the rise given the intensified outbreaks in neighboring countries like Cambodia, Thailand and Laos. Prime Minister Pham Minh Chinh on Monday ordered people's committee chairmen to ensure local residents wear face masks in crowded areas, saying crowded events should be limited.
Many localities across Vietnam, including major cities like Hanoi and Ho Chi Minh City, have canceled fireworks shows and crowded festivals to limit crowds.
Quang Ninh, home to UNESCO heritage site Ha Long Bay, on Monday announced the cancelation of all fireworks displays planned for April 30 to celebrate National Reunification Day and would instead use the money to buy medical equipment geared toward fighting Covid-19.
Provincial authorities also decided to cancel all cultural, sports and religious festivals from April 30 until May 23. Earlier, the northern province planned to host a range of events to boost its tourism revenue after many months of Covid-19 impacts.
Nghe An and Quang Tri provinces in central Vietnam and Ho Chi Minh City also decided to cancel fireworks shows on the night of April 30, while Hanoi and Da Nang stated they would not host pyrotechnic celebrations.
Hanoi authorities Tuesday ordered to suspend festivals and pedestrian zones in the city to prevent large crowds.
Several Southeast Asian countries including Cambodia, Laos and Thailand have been struggling with a significant surge in community transmissions linked to new variants while India is being shaken by a coronavirus storm.
Last weekend, thousands of people flocked to Sam Son beach town in Thanh Hoa Province, central Vietnam to attend the opening ceremony of a tourism festival, with many failing to wear face masks amid large crowds. The images in the media raised big concerns over Covid-19 risks.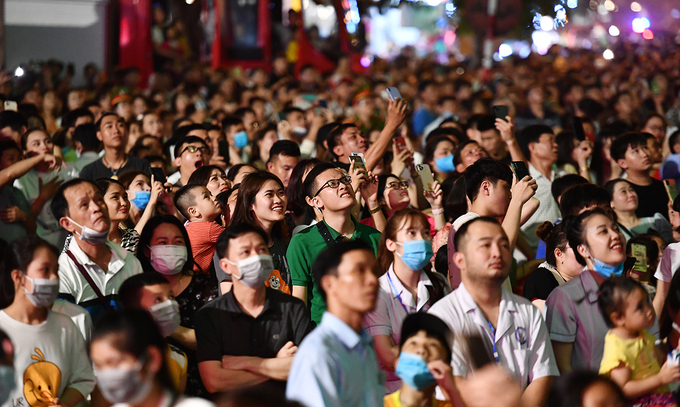 People gather at the opening ceremony of Sam Son beach tourism festival in Thanh Hoa Province, April 24, 2021. Photo by VnExpress/Le Hoang.
Vietnam has gone over one month without Covid-19 community transmissions.
Fireworks displays to mark major national celebrations like the Lunar New Year holiday or Tet, Reunification Day on April 30 and Independence Day on September 2 are a long-standing tradition in Vietnam.
This weekend, Vietnamese will enjoy a four-day break starting Friday to celebrate Reunification Day and Labor Day (May 1).