COVID 19 World Updates (July 13): Over 13 million infected, US still leads in number of cases
On July 12, the World Health Organization (WHO) recorded the number of new-borne coronavirus (SARS-CoV-2) infections causing Covid-19 acute respiratory infections during the day at a record high, with A total of 230,370 cases within 24 hours.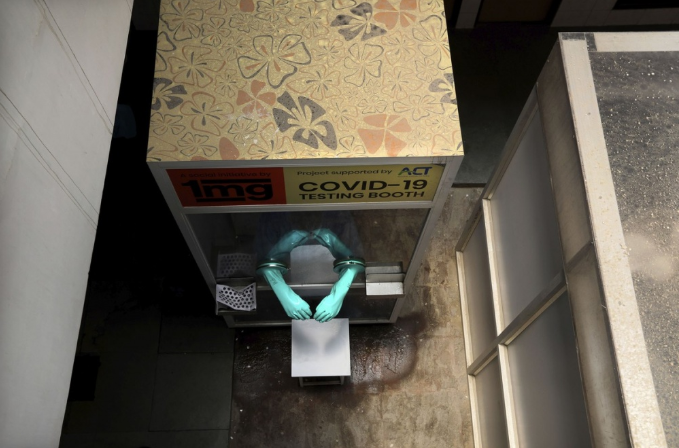 A health officer waits in a test room to take Covid-19 samples at a hospital in New Delhi, India (Photo: AP)
US situation shows no positive sign
The United States has reported another record increase of COVID-19 infections, with more than 66,500 new cases confirmed in the past 24 hours.
Notably, the Florida Department of Health has reported at least 15,299 new Covid-19 cases, the highest number of new cases in a single day by any state since the coronavirus pandemic began. The test positivity rate -- which can indicate how rampantly the virus is spreading- reached 19,6% as of Sunday, according to data from Johns Hopkins University.
Across the country, more than half the states are dealing with increased rates of new cases compared to last week. And more than half the states have paused or rolled back their reopening plans in hopes of getting coronavirus under control.
At least 33 states are seeing higher rates of new cases compared to the previous week, according to the Johns Hopkins data.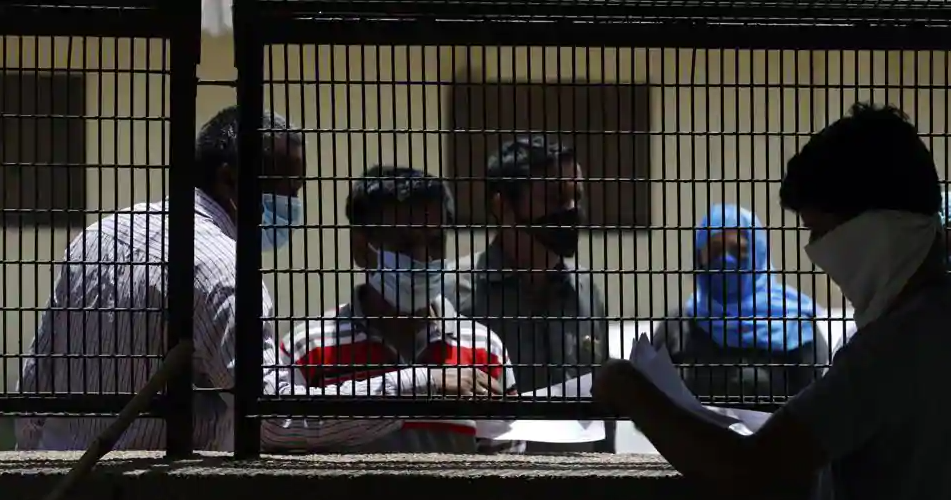 Maharashtra, Tamil Nadu, Delhi, Karnataka and Uttar Pradesh are among states with high caseload of Covid-19 (Photo: AP)
India recorded the biggest one-day jump in newly reported cases
According to Hindu Times, India's coronavirus caseload is nearing 850,000 with a record surge of 28,637 cases in the past 24 hours, prompting authorities to announce a week-long lockdown in the southern technology hub of Bangalore.
During the last 24 hours, 19,235 Covid-19 patients were cured and discharged, according to the health ministry's dashboard. There are 292,258 active cases of the viral disease in the country.
The cumulative number of recovered cases among Covid-19 patients had crossed the five lakh-mark on Saturday with "effective implementation of containment zones, surveillance activities, timely diagnosis and effective clinical management of COVID-19 cases", the government said in a release.
Maharashtra, Tamil Nadu, Delhi, Karnataka and Uttar Pradesh are among states with high caseload of Covid-19.
Several states across the country have put in new restrictions or extended lockdowns in areas which have reported an alarming surge in the cases of the coronavirus disease.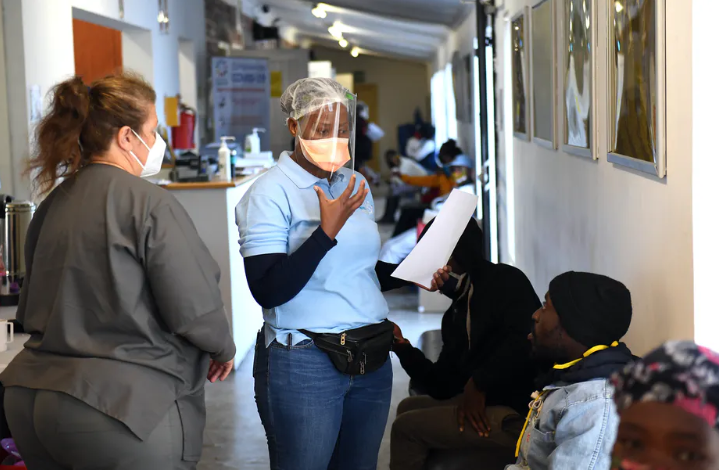 South Africa's death toll reaches 4000 (Photo: TheConversation)
South Africa's death toll reaches 4000
South Africa has reported 13,497 new coronavirus cases, reaching a total of 264,184, including 3,971 deaths. Health Minister Zweli Mkhize warns of a COVID-19 "storm".
President Cyril Ramaphosa, who issued out the update during his address on Sunday, expressed condolences to families of those who succumbed from complications related to the coronavirus.
"We mourn the loss of each and every one of those who have passed away, including Queen Noloyiso Sandile of AmaRharhabe and North West MEC Gordon Kegakilwe," Ramaphosa said.
South African President Cyril Ramaphosa says the country will immediately return to a ban on the sale of alcohol to reduce the volume of trauma patients so that hospitals have more beds to treat COVID-19 patients.
Confronted by surging hospitalizations due to the coronavirus, South Africa is also reinstating a night curfew to reduce traffic accidents and made it mandatory for all residents to wear face masks when in public.
Ramaphosa said that top health officials warn of impending shortages of hospital beds and medical oxygen as South Africa reaches a peak of COVID-19 cases, expected between the end of July and September.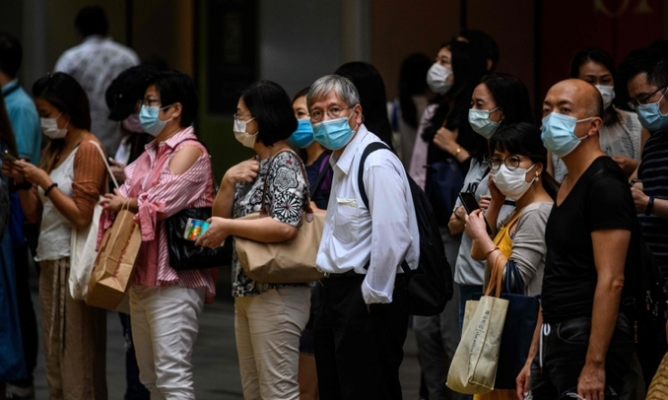 Hong Kong people wear masks on the street (Photo: AFP)
Hong Kong reports 38 new COVID-19 cases
Hong Kong's Center for Health Protection (CHP) reported Sunday 38 additional confirmed cases of COVID-19, including 30 local infections.
The newly reported cases brought the total number of confirmed COVID-19 cases in Hong Kong to 1,469.
Among the 30 local cases, 17 are related to the cases confirmed earlier and the rest are with unknown sources of infection, Chuang Shuk-Kwan, head of the CHP's Communicable Disease Branch, said at a media briefing on Sunday afternoon.
Hong Kong's Hospital Authority said, as of Sunday, a total of 1,214 patients with confirmed or probable infections have been discharged, while 205 confirmed patients are currently hospitalized.
Chief Executive of China's Hong Kong Special Administrative Region (HKSAR) Carrie Lam said Sunday on social media that the epidemic has become serious again recently, and she and her team are reviewing the situation every day and trying their best to deal with it.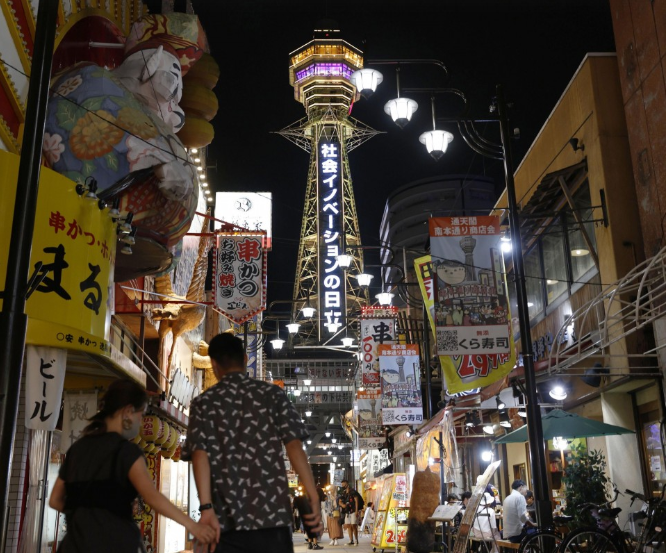 Tsutenkaku Tower in Osaka lit up in yellow, implying the seriousness of the pandemic (Photo: Kyoto News)
Tokyo's new COVID-19 cases top 200 for record 4th day
Tokyo reported 206 novel coronavirus infections Sunday, marking a record fourth straight day of more than 200 new cases, as signs of a resurgence of the pandemic were also seen in neighboring prefectures and Osaka.
Tokyo's single-day figure, the same as on Saturday, was reported amid increasing concern among the public as well as authorities about a potential second wave, given that infection routes for nearly half of the total positive cases confirmed Sunday were unknown.
As of Sunday evening, another 409 cases had been reported across Japan, with Chiba and Osaka prefectures seeing their highest figures since a state of emergency was lifted in May.
Tokyo's cumulative total reached 7,927, accounting for nearly a third of the around 22,600 confirmed cases in the country of COVID-19, the respiratory illness caused by the virus, including 712 from the Diamond Princess cruise ship that was quarantined in Yokohama near Tokyo in February.
Despite the uptick, none of those confirmed by the Tokyo metropolitan government as infected Sunday, as well as in recent days, were in serious condition, with roughly 70 percent in their 30s or younger.