Tran To Nga Honored for Supporting Agent Orange Victims
The Vietnam Association for Victims of Agent Orange/Dioxin has just awarded Tran To Nga, an overseas Vietnamese in France, a certificate for the Victims of Agent Orange. This is to recognize her merits in fighting for justice for Agent Orange victims and having activities to support the victims in Vietnam.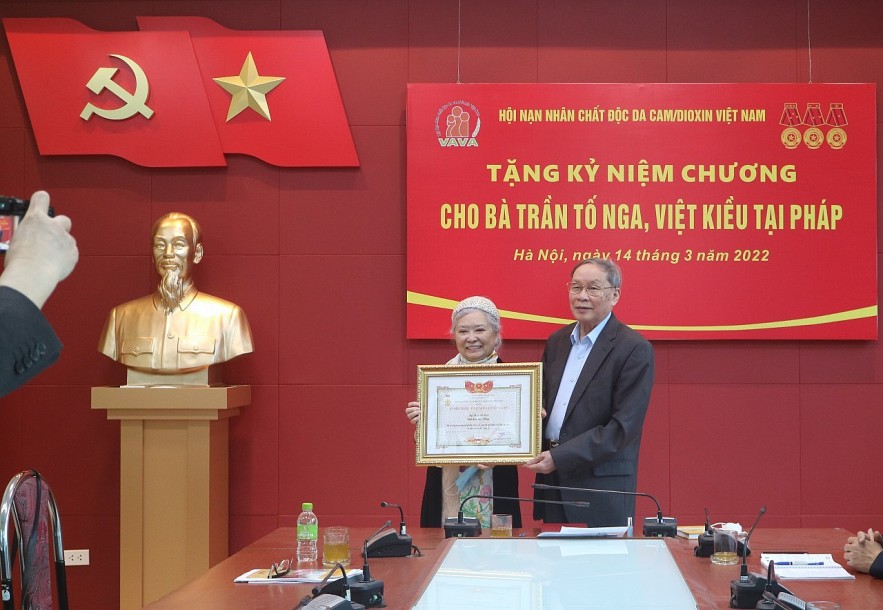 President Nguyen Van Rinh awarded the certificate "For the victims of Agent Orange" to Tran To Nga.
Tran To Nga is also a victim of Agent Orange. However, she has made contributions to the movement to support Agent Orange victims. She is pursuing a lawsuit demanding that American chemical companies pay compensation for the damage these companies have caused to her and her family, since she was a war correspondent in Vietnam.
At the awarding ceremony, Nguyen Van Rinh, president of the Association for Victims of Agent Orange/Dioxin (VAVA) said, VAVA always supports Nga's case. They will continue to accompany her in the lawsuit, support her in people-to-people diplomacy.
Tran To Nga expressed her emotion at the interest and support of VAVA during the course of the lawsuit. She said VAVA's companionship and support was a great motivation for her to persevere and strive to pursue the case for nearly a decade.
Nga also shared about the advantages and disadvantages that she and her lawyers personally encountered throughout the case.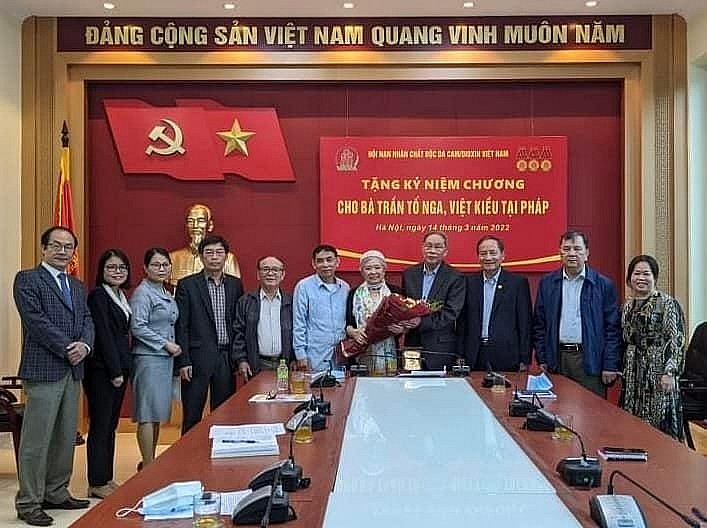 Tran To Nga took photo with the Vietnam Association for Victims of Agent Orange/Dioxin.
She said that on May 10, 2021, the French court of Evry dismissed the case. However, she and her lawyers continued to appeal.
She said: "The issue is not about the Court's decision. What I want is through my lawsuit, I let the world know about the Agent Orange disaster in Vietnam. This is so that this case becomes the foundation for the fight against environmental destruction."