Travel-food fest will be aired in Hanoi next week
From April 16 to 18, travel-food fest will be held in Hanoi city in order to promote tourism and culinary culture of Vietnam at the Ly Thai To Statue Square, Bat Giac House area, Le Thach and Le Lai streets and the Hanoi Children's Palace in Hoan Kiem District.
This year's event will feature around 200 pavilions set up in two main zones, reported VnExpress.
The zone to promote tourism products will house some 150 pavilions of 12 provinces and cities, travel firms, tourist hotspot operators in Hanoi and other localities across the country and four local carriers, namely Vietnam Airlines, Vietjet Air, Bamboo Airways and Vietravel Airlines, according to Saigon Times.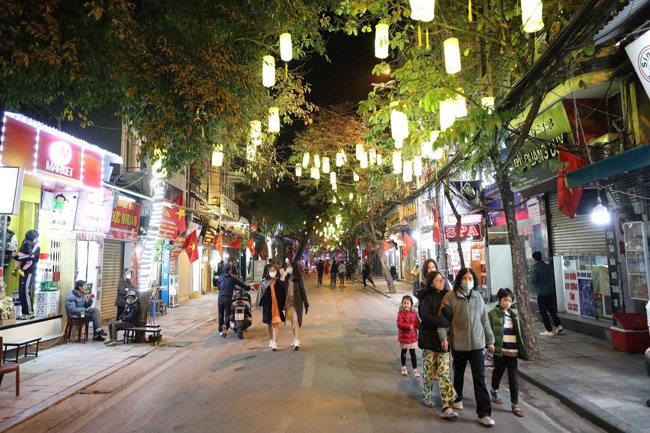 Local residents stroll along a pedestrian street in Hanoi. The capital city will hold a festival to promote its tourism and culinary culture from April 16 to 18 – PHOTO: VNA
The culinary culture zone at the Hanoi Children's Palace will introduce a host of Hanoi's signature dishes and drinks. Top artisans, food experts and connoisseurs will also give talks about their industries and interact with visitors at the three-day event.
Dang Huong Giang, director of the municipal Department of Tourism, said that this year's edition will launch many new tourism products, including night tours to explore the Thang Long Imperial Citadel, Hanoi city night tours, or tours to learn about agricultural life at the Vietnam Museum of Ethnology.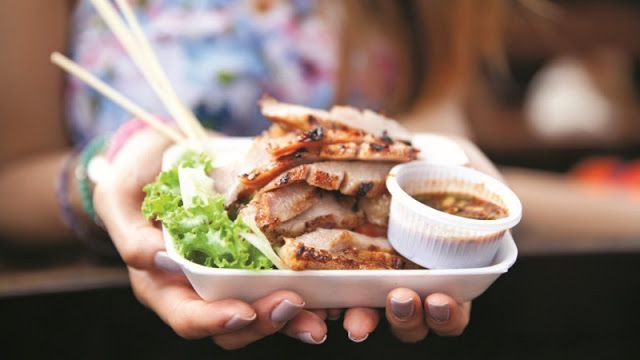 Photo: Hanoi Tour
The event will also include a conference scheduled to take place on April 16 to launch thousands of new domestic tours and tourism products for 2021, with discounts of 15-35%. Besides this, participants of the conference will take part in a FAM trip from April 17 to 18 to survey tourism products in the capital city.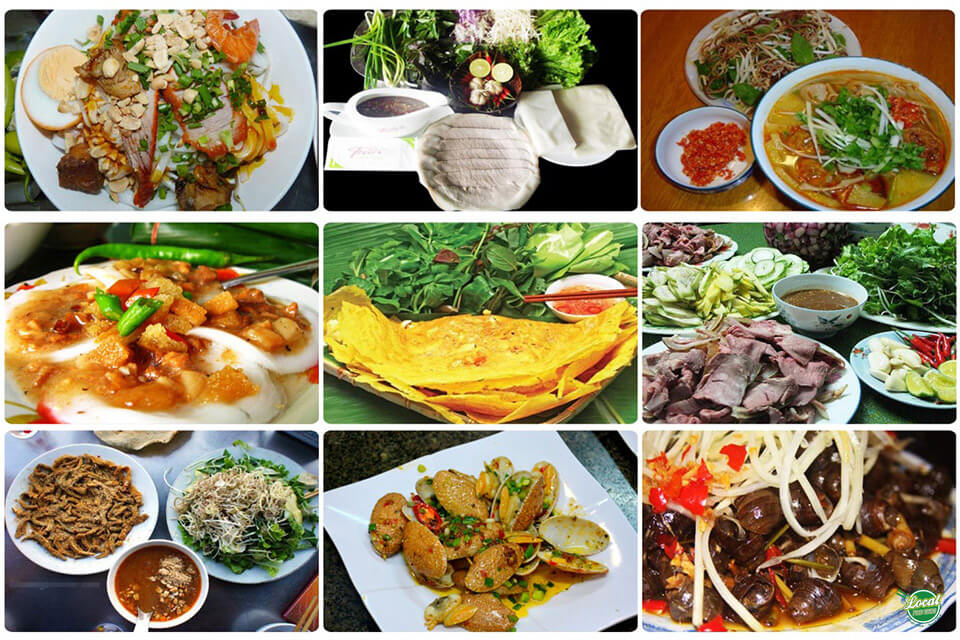 Illustrative image
Best dishes that you can try in Hanoi
Bun Cha – Barbecued Pork with Rice Vermicelli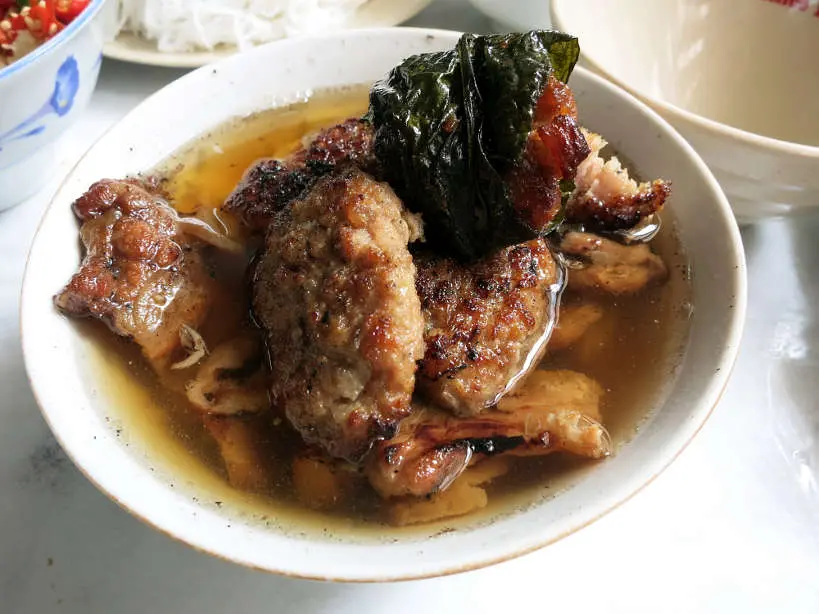 Photo: Aunthentic Food
Bun cha is one northern Vietnamese food that quickly became our favorite. It is one of the best Hanoi food specialties not to be missed.
Bun Cha consists of grilled pork strips and balls or chả served over a bed of steaming rice vermicelli noodles or bún. The vermicelli noodles served on the side are thin, soft and slightly chewy.
It typically comes with a plate of fresh Vietnamese herbs and a bowl of dipping sauce. Pickled vegetables, like cabbage, carrots, onion or green papaya are served with additional meatballs on the side.
The sauce is made of the famous Vietnamese fish sauce or Nuoc Mam combined with vinegar, lime, sugar, garlic and chili.
We learned quickly how to eat bun cha from mimicking locals around us. Slide the vermicelli in the meatballs broth and mix all the ingredients together.
Then, you just have to find the right dexterity with the chopsticks to dive into it.
While the origin of bun cha is unclear, it is known as a Hanoi food staple.
In Saigon, you will find bun cha sweeter cousin called Bun Thit Nuong. This rice noodles dish is made with grilled meat and served directly in the same bowl.
Bun Thang (Rice Vermicelli with Chicken, Egg, Pork)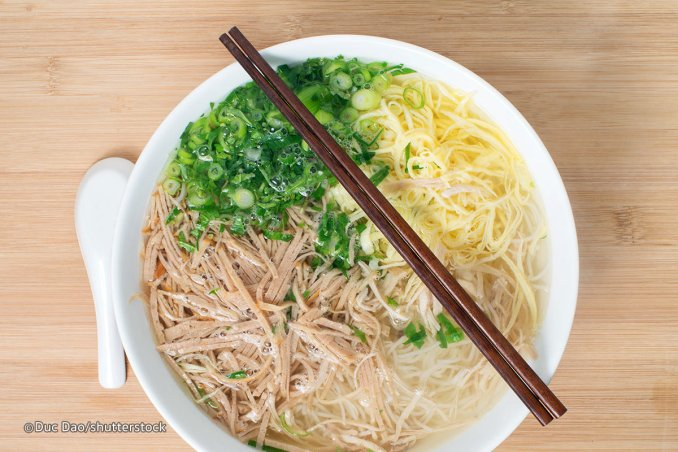 Photo: Shutter stock
Bun thang or rice vermicelli with chicken, egg and pork can be enjoyed at any time of the day. The clear yet flavourful broth is made with 20 ingredients, including dried shrimp, squid, shrimp paste, spring onion, coriander, ginger, mushroom, beet, fish sauce, sugar candy, and vinegar. It is also a particularly attractive Hanoi dish as the noodles, chicken, eggs, pork slices, and a dollop of shrimp paste are carefully arranged to resemble a flower. Available mostly within Hanoi Old Quarter, we highly recommend Bun Thang Ba Duc as you can enjoy a generous bowl of bun thang for about VND 30,000.
Cha Ca (Turmeric Fish with Dill)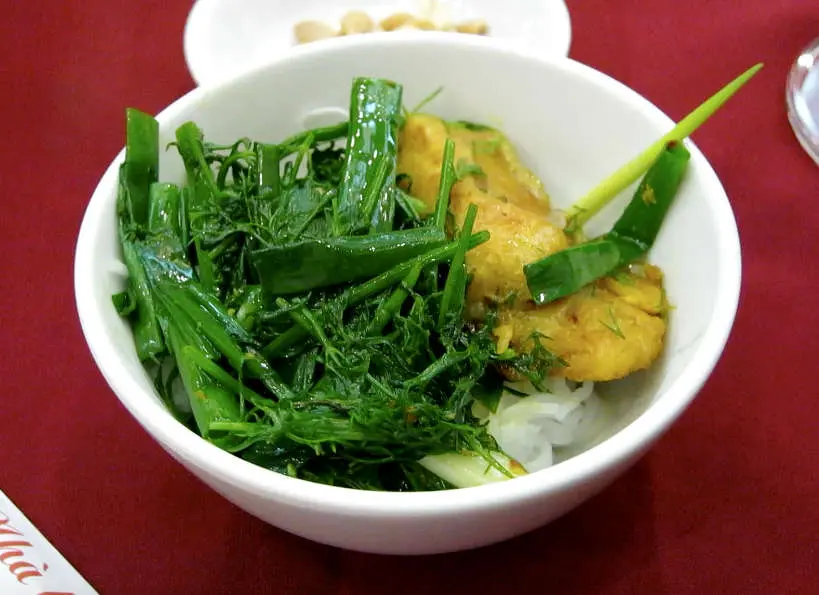 Photo: Authentic Food
A distinctive Hanoi delicacy, cha ca is white fish seasoned with garlic, ginger, turmeric, and dill served on sizzling pan. Diners also get a bowl of rice noodles, peanuts, chopped spring onions, parsley, nuoc cham sauce, and red chili slices, all of which are meant to be mixed together with the turmeric fish. Cha ca is so popular amongst locals that there's a street in Hanoi Old Quarter named after it, though the best (and affordable) places to enjoy this seafood delicacy is at Cha Ca Thang Long in Duong Thanh Street.
Mien Xao Luon (Glass Noodles with Deep-Fried Eel)
Photo: Gigi II Bresciano
Mien xao luon is another tasty option for seafood lovers, comprising stir-fried glass noodles in an eel-based broth with generous toppings of crunchy eels, bean sprouts, egg, cucumber slices, fried shallots, and purple perilla. As with many dishes in Hanoi, a side of fresh herbs, shaved banana blossoms, and bean sprouts are served on the side. Dong Thinh Nha Hang Mien Luon at Hoan Kiem District is a local hangout spot for mien xao luon, where dishes are priced between VND 35,000 and VND 50,000.
Banh cuon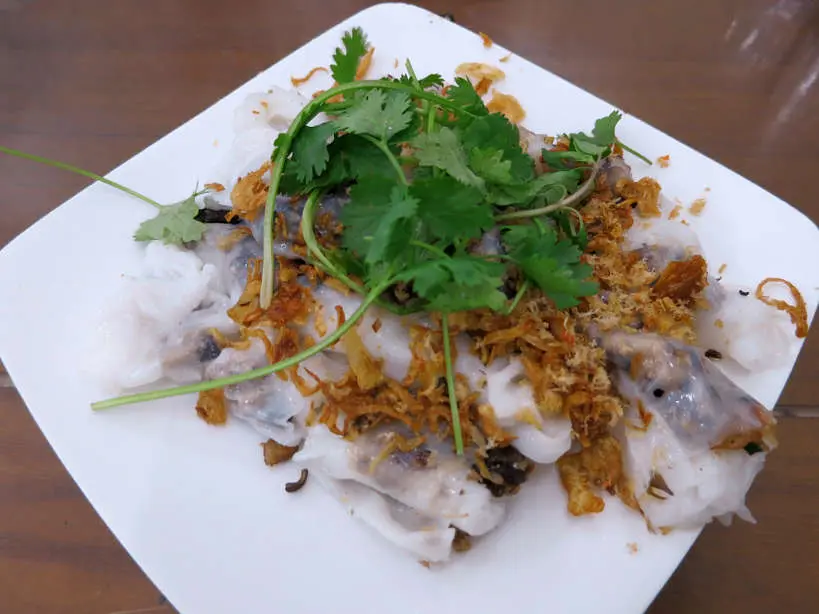 Photo: Authentic Food
Great as a light breakfast or midday snack, banh cuon is a combination of ground meat (chicken, shrimp, or pork), minced wood ear mushroom, onions, Vietnamese ham (cha lua), steamed beansprouts, and cucumbers that's wrapped in a steamed rice flour sheet., Its overall taste is very mild despite the savoury ingredients, and you can also dip the banh cuon into nuoc cham sauce for added flavour. You can easily spot roadside vendors selling banh cuon all over Hanoi, but Banh Cuon Gia Truyen in Old Quarter is a good alternative as the restaurant provides menus with English translations.
Xoi Xeo (Sweet Sticky Rice)
Xoi xeo or sweet sticky rice usually comes with staple toppings of green mung bean paste, soy sauce, and dried shallots, but you can opt for a variety of add-ins such as pate, boiled chicken, cha lua (Vietnamese ham), marinated pork belly, or preserved eggs for a more substantial meal. Some restaurants also serve xoi xeo as dessert, topped with dried coconut shavings, roasted sesame seeds, and crystallised sugar. An inexpensive yet prominent xoi xeo restaurant is Xoi Yen, where you can enjoy a basic bowl for VND 15,000, with additional ingredients between VND 15,000 and VND 30,000.
Pho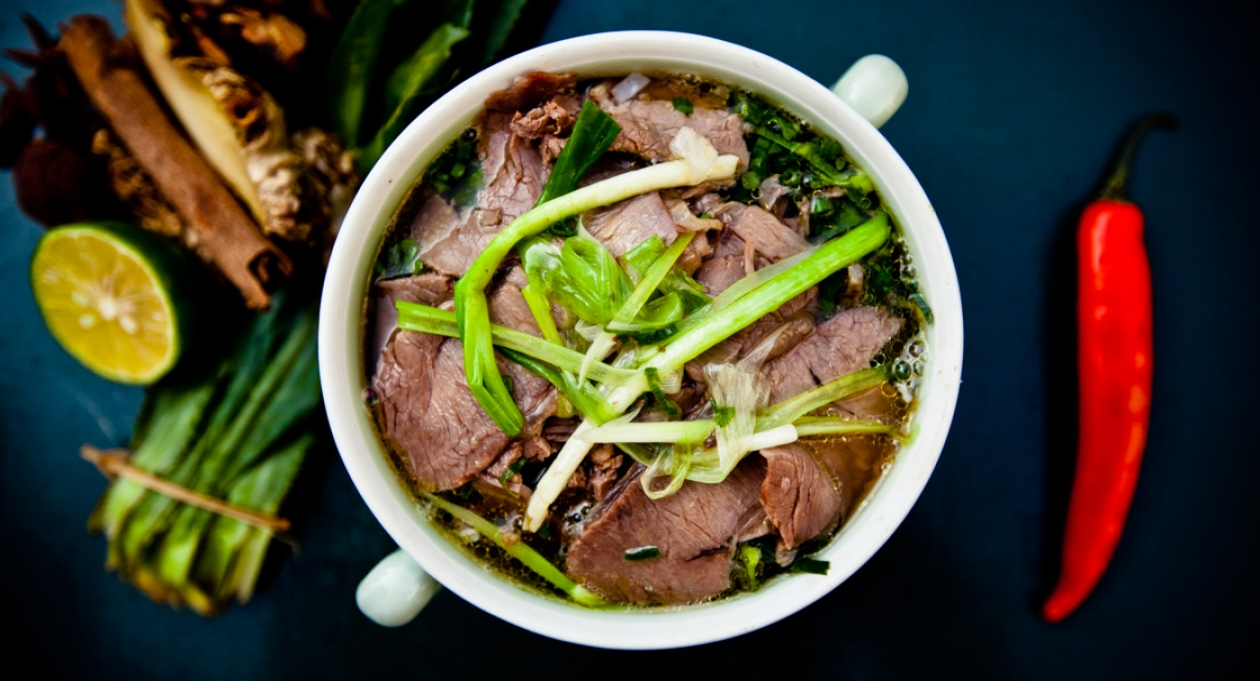 Photo: Getty Images
Pho is the classic dish of Hanoi, and one that you cannot miss. Pho, while known as the national dish of Vietnam, originated in the North.
It became popular as a hearty soup eaten by the rice field workers for breakfast.
Pho is a flat rice noodle soup made of a fragrant meat broth, most commonly beef and sometimes chicken.
This aromatic soup is filled with slices of meat and a plateful of fresh herbs. The fresh herbs used in the soup typically include green onions, ginger, and coriander.
The meat, primarily beef, consists of thin cuts added into the soup. In Hanoi, we found Pho served most commonly prepared with three types of meat.
Pho Tai is made with slices of rare beef steak, Pho Nam served with beef flank pieces. And finally, Pho Gau which has slices of brisket.
Hearty but not heavy, this flavorful soup and Hanoi street food is commonly found at breakfast.
Economy
In the first two months of 2023, India's mobile phone exports exceeded $2 billion, equivalent to over Rs16,500 crore, due to increased production and shipments from manufacturers, particularly Apple and Samsung. This surge in exports brings the total export value to over $9 billion since April 2022.