Humble deep fried sticky rice cake stall in Hanoi attracts long lines of customers
Every late afternoon, a small sticky rice cake stall on Lac Long Quan Street (Hanoi) welcomes hundreds of visitors.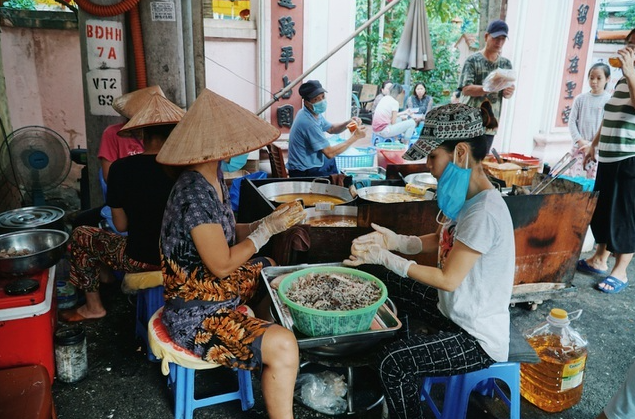 (Photo: Vietnamnet)
Though called "sticky rice cake bar", this little stall only consists of a canvas and some plastic chairs, and yet for the past 30 years, the stall has always been crowded with customers.
Its most crowded days come when Hanoi enters winter, when the stall welcomes 400-500 customers per day. Currently, the price of savory cakes here is VND 9,000 (0,3 USD) / piece, and sweet ones are VND 7,000 (0,2 USD) / piece.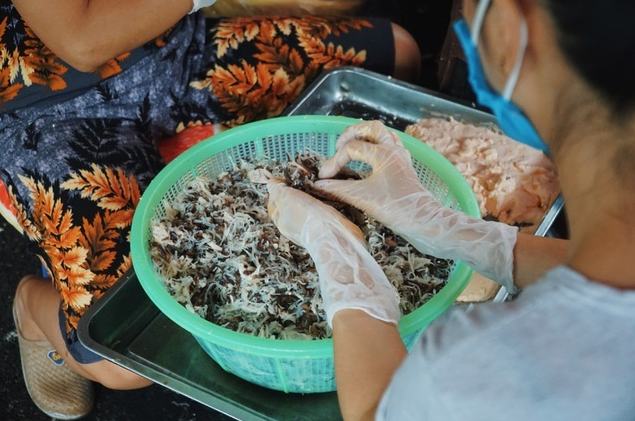 (Photo: Vietnamnet)
Before the COVID-19 outbreak took place, the stall was so crowded that diners who came to enjoy the cakes would be given the number so that they can wait in an organizing line, avoiding jostling and controversy. However, currently, fewer customers come to the shop during peak hours, so the number is not used.
The owner of this shop is Ms. Nguyen Thi Mai Hoa (49 years old, Hanoian). In the past, Hoa's family worked as a handicraft paper maker. Gradually this job was not well inherited, Hoa's mother opened a shop selling fried sticky rice cake to earn extra income.
"Previously, she sold the cake at Buoi market, then later she moved to an alley on Lac Long Quan Street. Initially, because of the difficult-to-access location, we only had few customers. After 30 years of selling, our familiar customers have introduced us to their acquaintances so the shop got more and more crowded.", said Hoa.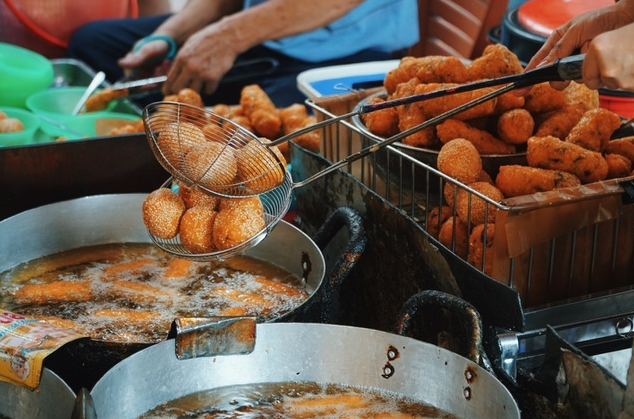 (Photo: Vietnamnet)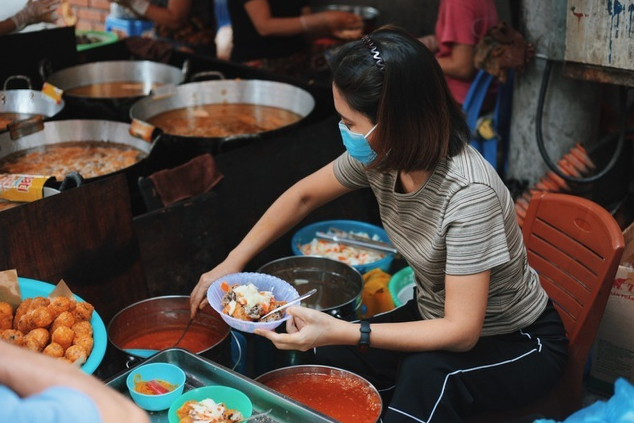 (Photo: Vietnamnet)
The cake crust at Mrs. Hoa's restaurant is made from sticky rice powder mixed with Gac oil (momordica cochinchinensis), which gives it a beautiful yellow color.
The cake is also meticulously processed with all kinds of ingredients: vermicelli, shiitake mushrooms, wood ear fungus, pork, and spices. Ms. Hoa always makes the cake herself because this is the most important part to ensure the cake tasted delicious. The cakes after being molded are fried through 6 large pots of hot oil one after another, according to the owner, frying the cake through many pots of oil helps the cake crust become crispy.
At Ms. Hoa's donut shop, she sells sweet cakes and savory cakes. However, savory cakes are loved by the majority of customers.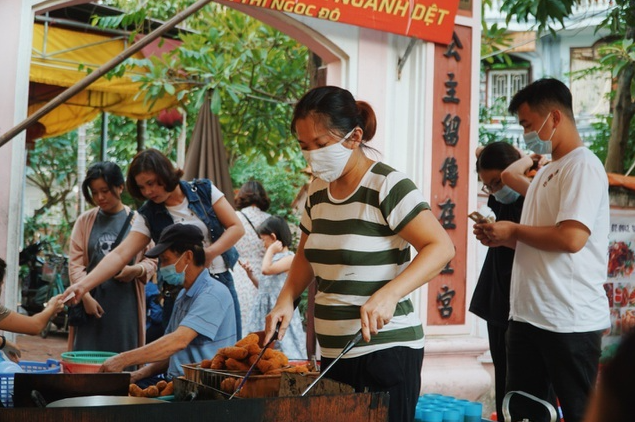 (Photo: Vietnamnet)
Ta Minh Quang (Tay Ho, Hanoi) is a loyal guest of this shop, Quang shared: "The most special feature of the cake here is the dipping sauce. The owner of the shop also adds pickled papaya and carrot to the sauce, which helps to reduce the fat taste of the cake."
To come up with this perfect recipe, Hoa's family spent 30 years to improve the recipe left by her mother. Ms. Hoa shared that the flavor of cakes has not changed since she started selling, only the sauce is adjusted so that the dish is more suitable to the taste of customers.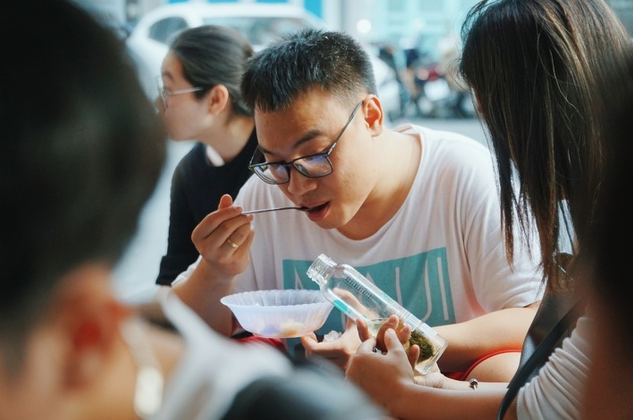 (Photo: Vietnamnet)
Ms. Hoa said that the donut shop sells about 20kg of filling and crust per day. Every day she has to get up from 5 am to manually prepare enough ingredients to sell during the day. She does not leave the ingredients the next day because it will badly affect the cakes' deliciousness.
When asked by the reporters from Vietnamnet about her intention to open a more spacious store, Ms. Hoa laughed: "I have always dreamed of having a bigger store. Every day, many customers come but the profit is not much. I focus on quality so I do not earn a lot of profit, but it is still better to be trusted and remembered by customers".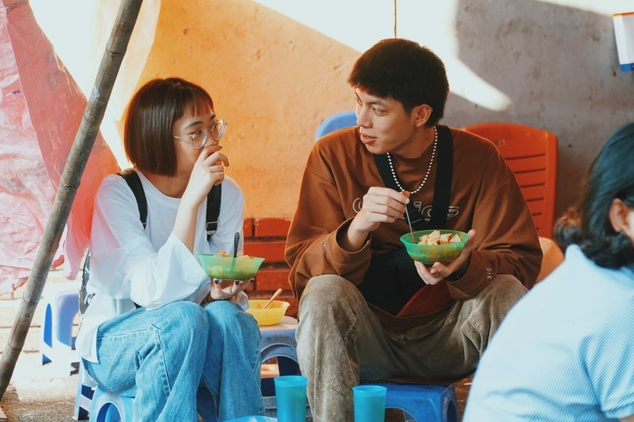 (Photo: Vietnamnet)