Hanoi specialties "packed" in Western food serving style
Hanoi signature dishes - rolled pho, fried fermented pork roll, bun cha - are made in small portions, served with some drops of special dipping sauces to preserve their original tastes.
In a restaurant in District 1, Ho Chi Minh City, instead of being served in a big bowl or plate, each Hanoi specialty is "packed" into one small piece that combines all ingredients. The dishes here, though still preserve their traditional tastes, are processed according to Western methods. The restaurant's signature is using the sous vide cooking technique, which helps to retain most of the nutrition and freshness in each ingredient. In addition, the restaurant uses condensing method to helps the food appear more beautifully.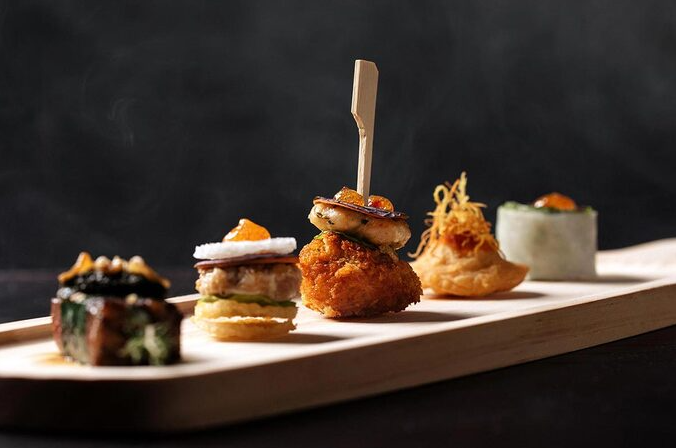 This finger platter includes 5 Hanoi's dishes, which are bun cha, rolled pho (pho cuon), fried fermented pork (nem chua ran), fried shrimp in batter (banh tom), beef wrapped in piper lolot (bo la lot). (Photo: VN Express)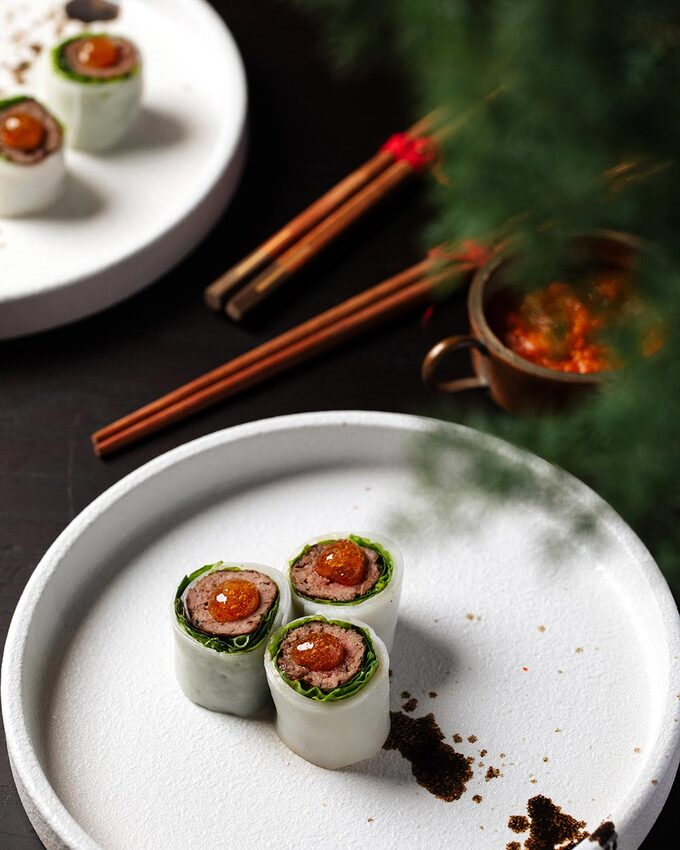 Diners can easily recognize rolled pho because its decor resembles the traditional way of serving, including noodles rolled around a bite of beef and raw vegetables. Instead of serving a separate dipping sauce cup, which is believed to be cumbersome and easy to smell, the restaurant concentrates the sauce without changing the taste, then places a drop of sauce on each roll. (Photo: VN Express)
Bun cha, which is usually served in 3 plates: a noodle plate, a dipping sauce bowl, and a vegetable plate, now transformed into a small fingering bite yet still has every ingredient. The restaurant uses "banh hoi", which has the same ingredients and cooking method as fresh noodles but more suitable for shaping the dish. This dish also uses thickênd dipping sauces. (Photo: VN Express)
Mr. Do Son (District 2, Ho Chi Minh City), a Hanoi native, said that because each dish is small, so it must be eaten all in one bit. If cut or bitten, ingredients would fall apart. "Since the ingredients are combined in one piece, I think diners should chew slowly to allow each taste to touch the tongue, otherwise it will be difficult to recognize each ingredient," he said.
A diner named Linh (Binh Thanh District, Ho Chi Minh City) thought that the dish brought a sense of luxury and neat because there was no need to use dipping sauce or to display unnecessary plates. However, the dishes' tastes here were not exactly the same as Hanoi's traditional cuisine, because the dishes were not served hot and diners could not re-season their own sauce. The meat also tasted different as the restaurant used much more premium kinds than the traditional ones.
This "Hanoi menu" is recommended by the restaurant for the appetizer. The set, which includes 5 dishes, costs VND 299,000 (USD 13).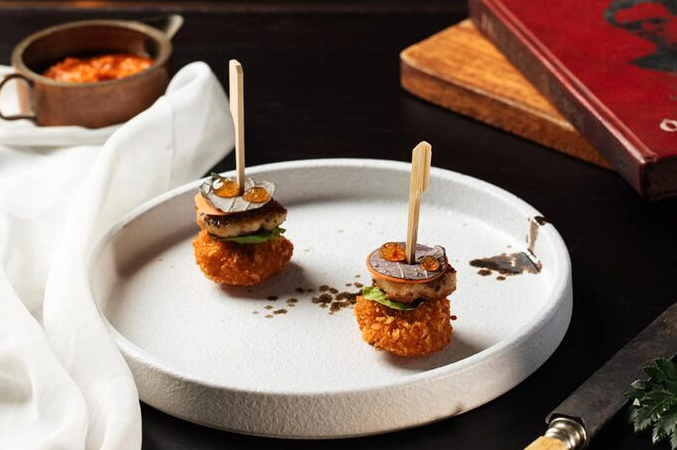 Fried shrimp in flour and sweet potato batter (banh tom) includes fresh shrimp with crispy fried batter, served with carrots instead of pickles. Fried fermented pork roll (nem chua ran) is also served in the same way. (Photo: VN Express)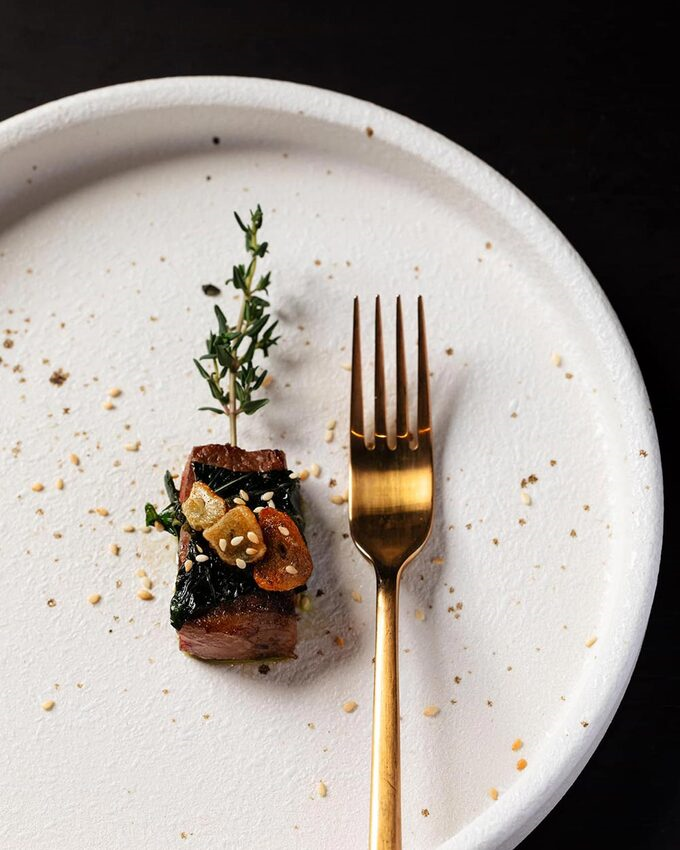 Though has the same size as other dishes in the set, beef wrapped in piper lolot (bo la lot) is three-times more expensive as the restaurant use premium Japan Waygu beef. Instead of being wrapped in a piper lolot as traditionally served, beef is topped up with house piper lolot sauce. (Photo: VN Express)
Desserts are also decorated in a unique way. The photo above shows black sesame sweet dessert decorated as Vietnam folk game gravels. (Photo: VN Express)
Besides Vietnamese cuisine, the restaurant also serves dishes from Western Asia and France. (Photo: VN Express)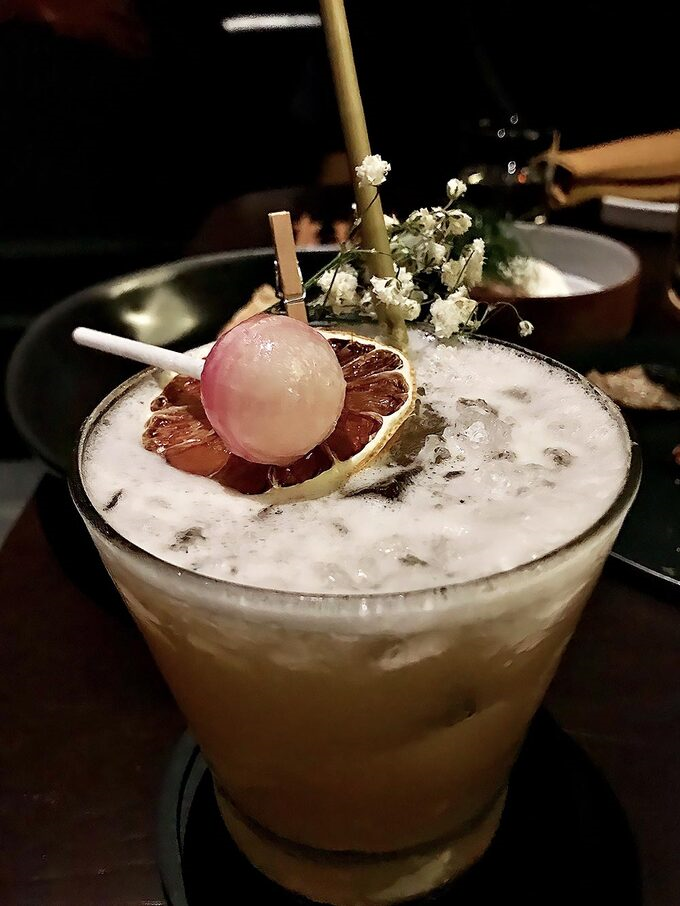 Beverages such as juice, cocktail, mocktail, beer, wine are sold from VND 39.000 to 1 thousand (USD 1,7-43,5)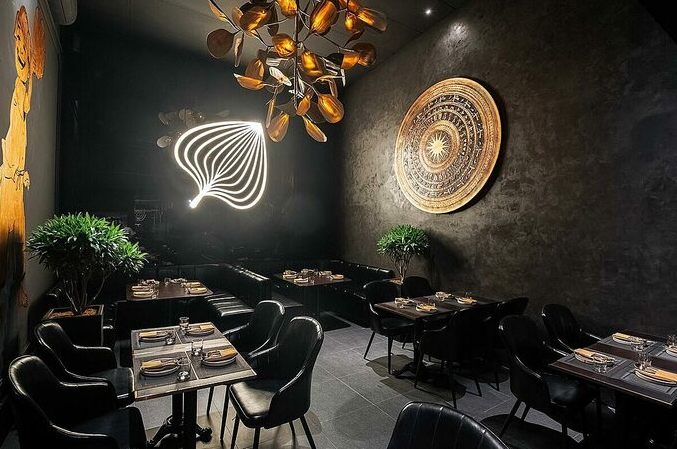 Not only blowing "Western soul" into Vietnamese dishes, BOM Gastronomy also decorates its restaurant with both traditional and modern style. The restaurant uses black and gold colors to create a luxury vibe, yet still displays Vietnam traditional areca spathe fan and bronze drum. (Photo: VN Express)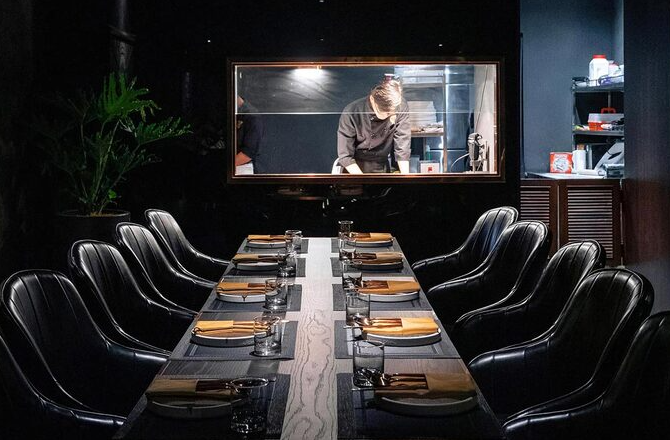 The restaurant is located at 30 Ngo Duc Ke (District 1), serving dinner from 18:00 to 0:00 on weekdays except for Mondays. (Photo: VN Express)