TripAdvisor: Hanoi and Da Nang Among Most Popular Destinations in Asia in 2022
The world's largest travel platform Tripadvisor with more than 60 million members has announced the list of the most favorite destinations in Asia 2022, including two Vietnamese hotspots: Hanoi and Da Nang.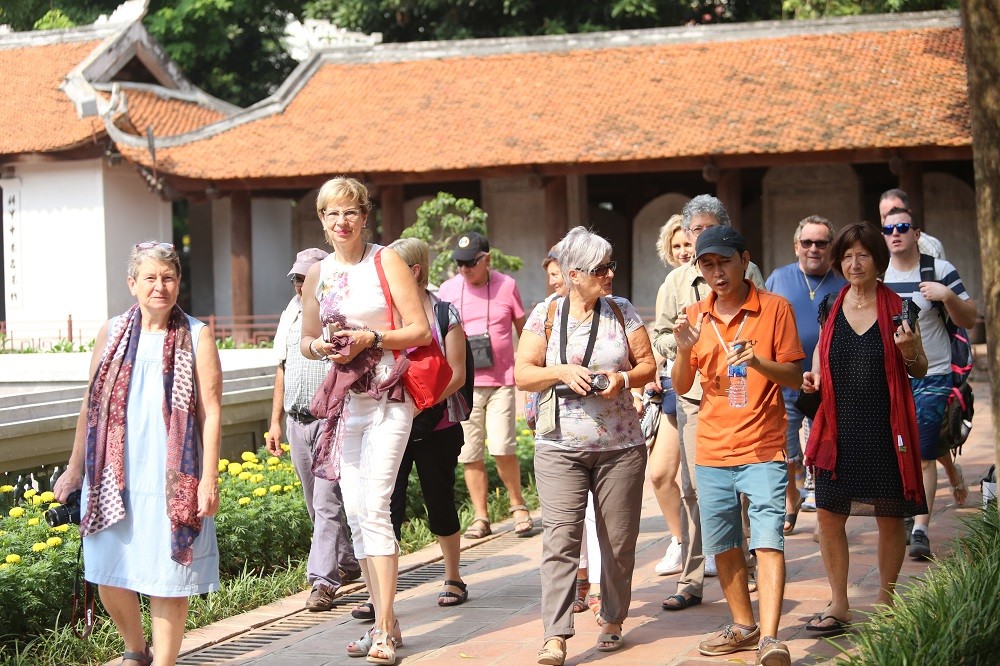 Foreign tourists at the Temple of Literature. Photo: Hanoimoi
Spotted at the 13th place, Hanoi is introduced as Vietnam's capital that preserves long-standing monuments and architecture, along with breakthrough modern developments. The world's largest travel platform recommends historical destinations such as Ho Chi Minh Mausoleum or Hoa Lo Prison.
Also, lakes, parks and tree-lined avenues and more than 600 temples and pagodas add to the city's charm are must-visit destinations when traveling in Hanoi. This charming city can be easily explored by taxi, TripAdvisor reported.
Da Nang city is number 21 on the list, appreciated for its comfort and friendliness and attractive local cuisine. Joining culinary discovery tours is the ideal choice to experience the culture and life here. TripAdvisor also suggests that visitors explore caves on Ngu Hanh Son mountain and enjoy street food.
Topping the list of this year's best Asia destination is Bali, Indonesia – like a lively postcard. This paradise on earth is the ideal place to soak in the sun on the long stretch of fine white sand, or go for scuba diving, ancient temples visiting, etc.
Tripadvisor Travelers' Choice Awards is an annual award voted by travelers. In addition to the worldwide evaluation, the award divides the list by regions of Asia, Europe, America, South Pacific… based on criteria such as trending destination, emerging destination, destination for food lovers, outdoor enthusiasts… The results are based on the quality and number of votes of millions of users around the world.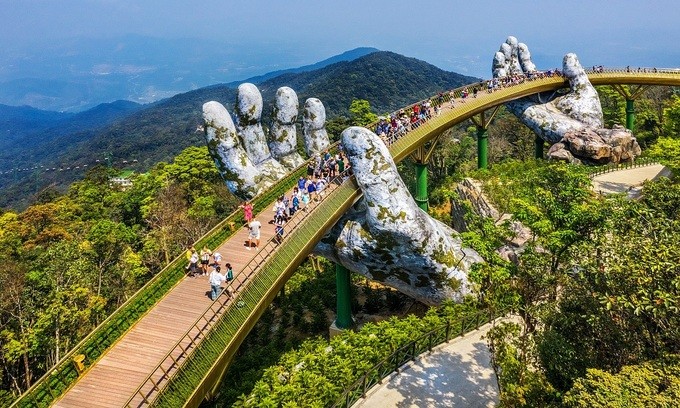 Tourists visit the Golden Bridge on Ba Na Hills in Da Nang, 2019. Photo: Shutterstock
Hanoi - Finer with age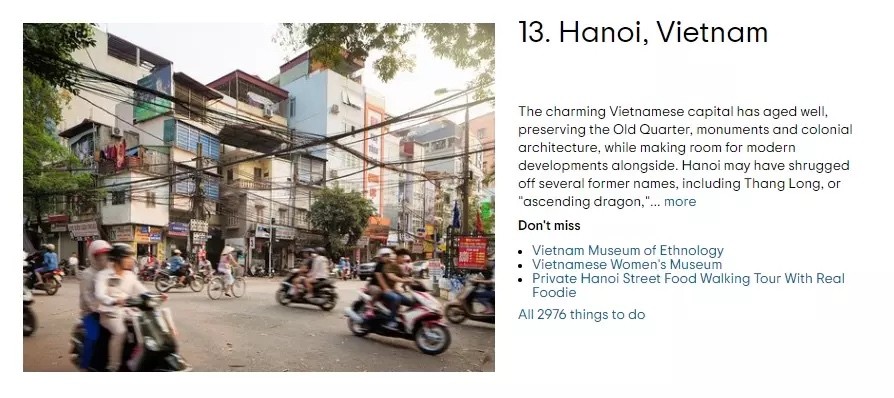 Photo: TripAdvisor
According to the travel guide website, the charming Vietnamese capital has aged well, preserving the Old Quarter, monuments, and colonial architecture, while making room for modern developments alongside. Hanoi may have shrugged off several former names, including Thang Long, or "ascending dragon," but it hasn't forgotten its past, as sites such as Ho Chi Minh's Mausoleum and Hoa Lo Prison attest.
Lakes, parks, shady boulevards and more than 600 temples and pagodas add to the appeal of this city, which is easily explored by taxi.
Hanoi is also a famous food destination among tourists. Travelers have been recommended to try renowned traditional dishes such as pho (Vietnamese traditional noodle soup), bun cha (vermicelli with grilled pork and fresh herbs), bun rieu cua (crab noodle soup), banh cuon (steamed rolled pancakes), along with banh mi (Vietnamese bread) and egg coffee.
Da Nang - A perfect tourist destination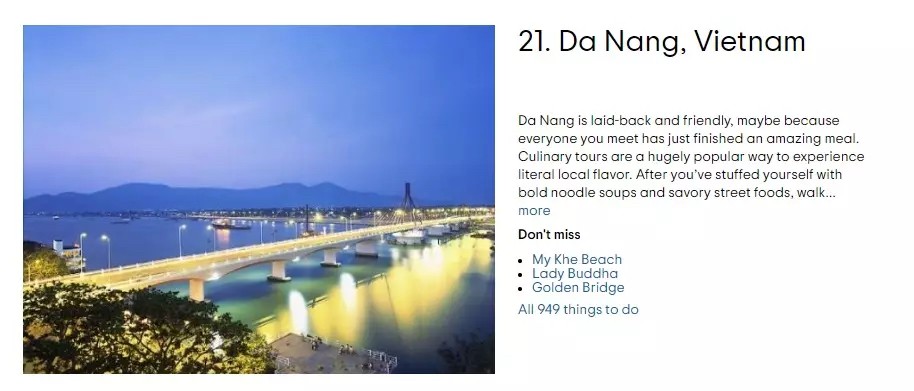 Photo: TripAdvisor
Da Nang marks the halfway point between the capital in the north, Hanoi, and Ho Chi Minh City in the south. It's the fourth largest city in Vietnam.
Apart from some shopping highlights and historical sights, the main reason for most travelers staying here is its proximity to the well-known My Khe Beach, Lang Co Beach, Hoi An, and My Son.
Lang Co Beach is lined with palm trees, the water of the nearby ocean crystal-clear and enticing, lapping onto the white sand. It is a peninsula with a sparkling lagoon on one side, and a beach on the other.
The area is fairly under-developed, although recent years have seen many new hotels opening. My Khe Beach is more developed since it was a popular spot for American soldiers seeking R&R during the Vietnam-US War.
Water sports activities here are in abundance, and beaches can get very crowded on weekends and holidays.
Da Nang's coastline stretches 30 kilometers, is renowned for calm, cool waters, and is also popular for fishing, water-skiing, diving, and yachting.