Truong Sa Benefits From Tree Planting Program
Together with the whole country, Khanh Hoa's army and people are determined to develop and build Truong Sa (Spratly) island district to be the economic, cultural and social center of the country at sea, a solid fortress protecting the sovereignty of the national sea and islands. Khanh Hoa focuses on developing Truong Sa to be greener and more beautiful in terms of landscape and environment.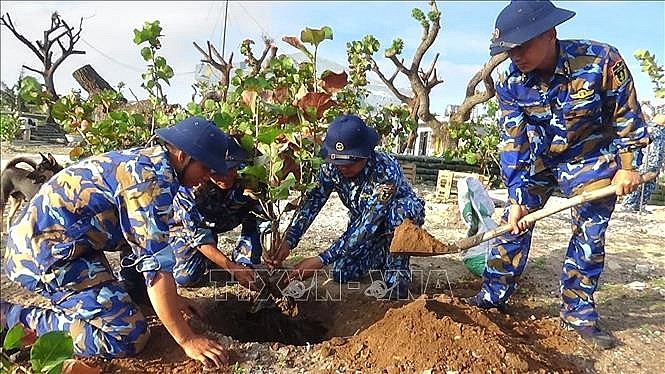 Planting trees in Truong Sa island district in Khanh Hoa. Photo: VNA
The Naval Region 4 High Command, which is responsible for military tasks in Truong Sa, has organized awareness-raising campaigns and mobilized resources, materials, and funds to implement a greening project in the island district.
The focus of the project is on tree planting programs, replicating and developing a system of green trees on island communes to create natural green color. That contributes to improving the living environment, training and combat readiness of the troops, and camouflages combat structures on the islands.
As a unit stationed and on duty in the island district, the Naval Region 4 High Command mobilized resources, materials, and funds for adding more nature to Truong Sa (Spratly).
In 2023, implementing the program "Greening Truong Sa," the unit received over 204,200 saplings and 120.5 of tonnes fertilizer from various agencies, businesses, and people nationwide.
In addition, the high command established two plant nurses covering an area of approximately 3,000 square meters.
The unit carefully studied the soil and climate to take good care of the seedlings before planting on the islands.
Many good and creative models to build green, clean and beautiful formal environmental landscapes on the islands achieved high efficiency. They helped create a natural green color, shade the paths, and contribute to supplementing local sources of clean vegetables for officers and soldiers on the islands.
Based on the actual climate and soil conditions in the islands, Navy officers and soldiers researched and overcame environmental conditions to cultivate and extract plants of all kinds.
About 6,675 trees have so far been cultivated, with a pilot program planting 400 trees for shade on some islands, showing initial positive results.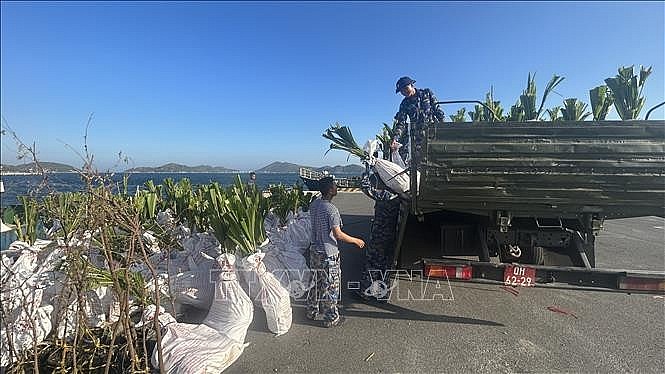 Officers and soldiers of Naval Region 4 High Command transport seedlings to the gathering point. Photo: VNA
Senior Lieutenant Colonel Pham Anh Tuan, deputy commander and chief of Staff of Naval Region 4 said the greening of Truong Sa island district is of great significance.
It not only helps to respond effectively to climate change and develop the economy and national defense, but also contributes to building a green, clean and beautiful environmental landscape on the islands.
Trees in Truong Sa not only create beautiful scenery, regulate the climate, and give shade, but also provide shelter from wind and storms, contributing to the defense and combat activities of the army and people on the island.
During his visit at the Naval Region 4 on August 3, Secretary of Khanh Hoa Provincial Party Committee Nguyen Hai Ninh appreciated the implementation of the high command's program on greening Truong Sa.
He also said that this is an effective policy and measure to develop Truong Sa island district into an economic, cultural, and social hub at sea, and a solid fortress safeguarding the nation's sovereignty over its sea and islands.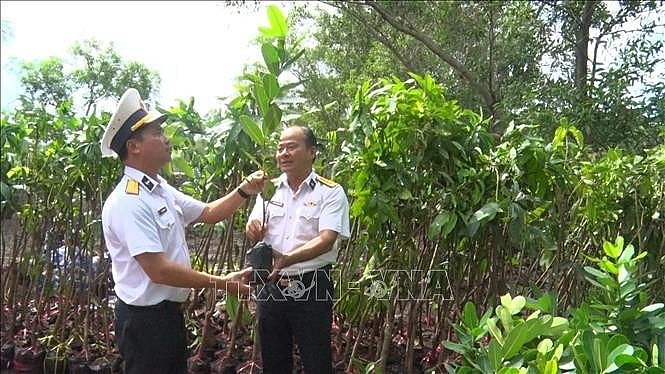 Check the quality of seedlings. Photo: VNA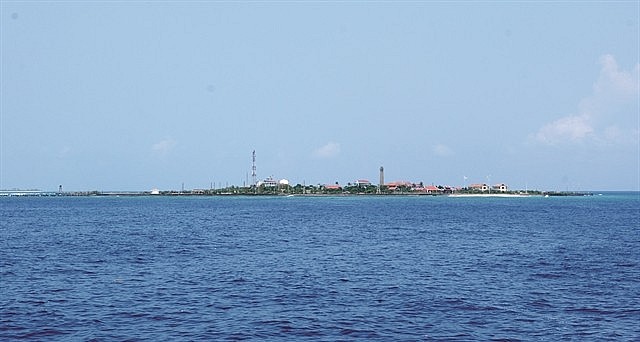 Song Tu Tay island in the Spratlys. Photo: VNS
On the morning of August 7, instructing and assigning tasks to forces participating in the program "Greening Truong Sa," Rear Admiral Ngo Van Thuan, political commissar of Naval Region 4 said the implementation of the program is a big policy.
Therefore, it is the responsibility of each officer and soldier to bring trees from the mainland to the island safely.
To do this, in addition to the encouragement, and reward of agencies, each officer and soldier need to be determined to protect the green color on the island.
"In order to support this program, the Navy Region 4 High Command is looking forward to the contribution of localities, businesses, organizations and individuals, compatriots nationwide and overseas Vietnamese to build a green, clean, beautiful Truong Sa island district," Rear Admiral Ngo Van Thuan said.