FRANCE - Two boys received safe support after falling from a third-floor window of a burning apartment in Grenoble.
Two boys, 10 and three years old, were completely unscathed after falling from a height of about 10 meters from the third floor of an apartment which caught fire on July 21. However, they could have been slightly affected by breathing in smoke, reported by the French media
Video of the dramatic rescue showed the younger brother being dropped from at least three storeys up, with the 10-year-old then letting himself fall into the arms of those below as smoke billowed from the window and flames engulfed the building, reported Independent.
The people below were able to safely support the boys. As everyone continued cheering, the older boy climbed out of the window and fell into everyone's arms.
The boys have been to the hospital with 17 other residents of the building. Among those who helped the two boys, 4 were also transferred to the hospital to check for broken bones.
Athoumani Walid, a 25-year-old student who suffered a broken wrist from helping catch the children, said he was among five bystanders who rushed to help after hearing screams.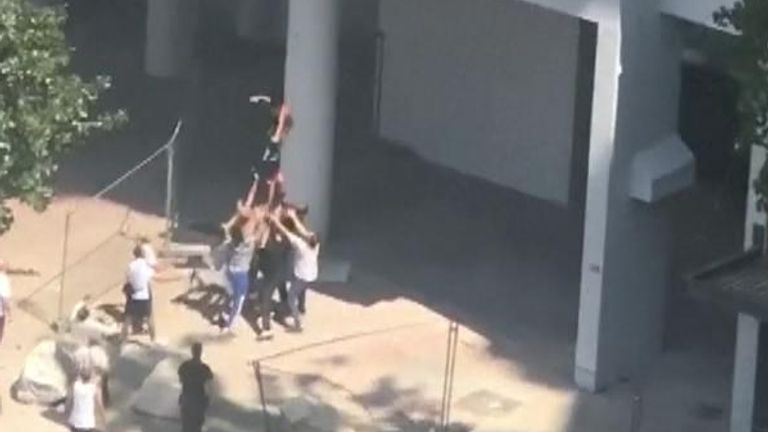 The successful rescue. Photo: The Guardian
"We didn't know what to do," Mr. Walid said. "We wanted to break the door but it wasn't possible."
He and the others then went outside and exhorted to encourage the two boys to jump down. Walid said he was initially scared, but "when they jumped, the fear disappeared". "What mattered was to catch," he said.
Walid added that he hopes the rescue of the two children would change people's perceptions of the Villeneuve neighborhood in the city of Grenoble, southeastern France, which has a large immigrant population.
"We are told it's a 'sensitive' neighborhood," he said, "but yesterday we showed we are here for each other, and we save each other."
Mayor Eric Piolle congratulated residents on the rescue, which he said underscored the city's "tradition of solidarity and mutual help".
In May 2018, a man from Mali bravely climbed onto the 4th-floor balcony to rescue a trapped child. This person was invited to the Elysee Palace to meet President Emmanuel Macron and be granted French citizenship.
Janet Dang