Bear cub rescued from illegal wildlife trade in Vietnam
Four Paws, an international animal welfare organization just rescued an Asiatic black cub from illegal wildlife trade immediately after receiving notice from Son La Provincial Forest Protection Department.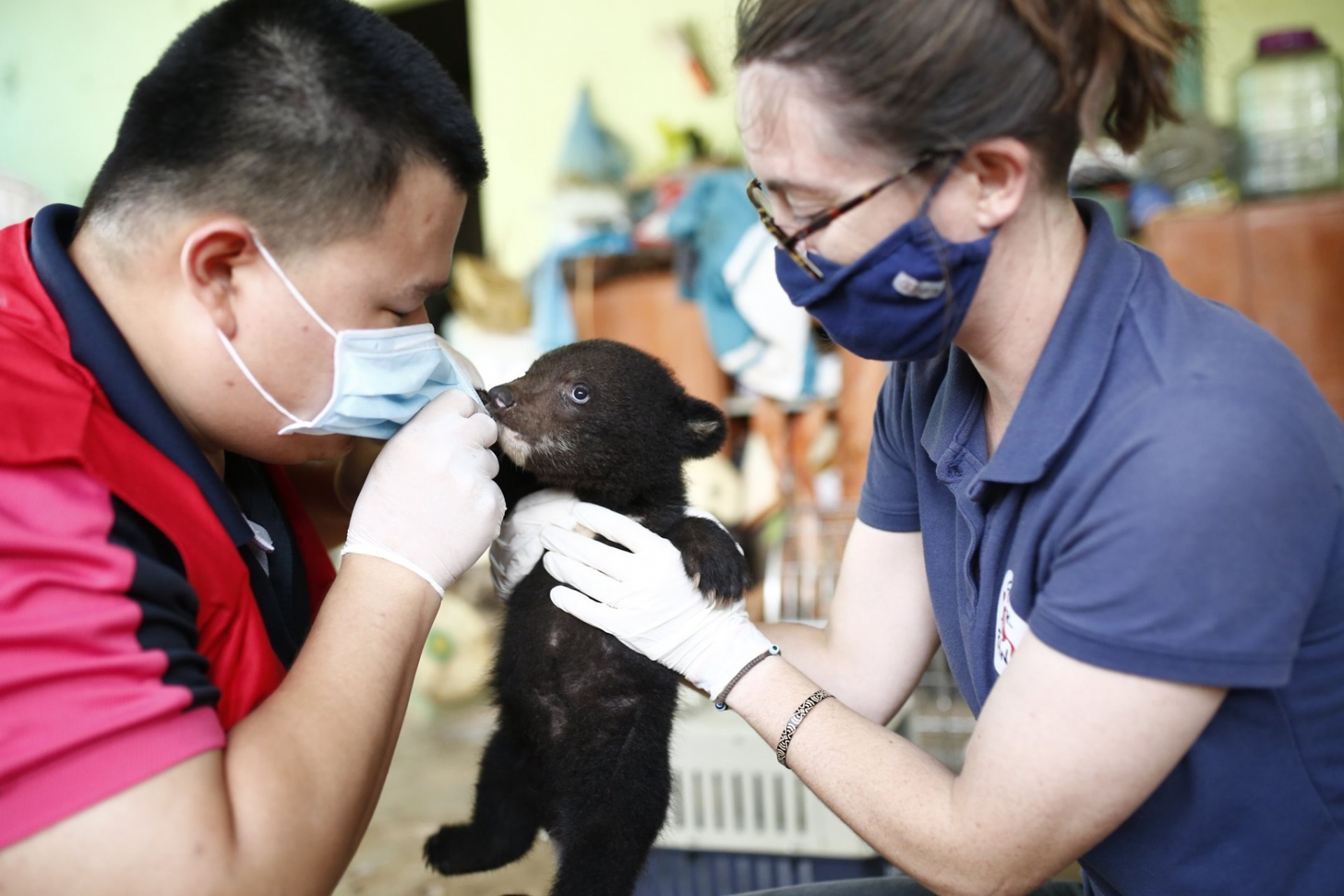 Mochi received proper veterinary care in the Bear Sanctuary Ninh Binh. Photos: Hoang Le | FOUR PAWS
Weighing two kilograms, the female cub was only a few months old when she was illegally offered for sale by illegal wildlife traders on the Vietnam - Laos border. A Vietnamese family decided to purchase the bear and informed the authorities so she would be spared from life in a bear farm or from being killed for human consumption.
Four Paws team was then quickly called upon by the authorities to assist in providing health care and ultimately bring the cub, who was named Mochi (or Moc Chau) to BEAR SANCTUARY Ninh Binh. Luckily the Vietnamese authorities and Education for Nature Vietnam (ENV), whom the family reached out to first, reacted so quickly and ensured Mochi was taken to a species-appropriate home.
Mochi is at a a too young age that her immune system is not fully developed yet. Therefore, Four Paws team will provide her with all the care she needs to grow into a healthy bear. It is sadly that that Mochi hasn't been able to be released back into the wildlife, so she will remain at the bear sanctuary.
The Bear Sanctuary Ninh Binh is a Four Paws' solution in the mutual effort to end bear farming in Vietnam, contributing to the prevention of bear hunting and trading to help conserve the remaining bear populations in the wild. In parallel with animal rescue and caretaking, the sanctuary is a practical education center for changing awareness of environmental protection and nature conservation.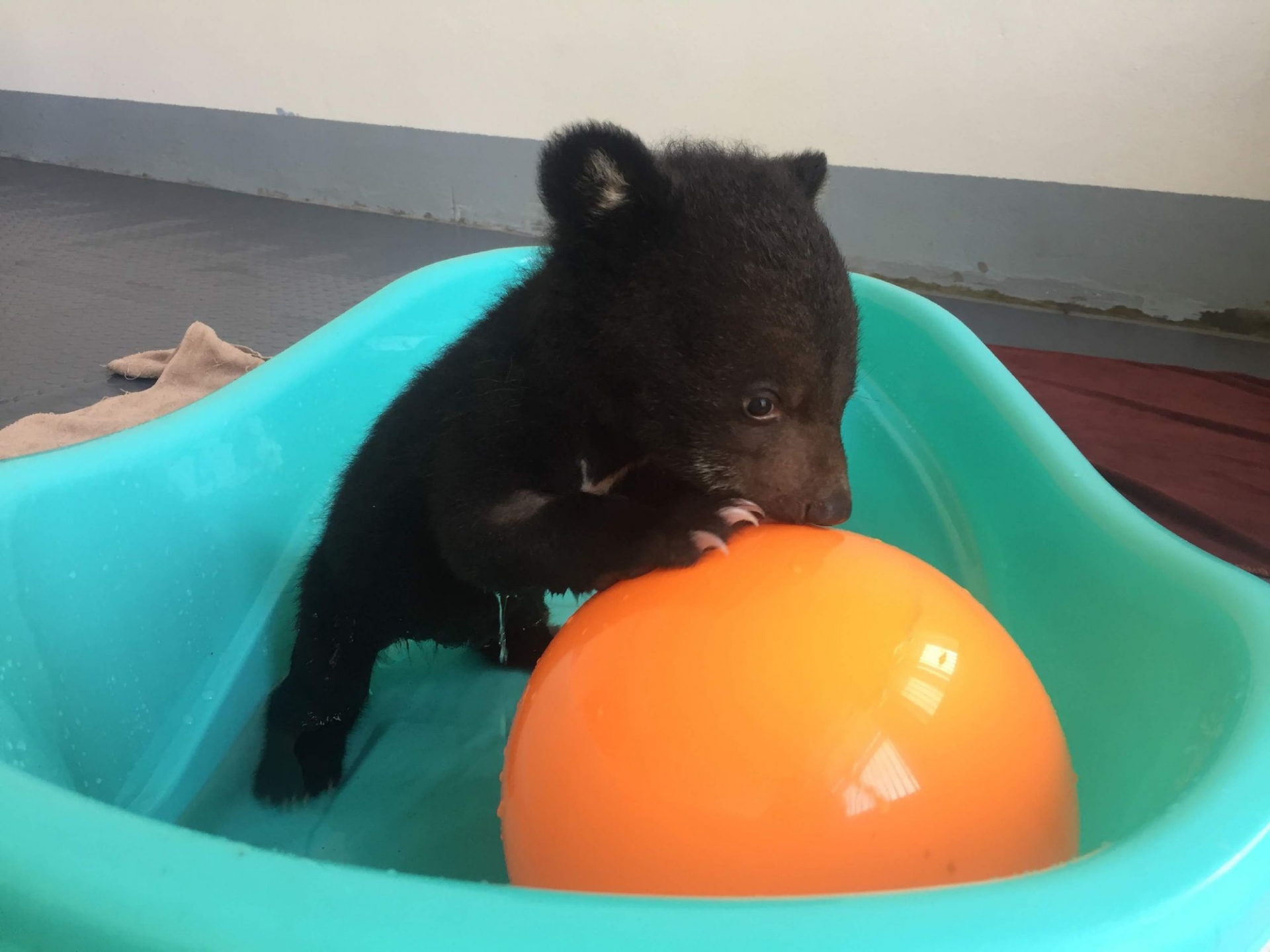 Mochi cannot be released back into the wild, so she will remain at the sanctuary.
The center has a total area of 10ha, able to accommodate about 100 bears in suitable semi-natural habitat.
It has cared for about 29 bears which used to be kept in captivity and illegally traded to harvest their bile.
The sanctuary has also organized activities to help raise public awareness of biodiversity conservation and environmental protection.
Last week, two Asiatic black bears in Ha Nam province also have been rescued after almost two decades of being captivated in tiny cages and brought to the Bear Sanctuary Ninh Binh.
With more than 400 bears still being farmed in Vietnam, disrupting criminal networks trading wild animals and their parts needs an integrated approach from authorities and NGOs. Four Paws, together with ENV and World Animal Protection International have been fighting for the closure of bile bear farms since 2017./.
FOUR PAWS Viet rescues 7 bile bears

FOUR PAWS Viet's biggest bile bear rescue to date was highly successful. The team arrived at the mega bear farm in Vietnam to rescue six ...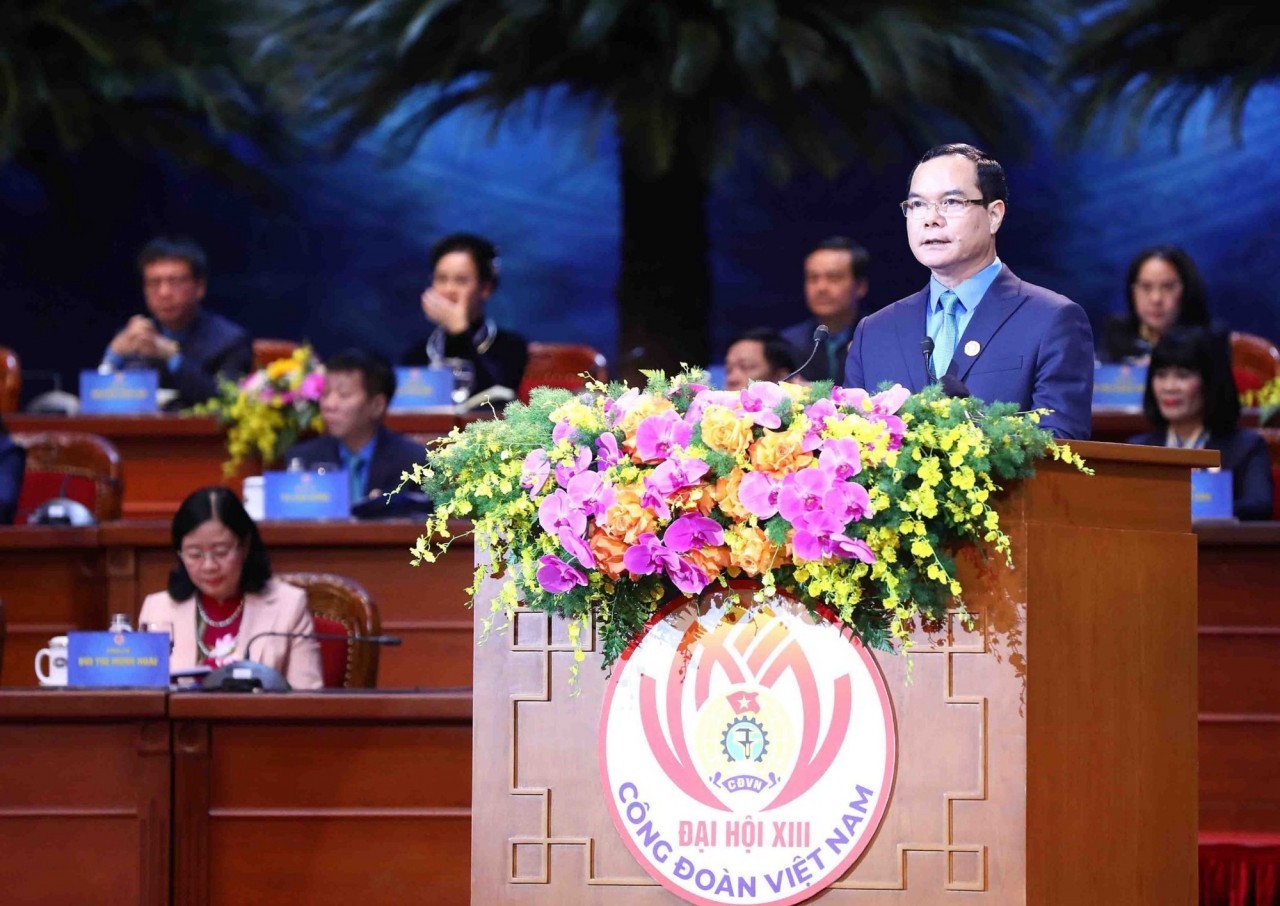 Viet's Home
"The overall goal of the 2023 - 2028 term is to innovate trade union organization and activities, build a comprehensively strong Vietnam Trade Union, performing functions and tasks well, meeting the requirements of the new situation, focusing on representing, caring for, protecting the legal, legitimate rights and interests of union members and workers."
December 02, 2023 | 22:33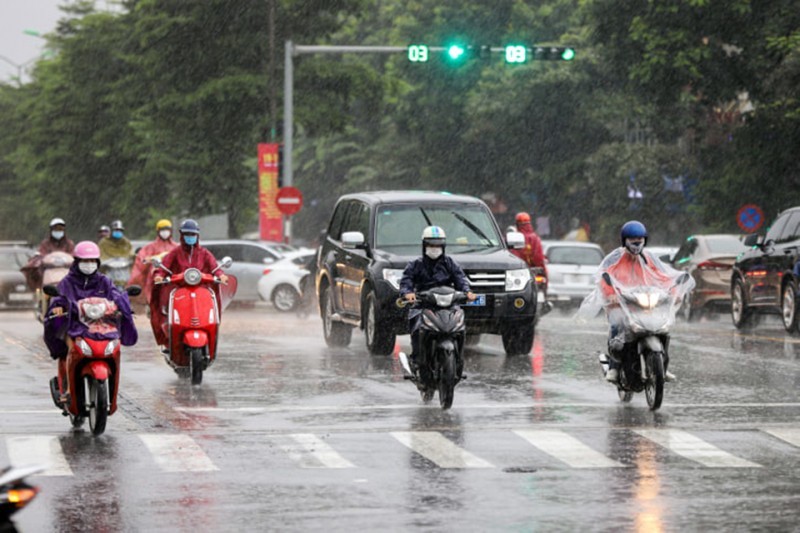 Viet's Home
On December 4, Vietnam's weather forecast is predicted to be extremely cold with low temperatures, while the Central region will have rain all weekend.
December 02, 2023 | 21:58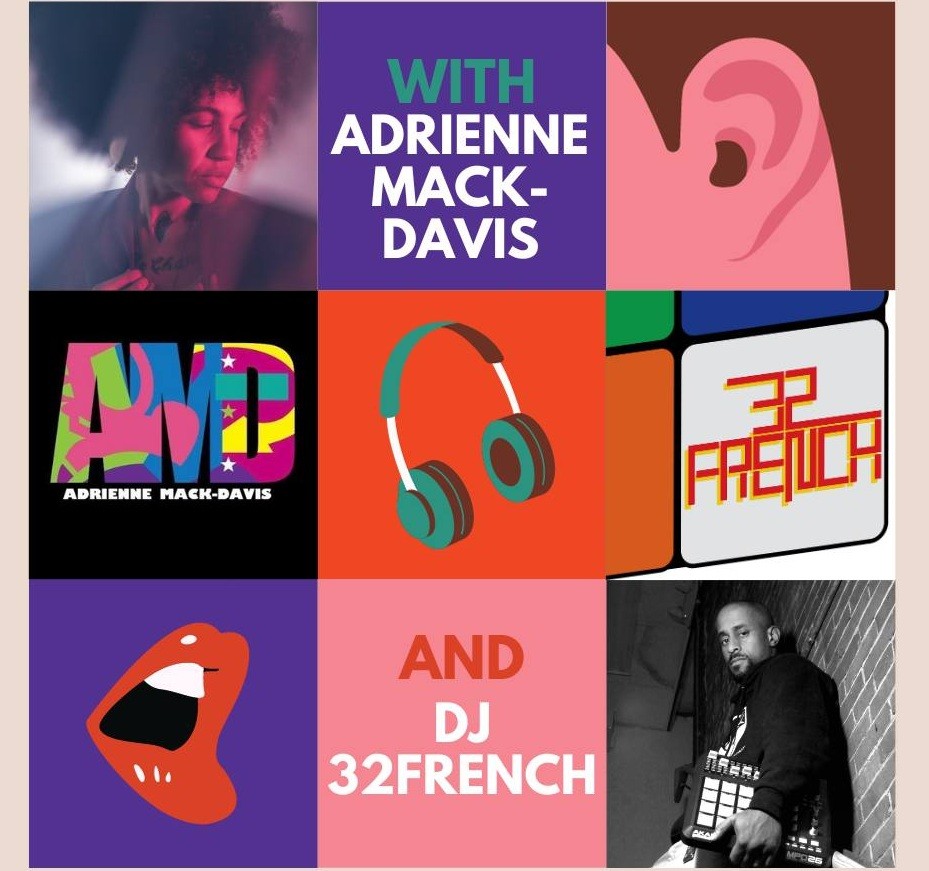 Viet's Home
Art troupes from the US, France, Korea, Belgium and Vietnam, including Wallonie-Bruxelles and Grand Poitiers, will join together in different performances titled 'Four Season melody', Hue-Winter at Imperial Citadel.
December 02, 2023 | 13:13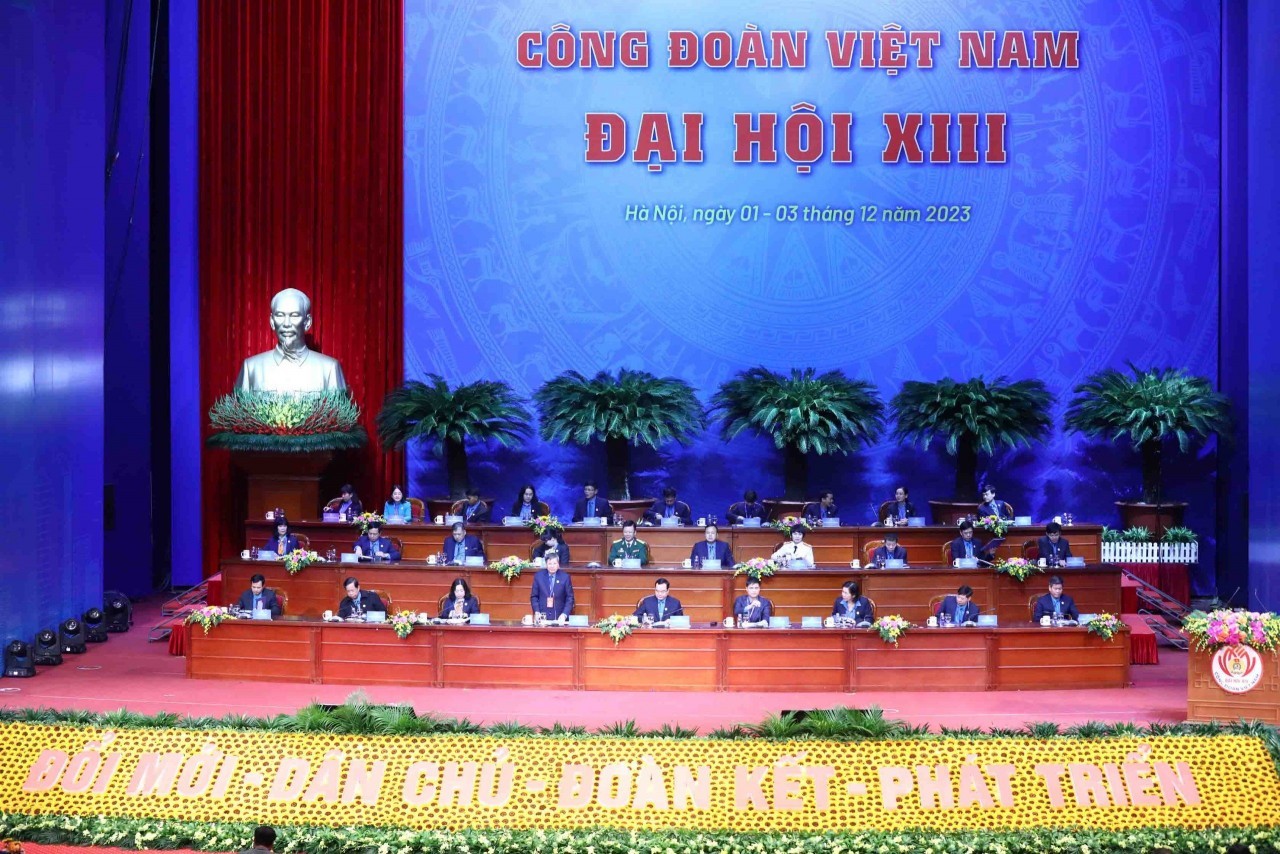 Viet's Home
According to Nguyen Dinh Khang, president of the Vietnam General Confederation of Labor, more than 11 million trade union members and workers nationwide are looking toward the 13th Vietnam Trade Union Congress. They place all their trust and expectations in the wise decisions of the Congress.
December 01, 2023 | 22:01