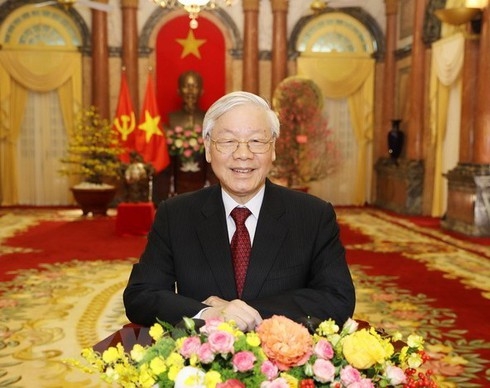 Party General Secretary and President Nguyen Phu Trong (Photo: VNA)
Prime Minister Nguyen Xuan Phuc also extended congratulations to his French counterpart Jean Castex.
On this occasion, Deputy Prime Minister and Foreign Minister Pham Binh Minh sent a congratulatory message to Minister for Europe and Foreign Affairs Jean-Yves Le Drian.
Vietnam and France established diplomatic ties in 1973 and lifted their relations to a strategic partnership in 2013.
Last year, Vietnam and France continued exchanging high-level delegations, including a visit to the European nation by National Assembly Chairwoman Nguyen Thi Kim Ngan.
Statistics showed that two-way trade tripled to USD 5.3 billion in 2019 from roughly USD 1.6 billion 10 years ago, making France the third largest trade partner of Vietnam in Europe, only after Germany and the Netherlands, reported VNA.
As of May 2020, France had invested in 588 projects in Vietnam with a combined capital of USD 3.56 billion, ranking second among the European investors in Vietnam.
In the first five months of this year, export-import value of the two nations slipped 18.66% year-on-year to USD 1.77 billion due to the impact of COVID-19. Vietnam shipped products worth USD1.2 billion to France in the period.
At a webinar on chances brought by the EU-Vietnam Free Trade Agreement (EVFTA) for Vietnamese and French businesses hosted this month, Minister of Industry and Trade Tran Tuan Anh noted that the Vietnam-France trade and investment ties have enjoyed favourable conditions after 50 years of the diplomatic relations and seven years of the strategic partnership, with economic ties as a pillar.
France is among leading partners of Vietnam as the fourth largest export market of the Southeast Asian country. The Vietnam-France trade and investment ties will turn over a new promising page to overcome challenges after the EVFTA take effects, he added.
The minister also pledged that Vietnam will create optimal conditions in terms of investment climate and infrastructure for French companies to capitalise on benefits brought by the EVFTA.
During their phone talks on June 11, PM Phuc and his French counterpart Edouard Philippe highlighted huge potential for the development of bilateral cooperation in the time to come and affirmed that the strong coordination has not only helped combat the pandemic at present but also contributed to the realisation of the Sustainable Development Goals, climate change adaptation, environmental protection, and the maintenance of security, stability and respect for international law across regions, as well as in the East Sea.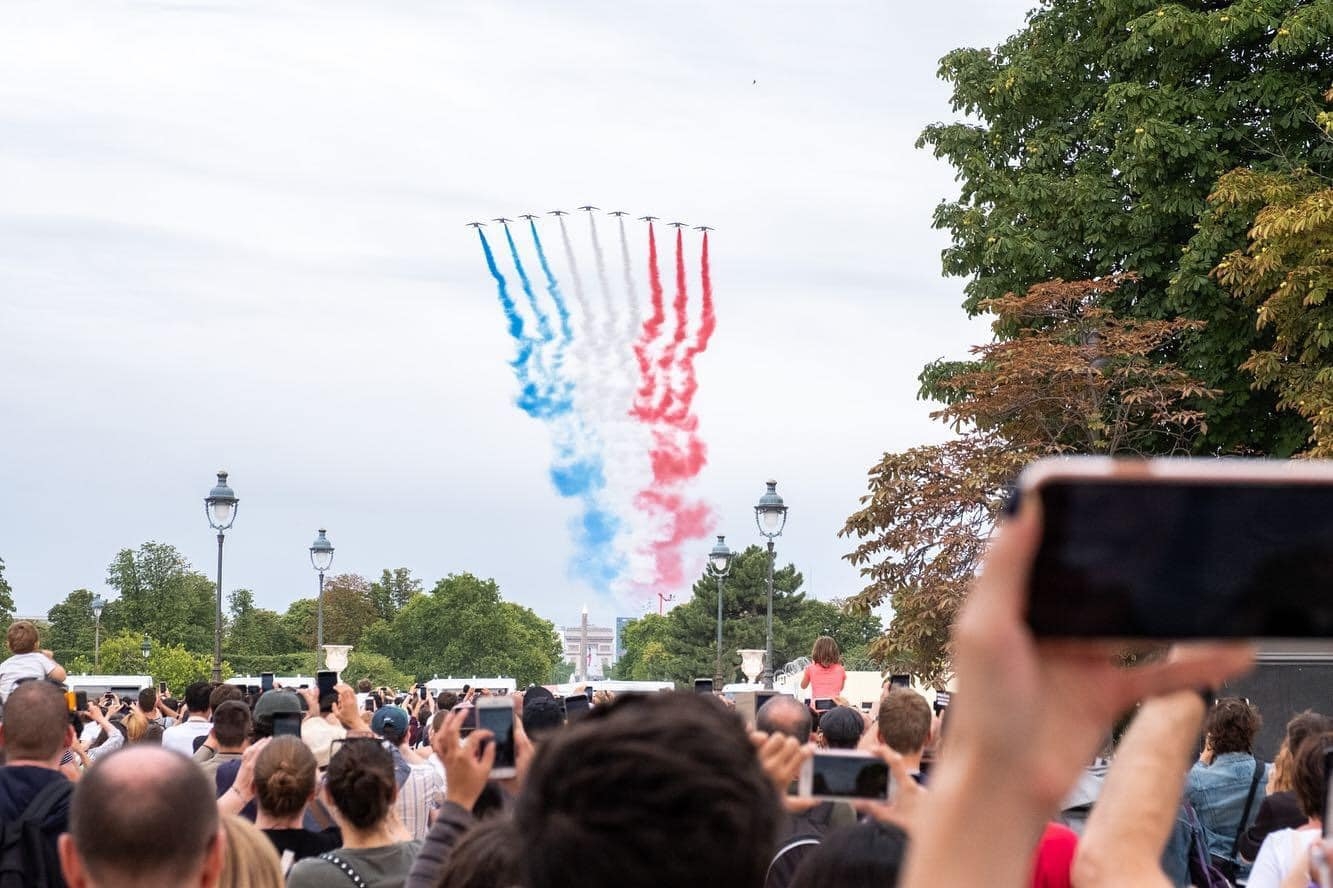 Fighter jets left plumes of blue-white-and-red smoke in the air.
France's Bastille Day celebrations usually see a vast air show and parade down the Champs-Élysées, featuring around 4,000 military personnel followed by a fireworks display at the Eiffel Tower watched by tens of thousands of spectators.
This year though, the parade was held at the smaller Place de la Concorde with just half the number of participants and only around 2,000 spectators, said France 24.
Fighter jets left plumes of blue-white-and-red smoke in the air as they took part in a flyover with the helicopters that transported COVID-19 patients.
The 2,000 special guests that were permitted at the ceremony looked on as a military band played France's national anthem, the Marseillaise.
The annual firework display over the Eiffel Tower was mostly set to be viewed by citizens on television as authorities were to close off the heart of Paris where crowds would usually gather on Bastille Day, including along the embankments of the Seine.
The virus has claimed the lives of over 30,000 in France.
Hannah Nguyen