On March 14, Vietnam recorded two cases displaying severe reactions after being injected with the vaccine, however, they are timely treated and now in stable health conditions, according to the National Expanded Program on Immunization.
One case suffered from dizziness, restlessness, and discomfort 30 minutes after injection.
Another case was diagnosed with degree 3 anaphylaxis with initial signs of fever, tremors, cramps, and numbness in hands appearing 8 hours after inoculation.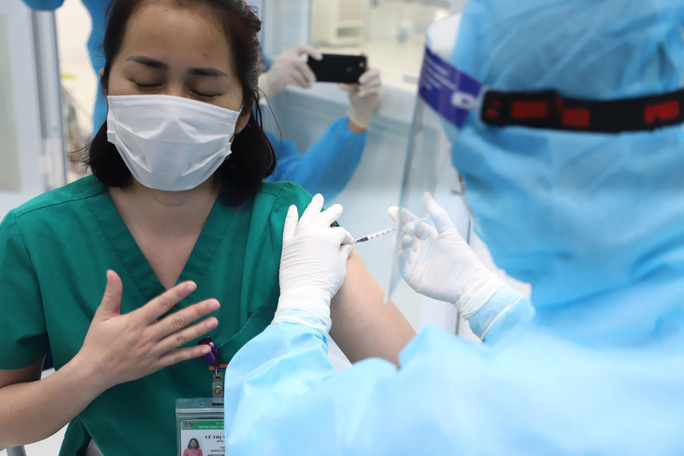 A medical worker receives Covid-19 vaccine. Photo: NLD
Also on March 14, more 1,382 medical and other frontline workers were administered the Covid-19 vaccine, raising the tally of recipients to 11.605.
In detail, the vaccine has been given to 7.276 people in Hai Duong, Hanoi (163), Hung Yen (1.008), Bac Ninh (312), Bac Giang (1.230), Hai Phong (205), HCMC (774), Gia Lai (200), Long An (193), Danang (117), Hoa Binh (32) and Khanh Hoa (95), Vneconomy reported.
Quang Ninh, Dien Bien, and Dong Thap provinces are scheduled to commence their vaccine campaigns this week.
Previously, 12 people developed severe reactions, reactions at 2-3 levels after the injection such as urticaria, pruritus, angioedema at the injection site, and breathing difficulty.
Specifically, HCMC Hospital for Tropical Diseases recorded 6 people experiencing reactions, Hai Phong Center for Disease Control (4), Gia Lai Field Hospital (1), and Viet Tiep Friendship Hospital in Hai Phong (1). All of them are now in stable health conditions.
The Health Ministry on March 13 required HCMC, Hai Phong, and Gia Lai to investigate, evaluate and conclude the causes of severe complications after the Covid-19 vaccination.
Vaccine recipients were asked to provide their health situation, immunization history, and types of medicine they have recently used.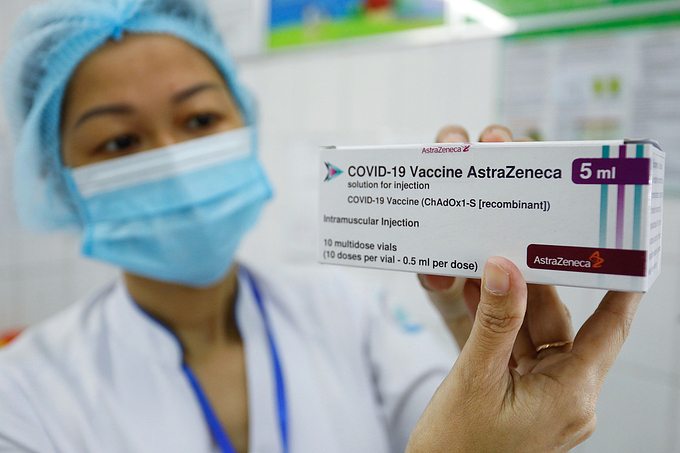 The vaccine used in the ongoing vaccination rollout in Vietnam is developed and manufactured by the British-Swedish firm AstraZeneca in collaboration with Oxford University. Photo: Vnexpress
Vaccine used in the ongoing vaccination rollout in Vietnam is developed and manufactured by the British-Swedish firm AstraZeneca in collaboration with Oxford University. The first batch of 117,600 vaccine doses arrived in Vietnam on February 24. An additional 5 million doses from global vaccine access mechanism Covax, UNICEF, and Vietnam Vaccine Joint Stock Company's purchasing contract are expected to arrive in March and April.
Vietnam is also negotiating with the U.S.'s Pfizer and Moderna and other vaccine manufacturers in Russia and China.
AstraZeneca vaccine has been given to residents in more than 50 countries in the world. Nine European nations including Denmark, Iceland, and Norway have suspended the use of the AstraZeneca vaccine following reports of severe cases of blood clots in people who have been injected with it, the AFP reported.
Thailand also followed the move, delaying its rollout program.
However, the European Medicines Agency (EMA) and the U.K.'s regulatory body have said that there is no indication that vaccination is linked to thromboembolic events.
The vaccine's benefits continue to outweigh its risks and the vaccine can continue to be administered while the investigation of cases of thromboembolic events is ongoing, the EMA said.
There has not been a single case of blood clots reported in Vietnam; hence, it will continue its vaccine rollout.
According to AstraZeneca, the vaccine is 76 percent effective, increasing to 81 percent after the second shot.
Another imported COVID-19 case was reported on March 14 evening, bringing the total number of infections in the country to 2,554, the Ministry of Health said.
The new patient is a Japanese expert who has been quarantined since his arrival at Ho Chi Minh City's Tan Son Nhat International Airport on March 10. His sample showed a positive result and he is now treated at Cu Chi COVID-19 treatment hospital, according to Vietnamplus.
Of the total number, 1,594 are domestically-transmitted cases, including 901 infections since the third outbreak hit the country on January 27.
According to the Treatment Subcommittee under the National Steering Committee for COVID-19 Prevention and Control, a total of 2,086 patients have recovered from the disease, while the death toll was kept at 35.
Among active patients undergoing treatment at medical establishments nationwide, 48 tested negative to coronavirus SARS-CoV-2 once, 48 twice, and 91 thrice.
As many as 39,613 people who had close contact with confirmed COVID-19 patients or entered Vietnam from pandemic-hit regions are being quarantined across the country, including 503 in hospitals, 16,056 in state-designated establishments, and 23,054 at their residences.
Malie Nguyen