Two new Thai COVID-19 cases confirmed
The Public Health Ministry on Tuesday (Feb 25) announced two new Thai COVID-19 cases: a woman, 31, whose relative visited Guangzhou and a male driver of Chinese tourists, 29, as the total number of local cases rose to 37.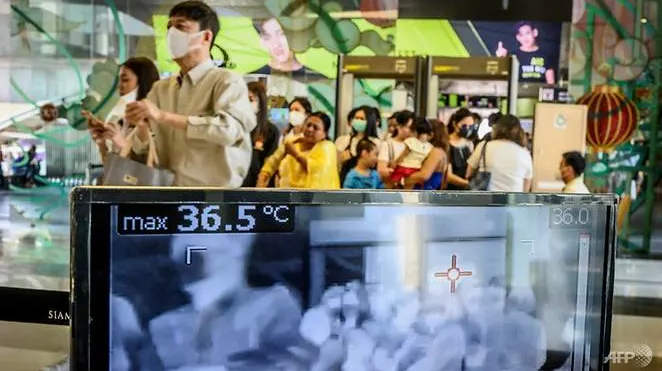 People with protective face masks pass in front of a thermal scanner as they enter a shopping mall in Bangkok on Jan 29, 2020. (Photo: AFP/Mladen Antonov)
Both of the new cases are Thai nationals, Sukhum Kanchanapimai, the health ministry's permanent secretary told a news conference.
Female patient is a maid, 31, and has a family member with a history of travelling from China, Sukhum said, adding that officials are investigating the rest of the family.
"The second is 29, a male driver for Chinese tourists," he added.
The male patient was admitted to the Bamrasnaradura Infectious Diseases Institute in Nonthaburi province. He had been in close contact with Chinese tourists and initially showed up with a fever and cough.
A total of 22 patients have been discharged in Thailand and 15 are still being treated.
The novel coronavirus has infected more than 80,000 people and killed nearly 2,700 in China. Outside of China, the virus has spread to about 29 countries and territories with a death toll of about two dozen.
Thailand said last week it would expand virus screening to cover travellers from Japan and Singapore, in addition to those from mainland China, Hong Kong and Taiwan.
Health officials were checking if other people close to them were also infected.
Anyone from those places who displays symptoms will be quarantined at a government hospital.
"We found more confirmed cases because the Public Health Ministry improved its surveillance on February 18, increasing the number of countries, visitors and provinces under close watch," Bangkok Post cited Dr Sukhum.
For good news, he said, another patient with COVID-19 had fully recovered and was discharged in the southern province of Krabi. The patient was a woman Chinese tourist, 32, who arrived in Thailand before the closure of Wuhan airport.
He said confirmed cases in Thailand now numbered 37, of whom 22 (60%) had fully recovered and were discharged, while the 15 others remained at hospitals. Twelve of the 37 were Thais.
Patients under investigation numbered 1,580. Of these 1,160 had seasonal influenza, recovered and were discharged and were being monitored. The other 420 patients remained at hospitals.
The Thai government also said last week it is preparing new measures to help the economy cope with the aftermath of COVID-19.
The new measures - which the Cabinet is expected to vote on this month - will be substantial enough to boost consumption, tourism and other economic activity, Finance Minister Uttama Savanayana said.
The government has sufficient fiscal and financial tools to handle economic problems in the short term, he said.
Thailand's economy grew at its weakest pace in five years in 2019 as exports and public investments slowed, adding pressure on the central bank to cut rates to shield Southeast Asia's second-largest economy from the coronavirus epidemic./.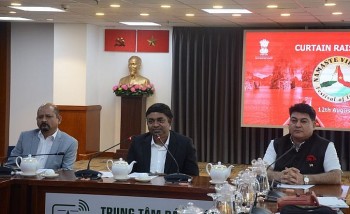 Handbook
The First Namaste Vietnam Fest will be held to mark 75 years of Indian Independence and the 50th anniversary of the establishment of Vietnam-India diplomatic ties (1972 – 2022).