UK and Europe daily weather forecast latest, February 1: An Arctic freeze to hit the UK as heavy snow blankets parts of the country
The UK is forecasted to cope with an arctic freeze hitting as temperatures fall as low as -12C. Meanwhile, unsettled conditions are expected across the south and in the west of Europe while northeast Europe and Scandinavia look more settled yet cold.
UK's weather forecast
Up to 20cm of snow could submerge parts of the country by Tuesday, according to the latest BBC weather forecast. Temperatures overnight into Sunday plunged as low as -12C in parts of Scotland. BBC meteorologist Chris Fawkes warned that "we are looking at a really cold day coming up".
Mr Fawkes said: "We do have some rain on the way for us, and that will bring the threat of snow over high ground, particularly in Wales as well as also for Northern Ireland."
He pointed out that temperatures in Scotland last night dropped to -12C in Braemar, while Loch Glascarnoch saw -11C. The meteorologist told the BBC: "The frost against with us tomorrow morning in the north, while it will be more limited in the south. On Monday things will turn rather icy in northern England and Scotland."
The BBC weather presenter continued: "The air behind this current weather front coming in is a lot milder, so we will see some weather changes over the next few days".
"It will be a cold day for most of us, typically around 2C to 3C, but there is milder air nosing into the south-west with temperatures up to 8C in Plymouth."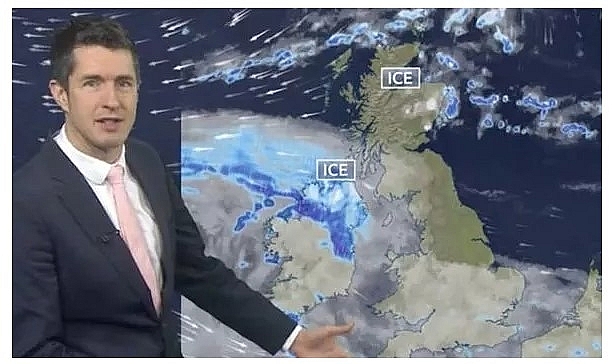 Up to 20cm of snow could submerge parts of the country by Tuesday (Image: BBC)
He warned that Tuesday could see some significant snow chaos, adding: "On Tuesday, we could see some travel disruption over these parts of the country."
"As these weather fronts run into that colder air, across the Pennines and the high ground in Scotland we could see as much as 20cm of snow building in. So be aware of travel disruption in those areas."
The Met Office has warned that parts of England and Wales are braced for more wintry conditions. Simon Partridge, a meteorologist, said: "We've got this band of rain sleet and snow that's moving across much of England and Wales through today, that is a real messy mix."
He added that temperatures will drop as low as -6C overnight in England, with the potential for the mercury to fall to between -10C and -15C in parts of Scotland.
Mr Partridge also warned that the highest areas on Tuesday could get "up to 20cm of snow or so though the course of the day".
He predicted that Trans-Pennine routes in particular could have some issues on Tuesday. More than 300 flood warnings also remain in place after waters rose treacherously in several areas across England.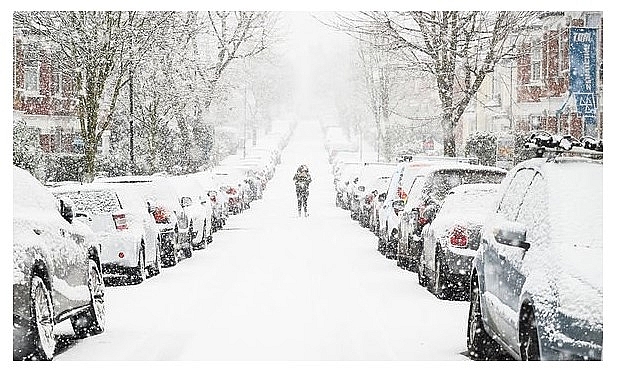 Fawkes warned that Tuesday could see some significant snow chaos (Image: GETTY)
On Saturday, two Covid-19 vaccination centres and a test centre were forced to stay shut in Wales after snowfall caused disruption. Last weekend, four vaccination centres had to shut because of bad weather.A Met Office warning is in place for snow across much of Wales, threatening travel disruption, power cuts and rural communities being cut off.
On February 1
According to Weather Online, a frosty start across Scotland, parts of Wales and northern England on Monday morning. High pressure will be to the northeast while Atlantic low pressure systems continue to push into western areas. Southern and southwestern areas will start wet and cloudy but the rain here should soon clear to allow for drier conditions to develop.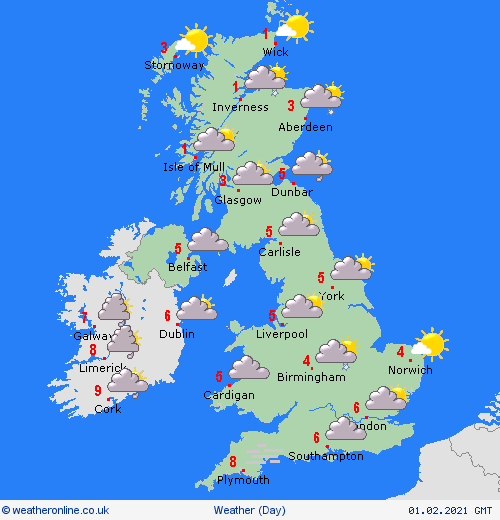 Photo: Weather Online
However, through the afternoon rain will spread across Ireland and reach Wales and southwest England later on in the day. Winds will pick up too. Staying dry and fine elsewhere with the best of the sunshine across eastern areas. A chilly day with highs at 2 to 6C for most, though southwestern parts of the UK and Ireland could see highs of 8 to 10C.
Further outbreaks of rain in the west, with some snow for parts of Northern Ireland, and then central and southern Scotland. Drier in east, snow showers in far north, Met Office reported.
Outlook for Tuesday to Thursday
Often unsettled with heavy rain, strong winds, and some snow for northern Britain. Best of any sunshine in extreme north and northwest. Cold in the north, mild in the south.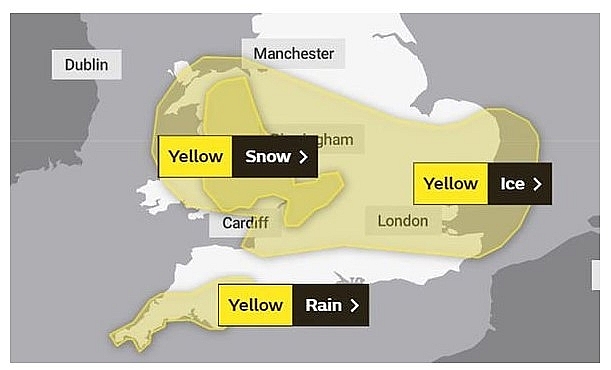 A Met Office warning is in place for snow across much of Wales, threatening travel disruption, power cuts and rural communities being cut off (Image: MET OFFICE)
Europe's weather forecast
Patchy rain and scattered showers for Portugal and Spain. Eastern coastal areas should stay dry and fine. Mostly dry and fine too for the Balearics. Outbreaks of rain and gusty winds clear southeast from Corsica, Sardinia and northern Italy through the day. Staying wet over southern Italy and Sicily for longer. After a dry and fine start, heavy rain moves into western Greece. Early snow and rain clears east from Turkey to leave a dry and fine day here too.
Early rain and sleet clears south from France before another more widespread area of rain spreads across the country from the northwest. This rain also extends into Belgium. Dry and fine for Luxembourg and the Netherlands. Early snow clears from the Alps to leave a dry and fine day for Switzerland, Austria and Germany. Mostly dry and bright for Poland, the Czech Republic and Slovakia while Hungary sees some snowfall. Northern coasts of Poland could see frequent wintry showers.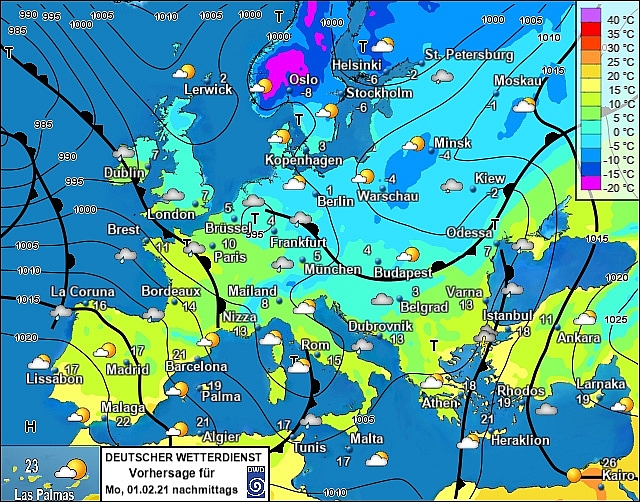 Photo: Stirimeteo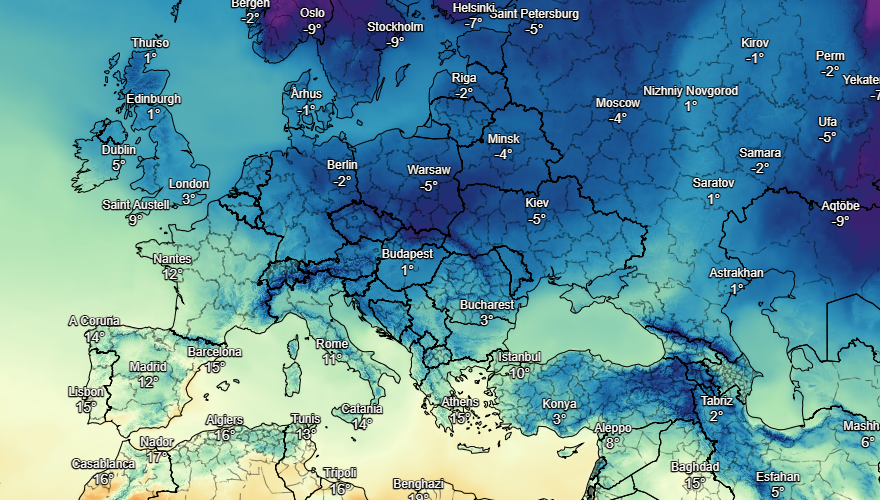 Photo: Stirimeteo
Isolated wintry showers and sunny spells for Denmark, the Baltic States, Finland, northern Sweden and western Norway on Sunday. Mostly fine elsewhere across southern Sweden and southeast Norway with good spells of sunshine.
On February 1
According to Weather Online, rain will continue to affect northern areas of Spain and coastal areas of Portugal but it should remain largely dry elsewhere. Breezy yet mainly dry throughout the Balearics. Staying unsettled with blustery winds across Sardinia and Corsica with patchy rain across south Italy and Siciliy. Cloudy and wet for much of Greece once again today with west Turkey seeing rain and snow push in here. Drier further east.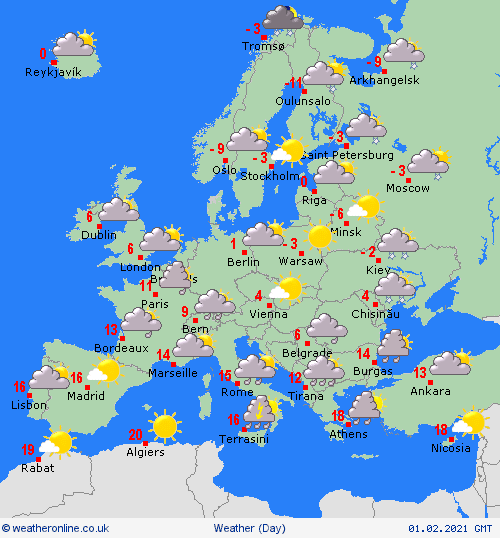 Photo: Weather Online
An unsettled day across France as outbreaks of rain affect most areas. Windy too towards southern and western coasts. An improving day for the Low Countries while rain, sleet and snow push across Germany from west to east. Rain, sleet and snow will affect Austria and Switerland while progressively affect more of the Czech Republic. Largely dry across Slovakia, Hungary and Poland but turning increasingly cloudy from the west.
Isolated wintry showers and sunny spells continue across Denmark, the Baltic States, Finland and Sweden on Sunday. Snow showers will push into coastal areas of Norway but it should be largely dry elsewhere here with sunshine.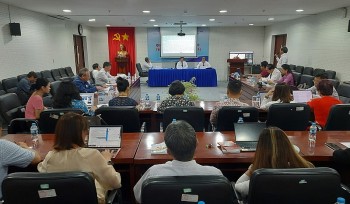 Friendship
The Vietnam - India Friendship Association's Ho Chi Minh City branch, the Ho Chi Minh City Union of Friendship Organizations (HUFO) and the Southern Institute of Social Sciences on March 21 held a scientific seminar themed "Vietnam - India relationship: tradition and present".