UK and Europe daily weather forecast latest, January 27: Wall of snow to cover Britain while temperatures expected to plunge
Britain is forecasted to cope with a large wall of snow while temperatures set to plunge to lows of -7 degree Celcius. Meanwhile, rain and snow are expected in the east, fair in central areas.
UK's weather forecast
New weather charts from Weather Outlook and WXCharts reveal a northeasterly Atlantic system from the Irish Sea will slam across the UK, before temperatures plunge this weekend. A band of snow will fall across northern Scotland and England, a distance of roughly 450 miles, on January 28.
Writing on Twitter alongside the weather chart, Brian Gaze from the Weather Outlook said: "12z Arpege and GEM are adding a lot of uncertainty to the forecast for the coming week.
"Certainly an element of it's a 'lucky dip'. Arpege going for a big snow event in much of the UK on Thursday."
WXCharts' snow depth models predict 8cm (3 inches) of snow in northern England - with much heavier snow forecast in Scotland. Snow depth in the Scottish Highlands could reach 37cm (14 inches) on Thursday - before rising to 40cm (17 inches) midway through the following week.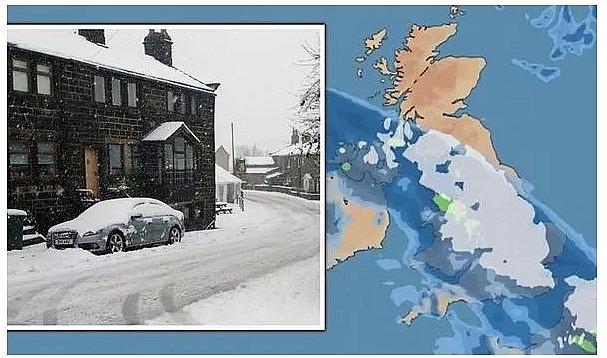 UK weather forecast: A new cold front is set to push down temperatures (Image: STEPHANIE ANGUS)
And temperatures will also plummet to as low as -7C in Scotland this weekend on January 31st. Lows of -1C and 0C will also hit the majority of England and Wales that same weekend.
A Met Office spokesperson told Express.co.uk "wintry conditions" were forecasted for the weekend and into next week across the UK.
They added: "Occasional colder northerly winds are possible, bringing a chance of snowfall, likely confined to far northern parts."
And Jo Farrow at Netweather said: "There will be a succession of Atlantic fronts moving in, bringing rain and also milder air, so snowmelt will add to the already sensitive ground and river situation along with the extra rain."
"By midweek temperatures in Northern Ireland and the southern half of Britain will be at 7 or 8C, even higher for southern Britain by Thursday. The falling rain will speed up the melt of any lying snow."
Meanwhile, tonight will be an unsettled and overcast evening with thick cloud cover and outbreaks of rain which will be mostly light across southern Britain but will fall as snow across northern England and Scotland.
The temperatures are set to plunge to -5 (Image: WXCHARTS)
Rain and snow will turn increasingly patchy overnight before clearing to become mostly dry but cloudy by dawn.
Temperatures overnight tonight are expected to plunge as low as -1C in northern Scotland while in the south, the mercury will be as high as 2C in the south, the charts reveal.
It comes as Wales saw its coldest night of the year so far as the temperature dropped to -9.7C at Sennybridge in Powys on Sunday night.
The coldest temperature recorded in the UK overnight was at Katesbridge in County Down, Northern Ireland, where the mercury fell to minus 10.4C.
The Met Office said it was the "snowiest spell" the UK had experienced since late January 2019, when 20 weather stations in England recorded accumulations of 5cm or more for three days consecutively.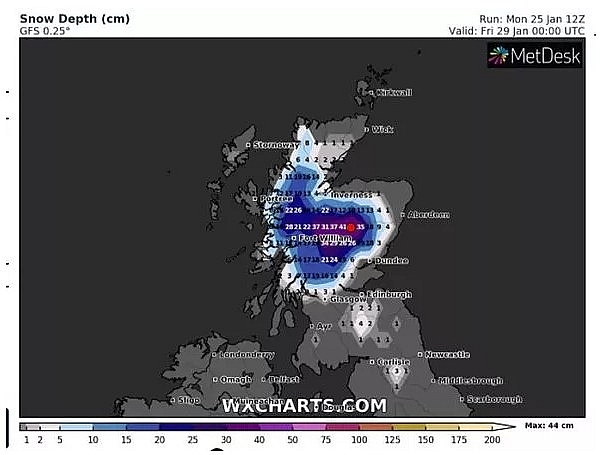 Scotland will experience the majority of snow (Image: WXCHARTS)
On January 27
According to Weather Online, low pressure remains in control through Wednesday. It is going to be a rather cloudy day across many areas with some outbreaks of rain and drizzle, most of this in the west. Low cloud and fog will also affect many coasts and hills. It remains cold across much of Scotland although for northern and eastern England temperatures recover to near average. Milder across Ireland, Wales and much of the south and south-west of England. Highs at 2C in northern Scotland, 6C in northern England, 12C in southwest England and Ireland.
Mostly cloudy with some light rain and drizzle. More widespread rain arriving from the southwest during the afternoon. N Scotland colder and drier but snow showers for Shetland, Met Office reported.s
Outlook for Thursday to Saturday
Remaining cold in the north, but becoming mild for a time in the south with some heavy rainfall. Across central areas, there is potential for some significant snowfall during Thursday.
Photo: Weather Online
Europe's weather forecast
Patchy outbreaks of rain spread from the northwest across much of Portugal, Spain and the Balearic Islands on Monday. Corsica, Sardinia, Italy and Sicily too see patchy outbreaks of rain spread from north to south. This turns to sleet and snow over the Appennines and clears to leave a dry and fine day in the north. Rain spreads from Greece in western Turkey where it may be locally heavy. Showers follow for western Greece while eastern Turkey stays dry but increasingly cloudy.
Early snow clears from eastern France to leave a mostly dry and fine day here. Another band of patchy rain, sleet and snow arrives to the northwest later however and spreads across the Low Countries too. Snow for southern Germany while the rest of the country stays mostly dry but cloudy. Mostly dry and cloudy too with isolated snow showers for much of Poland, the Czech Republic, Slovakia, Hungary and Austria. Heavier snow falls over eastern Poland.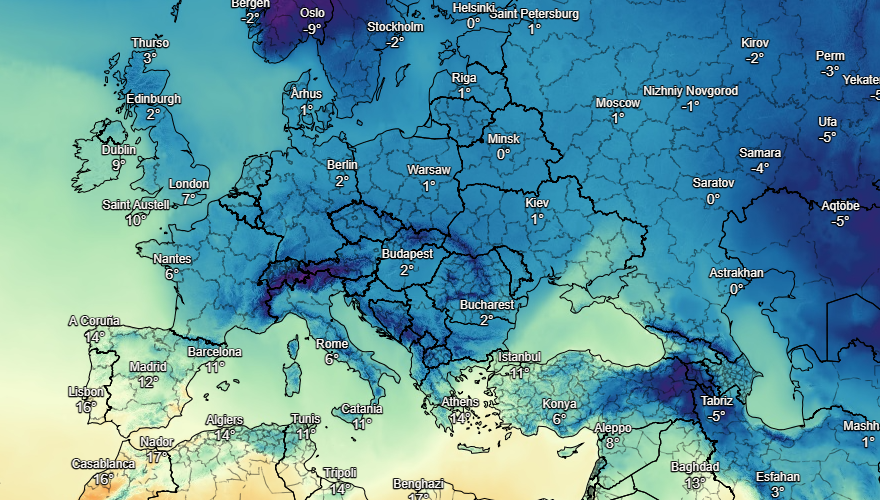 Photo: Stirimeteo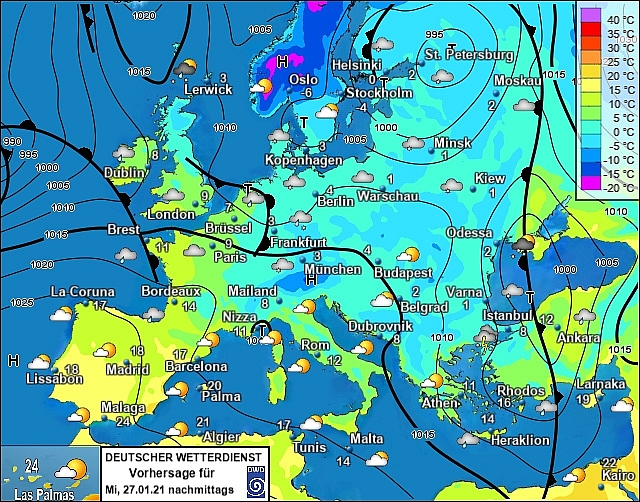 Photo: Stirimeteo
Mostly dry and fine for Norway and Sweden with good spells of sun for southern Norway. An area of snowfall spreads across Finland and into northeastern parts of Sweden later. Early wintry showers clear north from western parts of the Baltic States before an area of heavier and more persistent snow arrives from the south later. Mostly cloudy with scattered wintry showers in Denmark.
On January 27
According to Weather Online, mostly dry for Spain and Portugal. Best of the sunshine in central and southern areas. Fair for much of the western Mediterranean too. A morning frost in central Italy then fine throughout the day. Few showers in western GreeceRain for the west of France. Dry in the east ad bright too with sunny spells.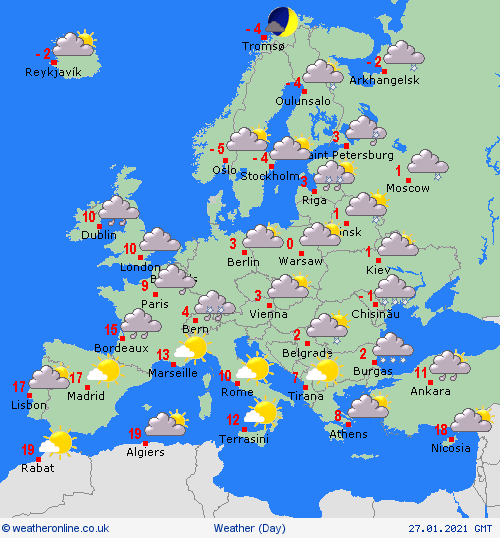 Photo: Weather Online
A fair day with some frost in the morning over the Low Countries and northern Germany. Poland will have a scattering of showers. Hungary will have some sunny spells and should be dry. Scattered showers in Austria and Switzerland.
Fine for Denmark and Sweden with good spells of sunshine. More snow in the Baltic States and Finland. Snow showers affecting the west of Norway.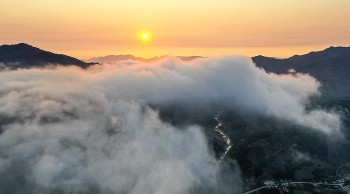 Multimedia
The gorgeous dawn behind a sea of fluffy white clouds creates a wonderful and beautiful picture of Truong Son Dong peak, Quang Ngai.