UK and Europe daily weather forecast latest, January 26: Warnings for heavy sleet and snow issued as ice blast to hit the UK
The UK is forecasted to cope with heavy sleet and snow as ice blast covers the country. Meanwhile, unsettled conditions spread from the central to eastern areas of Mediterranean.
UK's weather forecast
BBC Weather meteorologist Carol Kirkwood forecast sleet and snow across the UK as temperatures remain below freezing.
BBC Weather forecaster Carol Kirkwood warned of wintry conditions and freezing temperatures over the next few days. Ms Kirkwood said there would be sleet, rain and snow across parts of the UK. Temperatures will also fall to minus four degrees in some parts of England with a wall of rain to follow on over the next few days.
Ms Kirkwood said: "It is a cold start to the day as temperatures are widely below freezing. We have got some lying snow, about 18cm in Wittering and Loch Glascarnoch. It is a frosty start and an icy one as well and there is a chance of a wintry shower or two with some of us seeing that this morning."
"The more likely areas are parts of the north and the west, they will see a mixture of rain, sleet and snow. High pressure is also in charge of the weather and it is scooting across other areas."
The BBC Weather forecaster noted that despite the cold temperatures and expected wintry weather, some areas of the UK will see a settled Monday.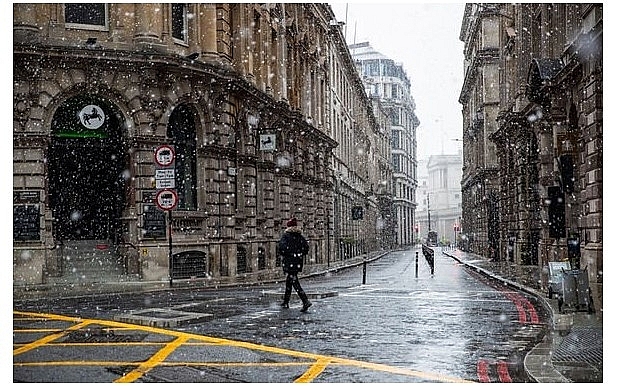 Many parts of the UK saw snowfall over the weekend (Image: GETTY)
She continued: "There is a lot of settled conditions this morning as well. Some patchy mist and fog that will soon lift and we could see some sunshine as well. There will be varying amounts of cloud and some showers across the north and the west."
Ms Kirkwood noted that during the day temperatures are where they should be for the time of the year.
In the north, there will be a high of three degrees celsius while in the south a high of seven degrees. However, temperatures are expected to be below freezing in a selection of areas overnight.
Ms Kirkwood said: "Overnight there is some clear skies to watch out for and some widespread frost. There will be ice on untreated surfaces and still some wintry showers with snow in the hills. In some of the heavier showers, you could see snow at lower levels as well. These are our temperatures, minus four in Birmingham so it will be a cold start for the day."
Following on from this, on Wednesday a wall of rain is expected to cover the UK and move from the east to the west.
Windy snow forecast maps also show significant new snow could fall over parts of Scotland, northern England and Northern Ireland over the course of the next three days, Express reported.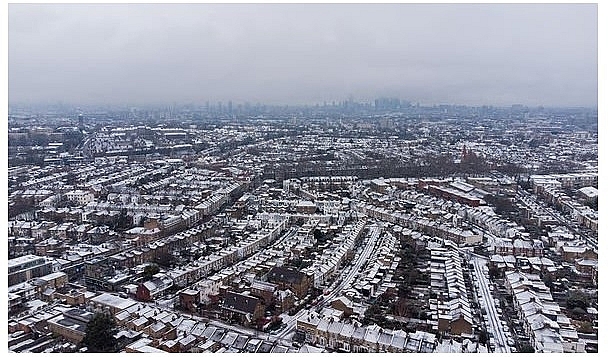 Snow over south-east London on Sunday (Image: GETTY)
Tonight the Met Office forecast "clear and cold" conditions for many parts of the UK along with "widespread frost".
Rain and snow is forecast for parts of Scotland, and rain and some stronger winds are due to arrive in Northern Ireland later in the night.
A number of ice and snow warnings expired at 11am on Monday, and the Met Office has now issued weather warnings for Tuesday. A yellow snow warning has been issued for parts of Scotland and northern England, and it is active from 11am on Tuesday until 11.59pm.
The warning reads: "A spell of hill snow will develop during Tuesday late morning and afternoon."
"Over northern England and southern Scotland, snow will initially fall down to approximately 200-300m before gradually becoming confined to areas above 400m during course of the afternoon. Here, accumulations will be mainly above 300 m where 2-5cm snow is likely for some and above 400m 5-8cm is possible in a few places."
"Further north, hill snow will be more prolonged and 2-5 snowcm is likely above 200m and in some places 5-10cm is possible above 400m, most likely over the southern Grampian Mountains."
A yellow ice warning has also been issued for Northern Ireland between 2am and 10am on Tuesday. The Met Office warn of "icy patches" and potential hill snow above 200m. By Wednesday temperatures across the south could rise back up to 10C or 12C.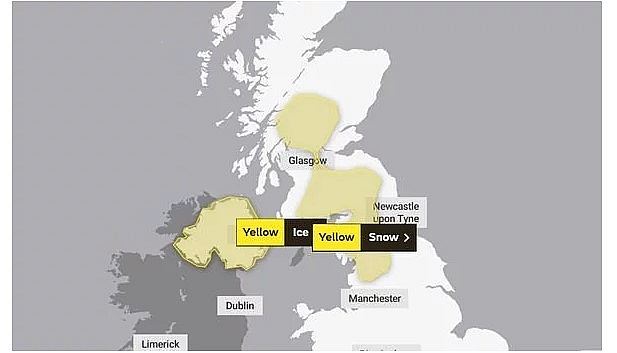 Met Office warnings for Tuesday (Image: MET OFFICE)
With the milder weather comes a greater risk of flooding, and further problems are possible in southern parts by the end of the week.
Met Office meteorologist Simon Partridge said: "It's a bit of a rollercoaster from cold and wintry conditions to wet and windy ones. We are keeping an eye on rainfall totals because there are some areas that are very sensitive to rainfall and there is further possible flooding as we go through the second half of the week."
On January 26
According to Weather Online, a ridge of high pressure brings a cold, dry start to the day with sunshine and a widespread frost across much of Great Britain. Increasing cloud brings rain, possibly preceded by a period of sleet and snow eastwards eventually through all parts of Ireland and much of the UK. It could be that several hours of snowfall affect parts of southern Scotland and northern England. Staying dry and fine to the northeast. High temperatures at 1 to 5C for many, 6 to 11C across the Republic of Ireland and the southwest of the UK.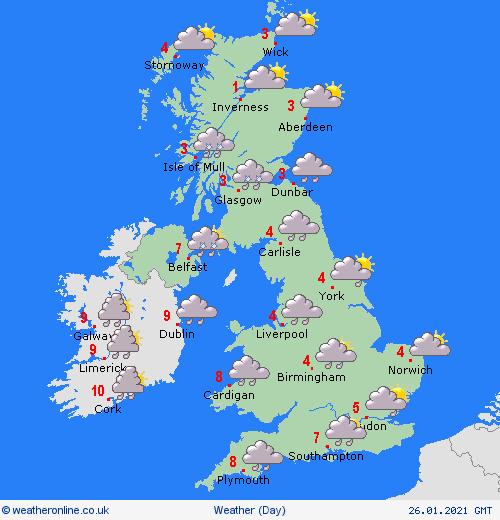 Photo: Weather Online
Rain moving slowly east. Snow mainly over high ground of northern England and Scotland, perhaps to low levels at first for Northern Ireland. Cold for many, becoming milder in west, Met Office reported.
Outlook for Wednesday to Friday
Cold and bright across northern Scotland with wintry showers. Milder elsewhere, with rain at times, heavy in the west with hill snow across Scotland. Windy, gales possible in southern areas.
Europe's weather forecast
Patchy outbreaks of rain spread from the northwest across much of Portugal, Spain and the Balearic Islands on Monday. Corsica, Sardinia, Italy and Sicily too see patchy outbreaks of rain spread from north to south. This turns to sleet and snow over the Appennines and clears to leave a dry and fine day in the north. Rain spreads from Greece in western Turkey where it may be locally heavy. Showers follow for western Greece while eastern Turkey stays dry but increasingly cloudy.
Early snow clears from eastern France to leave a mostly dry and fine day here. Another band of patchy rain, sleet and snow arrives to the northwest later however and spreads across the Low Countries too. Snow for southern Germany while the rest of the country stays mostly dry but cloudy. Mostly dry and cloudy too with isolated snow showers for much of Poland, the Czech Republic, Slovakia, Hungary and Austria. Heavier snow falls over eastern Poland.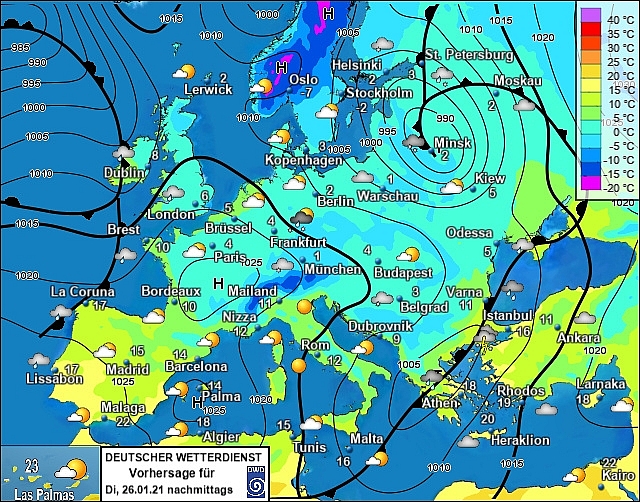 Photo: Stirimeteo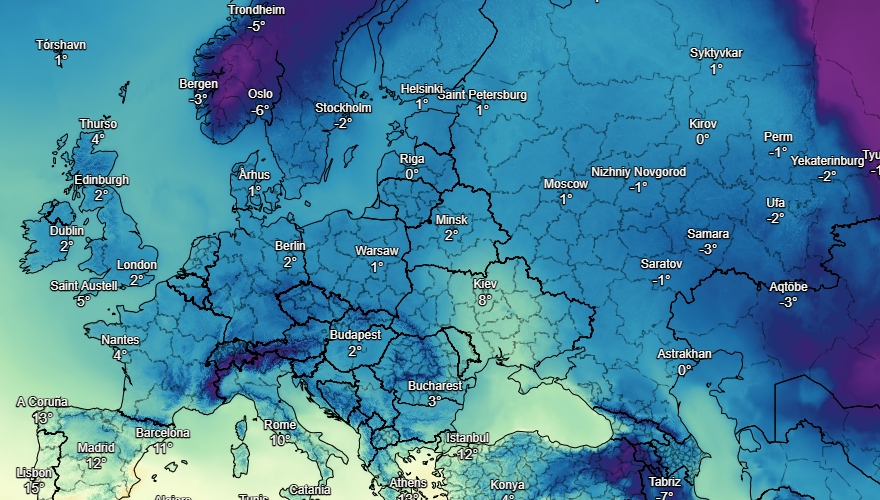 Photo: Stirimeteo
Mostly dry and fine for Norway and Sweden with good spells of sun for southern Norway. An area of snowfall spreads across Finland and into northeastern parts of Sweden later. Early wintry showers clear north from western parts of the Baltic States before an area of heavier and more persistent snow arrives from the south later. Mostly cloudy with scattered wintry showers in Denmark.
On January 26
According to Weather Online, scattered showers for Iberia and the Balearic Islands. These heaviest and most frequent over Portugal and western Spain. Dry and fine for Corsica, Sardinia and northern Italy while early heavy rain clears south from southern Italy and Sicily. Heavy rain and gusty winds spread into the Balkans and Greece then later into western Turkey. Staying dry and fair for eastern Turkey.
Dry and fair for France and the Low Countries though cloud thickens to the northwest later bringing partchy outbreaks of rain, sleet and snow here. Dry and fine for Switzerland while scattered snow showers affect much of Germany. A more organised band of snow spreads from west to east over eastern Germany, Austria, the Czech Republic and into western Poland. A mostly dry and fair day for Slovakia and Hungary.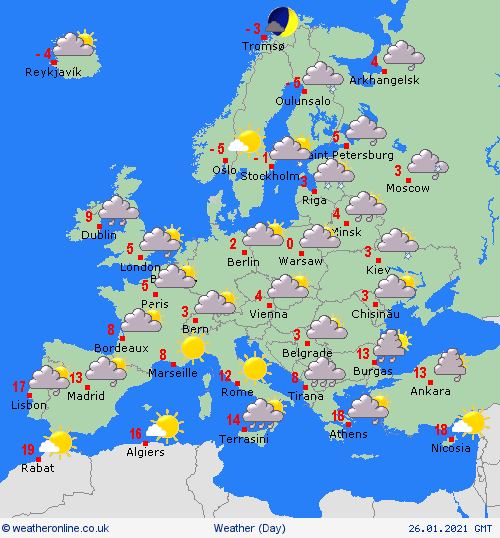 Photo: Weather Online
High pressure brings mostly dry and fine conditions to Norway, Sweden and Denmark though isolated wintry showers could develop over coasts. Breezy for the Baltic States with a band of heavy rain, sleet and snow spreading north through the day and into southern Finland. Cloudy over central and northern Finland with patchy snowfall to the north.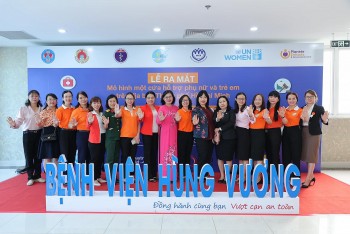 Viet's Home
What is the one-stop centre for women and children experiencing violence?