UK and Europe daily weather forecast latest, January 30: Deep freeze and more unprecedented heavy snowfall to brace for Britain
Britain is forecasted to cope with ferocious weather system over Greenland, which triggers a deep freeze and heavy snow in the UK. Meanwhile, cold conditions with snow are expected in the east, mild and wet in the west.
UK's weather forecast
High pressure is predicted to build over the north of the UK from Greenland next month, which is likely to push low pressure systems away into South Europe. Forecasters told Express.co.uk this could spark the "coldest weather of winter" this season as more snow could be dumped in the UK from the freezing northeasterly flow. Temperatures in Scotland cold plummet to -12C by February 13 due to the cold front, according to WXCHARTS.
The freezing air could also send a shiver through northern parts of England as Carlisle could see -5C at the start of next month.
London and Surrey are expected to average 0C during this period. Scotland is also forecast to be battered by "winter storms" as the latest snow depth models show 33 inches (84cm) on Thursday, February 11.
The Lake District in the North West of England and also Northumbria, just above Newcastle, could also face heavy snow fall as a foot (32cm) may hit on the same day.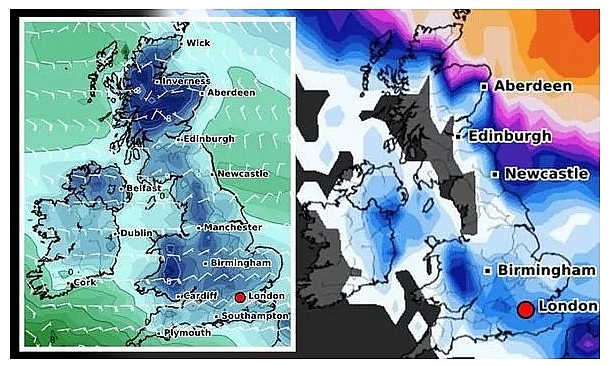 UK snow forecast: A ferocious system from Greenland could batter the UK (Image: WXCHARTS)
Brian Gaze at The Weather Outlook warned high pressure building over the north of the UK from either Greenland or Scandinavia could lead to "bitterly cold" conditions and snow battering the UK next month.
He told Express.co.uk: "I'm keeping a close eye on the middle third of February. It's too early to be certain but there is a chance of a very cold period of weather."
"In fact mid February can often bring the coldest weather of the winter to the UK. Some computer models are showing high pressure building strongly to the north of the UK (either Greenland or Scandinavia) and both those scenarios would lead to the possibility of it turning bitterly cold."
"The attached charts from today's GFS 06z model run illustrate the Greenland high pressure scenario leading to a bitterly cold northeasterly flow."
"There would be a risk of snow developing, particularly as weather fronts in the Atlantic started to push eastwards into the cold air over the UK."
The coldest day of this winter was December 30 2020 when it hit -10.2C in Dalwhinnie in Scotland.
The Met Office confirmed the coldest day of 2021 so far was on January 6, when -12.3C hit Loch Glascarnoch in Scotland.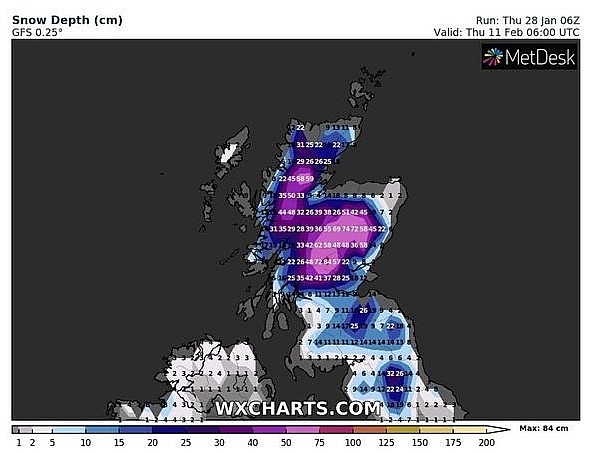 UK snow forecast: Heavy snow could batter northern UK next month (Image: WXCHARTS)
Speaking to Express.co.uk, Met Office forecaster Oliver Claydon said "widespread cold air" could hit the north east of the UK due to northerly winds from the Arctic region, but it was still too early to guarantee this happening.
He said: "The long-range forecast forecast up to February 10 shows unsettled conditions due to low pressure from the Atlantic, which could lead to cold air from the north east."
"After February 10, low pressure could be positioned over the north of the UK, bringing widespread wintry outbreaks and cold."
"At this time of the year, cold air can come from the north of the UK, but it is still too soon to clarify which exact region."
The Met Office's forecast for the start of February added snow could fall on lower ground too.
The forecast said: "Going into next week, it is likely that unsettled conditions will dominate, with low pressure systems moving in off the Atlantic. The weather will be changeable."
"Periods of rain or wintry showers, and strong winds are likely, especially in the west, with brief more settled spells in between. Westerly or southwesterly winds during this period will bring milder conditions to most areas, but occasional interludes of cold northerly winds are possible."
UK snow forecast: Cold northerly air could blast the UK with a deep freeze (Image: WEATHER OUTLOOK)
"It will be on this boundary between the colder and milder airmasses where any snowfall to lower levels could possibly occur. Towards the end of this period, we may see high pressure build over the north of the UK, bringing colder conditions and wintry outbreaks."
The BBC's forecast between Monday, February 1 and Sunday, February 7, predicted winter storms to blast the UK later in the month.
The forecast said: "High pressure is expected to build over Greenland and northern Europe in early February, strengthening as we head deeper into the month."
"This will tend to push the low pressure track further south into the Mediterranean Sea. It will be a slow process though and likely not happen until a bit later in the month."
"However, there will be plenty of cold air nearby to the north and northeast that will become increasingly widespread".
"The cold snaps in early-February may tend to last a few more days compared to late-January. As the low pressure systems move in from the sub-tropical Atlantic, they will be able to tap into some warmer air to give them a bit more energy."
"There is a chance that we can see a few stronger winter storms push through bringing some significant winds or rain."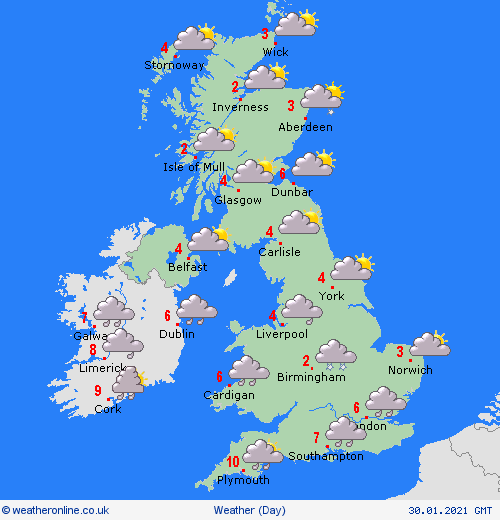 Photo: Weather Online
On January 30
According to Weather Online, as low pressure crosses southern England it will bring strong winds and wet weather across much of Ireland, Wales, Central, eastern and southern England on Saturday. The rain increasingly turning to sleet and snow as it meets colder air across central Ireland, Wales and the Midlands. Several centimetres of snow are likely over high ground and there may even be some at low levels in these areas. Colder and drier across the far north of England and Scotland although always a fair amount of cloud. Highs at 3 to 5C for most, 9C in southern England and Ireland.
Dry and sunny in north. Rain across central and southern UK, falling as snow over Welsh hills and then across some southern parts before clearing away south during the afternoon, Met Office reported.
Outlook for Sunday to Tuesday
A cold, frosty start on Sunday, largely fine before rain and snow arrives from the southwest. A dry day for many on Monday, further rain and snow then spreading northeast.
Europe's weather forecast
Fine through Portugal and Spain again today. More sunshine in the Balearics. Sunshine and showers over Italy, some of the showers will be heavy. Further heavy showers in western parts of Greece, drier and brighter to the east. Fair in western Turkey, rain in eastern parts of Turkey.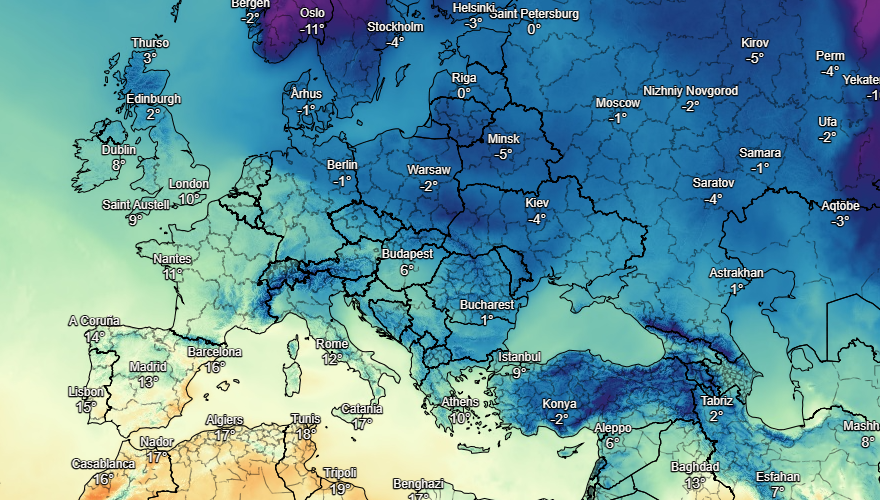 Photo: Stirimeteo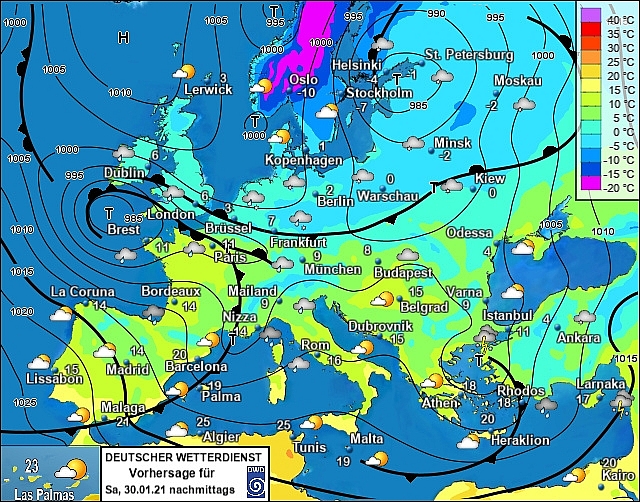 Photo: Stirimeteo
Mixed across France with rain to the north and east. Some rain in the far south too. Cloudy elsewhere and mostly dry. Rain across the Low Countries and through central Germany. Eastern Germany should be dry. Poland is going to be cold with sunny spells. Rain and some snow in Hungary. Austria and Switzerland will be wintry with periods of snow, some of it heavy.
Fair in Denmark and cool here. Some heavy snow showers in the Baltic States. Further snow showers and a strong winds in Finland. Some snow showers affecting eastern parts of Sweden. Staying cold in Norway with sunny spells and some snow showers.
On January 30
According to Weather Online, rain in northern Spain. Some showers through central and southern parts of Spain. The Balearics should be bright with sunny spells. Fair across most of Italy, a few showers in the west. Breezy for Greece scattered showers in the west but heavier showers in the east. Thundery rain in western and southern Turkey could lead to some flooding.
Unsettled in France with periods of heavy rain across France. More rain into the Low Countries. Rain, sleet and some snow in western parts of Germany but fair in the east. Rain for southern Poland, fair in the north. Rain across Hungary, fair in Austria. Some rain and snow in the west.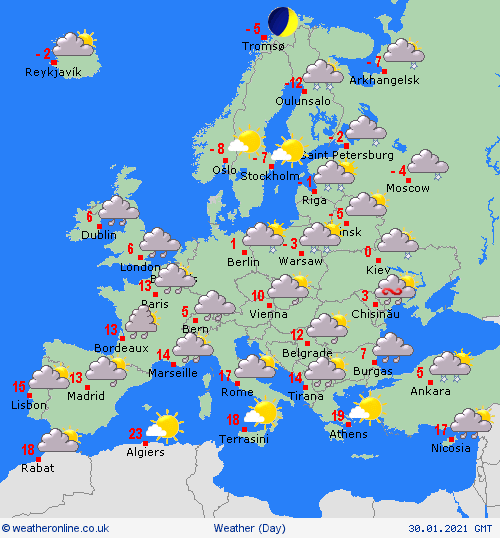 Photo: Weather Online
Fair and cold in Denmark with good spells of sunshine. Some snow for the Baltic States. Cloud and some snow showers to come across Finland. Further snow showers in eastern Sweden. Cold again with snow in the north and west but fair to the south.