UK and Europe daily weather forecast latest, February 6: Icy weather moves across the UK while temperatures plummet to sub-zero levels
The UK is forecasted to cope with a 10-day snowstorm with icy weather sweeping across the country. Meanwhile, heavy rain with wet weather is likely to affect some parts in Europe.
UK's weather forecast
WXCharts has warned a snowstorm will hit the UK on Sunday 7, spreading from Plymouth in the South West to Inverness in the far north of Scotland. Usually, the worst of the conditions are seen in the north of Scotland but, according to charts, even the south of England will see snowfall as deep as 15 inches (40cm) on February 7. Due to an icy weather front moving across the UK, temperatures will also plummet to sub-zero levels from February 7.
In graphs from WX Charts, the colossal weather front will hit Scotland before spreading throughout the rest of the UK on Sunday will see temperatures drop from near to 10C (50F) to freezing in 24 hours.
Although Scotland will see snow levels approaching 29 inches (75cm), the North of England, Midlands and the South East will also get hit by snow levels ranging between 10-15cm (3.9 inches to 5.9) at 3pm on Sunday.
From the early hours of Sunday, these conditions will become progressively worse before covering the entire country by Monday morning. Combined with heavy snow, many areas across the country could witness temperatures as low as -5C (23F) from 6am onwards on Sunday.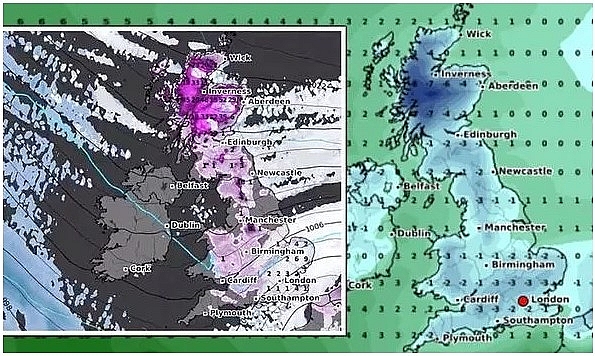 UK snow map: Heavy snow showers are forecast this weekend (Image: WXCHARTS)
The Met Office has also issued a yellow weather warning for snow and ice in Scotland, the Midlands and the North and South East of England.
From February 8 to 10 these conditions worsen with snow levels exceeding 7.8 inches (20cm) for areas in the North of England and Midlands. Due to the large snowfall, the mercury is expected to fall to close to -10C for many areas in Wales, the far North and Midlands.
Conditions will further intensify from February 10 with areas in the Midlands seeing snow depth levels rising from 5.9-12.5 inches (15cm to 32cm) from Wednesday to Friday. These high levels of snow will also be replicated in Wales and the north of England with certain areas seeing levels rising to possible highs of 19.8 inches (50cm).
Throughout the 10-day onslaught, many areas will not see temperatures rise beyond -5C until February 13. The worst of the bitter temperatures will be seen at 6am on Wednesday Feb 10, with the Midlands, Wales and Scotland seeing the mercury fall to -10c.
While temperatures will rise slightly, snow levels will remain 15cm to 30cm throughout from February 11 until 6am on February 14. The snow will not fade in England and Wales until February 17 with areas in the north seeing levels remain at 10cm between from February 15 to 17.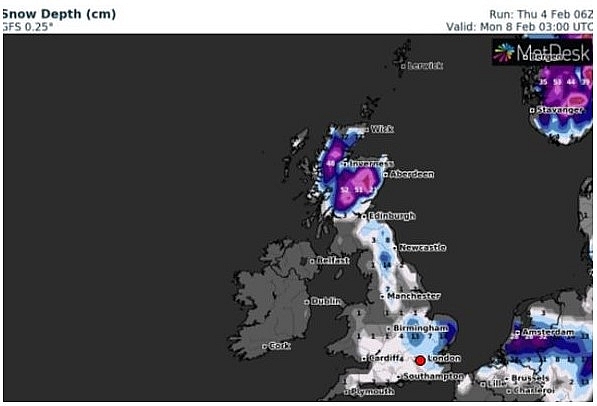 UK snow map: Large areas of the UK will be hit with snow (Image: WXCHARTS)
From Saturday, the Met Office states: "The very cold air which is currently in place across the north will spread southwestwards across the whole UK. Snowfall is highly likely, especially across many eastern areas. An area of high pressure looks to build to the north, and it will likely feel cold or very cold, especially in brisk easterly winds."
"Snow showers are possible across the country during the early part of the period, but most widespread and heaviest for northeastern areas."
"Drier weather to follow, with widespread overnight frosts, although wintry showers can still feed in from the east coast. Any organised areas of cloud and precipitation arriving from the southwest will not progress very far into the country as a result of the high pressure."
"However, they can bring the potential for widespread snow across areas where they bump into cold air. Patches of ice and other disruptive wintry hazards remain a possibility for all areas."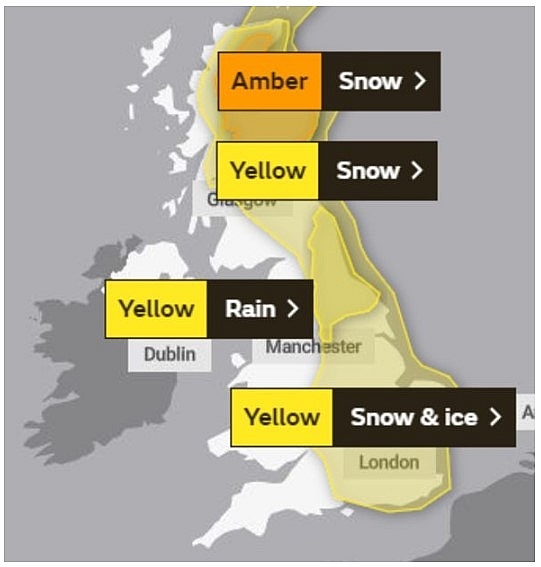 UK snow map: The Met Office has issued four weather warnings (Image: MET OFFICE)
On February 6
According to Weather Online, low pressure moves to the south of England on Saturday with high pressure north of Scotland, allowing for continued easterly wind and snow to continue to affect eastern areas of Scotland pushing into central areas with driest conditions towards the west. A mix of rain and sleet, snow possible over higher ground, towards northeast England. Rain looks to affect central and southern England, particularly the southeast through the afternoon. Highs at 2C in Scotland but feeling colder in the wind. Highs at 6 to 7C in England.
Further snow across parts of Scotland, and increasingly some other northern and eastern areas later, Met Office reported. Low cloud and showery rain affecting southern areas but a few brighter gaps. Turning colder.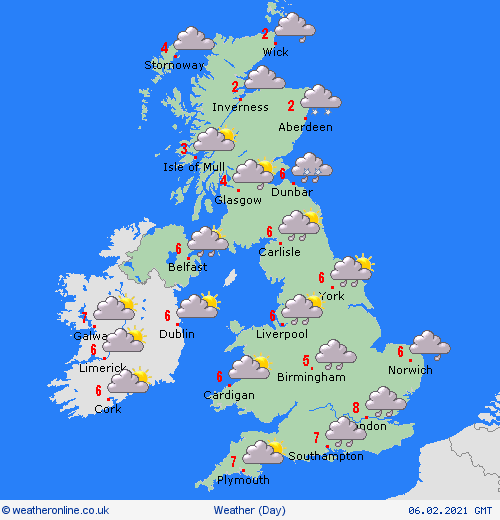 Photo: Weather Online
Outlook for Sunday to Tuesday
Following a spell of snow in the southeast on Sunday, further snow showers are expected next week, most frequent in the east. Dry and bright in the west. Very cold.
Europe's weather forecast
According to Weather Online, rain, some of it heavy, across Portugal and the west of Spain. Sunny and warm for eastern Spain and the Balearics. Corsica and Sardinia will be warm with lots of sunshine and it will be staying warm and sunny across Italy too. Lots of sunshine to come for Greece and for most of Turkey and staying dry.
Cloud through central parts of France bringing some showers here. Brighter in southern France and warm as well. Some broken cloud for the north of France, a few showers in the north-west. The Low Countries will have broken cloud and will be mostly dry was Germany will have some rain in the north and showers through central areas. Poland will be dry with some sunshine and it should stay dry with lots of sunshine in Hungary. Austria and Switzerland should both be dry too.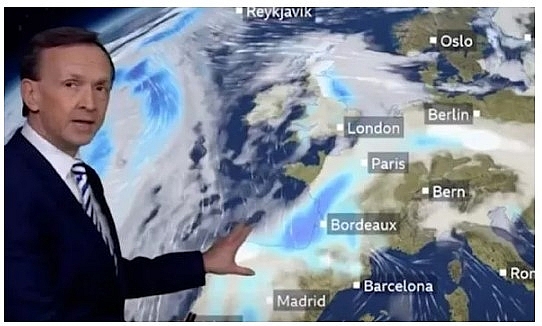 BBC Weather: Heavy rain to batter continent causing flooding ahead of winter snow blast (Image: BBC)
Breezy with some rain in the far south of Denmark but mostly fine for most of the country. Sweden should be mostly dry to with sunshine in the south although a few showers could affect eastern coast. The Baltic states will be breezy and cold whilst Finland also stays cold and breezy with a fair amount of cloud. Norway is going to remain cold with some snow showers in the north but southern areas should be dry.
BBC Weather forecaster Nick Miller warned of wet weather moving into Europe from the east over the next couple of days. This wet weather will increase the chance of flooding for some areas, most notably parts of France that have already experienced floods. Then, over the weekend, parts of north and northwest Europe will see temperatures tumble.
This risks triggering snowfall across Europe and could cause disruption. Meanwhile, the southeast of Europe will see above-average temperatures for the time of year. Mr Miller said: "It is already quite cold across northern parts of Europe but temperatures will be above average for many across the south. That is away from these areas of low pressure in the east."
"They will have some more wet weather brought in on Friday into parts of Iberia, Portugal and the western side of Spain. We have got some flooding in France but not a huge amount of wet weather during Friday but it will turn wetter during Saturday."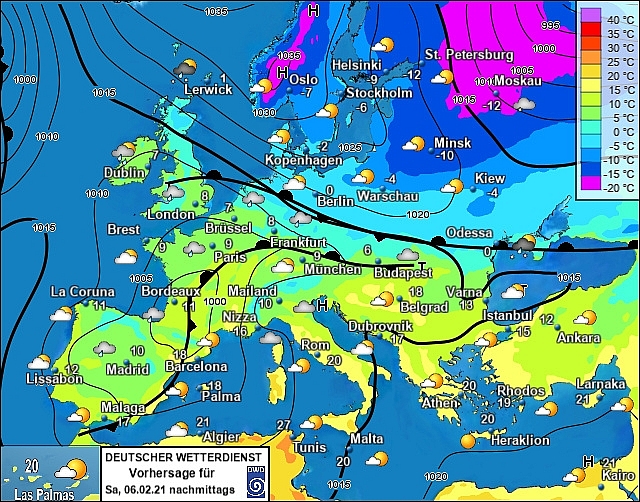 Photo: Stirimeteo
The BBC Weather forecaster added: "There will be a lot of fine weather elsewhere across the south and southeast of Europe. This is where we are getting above-average temperatures making things feel a bit spring-like."
Mr Miller noted that over the weekend, the wet weather will continue to get worse for parts of eastern Europe. He said: "On Saturday there will be more wet weather brought in to France which will mean more rain for flood-affected areas."
On February 6
According to Weather Online, the area of low pressure over Spain will push rain across the country, clearing western areas and much of Portugal by late in the day. Largely dry and fine and feeling warm but with a brisk wind across the Balearic Islands. There is the risk of an isolated shower particularly later on in the day. Dry for Italy and it's surrounding islands. Dry and warm for Greece and Turkey too.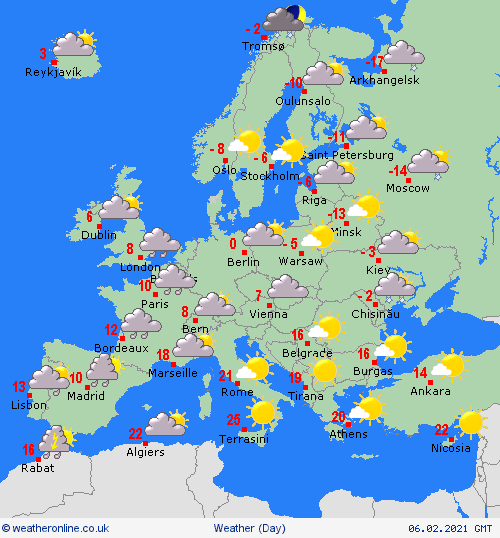 Photo: Weather Online
France will become cloudier and increasingly wet as the day progresses as an area of low pressure moves in. Driest of conditions to the southeast. Breezy along the coasts. Rain will also push across the Low Countries with brisk winds towards the coasts also. A band of rain across central Germany will migrate further north through the day but it will be dry elsewhere. A brisk easterly wind to the north but slacker winds towards the south. A dry morning for Switzerland but some rain is epxected by the afternoon. Dry for Austria, the Czech Republic and the Balkan States. Staying largely dry across Poland.
Breezy but mainly dry across Denmark. Feeling cold though. Largely dry and fine with plenty of sunshine across Norway, Sweden and Finland although some snow showers could affect some coastal regions here. Snow showers are expected through the Baltic States.