UK and Europe daily weather forecast latest, February 4: Western Europe to bear wet and unsettled conditions over the next few days
The UK is forecasted to brace for a 550-mile wall of snow with a freezing winter storm. Meanwhile, western Europe can expect wet and unsettled weather over the next few days.
UK's weather forecast
Snow will fall from Durness in Scotland to Brighton in the south of England, with the storm impacting areas the length and breadth of the country. The Scottish Highlands are facing up to 24 inches of snow on Sunday, according to forecasters WXCharts - the heaviest fall predicted across the UK.
Scotland will also see the coldest temperatures, with -10 predicted on Sunday evening. England is also predicted to see several inches of snow, with 5.5 inches forecast on Sunday in East Anglia.
The Surrey Hills could also see 4.5 inches by Sunday, according to the new weather charts. And even London could see several centimetres across the weekend.
Temperatures are also set to hit 0 or lower across the entire of the country. Central Wales and West Yorkshire face sub-zero conditions on Sunday, while temperatures in the Scottish Highlands could hit as low -10 degrees on Saturday.
The Met Office has issued several yellow warnings for snow and ice across Scotland and the north of England and the Midlands. These weather warnings remain in place until at least Saturday.
They warned there may be possible travel delays on roads with some vehicles possibly becoming stranded. Rural communities could also be cut off due to the snowfall along with power cuts and other services such as mobile phone coverage could be affected.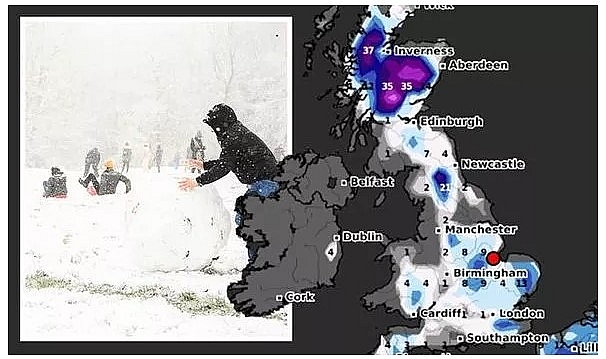 UK to face 550-mile snow wall as temperatures drop (Image: Getty/WX Charts)
They also warned there will be a chance of injuries from slips and falls on icy surfaces and untreated pavements and cycle paths may be impassable.
Steven Ramsdale, Met Office Chief Meteorologist, said: "Over the next few days we continue to see a division between milder conditions in the South West with much colder air to the north and east. The boundary between the two air masses will flex north and south bringing the potential for snow along the boundary between the two and ice overnight."
Of next week, Mr Ramsdale added: "We see further weather fronts bringing rain and snow east and north across the UK, but the most significant event in the forecast is a feature from late Monday evening, which threatens to bring rain and some snow across large parts of the UK."
"As it moves further north and meets the colder air, the rainfall will readily turn to snow or even freezing rain, affecting a large part of England and Wales north of the M4 corridor."
"Yellow weather warnings have been issued for Tuesday and Wednesday highlighting the risk of disruptive snowfall with the high ground of northern England and Scotland most likely to see the largest snow accumulations."
"The risk of freezing rain will be an additional threat across parts of eastern Wales and parts of the Midlands."
The BBC's long-range forecast said the cold air will linger next week due to another advancing front from the west "bringing bands of snow and cold rain".
They said: "The front will also bring in some milder Atlantic air, so temperatures will recover to a bit above normal for southern areas."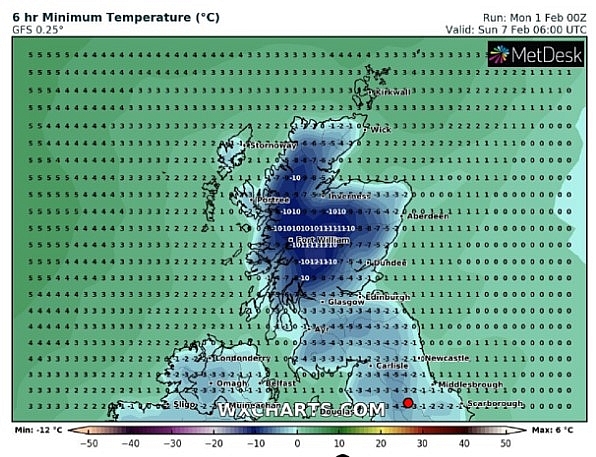 Temperatures to drop to -12 in Scotland (Image: WX Charts)
"From midweek through the end of the working week, lows will weaken and drift away to the south with bands of rain or wintry precipitation easing for most. It will also slowly turn colder with temperatures dropping to near or a bit below average."
They go on to say high pressure is expected to build over the weekend and will bring a "sharp cold air from Russia" as well as some wintry showers.
But the BBC warned: "There is some uncertainty on the magnitude of the cold at the moment, which is highly sensitive to the exact strength of the high and easterly winds through North Europe."
On February 4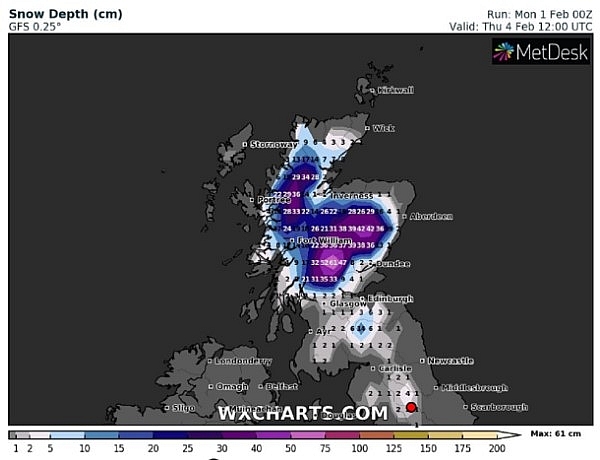 Scottish Highlands to face barrage of snow (Image: WX Charts)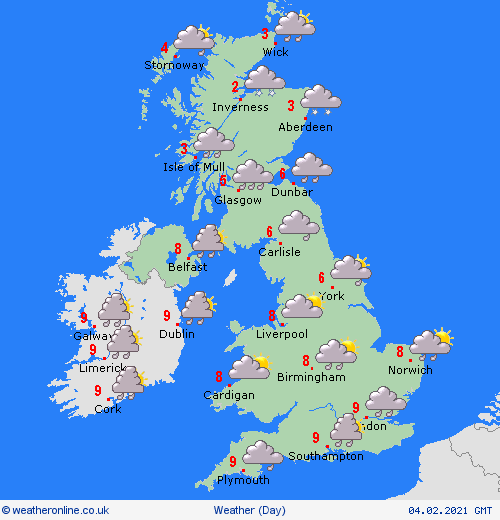 Photo: Weather Online
According to Weather Online, an area of low pressure is expected to be over Ireland on Thursday. It will be cloudy and wet across much of Ireland, northern England and Scotland. The rain will be falling as snow across much of central, eastern and southern Scotland with significant accumulation is occurring. Disruption is likely to continue because of the snow. A further area of rain, some of it heavy will be crossing southern and south eastern England through the late morning and afternoon. Generally drier across Wales and much of the north and West Midlands as well as parts of northern England. Highs at 9C in the south, 7C in Northern Ireland and 2C in eastern and northern Scotland.
Rain continuing across northern areas, again with snow for higher ground of Scotland. Drier in south though some showers likely at times. Mild in south but cold in north, Met Office reported.
Outlook for Friday to Sunday
Further heavy snow for parts of Scotland on Friday. Rain and snow sinks south through the weekend, with snow showers following, most frequent for northeastern areas. Becoming colder for all.
Europe's weather forecast
BBC Weather forecaster Louise Lear noted that western Europe can expect wet and unsettled weather over the next few days. She said a weather front from the Atlantic would bring in heavy rain and this would increase the risk of localised flooding. In Scandinavia, the weather will remain relatively the same as the last few days with dry but cold temperatures.
Ms Lear said: "There are some weather warnings as there is potential for some localised flooding. These warnings still remain in force in parts of France as we see some very unsettled weather."
"This curl of cloud shows wet weather pushing its way across France and Germany. There is more to come as we move into Wednesday as well."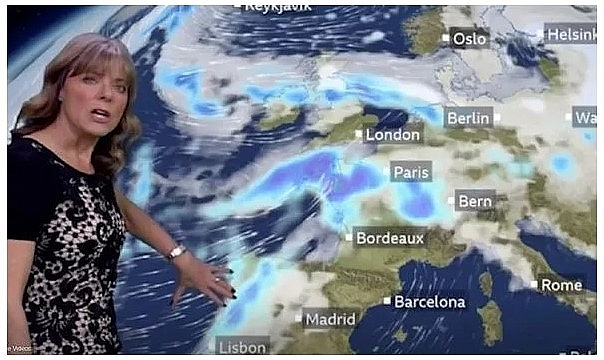 BBC Weather: Flood warning issued as heavy rain batters Europe (Image: BBC)
"It will be moving from the north coast of Portugal into western France, moving up through France into Germany."
The BBC Weather forecaster noted that in Scandinavia the temperatures will remain cold as they have for the last few days. She also noted that the weather in eastern Europe greatly contrasts the rest of the continent. She said: "It is cold in Scandinavia and that easterly wind will be a feature for the UK over the next few days. It is not too bad across the Mediterranean over the next couple of days. Wednesday and Thursday show a great deal of fine and dry weather."
The weather forecaster noted that across much of western Europe, despite the heavy rain, temperatures for many nations will reach the mid-teens.
She said: "It is less windy in northern Portugal but some wet weather still moving through. That is the story on Wednesday and on Thursday, a slightly quieter weather story generally."
"It is still pleasant across the Mediterranean, still bitterly cold in Scandinavia and an easterly wind is going to push itself into the Channel. It may have quite an impact for the UK as we move through the weekend."
According to Weather Online, showers across central and northern Spain. Rain affects western parts of Portugal. Eastern and southern Spain should be fair with the Balearics also be warm and sunny. Italy will have a fine day with more sunshine to come here. Staying fair across Greece with lots of sunshine. A fine day to come in Turkey too.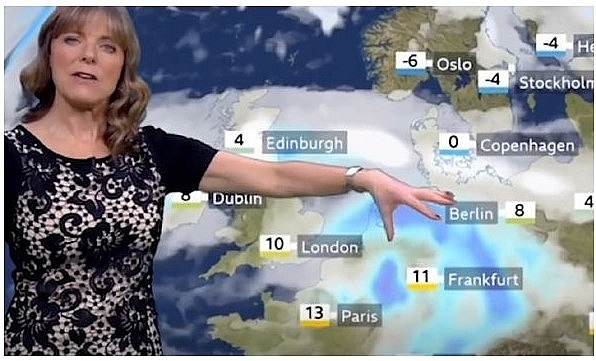 BBC Weather: The weather forecaster noted that across much of western Europe, despite the heavy rain, temperatures for many nations will reach the mid-teens. (Image: BBC)
Periods of showery rain in the west of France but dry with some watery sunshine in the south. Feeling warm across much of southern France too. Wind and rain in the Low Countries and northern Germany, where there will also be a risk of snow. Windy in southern Germany, a few snow showers here. Rain for southern Poland, but some sleet or snow to the north. Hungary should be fair and sunny whilst Hungary and Austria will have some showers or outbreaks of rain.
Wet and windy for the south of Denmark, this rain turning to snow. The Baltic States should be mostly fair with sunny spells. Wind and cold conditions for Finland, a few snow flurries. Sleet and snow for the far south of Sweden but most of the country should be dry, although always a risk of snow flurries on eastern coasts. Fair, dry and chilly for Norway.
On February 4
Heavy showers across Portugal and western parts of Spain. Fair in eastern Spain with plenty of sunshine. Very warm weather in central parts of the Mediterranean. Greece will be fine too with more sunshine. Further sunshine and warm west in Turkey.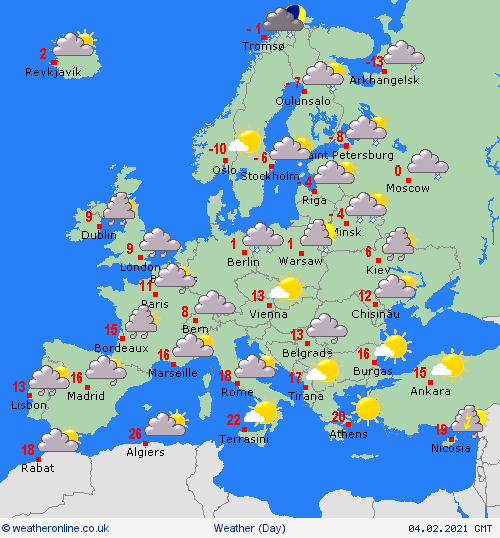 Photo: Weather Online
Some heavy showers in western France for in eastern and southern France with lots of sunshine. Further showers in the Low Countries. Thundery showers in central and western Germany. eastern arts of Germany should be fine. More sunshine to come across Poland. Hungary will be fair with lots of sunshine. Scattered showers in northern Austria with lots of sunshine in Switzerland.
Cloud and rain in Denmark. The Baltic States will be cold with lots of sunshine. More sunshine to come in Finland, a few wintry showers. Further snow showers along eastern coasts of Sweden, fair for other areas. Scattered snow showers in northern Norway, fair in the far south of Norway.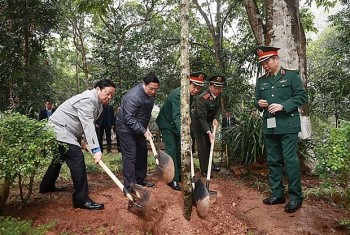 National
The Prime Minister launches a tree planting festival in Ba Vi on New Year of Cat.