UK and Europe daily weather forecast latest, February 2: Torrents of snow to blanket much of the UK as temperatures remain low
The UK is forecasted to cope with cold weather and torrents of snow across much of the country as temperatures remain low with weather warnings. Meanwhile, heavy rain and snow increase the risk of flooding in Europe.
UK's weather forecast
As January draws to a close, the cold weather and torrents of snow will be carried through into February as Tuesday is set to see heavy snow fall across much of the UK. Maps show a barrage of snow making its way across the country on Tuesday as temperatures remain low, with two Met Office weather warnings out for the day, Express reported.
Maps from WXCharts show a wall of snow hitting Northern Ireland on Monday evening, growing overnight and spreading across Birmingham, Manchester, before making its way northeast across Yorkshire, Northumberland, up into Scotland's central belt.
Two weather warnings are currently out for Tuesday for snow and ice, covering Northern Ireland and mainland UK.
The warning for the mainland reads: "A band of rain, locally heavy in places, is likely to push slowly northeast across Wales and England early Tuesday. As this rain comes into contact with cold air in place, it is likely to readily turn to snow away from eastern coastal districts."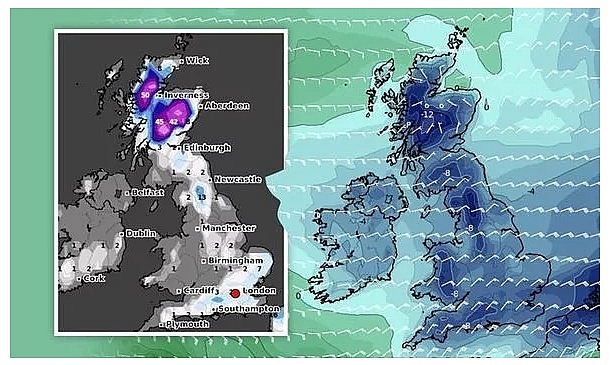 UK snow forecast: Britain could face the Beast from the East (Image: WXCHARTS)
"1-4cm of snow is quite likely away from eastern coasts, with 5-10cm possible above about 150 metres and up to 20 cm across higher parts of the northern Pennines and Southern Uplands. As well as snow, a period of freezing rain is possible for parts of east Wales and the north Midlands."
"Should this occur widespread icy stretches would form. Snow should turn back to rain from the south, lasting longest across parts of northern England, southern Scotland and Northern Ireland."
The warnings last from midnight on February 2 to 11.59pm in the evening. Jim Dale, meteorologist for British Weather Services, said: "Atlantic fronts heading in at the weekend will hit the cold air over the UK and this could bring more snow, especially across central England. This milder air from the west will crash with the colder air over the country creating a battle ground."
The snowy conditions are taking place thanks to a "battle for supremacy" over the UK, with mild air and cold air battling it out. Cold air from Scandinavia is up against Atlantic systems with both attempting to extend influence.
Met Office Chief Meteorologist, Andy Page said: "Over the next few days we continue to see a division between milder conditions in the South West with much colder air to the north and east."
"The boundary between the two air masses will flex north and south bringing the potential for snow along the boundary between the two."
Deputy Chief Meteorologist Jason Kelly commented on the forecast from Sunday and into next week. He said: "On Sunday we see another weather front bringing rain and snow east and north across the UK, but the most significant event in the forecast is a feature from late Monday evening, which threatens to bring rainfall across a swathe of the UK from the south and west."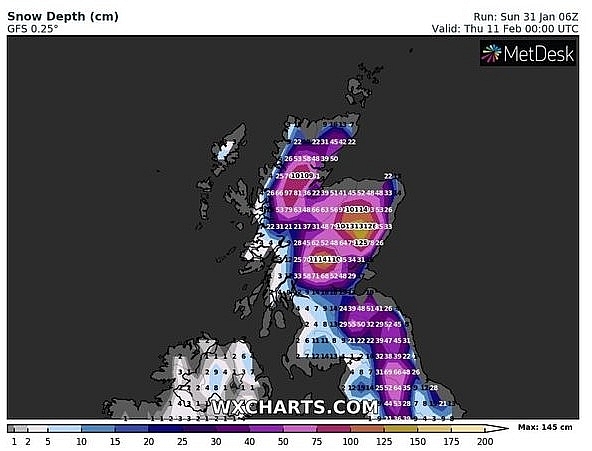 UK snow forecast: Scotland could be hit with 145cm of snow (Image: WXCHARTS)
"In the colder air to the north of this system the rainfall will readily turn to snow or even freezing rain, affecting a large part of England and Wales north of the M4 corridor."
"A warning, in force from 9pm on Monday to just before midnight on Wednesday, highlights the risk of 1-4cm of snowfall quite widely, with up to 10cm accumulating on higher ground above 150m."
"The risk of freezing rain will be an additional threat across parts of eastern Wales and the west and south Midlands. Snow should turn back to rain lasting longest across parts of northern England."
Besides, ferocious easterly winds are predicted to strike throughout February, bringing "disruptive snow" with them. Scotland could be hit with a staggering 145cm (4 feet) of snow on Thursday, February 11, the latest snow depth models from WCHARTS show. The charts also show south-eastern parts of England being blasted with deep levels of snow during the second week of February.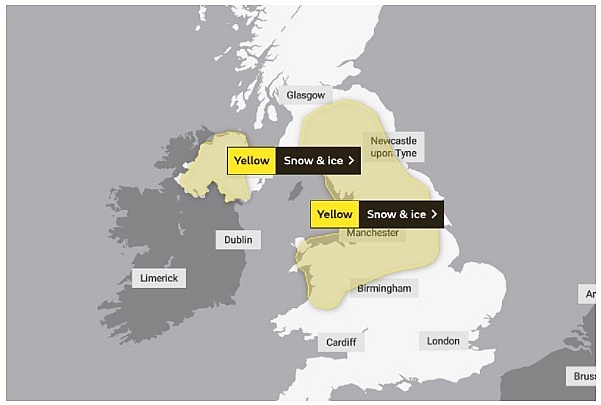 Snow forecast LIVE update: Heavy snow to cover entire UK on Tuesday (Image: MET OFFICE)
On February 2
According to Weather Online, low pressure west of Ireland will bring an unsettled day for many on Tuesday. Heavy rain, sleet and snow is all expected, with possible extensive snow across northern parts of England and southern and central Scotland. Strengthening winds are also a factor. The far north of Scotland is still looking like it will remain dry throughout the day but easterly winds will increase. Highs at 2 to 6C in the north and a milder 7 to 12C in the south and west.
Heavy snow for parts of northern England moving north across southern and central Scotland. Much milder to the south with rain then sunny intervals and heavy showers. Cold in north is expected, Met Office reported.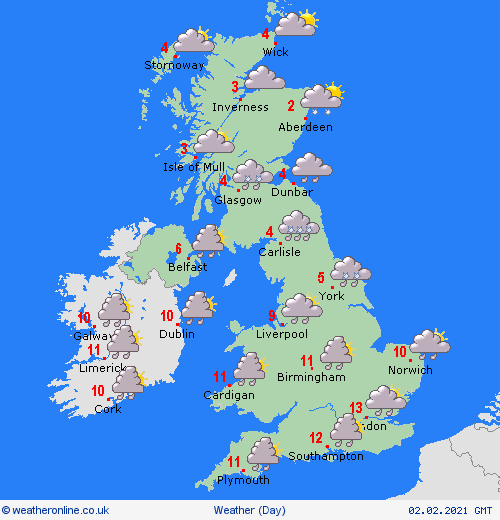 Photo: Weather Online
Outlook for Wednesday to Friday
Snow showers continuing in the north with the south much milder with some rain or showers at times. Central parts of the UK will see rain and hill snow.
Europe's weather forecast
BBC Weather have forecast unsettled conditions across Europe as heavy rain and snow increase the risk of flooding.
BBC Weather forecaster Darren Bett warned of flooding across Europe following heavy rain and snow. He insisted that wet weather will be moving across Europe from the Atlantic and could cause disruption going into the new week. Eastern parts of Europe may also see thundershowers while Scandinavia can expect more snow and brutally cold temperatures.
Mr Bett said: "It is going to stay cold across Scandinavia over the next few days. For many other parts of Europe is mainly unsettled and a rather messy satellite picture."
"We have got areas of low pressure and cloud sweeping in eastwards across more southern parts of Europe at the moment. That eastern band of wet weather is moving in to eastern areas of Europe further."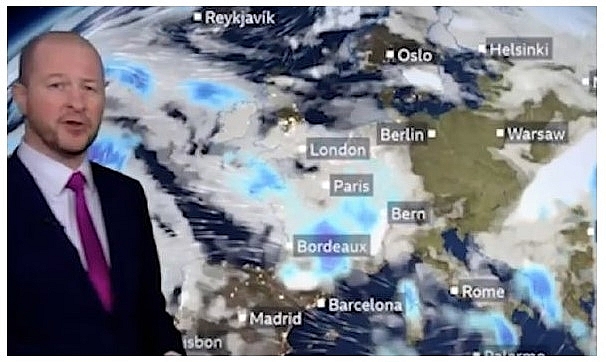 BBC Weather: have forecast unsettled conditions across Europe as heavy rain and snow increase the risk of flooding. (Image: BBC)
"More wind and rain will be sweeping in across France and threatening some more flooding. We will also see some more snow, over the northern side of the Alps in particular."
The BBC Weather forecaster said the band of wet weather close to Turkey could turn into thundery downpours. Temperatures will remain considerably cold for parts of Scandinavia and while cold, it will be dry in parts of central-eastern Europe.
Mr Bett said: "This rain hear could be heavy and thundery as it moves away. It should also be quite sunny across much of Germany and Poland but it is cold. There will be some heavier snow moving away from Romania into Ukraine."
Rain will continue to affect northern areas of Spain and coastal areas of Portugal but it should remain largely dry elsewhere. Breezy yet mainly dry throughout the Balearics. Staying unsettled with blustery winds across Sardinia and Corsica with patchy rain across south Italy and Siciliy. Cloudy and wet for much of Greece once again today with west Turkey seeing rain and snow push in here. Drier further east.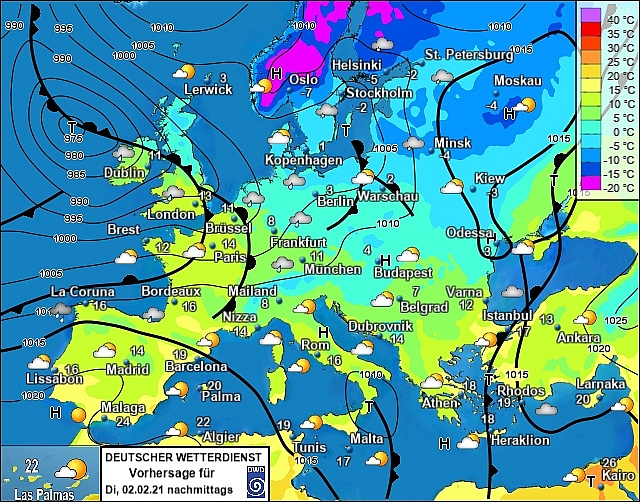 Photo: Stirimeteo
An unsettled day across France as outbreaks of rain affect most areas. Windy too towards southern and western coasts. An improving day for the Low Countries while rain, sleet and snow push across Germany from west to east. Rain, sleet and snow will affect Austria and Switerland while progressively affect more of the Czech Republic. Largely dry across Slovakia, Hungary and Poland but turning increasingly cloudy from the west.
Isolated wintry showers and sunny spells continue across Denmark, the Baltic States, Finland and Sweden on Sunday. Snow showers will push into coastal areas of Norway but it should be largely dry elsewhere here with sunshine.
On February 2
According to Weather Online, high pressure will continue to strengthen across south Portugal and Spain allowing for dry and fine conditions for many although heavy rain will affect north Portugal and northwest Spain along with strengthened winds. Dry and fine across the Balearic Islands and it will be an improving day for Sardinia and Corsica. Outbreaks of rain across south Italy and Sicily will become more isolated. Staying wet across Greece and western Turkey. Drier further east here.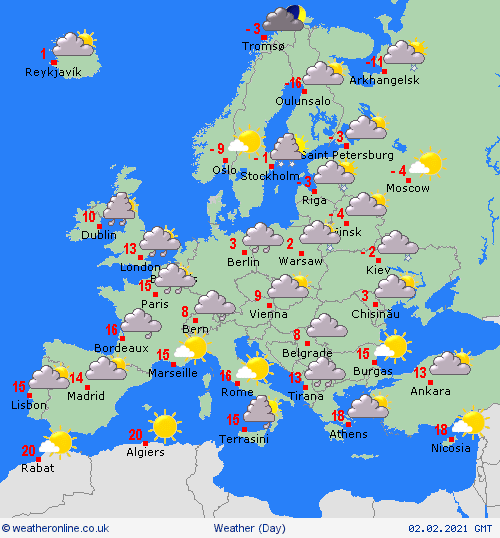 Photo: Weather Online
South France will improve first thing to allow for a dry day here but northern and central areas will see a front with rain push across, possible snow on its leading edge. Rain spreading east across the Low Countries as well as Germany with the rain falling as snow across northern areas here as well as the higher ground. Rain, sleet and snow will move in across Switzerland, Austria and Hungary through the day. Over much of Italy and the Balkan States will see high pressure build in here. Some patchy rain, sleet and snow across northern Poland.
With high pressure across Scandinavia it will be largely dry although an area of low pressure will bring snow showers through the Baltic States as well as eastern parts of Sweden and the far south of Finland. Dry yet cold across Denmark.