UK and Europe daily weather forecast latest, March 10: Wet and windy weather with some snow over the Scottish peaks
The UK is forecasted to have wet and windy conditions just about everywhere, after a mainly dry start in the North, with some snow likely over the Scottish peaks. Meanwhile, heavy showers set to cover Italy, mostly fair through central Europe.
UK's weather forecast
According to Sky News, Tuesday morning is rather dull for most, with hill fog and drizzle in places - but southern Britain will see some sunny breaks. Temperatures will be much like those of recent days, but it will be a little milder in the South. Ireland, Northern Ireland and western Scotland will turn wet and windy through the afternoon, with coastal gales developing in the North West.
Elsewhere, it will stay cloudy for many, but the patchy rain and drizzle will tend to die away.
Wednesday will be wet and windy just about everywhere, after a mainly dry start in the North, with some snow likely over the Scottish peaks. It will be fairly mild overall, but the stiff wind will make it feel quite cold.
The UK is set to be hit by a four-day ice blast as snow showers and plummeting temperatures return this week, according to the latest weather maps.
Heavy rain and strong gales are on course to smash Britain over the next 48 to 72 hours before wintry showers and freezing temperatures take over. Snow risk maps produced by Netweather.TV show areas of the UK turning red as the risk of wintry showers accelerates. Separate models produced by WxCharts show up to nine inches (25cm) of snow could fall in Scotland over higher ground by the weekend.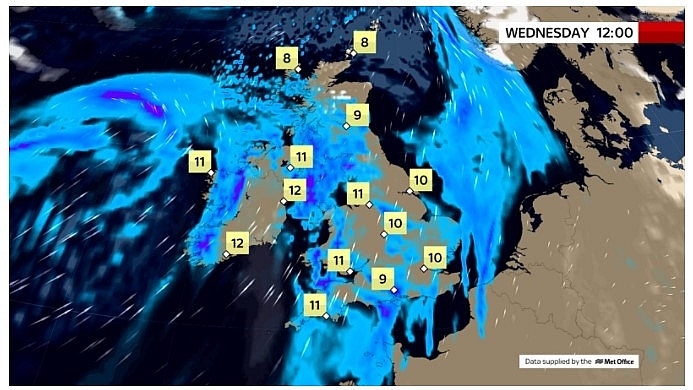 Photo: Sky News
Snow showers are on course to strike Britain from as early as Thursday, with snow risk maps showing central and western parts of Scotland turning red.
The threat of snow showers in those areas ranges from 80-100 percent, according to Netweather.TV charts. The wintry pattern continues in Scotland for the following three days, as snow risk maps turn a pale pink– which indicates the threat of snow is at 100 percent.
On Thursday evening, wintry showers are set to spread further south, the maps suggest, with areas of northeast England and northern Wales most at risk. The chances of snow showers in those areas ranges between 25-50 percent.
Heading into Friday morning, snow showers become far more widespread across the UK, with large areas of the north and central wales set to experience wintry conditions, according to the charts. By the start of the weekend, the latest maps show there is an isolated threat of snow showers in England, with the Midlands at risk before strong winds push the cold-weather system further north.
On Sunday, the chances of snow will surge across western areas of Scotland, the north of England, Northern Ireland and North Wales. Weather maps put the chances of snow in those regions range between 40-100 percent.
By 9am on Sunday morning, snow depth maps produced by Wxcharts suggest western areas of Scotland, likely over higher ground, could accumulate up to nine inches (25cm). Snow showers in the north of England could reach depths of one inch (3cm). Temperatures will begin to fall on Thursday evening across the UK, with lows of -1C in Scotland, with thermometers remaining just above freezing for the rest of Britain.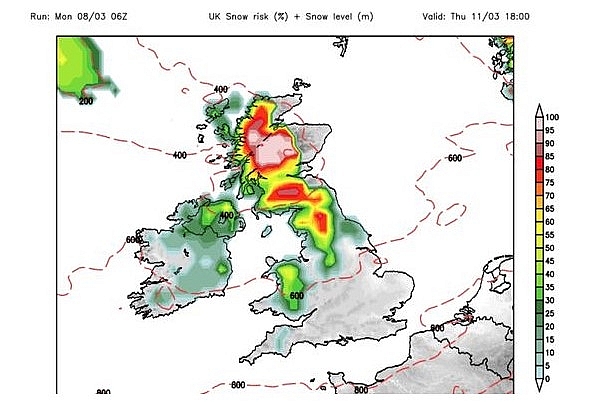 UK snow forecast: Snow showers are set to begin on Thursday (Image: NETWEATHER)
On March 10
According to Weather Online, low pressure north and west of the British Isles through Wednesday. A windy day with gales west and south. Cloud and further periods of rain, this turning heavy across Ireland, western Wales and the west and south of Scotland. Periods of rain elsewhere, but tending to be mostly light. Plenty of low cloud and drizzle over western and southern casts and hills. Highs at 8 to 14C.
Rain continuing over England and particularly Wales with a drier period over Scotland and Northern Ireland, though rain returning here from the southwest during the day. Windy with coastal gales, Met Office reported.
Outlook for Thursday to Saturday
Unsettled with blustery, heavy showers, these most frequent in the west. More prolonged drier/sunnier interludes in the east. Windy with inland gales possible early on Thursday.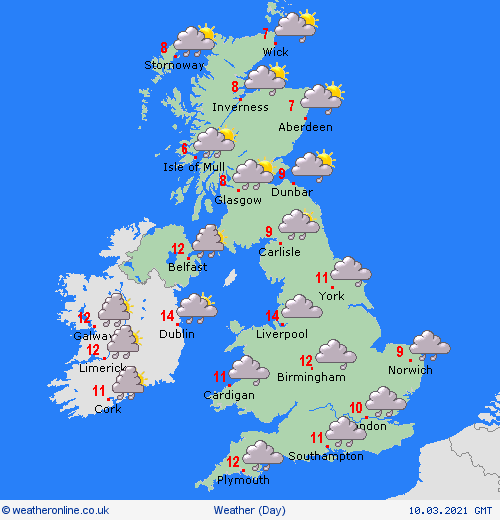 Photo: Weather Online
Europe's weather forecast
Early showers clear from southeastern Spain and the Balearic Islands to leave a dry and fine day here and for Portugal. A band of heavy rain sinks south over Corsica, Sardinia and central and southern Italy. Dry and bright to the north of this. Showers tend to fade over Greece leaving a dry and bright day here. Dry and bright for much of Turkey too though showers may affect southern areas at times.
Dry and fine for France though some patchy rain affects the far northeast at times. Patchy rain tends to clear from the Low Countries and northern Germany to leave a dry and fair day here too. Some showers for the Alps but otherwise dry and fair for Switzerland and Austria. Dry and fair too for Poland, the Czech Republic, Slovakia and Hungary.
Dry and bright for Denmark and southern parts of Norway and Sweden. Cloudier further north though patchy rain and sleet over central areas tends to fade through the day. Some patchy sleet and snow for southern Finland and Estonia. Staying dry but rather cloudy for northern Finland, Latvia and Lithuania.
BBC Weather: The south east of Europe can expect some relatively warm temperatures as we move through the week. (Image: BBC)
BBC Weather forecaster Helen Willetts warned that Europe would see a massive drop in temperatures over the next few days. This icy blast will result in some areas of north and eastern Europe seeing below freezing temperatures during the day. Wet weather will also strike the continent with Britain and Italy being hit with new wet weather fronts, Express reported.
These weather fronts could bring thunderstorms and powerful gusts as well. Ms Willets said: "After some relatively mild weather last week the cold air has returned. This is true of at least to the northern and eastern areas. Temperatures have fallen back to below freezing by day."
The BBC Weather forecaster noted that in addition to the cold day temperatures there would likely downpours across Europe. Italy and the United Kingdom are expected to be hit by heavy showers by Wednesday.
She continued: "We start the week with some active showers. They have been across southern Iberia through the weekend and we can see they have crossed all the way into Italy."
"They will hit the Balkans and there will be some mountain snow. There will be some really intense thunderstorms and downpours and gusty winds. There is high pressure for the majority elsewhere but we are also keeping a close eye on stormy weather over the northwest."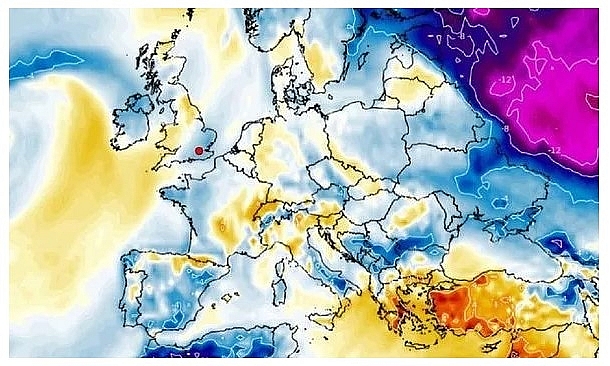 BBC Weather: Europe braces for ice blast as temperatures plummet to 'below freezing' (Image: WXCHARTS)
The south east of Europe can expect some relatively warm temperatures as we move through the week. Turkey and Greece will likely see temperatures just shy of 20C. Ms Willetts added: "Ahead of that low pressure is some warmth across parts of Turkey and Cyprus. This is all wining itself up and it will develop into quite a deep area of low pressure further south east and drag some cold air in behind it. There are some lively showers and once again we have had flooding in parts of North Africa and there are still some active ones across Iberia."
On March 10
According to Weather Online, fairweather across Spain and Portugal on Wednesday, plenty of sunshine and dry too. It stays sunny through the central Mediterranean and will be fair for most of Italy. A few showers affecting the far south of Italy. Greece will have showers in the west but should be fine in the east. Turkey will be largely dry with plenty of sunshine, although some sleet and rain affects the north.
Windy and wet in the northern half of France, with heavy showers arriving in the north-west later. Southern areas of France should be dry with plenty of sunshine. Windy and wet across the Netherlands, this rain reaching the western half of Germany later on. The eastern half of Germany and Poland should be dry with sunny spells, and it should remain dry and bright through Hungary, Austria and Switzerland.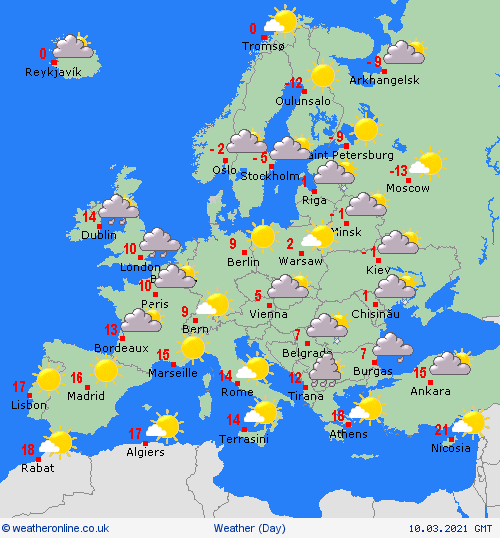 Photo: Weather Online
Windy in Denmark with some drizzle and patchy rain in the afternoon. Much of Sweden should be dry with sunny spells. Some snow flurries in the Baltic states, while Finland stays dry and cold. Gale force wins over much of Norway with heavy rain in the south.