UK and Europe daily weather forecast latest, March 9: A mostly cloudy and dry day in the UK before strong winds and heavy rain move in
The UK is forecasted to have another cloudy but largely dry day, until strong winds and heavy rain move in off the Atlantic. Meanwhile, low pressure brings heavy rain to parts of Italy.
UK's weather forecast
According to Sky News, Monday is cold and mostly cloudy with limited bright or sunny spells. Outbreaks of patchy light rain and drizzle will affect parts of Scotland, Northern Ireland, and northern and eastern England. The best of the early spring sunshine will be across south Wales and southwest England. A band of rain and brisk winds will gradually push eastwards across Ireland during the afternoon.
Tuesday will bring another mostly cloudy but largely dry day, until strong winds and heavy rain move in off the Atlantic later on.
Gusts could reach severe-gale force in exposed regions on Tuesday and Wednesday as two deep low-pressure systems hurtle in tandem towards Britain, Express reported.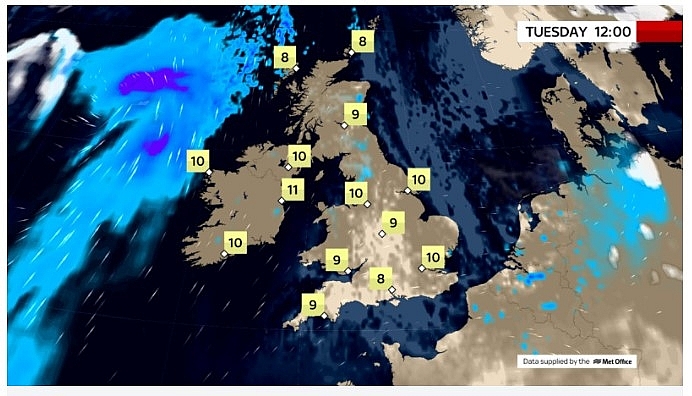 Photo: Sky News
Torrential downpours expected through the week have sparked Government officials to warn people in the most at-risk regions to take 'immediate action'. A cold front will move across northern Britain in the wake of the storm bringing snow to the hills, forecasters say. Experts are currently monitoring the development of weather patterns in the Atlantic and say weather warnings are possible in the coming days.
Jim Dale, meteorologist for British Weather Services, warned the pleasant spring tranquillity of the past few days is about to be 'abruptly ended'. He said: "This is a fairly major system which we expect to affect the UK from Tuesday into Wednesday, it may be something we issue a warning for."
"We are expecting severe gale-force gusts in exposed regions later on Tuesday and into Wednesday. This system, which is a double-barrelled low-pressure organisation, has got some venom and is going to keep people on their toes. It is safe to say the tranquillity we have enjoyed through the start of the month is about to come to an abrupt end."
Weather models show powerful winds from the Atlantic gathering strength to hit speeds of 120km/h on Wednesday as they crash into the UK. Western coastal regions stand to fare worse from the onslaught although gusts will widely reach gale-force through the middle of the week.
Two low-pressure systems driven by a 'powered-up' jet stream will tear across northern Britain potentially bringing the first major storm since Darcy hit last month. While the main threat will be from violent winds, parts of the country are also braced for torrential downpours as the weather turns autumnal.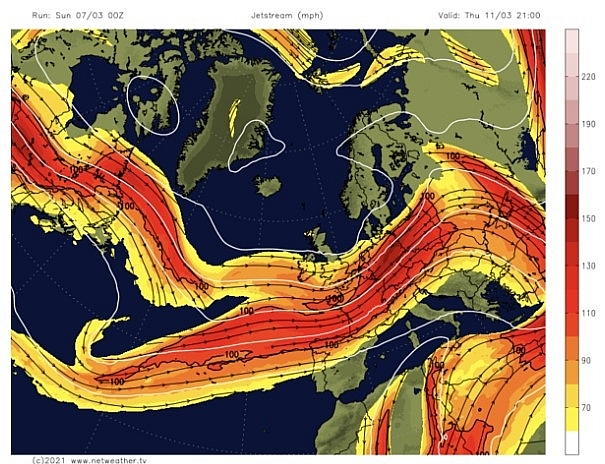 Models reveal two low-pressure cyclonic weather systems racing side by side (Image: NC)
The Environment Agency (EA) has issued 19 flood alerts and one more serious flood warning across southern and parts of eastern Britain. Officials have warned to be on alert for flooding from rivers with travel disruption and damage to properties possible.
An EA spokesman said: "Local flooding is possible from rivers and surface water, in parts of Wales and the north of England on Wednesday and Thursday. Land, roads and some properties may flood and there may be travel disruption."
The Met Office warned Britons to expect a 'return to Autumn' with wind, rain and hill snow on the way this week. Meteorologist Aiden McGivern said powerful Atlantic gusts will be steered into the UK by the jet stream. He said: "We are looking at a return to autumn with low pressure in charge, and that will bring a return of wet and windy weather."
"It's a messy transition from high pressure to low pressure. A core of much stronger winds associated with the jet stream will make progress across the UK bringing wind and rain. We expect some really strong winds potentially into next week, with low pressure after low pressure. We will see a few showers associated with a cold front and even some hill snow."
John Hammond, meteorologist for weathertrending.com warned Atlantic fronts will 'race' across the UK driven by the jet stream.
"The midweek period looks especially disturbed," he said.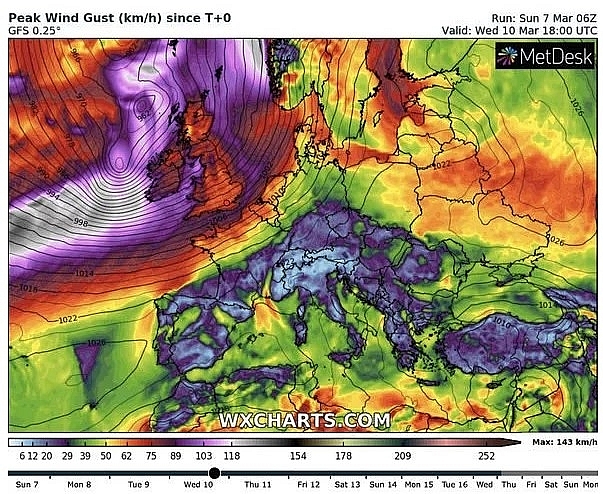 Officials have warned people in the most at-risk regions to take 'immediate action' (Image: MetDesk )
There are signs of a colder spell after mid-month with even a return to snow possible during the start of spring, he warned. He added: "We're now approaching the Spring Equinox – the time in the year when days are most rapidly getting longer. Southerlies will bring genuine warmth, but it will be a very different story if it sends northerlies in our direction."
"This looks to have lower likelihood at this stage but can't yet be discounted. Frost, even snow, are still in the equation."
Models reveal two low-pressure cyclonic weather systems racing side by side towards Britain on Tuesday. They will be driven by a 100mph jet stream forecast to swoop directly over the UK this week pulling choppy bouts and wind and rain in from the Atlantic.
Netweather meteorologist Terry Scholey said: "Things are on the change now. As the Jet Stream powers up, it'll bring the return of weather from the Atlantic, making it much more unsettled from mid-week. There'll be spells of rain heavy in places, and it'll become windy with gales, especially in the North West but it'll be milder, at least for a while."
On March 9
According to Weather Online, starting dry for most, but rain, accompanied by strengthening winds, will soon spread across Ireland and Northern Ireland before pushing eastwards into far western areas of England, Scotland and Wales as the day progresses. Currently, central and eastern areas will stay mainly dry but increasingly cloudy during the day with rain expected here overnight. Southwesterly winds strengthening to gale force and possibly severe gale force towards the northwest by the evening. Highs between 7 and 11C.
Generally cloudy, though some sunshine across southern parts. Some light rain affecting coasts and hills, then heavy rain and gales arriving in the far northwest later, Met Office reported.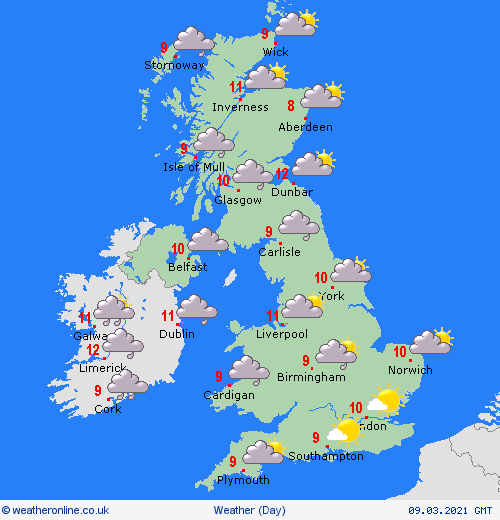 Photo: Weather Online
Outlook for Wednesday to Friday
Wet and windy weather Wednesday, clearing to blustery showers for Thursday and Friday. Risk of inland gales later Wednesday and Thursday. Temperatures near normal, though tempered by strong winds.
Europe's weather forecast
Mostly dry and fine for Portugal while widespread scattered showers affect much of Spain. These heavy to the west. A band of heavy showers extends over the Balearic Islands, Corsica and northern Sardinia into central Italy. These will be locally very heavy. Dry and fine to the north and south of Italy while isolated showers affect western and southern Greece. Early rain clears eastern Turkey leaving a dry and fine day here.
Isolated showers fade from southern France to leave a dry and bright day. Cloud thickens and rain arrives from the north later and this extends into the Low Countries and northern Germany. Mostly dry and bright for southern Germany, Switzerland, Austria, the Czech Republic, Slovakia, Hungary and Poland after early patchy rain and showers fade.
An increasingly cloudy but dry day for Denmark. Early showers fade from Finland and the Baltic States to leave a cold but dry and fair day here. Rain, sleet and snow affect northern portions of Norway and Sweden while southern areas stay dry. Best of the sun here too.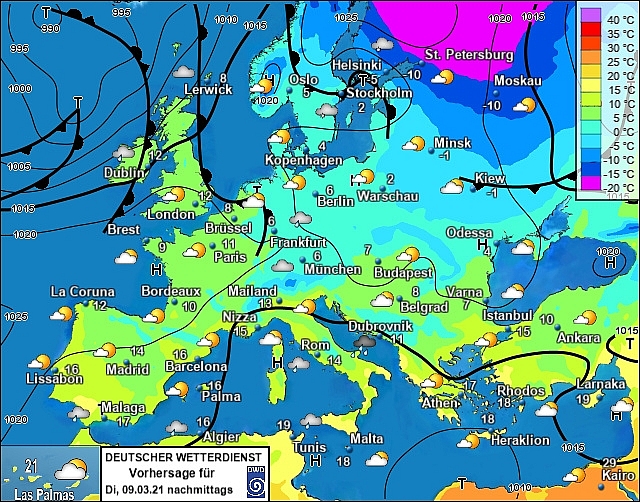 Photo: Stirimeteo
On March 9
According to Weather Online, early showers clear from southeastern Spain and the Balearic Islands to leave a dry and fine day here and for Portugal. A band of heavy rain sinks south over Corsica, Sardinia and central and southern Italy. Dry and bright to the north of this. Showers tend to fade over Greece leaving a dry and bright day here. Dry and bright for much of Turkey too though showers may affect southern areas at times.
Dry and fine for France though some patchy rain affects the far northeast at times. Patchy rain tends to clear from the Low Countries and northern Germany to leave a dry and fair day here too. Some showers for the Alps but otherwise dry and fair for Switzerland and Austria. Dry and fair too for Poland, the Czech Republic, Slovakia and Hungary.
Dry and bright for Denmark and southern parts of Norway and Sweden. Cloudier further north though patchy rain and sleet over central areas tends to fade through the day. Some patchy sleet and snow for southern Finland and Estonia. Staying dry but rather cloudy for northern Finland, Latvia and Lithuania.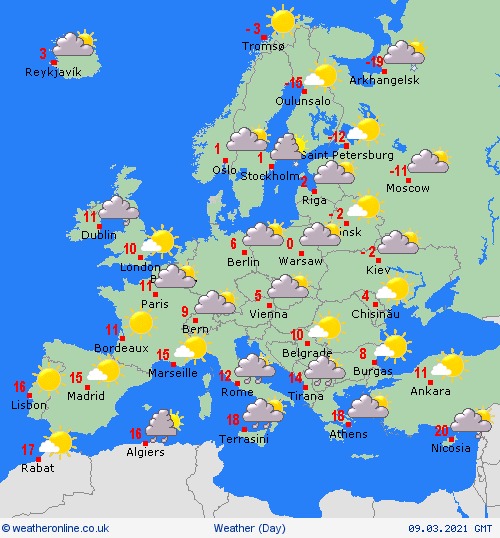 Photo: Weather Online