UK and Europe daily weather forecast latest, March 6: Fine conditions in the UK with sunny spells for most after a frosty start
The UK is forecasted to have fin conditions on Saturday with sunny spells for most after a frosty start. Meanwhile, showery rain is expected through the Med and the weather is cold with rain, sleet and snow across parts of Scandinavia.
UK's weather forecast
Most places will be dry and sunny on Friday morning, but cloud will bubble up by lunchtime, especially across eastern England where the odd shower is possible.
The west of Ireland will keep a bit more cloud too. It will be on the cold side for the time of year, but it shouldn't feel too bad in the sunshine with light winds.
The afternoon looks mostly fine too, with almost unbroken sunshine across Scotland, Wales and the east of Ireland. Where the cloud has bubbled up, it will clear later leading to another frosty night under starry skies.
Saturday will be similar, but the far northwest of Scotland will see a little rain. It will stay rather cold, after a frosty start, but the sunshine will make it feel more pleasant.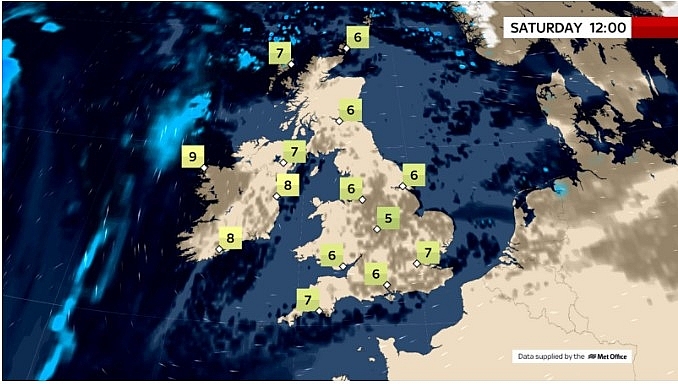 Photo: Sky News
According to Express, the UK is braced for yet more snow and plummeting temperatures throughout the country next week as Britain enters the start of spring in a bitterly cold fashion.
Minimum temperatures, particularly overnight, have slumped to below freezing in large parts of the UK, making the glorious late winter sunshine enjoyed by millions of Britons last weekend a distant memory. But the latest weather maps for next week show the country could be set for more misery, with the unwelcome return of snow in some parts of the UK. Charts from Netweather show the risk of snow immediately setting in at midnight next Wednesday (March 10), with a risk of more than 50 percent in a large part of central Scotland.
Snow is likely to rapidly sweep over the country from the North Atlantic over the next few hours, with the map for 3am turning bright red in parts north of the border, indicating a 75 percent risk of snow.
Worse still, the charts turn white to show a 100 percent risk of snow in central Scotland with a risk of more than 50 percent of more in surrounding areas throughout the country.
England won't escape these freezing conditions, with a 40 percent risk of snow in the north east of the country around the Newcastle area.
An extremely high risk of snow will continue into the afternoon for northern parts of Scotland throughout the morning of March 10 and heading towards the afternoon.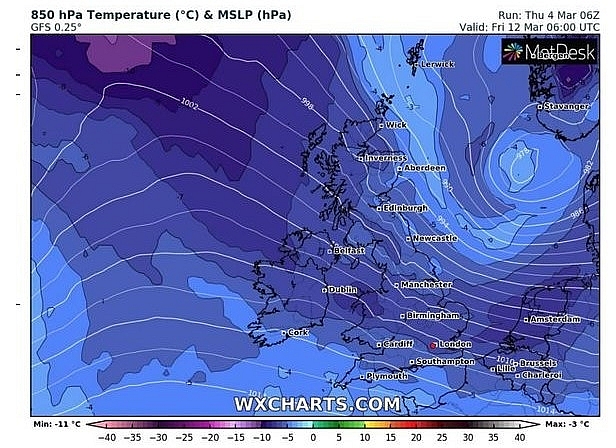 UK snow forecast: The map turns blue as temperatures plummet throughout the country (Image: WXCHARTS)
But any hope of snow sweeping away from the UK in what is normally the hottest part of the day has been dashed by the latest maps from Netweather.
There is a 40 percent risk of snow throughout most of Scotland, particularly the west coast, with that risk factor rising to as high as 90 percent in one small part.
North east England will again feel the brunt of freezing weather, with a risk of snow continuing in that area of the country.
The maps continue to make grim reading throughout the course of March 10, with a 100 percent risk of snow sweeping through large areas north of the border.
These high areas are forecast to expand throughout the early hours of next Thursday (March 11), and by 6am, so much so that by 6am, north east and north west England are at high risk of snowfall.
A small area of the Midlands and part of northern Wales could also be hit by some snow.
The snow risk does ease slightly throughout the day, but the latest charts for 6pm again make worrying reading, with a large part of Scotland turning white, with several parts of the north west and north east of England turning red.
A high risk of snow will persist heading into the early hours of next Friday (March 12), and although that will disappear for a large part of that day, makes an unwelcome return in the evening.
This huge risk of snow towards the end of next week also shows weather maps from WXCHARTS turning dark blue, meaning temperatures are threatening to plummet below freezing in a disastrous start for spring.
Minimum temperatures are only forecast to reach as high as 2C in most of Scotland next Wednesday, falling to freezing in several other areas of the country.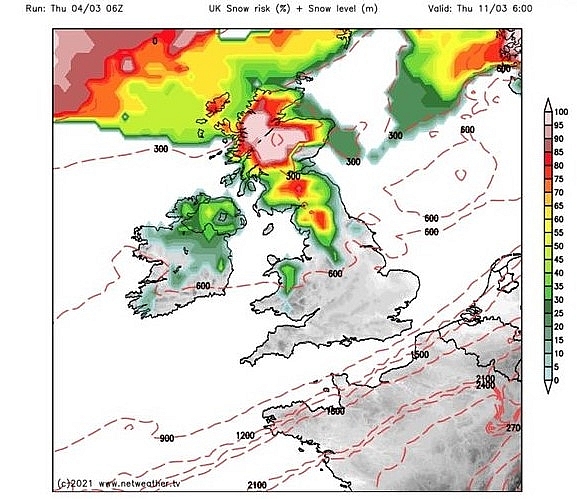 UK snow forecast: There isd an extremely high risk of snow in Scotland and northern England next Thursday (Image: NETWEATHER)
The bitterly cold weather will really start to bite next Thursday, with minimum temperatures set to plummet to -2C in northern areas of Scotland, and struggling to get above freezing in some areas of the north east and north west of England.
Temperatures are set to plummet even further next Friday as the snow risk increases, with the mercury slumping towards freezing throughout England, and falling to -1C in large parts of Scotland.
Brian Gaze, founder of The Weather Outlook, has warned of colder temperatures and a risk of snow in the north.
He said: "For week two (March 10-17), the theme is it to be quite unsettled, with the wettest conditions likely to be in the north and west of the United Kingdom. Temperatures will fluctuate, with milder internals more likely in the south, but colder incursions more favoured to the north of the UK."
"When most colder incursions occur in the north, they do bring the risk of precipitation in the form of sleet or snow especially over higher ground. I wouldn't be surprised over Scottish mountains to see significant snowfall at times."
On March 6
According to Weather Online, high-pressure remains over the country on Saturday. Morning mist and fog patches are likely but these will be clearing away quickly. Most areas will be dry with broken cloud. There may be more cloud across Ireland and Northern Ireland where there is the risk of some rain in the far west here. Northern Scotland too will see some patchy rain with more in the way of cloud. Highs at 5 to 8C.
Largely fine with sunny spells for most after a frosty start. Cloud thickening across parts of the far north bringing outbreaks of rain and snow flurries over some hills, Met Office reported.
Photo: Weather Online
Outlook for Sunday to Tuesday
Patchy rain across the far northwest on Sunday, otherwise fine and dry. The rain gradually edging south and east through Monday and Tuesday and turning windier and milder.
Sunday will bring rain to more of the north west, but most other places will be fine again. Next week looks milder and more unsettled, Sky News reported.
Europe's weather forecast
Heavy rain across southern Portugal and southern parts of Spain on Friday. Eastern Spain should be mostly dry although there will be some showers in the north. The Balearics will be dry with plenty of sunshine, although showers affect Corsica and Sardinia. Rain in northern Italy but fair across southern Italy. Greece and Turkey will be dry with lots of sunshine.
Breezy across France, dry in the north with some sunny spells. Cloudy skies for the south with some showery outbreaks of rain here. The low countries and Germany should be dry and generally bright although some rain affects southern parts of Germany. A few showers for northern Poland whilst Austria, Hungary and Switzerland will all be cloudy with rain at times.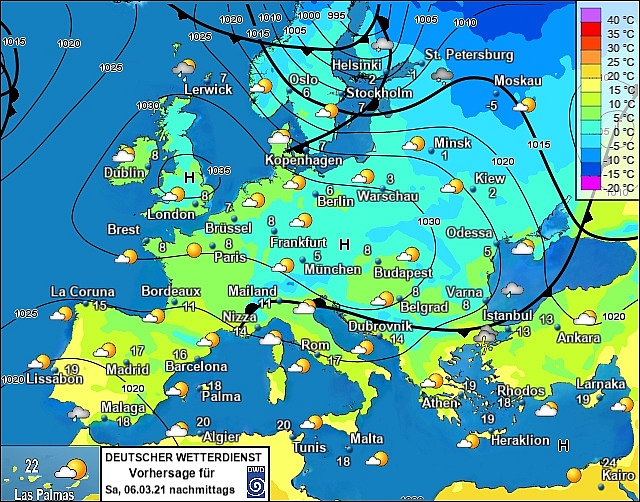 Photo: Stirimeteo
A bright day in Denmark and dry too. Some cloud and snow affecting the Baltic states. Dry and cold across Finland and northern Sweden, but mostly dry in the south of Sweden with some sunny spells. Drive for southern Norway with broken cloud, but some heavy wintry showers will affect western and northern coasts.
On March 6
According to Weather Online, a slightly better day for Spain and Portugal although southern areas and eastern areas could still see some showery outbreaks of rain at times. A few showers through the Balearic Islands but sunny spells too. Sunny spells and showers for Italy and the surrounding islands, some of the showers could merge into longer spells of rain. Showery outbreaks fo rain for Greece with a spell of heavy rain pushing across north Turkey.
A largely dry and fine day for France, the Low Countries and Germany. Scattered showers but also sunny spells for Switzerland and Austria. One or two showers down the Balkan States but largely dry here. Dry but breezy and chilly for Poland, windy along coasts.
A mix of rain, sleet and snow is expected across Norway with a brisk northerly wind. A cold day here. Cold too for Sweden but largely dry, just with some rain, sleet and snow in the west. A wet day for Finland with sleet and snow for many places. Windy through the Baltic States and feeling cold although it should stay mainly dry. A breezy yet largely dry day across Denmark.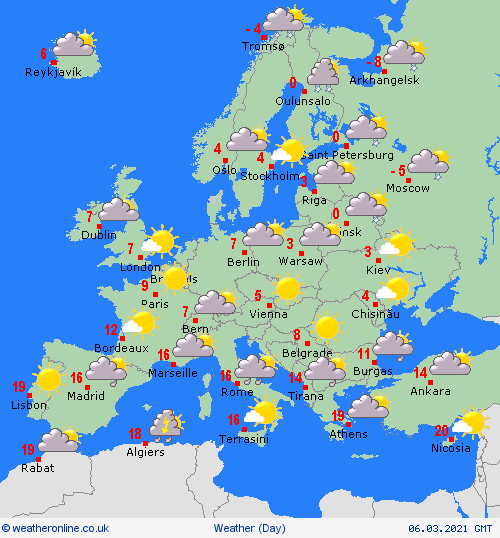 Photo: Weather Online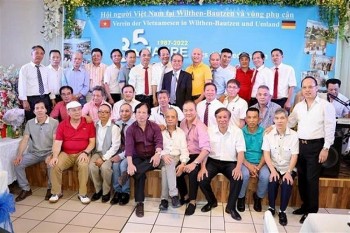 Economy
The Overseas Vietnamese Association in Wilthen - Bautzen and surrounding areas in Germany held a get-together on the occasion of the 35th anniversary of Vietnam - Germany labour cooperation.