UK and Europe daily weather forecast latest, March 8: Cloudy weather with rain at times for some parts in the UK
The UK is forecasted to be largely cloudy for southern and western Scotland, Ireland, Northern Ireland and the north and east of England with rain at times. Meanwhile, low pressure brings heavy showers to the western Mediterranean.
UK's weather forecast
Tomorrow Weather will be largely cloudy for southern and western Scotland, Ireland, Northern Ireland and the north and east of England with rain at times. Elsewhere it will be mainly dry with bright or sunny spells, but on the whole it will be rather cloudy and cool again, Sky News reported.
An Atlantic storm is set to hit the UK with heavy rain expected across the country, new weather charts indicate. The charts forecast unsettled conditions across the UK next week with temperatures below freezing for some parts of the country. Swell and wind charts from weather forecasting site Magic Seaweed reveal a westerly Atlantic storm system will hit the UK on Wednesday evening, Express reported.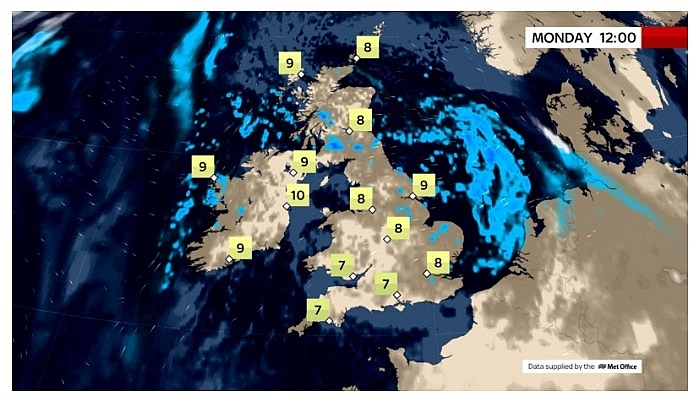 The chart's deep red and grey data indicates waves of between 30 and 40 feet are expected in the Atlantic as the storm moves towards Britain.

The height of waves crashing ashore in Britain will be far lower but rough seas are expected. Wind charts also show blustery conditions arriving during the same period, with conditions registering 9 on the Beaufort scale forecast for the west case.

This registers as "strong gales". This system, the Met Office said, will bring heavy rain and strong winds later on Wednesday, with coastal gales expected. The Met Office added: "We could well see some wind and rain warnings and certainly going into Wednesday and Thursday".

Going into Sunday afternoon, it will be dry with some bright or sunny spells, but there will be a fair amount of cloud too. This evening will be a dull evening with thick cloud cover although a few clear spells will develop.

It will continue damp across Scotland with outbreaks of light rain and drizzle. Overnight will continue cloudy and damp across Scotland however further south will be dry with clear spells and variable amounts of cloud.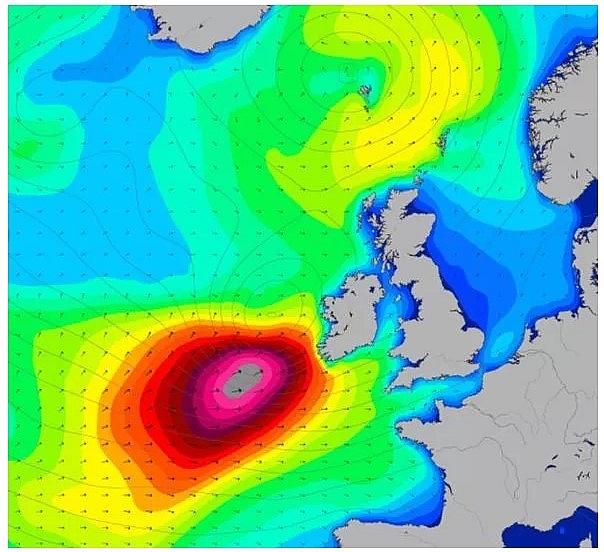 Going into Monday, there will be early sunny spells before turning mostly dull with cloudy skies. Spells of rain and drizzle will spread across Scotland and Northern Ireland with temperatures peaking at between 6 and 9C.

Forecaster Marco Petagna added that the UK was "holding onto" fine weather on Sunday. Commenting on conditions next week, he added: "It's wet and windy around the middle of the week.

"Temperatures are expected to trend close to average, although some overnight frosts are still possible, mainly in northern parts of the country. By night it will be below freezing in some parts. A little bit disappointing throughout the south with highs of seven or eight degrees."

Going into Thursday and later on into next week, the Met Office added: "It is remaining unsettled for most on Thursday with frequent blustery showers, winds could reach severe gale around some coasts with gales also possible inland. The unsettled theme is then likely to remain through the following weekend with further spells of rain and showers."
On March 8
According to Weather Online, a largely dry day across England and Wales although cloud will build from the north and west through the day. The best of the lasting sunshine over central, southern and eastern areas. Elsewhere patchy outbreaks of rain will spread eastwards across Ireland, Northern Ireland and Scotland, these spreading into northeastern parts of England as well at times. Rain locally heavy over northwest Scotland. High temperatures widely at 7 to 10C again.
Mostly cloudy with a little rain across Scotland, Northern Ireland, northern and eastern England. Dry with sunny spells in the south after another frosty start for some, Met Office reported.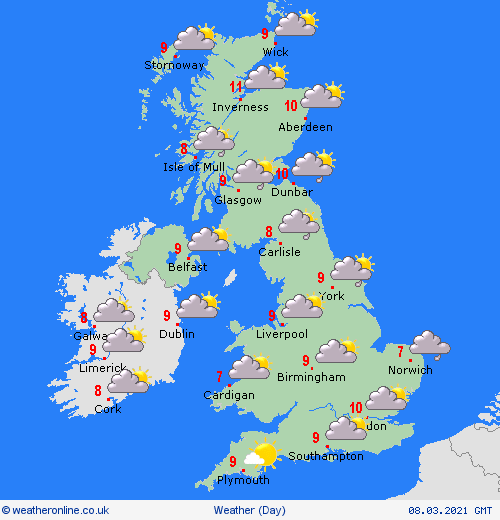 Starting settled with light winds and some patchy rain for western areas. Turning very unsettled through Wednesday with heavy rain and strong to gale force winds. Blustery showers later Thursday.
Europe's weather forecast
Portugal should see a mainly dry day but Spain will hang on to the showery rain across central and eastern areas into Sunday. Western areas drier. Showers, some heavy and thundery, through the Balearic Islands and for Corsica and Sardinia. Largely dry across mainland Italy but showers moving in to western areas later in the day. Showery rain again for Greece with lingering patchy, light rain over parts of Turkey.
Largely dry and fine again for France although some showery rain affecting southern areas. Mainly dry and fine but mist and low cloud should be expected in places for the Low Countries and Germany. Mainly dry for Switzerland and Austria but a few showers developing later in the day here. Dry for much of eastern Europe although a band of rain will push into northern Poland in the afternoon.
Norway will see some snow showers into central areas but mainly dry conditions elsewhere. Largely dry and fine for Sweden. Rain, sleet and snow will clear southwards across Finland allowing for drier and brighter conditions from the north. Breezy through the Baltics and feeling cold with a few snow flurries but it will be mostly dry here. Cloudy across Denmark for a time with some patchy light rain.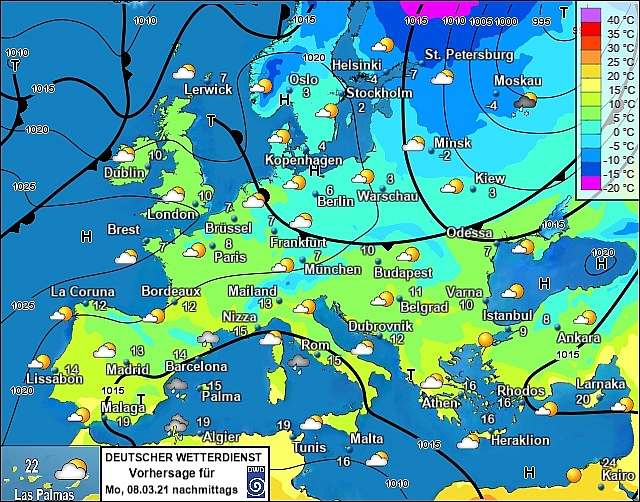 According to Weather Online, dry and fine for Portugal while widespread scattered showers affect much of Spain. A band of heavy showers extends over the Balearic Islands, Corsica and northern Sardinia into central Italy. These will be locally very heavy. Dry and fine to the north and south of Italy while isolated showers affect western Greece. Early rain clears eastern Turkey leaving a dry and fine day here.

Isolated showers fade from southern France to leave a dry and bright day. Cloud thickens from the north later and this extends into the Low Countries and northern Germany. Mostly dry and bright for southern Germany, Switzerland, Austria, the Czech Republic, Slovakia, Hungary and Poland after early patchy rain and showers fade.