UK and Europe daily weather forecast latest, March 29: Cloudy weather with hill fog and some drizzle in the west
England, Wales and the south of Ireland will be mostly fine and sunnier on Monday, but it will be quite cloudy with hill fog and some drizzle in the west. Meanwhile, much of Europe is largely settled, however, Scandinavia will see strengthened winds and wet conditions.
UK's weather forecast
According to Sky News, England, Wales and the south of Ireland will be mostly fine and sunnier on Monday, but it will be quite cloudy with hill fog and some drizzle in the west. Scotland, the north of Ireland and Northern will see rain moving north. It will turn warmer.
The UK is about to bake in one of the hottest early spring heatwaves on record as locked-down Britons are finally allowed out to enjoy the sunshine.
A sweltering plume from the Continent bolstered by glorious golden rays will push temperatures towards the mid-20Cs at the start of next week. Sun-lovers could be set to bake in one of, if not the, hottest March day on record on Tuesday as tropical air engulfs swathes of the country.
However, forecasters warn not to put the woollies away with snow and bitter winds expected to return by Easter. Britons should make the most of the warm weather over the next few days before wrapping back up for winter's parting shot.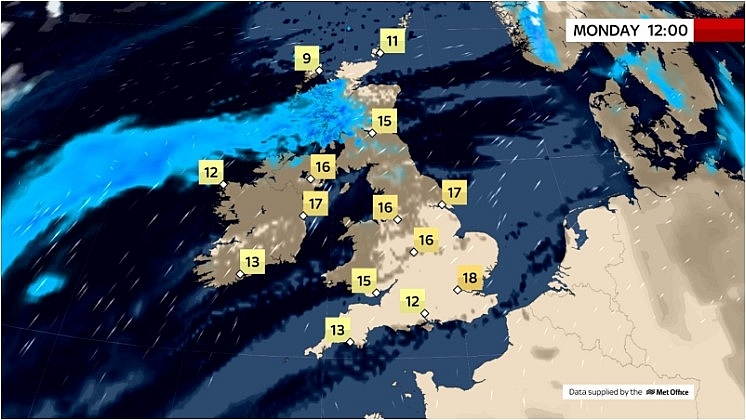 Photo: News Sky
The mercury is likely to nudge the monthly record of 25.6C (78.8F) on Tuesday–more than 15C above average for the time of year. The record for the highest temperature recorded on March 30 is 23.9C (75F) with 22C (71.6F) the current record for March 31.
Jim Dale, meteorologist for British Weather Services, said: "We could get close to the record temperature for March next week, but it is more likely we will see something around the 24C-mark (75.2F). This is being driven by a plume from the Continent bringing a warm southerly flow for a couple of days just after the weekend. The warmest days will be Monday with the heat building into Tuesday. This will be a real burst of barbecue t-shirt weather."
Spring heat unlike any seen at this time of year for around a century could see daily records for March fall at the start of the week. The March 30 record of 23.9C was set in Cullompton, Devon, in 1929, while the record for the end of the month was 22.0C logged in Wryde, Cambridgeshire, in 1907.
The overall monthly record of 25.6C was recorded in Mepal, Cambridgeshire, on March 29, 1968, when the mercury soared above the 9C maximum average. The summer-like surge will arrive as the latest lockdown easing measures kick in allowing up to six people to gather outdoors from Monday.
BBC meteorologist Ben Rich said: "Into the start of next week, this is where the warm weather comes in. A south-westerly flow of winds will bring some pretty warm air in our direction from Monday to Tuesday."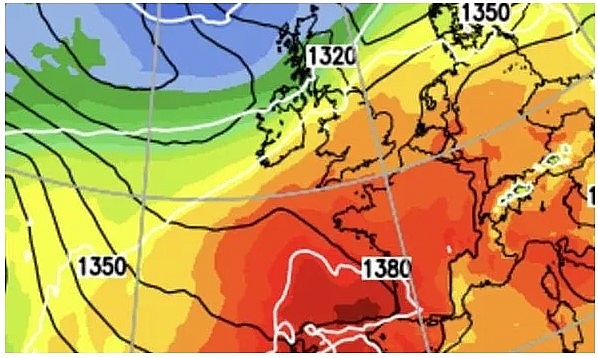 UK weather forecast: Hot weather to hit UK over the next couple of days (Image: Netweather)
Baking sunshine will make it feel like early summer during the start of the week although the glorious weather will quickly fizzle out. Forecasters predict a major change from Wednesday onwards with snow and icy winds likely to dampen Easter spirits.
Temperatures will crash below freezing in parts of the country through the end of the week and into the Easter weekend. Lows of -2C largely across northern and Eastern Britain will bring a risk of snow while much of the UK struggles to rise above single figures.
Mr Dale said: "The hot weather at the start of the week really is going to be a very brief burst of joy. It will start to unwind big time from mid-week onwards and into Easter, and there will be the risk of wintry showers in parts. This isn't so unusual though. a White Easter is more common to see than a White Christmas.
"We are going to go from one extreme to the other over the next week, from unusually warm to very cold again."
The frenetic changes in weather will be driven in part by the jet stream swerving chaotically over the UK. Sub-tropical air will flood in towards the jet's southern side at the start of the week before Arctic air pushes down from the north ahead of the weekend.
John Hammond, meteorologist for weathertrending.com, said: "The jet stream is getting a wriggle on. A feed of sub-tropical air will allow temperatures to build through the early part of the week. From midweek, a huge kink in the jet stream will emerge in the Atlantic. Temperatures will fall dramatically from the north as Easter approaches and, by Good Friday, northerlies will be making their presence felt nationwide."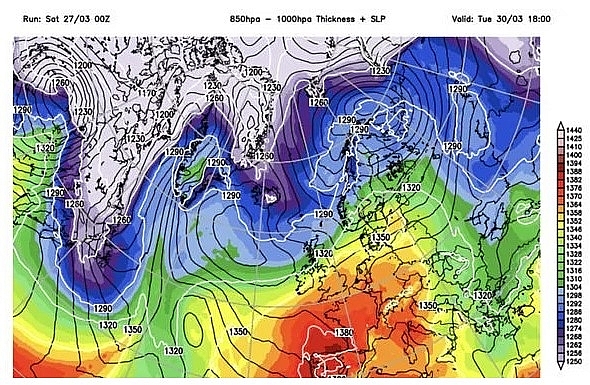 UK weather: Sun-lovers could be set to bake in one of, if not the, hottest March day on record (Image: Netweather)
Bookmakers are hoping punters will hedge their bets on the warm weather slashing the odds on records falling. Ladbrokes is offering 4-1 from 8-1 on the 1968 record tumbling next week with a less likely 6-4 on the hottest ever Easter Sunday.
Spokesman Alex Apati said: "A mini-heatwave is ready to bake Britain. There's a chance this month plays host to the hottest March day ever."
Coral is looking further ahead offering 3-1 on the hottest summer on record and 2-1 on the warmest spring.
Spokesman Harry Aitkenhead said: "We're going to go through a spell of cold weather now but once that is out the way the temperatures are going to soar and we think there's every chance now of this spring being our warmest ever."
On March 29
According to Weather Online, a bright start across southern England and south Wales with a notable less wind and becoming increasingly sunny and warm across the rest of Wales, England and Ireland through the day. Looking likely it will stay largely cloudy across Scotland and Northern Ireland with some rain affecting far northern and western areas here. Highs at 11 to 17C but could reach to 18 or 19C across soome southeastern areas.
Southern areas turning increasingly sunny, and warmer too inland. Central areas cloudy but with any drizzle fading. Still wet in western Scotland but drier and quite warm further east, Met Office reported.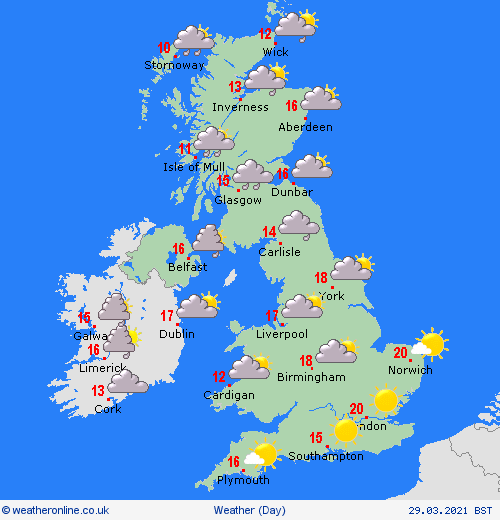 Photo: Weather Online
Outlook for Tuesday to Thursday
Rain continuing across the northwest, edging further south on Wednesday. Dry elsewhere with sunny spells. Very warm in the south, cooler in the north and becoming cooler nationwide by Thursday.
Europe's weather forecast
A largely dry and fine day for the countries bordering the Mediterannean on Sunday. Some cloud over southern parts of Spain and Portugal but dry and bright conditions extend through Italy, the Balkans, Greece, Cyprus and Turkey.
A dry and largely fine day for France, Switzerland and Austria. Some cloud over northern France which extends in to the Low Countries. Patchy outbreaks of rain affect the northern Netherlands. Rain spreads into northern Germany too where it is also quite cloudy. Clody but dry for the Czech Republic, Slovakia and Hungary.
A dry start for Denmark gives to rain as a front arrives from the west. This front also brings heavy outbreaks of rain and sleet into southern Norway. Staying drier further north. Patchy outbreaks of rain and sleet for Sweden before an area of heavier and more persistent rain arrives to the south. Early rain clears the Baltic States to leave a fair day here. Fair too for Finland with a scattering of showers.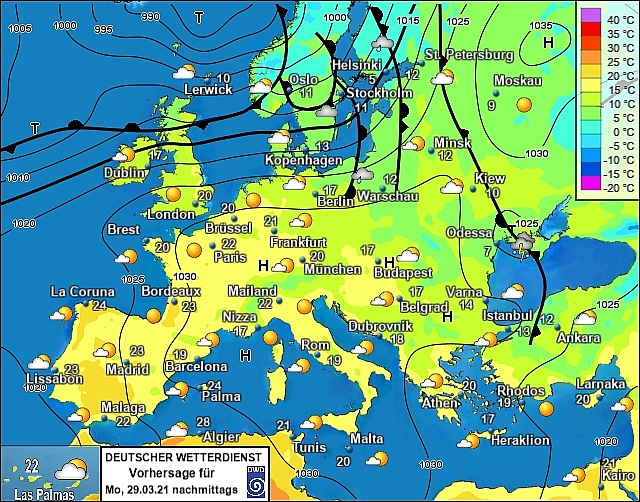 Photo: Stirimeteo
On March 29
According to Weather Online, southern parts of Spain and Portugal could see more in the way of cloud with patchy oubreaks of rain. Breezy too across far southeastern areas. Elsewhere is looking dry and fine. Continuing dry through the Balearic Islands. Mostly dry across Italy although the odd isolated shower cannot be ruled out in the far south. Scattered showers developing across Greece and parts of Turkey.
A dry and fine day for France and the Netherlands, although becoming increasingly windy towards the coasts here. Mostly dry for Germany but more in the way of cloud and wind in the north. Dry and fine for Switzerland and Austria as well as down the Balkans. A cloudier and wet rain with outbreaks of rain affecting Poland into eastern Slovakia.
A brisk southwesterly to westerly wind blows throughout Scandinavia. Expect a mix of rain, sleet and snow to west Norway into northern parts of Sweden. Drier further south here. A wet and cloudy day for Finland with widespread rain. Rain should clear the Baltics through the day with drier and brighter weather following. A wet and cloudy start for Denmark but improving as the day progresses. Winds easing too.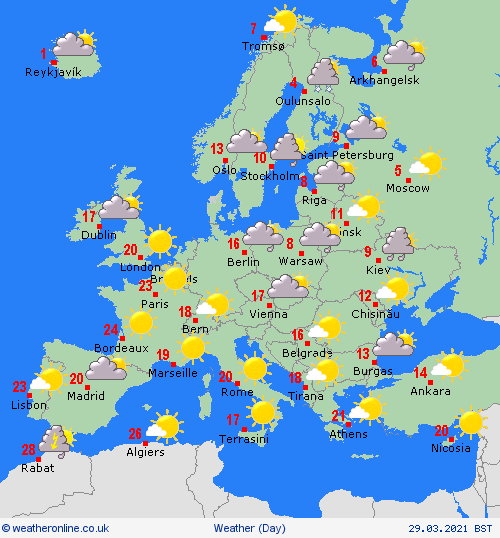 Photo: Weather Online