UK and Europe daily weather forecast latest, March 30: Dry and sunny day across England and Wales
Tomorrow will be a dry, sunny and very warm day for the majority of England and Wales, especially in the south. Meanwhile, largely dry, fine and feeling warm are expected across much of Europe but cooler and more unsettled conditions for Scandinavia.
UK's weather forecast
According to Sky News, tomorrow will be a dry, sunny and very warm day for the majority of England and Wales, especially in the south. Meanwhile, north-west Scotland will be cloudy and cool with outbreaks of rain, heavy at times, later spreading to north-west Ireland.
The rest of Ireland as well as Northern Ireland and the south and east of Scotland will be mainly dry and warm with bright or sunny spells.
Britain is bracing for an "insane depth of cold" air to strike over the Easter weekend as a forecaster has claimed temperatures could plunge to a bitter -2C in southern England, Express reported.
BBC Breakfast host Rachel Burden predicted the UK to be blasted with a "mini-heatwave" this week. Met Office forecasters also said the southeast of England could see temperatures climb to 24C on Tuesday. Chief Meteorologist Andy Page said: "In sheltered central and southern parts of the UK, weather conditions will be much calmer with temperatures climbing in the March sunshine to highs into the low 20s, with the possibility of 24.0 C in southeast England by Tuesday." But Brian Gaze, a forecaster at Weather Outlook, warned the warm temperatures may be short-lived as he shared a map suggesting -2C to strike Kent in the south of England on Tuesday, April 6.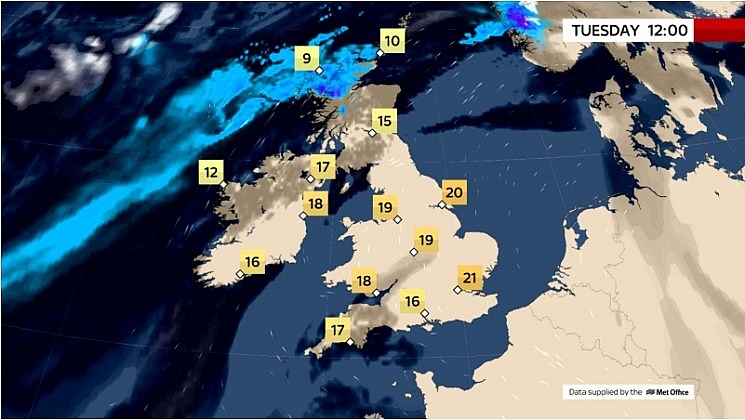 Photo: Sky News
"-12C 850hPa temps reaching -12C in southern England. Will be a cold outlier for sure."
Explaining the chart further to Express.co.uk, he said: "The chart shows forecast temperatures at approximately 1500m above sea level. They're used to give an indication of the air mass. Temperatures down at the ground level in Kent would be closer to -2C."
The map also showed temperatures plunging further in the north of the UK on the same day. In a separate forecast, Mr Gaze added that wintry conditions including snow could even hit the UK as Easter arrives.
He said: "Through Wednesday outbreaks of rain spread southwards and they reach central areas in the afternoon. To the north much colder conditions develop and showers start to turn wintry. In southern counties it will be another very mild or even warm day. During the rest of the week high pressure builds to the west. That leads to the likelihood of cold air moving southwards over the UK. The risk of sleet or snow could return in time for the Easter weekend."
The BBC's long-range forecast between Saturday, March 27 and Sunday April 4 added: "Next week will start off with a high pressure system that has been building in mainland Europe this week strengthening into the UK, bringing light winds and milder air."
"Temperatures will climb well above average for the first half of the week, reaching into the low twenties for parts of the Southeast. This will also come with dry, largely sunny weather, although northern Scotland will still see weather fronts and some patches of rain. The warmer air will be short-lived though, as a cold front is set to arrive around midweek."
UK weather forecast: Brian Gaze posted a map showing subzero temperatures of -12C (Image: WEATHER OUTLOOK)
"There is still some uncertainty on the exact timing, but the front should sweep southwards across the UK either Wednesday or Thursday afternoon. The colder air mass behind the front will be a stark difference from the very mild air it replaces, with afternoon highs dropping as much as 10 Celsius is some places!"
"Heading into the Easter holiday weekend, the weather will likely be a few degrees colder than normal but largely dry with patchy cloud. There is a chance of some scattered showers for northern and eastern areas, and these could bring some lowland snow if they develop."
The Met Office added temperatures could start to become warm again during the middle of April. The forecast between Friday, April 3, and Sunday, April said: "Widely fine conditions are expected across the British Isles on Friday and Saturday with plenty of dry weather and sunny spells for most."
"Temperatures will be around or a little below average for the early part of April, with some chilly nights. It will likely turn colder and more unsettled from the north by the start of the following week. All areas of the UK are likely to see spells of rain and stronger winds."
"Some wintry showers are possible too though any snow is most likely over hills in the north of the country. After a colder spell, temperatures will probably start to return back closer to average towards the end of this period."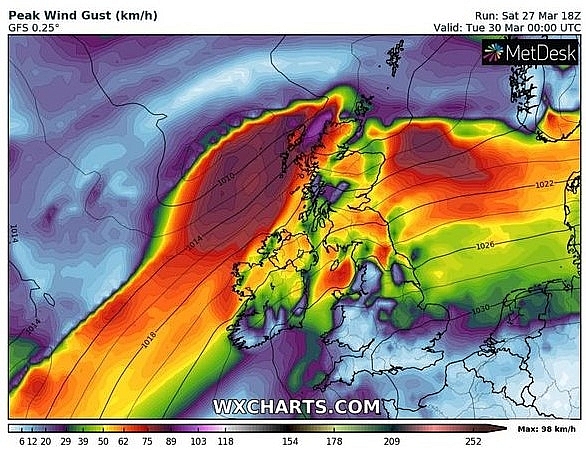 UK weather forecast: Britons may bask in warmer air at the start of the week (Image: WXCHARTS)
On March 30
According to Weather Online, a dry day for many and feeling mild to warm for most, however, a band of rain will push down across northern parts of Scotland brushing the far north of Ireland and Northern Ireland. Elsewhere will be dry and sunny and feeling warm again. Highs between 16 to 21C for many although across northwest and north Scotland as well as some western areas highs may only reach between 7 to 12C.
Rain in north of Scotland and some low cloud and fog affecting Irish Sea coasts. Else, dry with long sunny periods developing and becoming very warm inland England and Wales, Met Office reported.
Outlook for Wednesday to Friday
Rain in the north edging south and easing on Wednesday. Otherwise dry with sunny spells. Very warm in the south on Wednesday, becoming cooler from the north.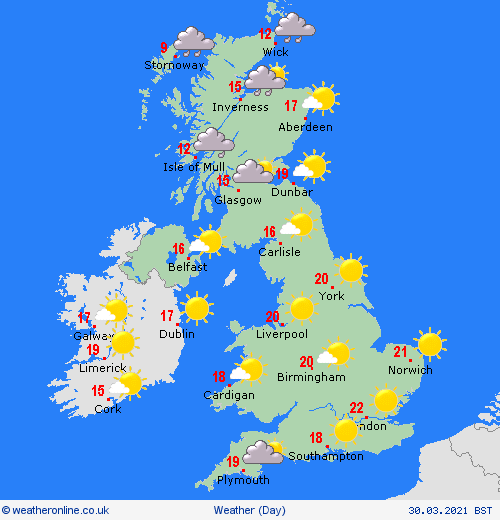 Photo: Weather Online
Europe's weather forecast
Southern parts of Spain and Portugal could see more in the way of cloud with patchy oubreaks of rain. Breezy too across far southeastern areas. Elsewhere is looking dry and fine. Continuing dry through the Balearic Islands. Mostly dry across Italy although the odd isolated shower cannot be ruled out in the far south. Scattered showers developing across Greece and parts of Turkey.
A dry and fine day for France and the Netherlands, although becoming increasingly windy towards the coasts here. Mostly dry for Germany but more in the way of cloud and wind in the north. Dry and fine for Switzerland and Austria as well as down the Balkans. A cloudier and wet rain with outbreaks of rain affecting Poland into eastern Slovakia.
A brisk southwesterly to westerly wind blows throughout Scandinavia. Expect a mix of rain, sleet and snow to west Norway into northern parts of Sweden. Drier further south here. A wet and cloudy day for Finland with widespread rain. Rain should clear the Baltics through the day with drier and brighter weather following. A wet and cloudy start for Denmark but improving as the day progresses. Winds easing too.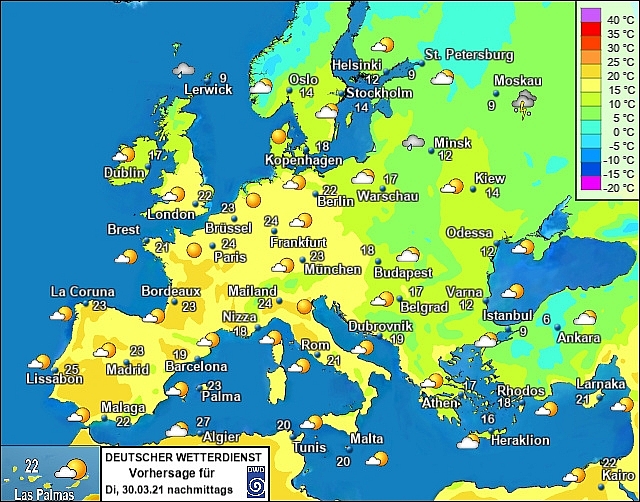 Photo: Stirimeteo
On March 30
According to Weather Online, sunny spells and scattered showers across Portugal as well as western parts of Spain with brisk winds towards southern coasts, but largely dry and fine elsewhere. Dry, fine and warm through the Balearic Islands and much of Italy although far southern regions once again could see the odd isolated shower or two. Showers continuing across Greece and Turkey.
Dry, sunny and warm across much of northern and central Europe, although Poland will see some patchy rain and cloudier skies across eastern areas through the morning before clearing here. Slovakia and Hungary will too see cloudier skies with possible light rain/drizzle across easternmost regions for a time.
Winds should ease across Norway but a mix of rain, sleet and snow will continue across northern and western regions here. A mostly dry day with sunny spells for Sweden. Less windy here. Rain across eastern Finland first thing will soon clear to see a dry day thereafter. A dry day across the Baltic States with a steady south-westerly wind. Dry and fine across Denmark.
Photo: Weather Online