UK and Europe weather forecast latest, August 15: Thunderstorm warnings issued for the weekend in UK amid the fierce heatwave
Britain will brace more heavy thunderstorms this weekend amid scorching heatwave. Meanwhile, exceptional rainfall and large hail are forecasted to battle Europe.
UK's weather forecast
Thunderstorm warnings across the UK have been issued for the weekend as the country prepares for heavy rain, flash flooding, lighting and hail amid the fierce heatwave, Express reported.
Hot temperatures in England have created the perfect conditions for the severe stormy weather which is set to cause travel chaos this weekend. Thunderstorms are sweeping across parts of the UK bringing major travel disruptions due to torrential rain.
The Met Office's Chief Meteorologist, Frank Saunders, said: "Up until Monday Thunderstorm warnings cover much of England and Wales, with parts of southern England and South Wales seeing the greatest likelihood of impacts.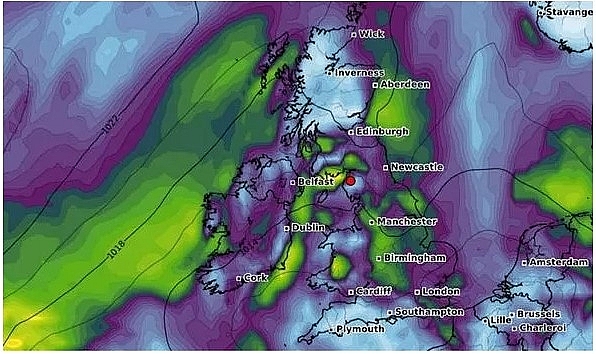 Thunderstorm warnings across the UK have been issued for the weekend (Image: WXCHARTS)
"The storms will not affect all areas, but where they happen there will be frequent lightning, gusty winds and intense, heavy downpours with 30 to 40mm of rain possible in less than an hour. And, in a few unlucky spots, a small chance of 60 mm falling in a short period."
"With the continuing hot weather, large swathes of the UK continue to be at risk from thunderstorms, and potentially the impacts from heavy rain, into the early part of next week."
Yellow thunderstorm warnings are in place for most of England and Wales for the next five days. Homes and businesses could be flooded quickly and damaged by floodwater, lightning strikes and large hail.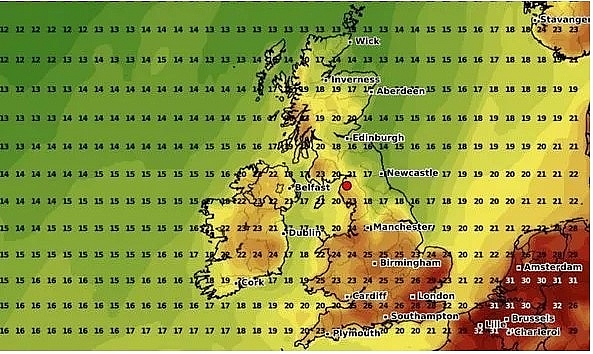 Hot temperatures in England have created the perfect conditions for the stormy weather (Image: WXCHARTS)
In the village of Barton Stacey in Hampshire, a wooden pavilion caught fire following a suspected lighting strike on Thursday. Part of the M25 motorway in Surrey has be closed due to severe flash flooding.
Neil Davies, Flood Duty Manager at the Environment Agency, said: "Isolated thunderstorms could bring sudden surface-water and river flooding, which may lead to flooded properties and severe travel disruption in some areas."
"Further surface water and river flooding is also a possibility until Sunday. Environment Agency teams are working hard alongside local authorities to reduce the risk of flooding and keep communities safe, clearing grills and weed screens in areas which may be affected by heavy showers, and are ready to respond and support where needed."
"We urge people to check their flood risk, sign up for free flood warnings and keep up to date with the latest situation."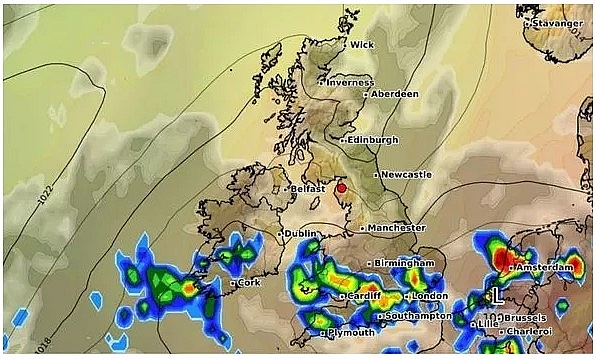 Thunderstorms are sweeping across parts of the UK bringing major travel disruptions (Image: WXCHARTS)
Cloud will bring a slow end to the fiercely hot weather in some parts of the UK. But in the south and west the sun will continue to bring warm temperatures and humid heat.
Mr Saunders added: "The hot weather is slowly subsiding now, with more cloud, but it will still be very warm and humid where the sun comes out in the south and west of the UK. In contrast to the last few days, maximum daytime temperatures will be reducing, with only isolated locations seeing temperatures of 30.0 °C or above."
"And some northern and eastern areas much less warm at times, with a lot of low cloud and hill fog."
Common types of lightning (Image: Express.co.uk)
This month the UK has experienced five tropical nights and six continuous days of heatwave weather.
Hot temperatures have caused Public Health England to issue heat health alerts for parts of England into next week. Heatwave alerts were increased to level three for the West Midlands and East Midlands.
Thunderstorms could continue to bring flooding and severe disruptions into next week. Matthew Box, Met Office meteorologist, said there was a risk of thunderstorms "right through to the start of next week, and maybe even beyond that".
On August 15
Higher pressure remains close to Scotland on Saturday. A very warm day again with good spells of sunshine. Cloud does increase in the afternoon and there is a risk of some isolated thundery showers forming over central and eastern parts of England later. Dry in most of Ireland and Scotland as well as the west of England and much of Wales. Breezier in England later. Highs at 35C in southeast England, 19C in northwest Scotland, widely 23 to 29C, cooler on eastern coasts, Weather Online reported.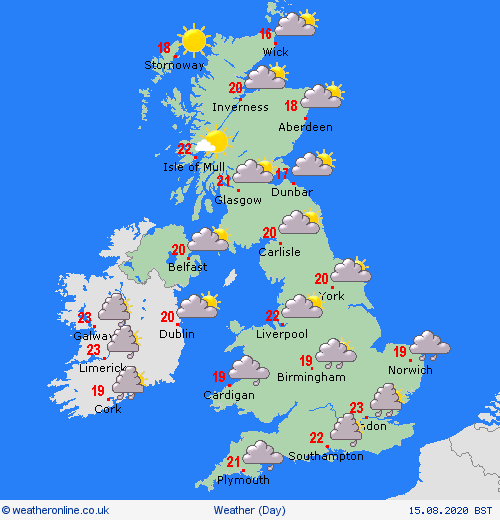 Photo: Weather Online.
Europe's weather forecast
According to BBC, a "breakdown" in temperatures across Europe is forecasted as the humidity starts to ease off and make way for thunderstorms, "exceptional amounts of rainfall" and even large hail.
BBC meteorologist Helen Willetts warned viewers that the heat is set to continue across the north and west of Europe. She noted that it had been very persistent for a week or more in many areas in the northwest and longer across Iberia. However, the weather presenter explained that the heat is gradually breaking down.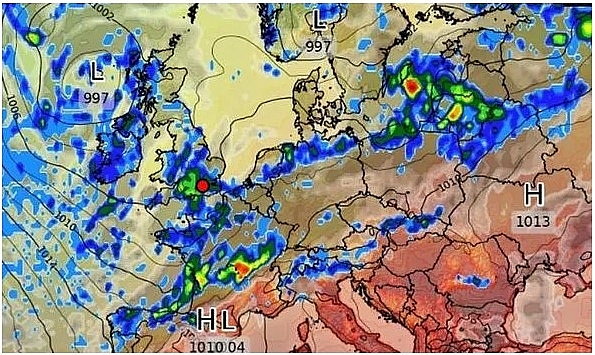 BBC Weather: 'Exceptional' rainfall and large hail spark heatwave 'breakdown' in Europe (Image: WXCHARTS)
She said: "Temperatures are returning more to normal over the coming few days. It's still a little above but with the heat we're getting some exceptional amounts of rainfall from the storms, large hail and gusty winds."
"This is often the way once the summer heat is released. Those storms continue to push their way gradually eastwards."
Ms Willetts continued: "Further south and east, it's not been as hot. But we're still into the high 30s in parts of Turkey and the Greek Islands with fewer showers here. It's still quite disturbed across the western side of Russia."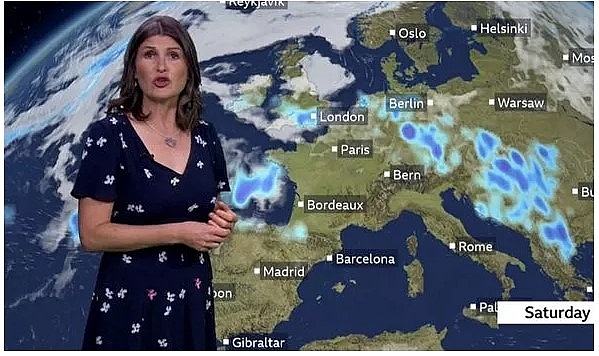 'We're still dragging up a lot of humidity from the south and the west.' (Image: BBC)
"It's still hot across some parts of Scandinavia."
The BBC presenter added: "Albeit with the likelihood of more rain and showers here as well. Gradually that breakdown of the heat process continues but the humidity remains high. We're still dragging up a lot of humidity from the south and the west."
Ms Willetts said: "The storms will migrate across the eastern Alps and into the Balkans. Further west, temperatures are still into the high 20s in Paris and the mid 20s in London even by the time we get to the weekend."
'But we're still into the high 30s in parts of Turkey and the Greek Islands.' (Image: BBC)
"But they are tailing off and the humidity will ease off a little bit as well. We keep the heat and the sunshine for Madrid and for Rome and Athens as well."
"Fewer showers will be around for Moscow, but perhaps a few more with those thunderstorms in Berlin."
On August 15
According Weather Online, a few showers over northern parts of Spain. Mostly fair in other areas with sunshine and very warm conditions. Further sunshine in the Balearics and across much of Corsica and Sardinia. Scattered showers in Italy but mostly fine with sunshine. Greece will have lots of hot sunshine and dry weather. Remaining dry and sunny in Turkey too.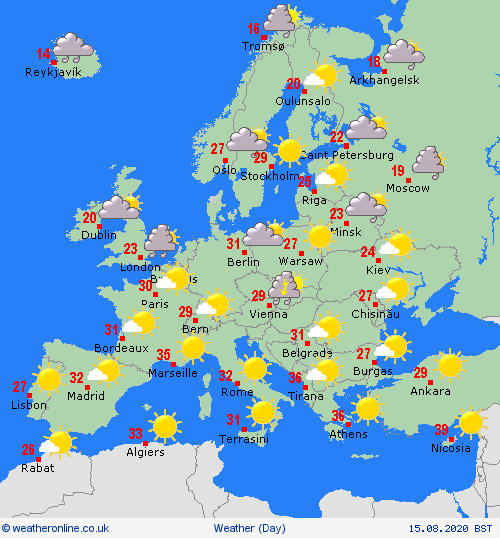 Photo: Weather Online.
Heavy showers in the west of France but fair in central and eastern areas. Heavy showers and thunderstorms across the Low Countries and through much of Germany. Poland will be dry with sunny spells. Thunderstorms in Austria and Hungary as well as Switzerland.
Fair with lots of sunshine for Denmark. More sunshine for the Baltic States and across Finland too. Sweden will be dry with sunshine. Mostly dry and sunny in southern Norway. Heavy showers and strong winds in northern parts of Norway.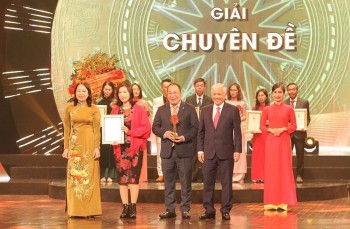 Overseas Vietnamese
VietnamTimes (Viet Nam Union of Friendship Organizations) is a reliable address for overseas Vietnamese to quickly and objectively update political, economic, cultural, and social news. The agency has created a helpful forum and connection between expatriates and the motherland.