UK and Europe weather forecast latest, August 23: A windy weekend before the Atlantic storm hits Britain
A windy weekend is predicted before the Atlantic storm hits Britain. Meanwhile, robust heatwave will bounce back to Europe.
UK's weather forecast
According to BBC Weather, Tomasz Schafernaker warned while Storm Ellen passes over the UK parts of the country can still expect some powerful gales. He noted over the weekend the weather will likely become more settled with weaker winds and a few outbreaks of rain. However, going into next week the UK faces a new storm from across the Atlantic.
This new weather front is set to bombard the whole of the UK with heavy rain and strong winds.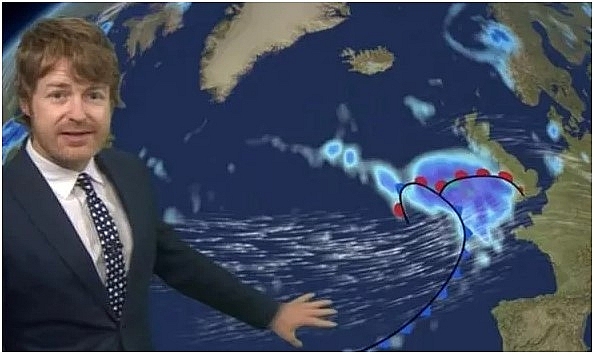 BBC weather: Wet and blustery 'frenzy' to bombard UK as new Atlantic storm set to strike (Image: BBC)
Mr Schafernaker said: "It is going to be another blustery day today but not quite as windy as what we had yesterday. We are going to call it breezy with a few showers today."
The BBC Weather forecast noted the changing weather the UK could expect over the weekend as Storm Ellen passes over.
He said: "The gusty winds and heavy showers is the kind of unsettled weather we have been having. The big low is still with us and it is moving into the Norwegian Sea through today. But it extends quite far even into Ireland and south-west of the UK."
"So we are still under the influence of the low pressure that is moving off. The breeze is still pretty strong and we are talking about 40mph gusts which is still windy for August."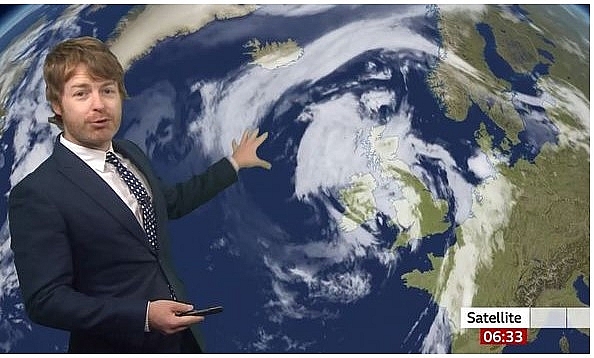 BBC Weather: BBC Weather have forecasted a windy but mostly dry weekend for many before a new storm is set to batter the entire UK. (Image: BBC)
Mr Schafernaker noted that while the weekend weather would not be too unsettled, the new week would see a new storm move in across the UK.
He said: "Talking about showers and wind there does look as if there is another spell of very wet and windy weather ahead."
"Sometimes maybe late Monday or Tuesday into Wednesday. The jet stream is going to put this low pressure in a frenzy and it is going to send it right across the UK."
"Again I think we are in for a spell of unusually windy weather. Monday itself isn't looking too bad at all though with some light winds."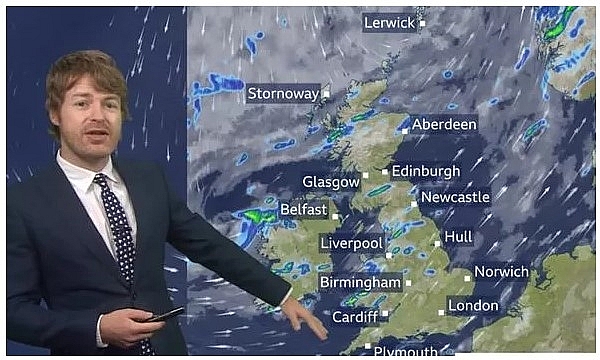 BBC Weather: BBC Weather have forecasted a windy but mostly dry weekend for many before a new storm is set to batter the entire UK. (Image: BBC)
On August 23
Low pressure to the northeast of Scotland will continue to fill while still bring a wet and windy day for northern Scotland and the Northern Isles. Meanwhile, a weak, transient ridge of high pressure will build over the UK and Ireland. This will allow for a generally brighter day for many but still with showers about. Some of these showers look likely to merge into longer spells of rain across eastern parts of England and southeast Scotland. Ireland will see cloud build in the west later with rain arriving overnight. Highs at 22C in the south and 16C in the north, Weather Online reported.
Europe's weather forecast
According to Express, forecasters believe the heatwave will return not long after this, bringing 30C heat back to continental Europe. Severe Weather Europe said that the weather will turn starting today.
They said Storm Ellen arrived in the UK as part of an Atlantic depression, which will gradually weaken and build up an "upper ridge" over the continent.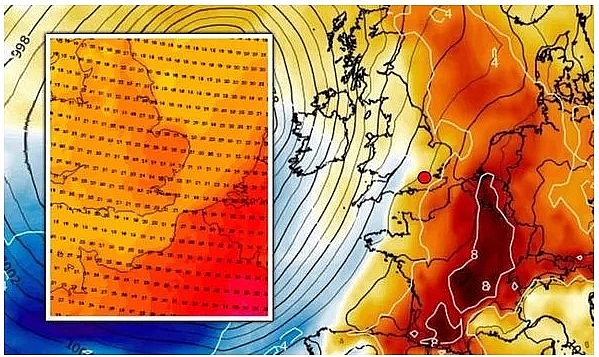 UK heatwave forecast: Storm Ellen to bring robust 30C heatwave back to Europe - Maps (Image: WXCHARTS)
The forecasters added this would spearhead a move towards stable weather.
They said: "[The] violent storm has brought quite a wild and windy past 24 hours over Ireland, Wales, and southwestern England."
"The system was a part of the main North Atlantic depression which has now matured over western Europe."
"While storm Ellen is decaying and moving over Scotland today, the main circulation has a powerful jet stream rounding it."
"At the same time, upper-level ridging is building up from southern into central Europe. After today, a gradual weakening of the depression is expected while the system will continue towards the northeast."
"This will cause the upper ridge to additionally strengthen over Europe, building up an omega blocking pattern across the continent. Therefore, stable weather is expected to build up beneath the ridge."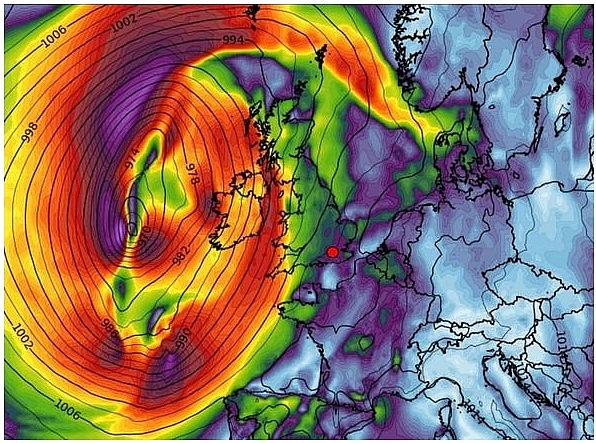 UK heatwave forecast: Storm Ellen will batter the coast with winds pushing 50mph (Image: WXCHARTS)
Forecasters added a "strong heatwave" would result from this activity, prompting temperatures to rise to 38C by Friday. On Saturday, they will remain in this range or intensify towards 40C in some areas.
Severe Weather Europe added: "Stable and strong mid-level warm advection should result in a strong heatwave from France through Thursday, spreading into Germany and around the Alps on Friday.
"Temperatures should reach between +33 and +38C in many regions. While the cold front brings a refreshment across western and central Europe, heatwave persists across southern Europe over the weekend."
"Temperatures should remain between +35 and +40C across Italy and the southern Balkan peninsula."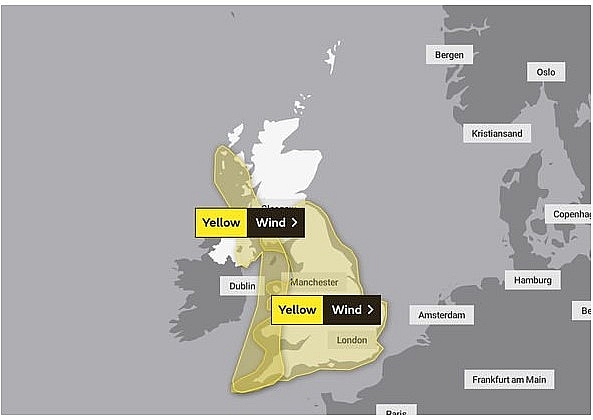 UK heatwave forecast: The Met Office has released weather warnings for most of the UK (Image: MET OFFICE)
Britain will see temperatures slighlty lower but still reach highs of around 23C this weekend before dipping into next week. The short-lived heatwave will depart by Sunday, leaving conditions ripe for storms and severe weather.
The forecasters said a following cold front and increasing moisture could weaken the jet stream. Conditions will end up conductive for "organised" storms, they added, which refers to systems of thunder, heavy rain and wind.
On August 23
According to Weather Online, dry, warm and fine for much of Spain and Portugal again on Sunday though northern and eastern coastal regions of Spain could see isolated showers develop through the afternoon. Dry, warm and sunny for the Balearic Islands, much of Italy and Greece. Thundery downpours affect northern portions of Italy through the afternoon while early showers over eastern Turkey clear to leave a dry, warm and sunny day across the country.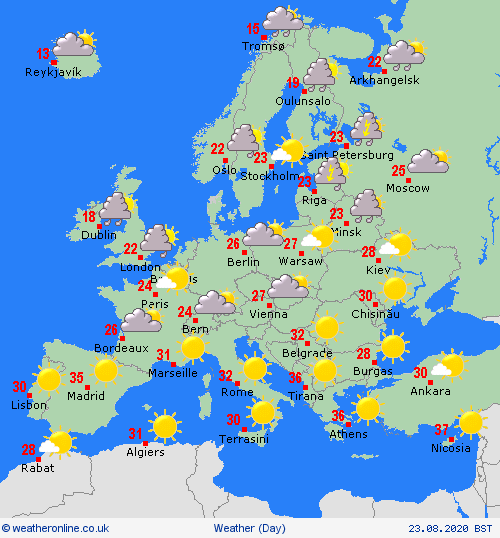 Photo: Weather Online.
Showers affect northwestern portions of France and Germany as well as the Low Countries on Sunday and may merge to bring longer spells of rain here. Largely dry and fine for the rest of France and Germany. A mostly fine day too for Poland, the Czech Republic, Switzerland and Austria with isolated showers developing here. These may become heavy over the Alps. A cloudy day for Slovakia and Hungary as a band of rain makes its way slowly eastward through the day.
Staying unsettled over much of Scandinavia though winds ease slightly from Saturday. Frequent outbreaks of rain affect western coasts of Norway and southwestern Sweden as well as Denmark. Across northern Sweden, Finland and the Baltic States there will be some good spells of sunshine though this will be punctuated by frequent, often heavy, showers.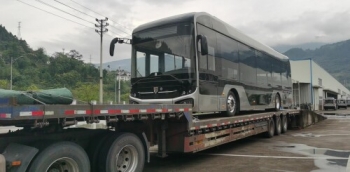 Economy
Ev Dynamics (Holdings) Limited is a pioneer and a prominent player in China's new energy commercial vehicles market, as well as a whole-vehicle manufacturer of specialty passenger vehicles and new energy passenger vehicles.