UK and Europe weather forecast latest, August 20: Ferocious winds warning issued as Storm Ellen heads to the UK
Warns of "damaging" gusts are issued as Storm Ellen heading to the UK. Meanwhile, Europe bears unsettled conditions with rain to the north and far west.
UK's weather forecast
According to Express, Storm Ellen is forecast to hit the UK tonight, bringing torrential rain and fierce winds to the UK and Ireland. Several warnings are in place, with Storm Ellen made up of remnants of Tropical Storm Kyle - which has merged with North Atlantic air masses.
The "decayed tropical cyclone" has been named by Met Eireann as Storm Ellen and is forecast to bring 70mph winds and torrential downpours tonight and into Thursday.
Met Office Chief Meteorologist, Steve Ramsdale said: "Following the recent hot and thundery weather we are seeing a significant change to very unsettled conditions for August with an unseasonal spell of strong winds associated with low-pressure centres for the second half of the week."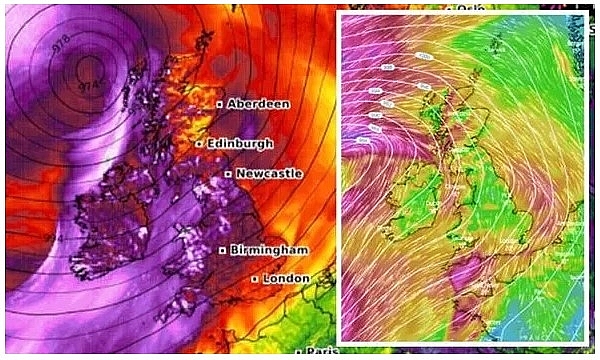 Storm Ellen tracker: Weather warnings are in place as Storm Ellen heads to the UK (Image: WINDY/ WXCHARTS)
"Uncertainty remains high in the intensity of these systems at this point, but we are confident in the change to a spell of much windier weather."
"Tropical air associated with a decayed tropical cyclone is being drawn towards the UK, and the marked contrast between this warm and moist air with normal North Atlantic air masses can lead to a very vigorous system."
Where is Storm Ellen now?
Storm Ellen is tracking towards the UK and Ireland from the west and is an unseasonably strong extratropical cyclone.
Severe Weather Europe (SWE) explains there is "a threat for dangerous severe storms" and Storm Ellen is "capable of producing severe damaging winds, torrential rainfall, tornadoes, and marginal hail."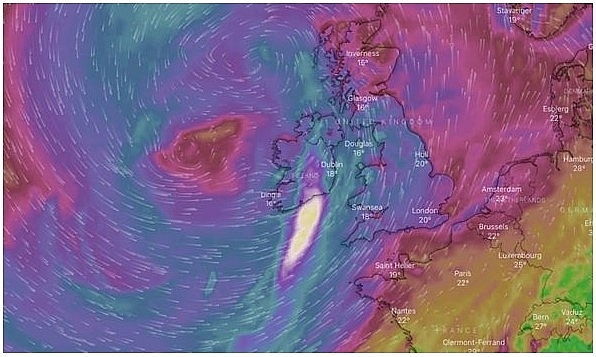 Storm Ellen tracker: Storm Ellen is forecast to hit tonight, bringing torrential rain and fierce winds (Image: WINDY)
The system will track from the Bay of Biscay towards Ireland and Northern Ireland, before impacting Wales and the South West of England.
SWE adds conditions could be conducive to hurricane-force wind gusts in excess of 93mph across the warning areas.
Another concern according to SWE is tornadoes, due to "strongly enhanced low-level shear and helicity, which could contribute to tornado threat with any better-organized supercell storm within the eastern half of MDT/ENH risk areas."
The forecasters warn this threat is particularly high across the southwestern England and Wales.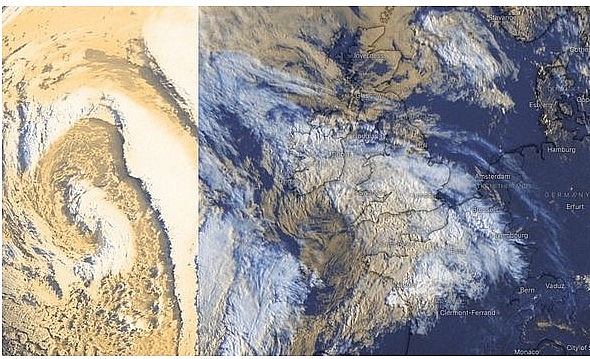 Storm Ellen tracker: Storm Ellen is an unseasonably strong extratropical cyclone (Image: WINDY)
Deputy Chief Meteorologist, Matthew Lehnert said alongside the heavy rain, strong winds have the potential to cause impacts which are not typically seen in August.
He said: "With this spell of unsettled weather coinciding with trees in full leaf and a peak in the camping season, wind-related impacts are more likely at lower wind speeds compared to other times of the year, particularly across Northern Ireland where winds are forecast to be strongest."
Met Office warnings for rain and wind are in place for today, as well as Met Eireann warnings for wind and rain.
Met Eireann has issued orange weather warnings for wind for Galway, Mayo, Clare, Cork, Kerry, Limerick and Waterford from 9pm today until 12pm on Thursday.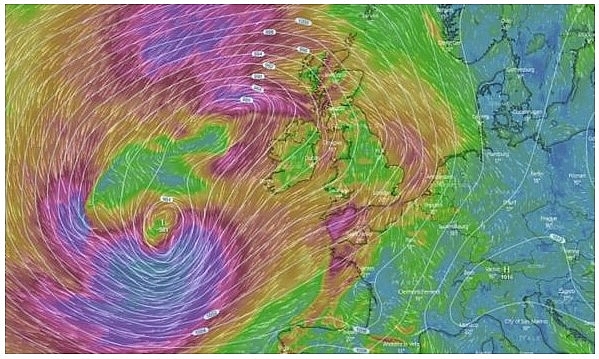 Storm Ellen tracker: Several warnings are in place, with Storm Ellen made up of remnants of Tropical Storm Kyle (Image: WINDY)
The forecasters explain Storm Ellen will track over Ireland on Wednesday night and during Thursday bringing a period of severe and potentially damaging winds.
Associated heavy rain will also bring a risk of flooding, and due to the combination of storm surge, spring tides and onshore winds, there is a potential risk of coastal flooding. Yellow weather warnings for wind are also in place for Northern Ireland, in particular for Antrim, Armagh, Down, Fermanagh, Tyrone and Derry.
The Met Office also warns heavy showers are expected to develop, with a yellow weather warning in place until 12pm today.
An area of rain will move north-eastwards through Wednesday morning, becoming heavy at times across more southern parts of Cornwall, Devon and Dorset. Up to 0.7 to 1.1 inches (20 to 30mm) will fall widely with as much as 1.5 to two inches (40 to 50mm) over high ground, this mostly falling within six hours.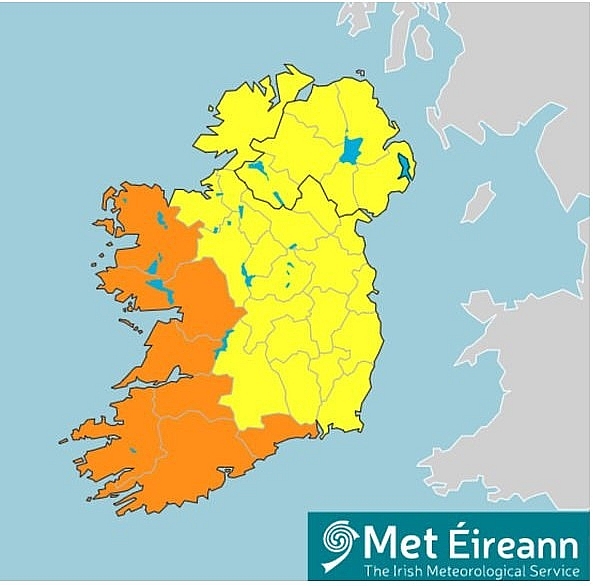 Storm Ellen tracker: Orange and yellow warnings are in place for Ireland and Northern Ireland (Image: MET EIREANN)
The areas covered by the rain warning area are:
London and South East England
South West England
A further wind warning is also in place for parts of the UK, with up to 70mph possible according to forecasters.
This is for Northern Ireland, SW Scotland, Lothian Borders, Strathclyde and Wales from 8pm today until 11.59pm on Thursday.
Europe's weather forecast
According to Weather Online, rain and high winds affecting northwest Spain and the far north of Portugal on Wednesday. Fair for the rest of Spain and Portugal with plenty of sunshine. Further sunshine across the central Mediterranean and into Italy. Greece will be fine overall, but some thunderstorms in the north. Fair and hot in Turkey with lots of sunshine here.
Rain will affect northern and western France, but mostly dry in the rest of the country. Increased cloud across Belgium and the Low Countries with rian expected during the afternoon. Germany will be largely fine with spells of sunshine. Some scattered showers for Poland but also with some sunshine. A fine day in Austria and Hungary as well as Switzerland.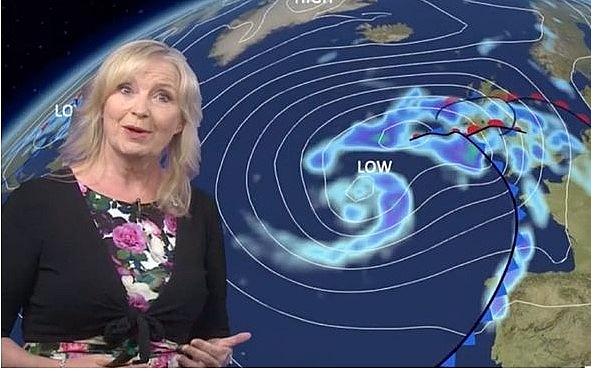 BBC Weather: A new Atlantic front will reach the UK overnight (Image: BBC)
Denmark will be dry and warm with plenty of sunshine. Dry across much of Norway and Sweden although with showers or longer spells of rain expected in southern Norway and parts of southern Sweden. Rain too across central and northern Finland but many places staying dry here. Some showers affect the Baltic States and Finland, these being heavy and thundery.
Cloudy skies and patchy rain affecting northern and central Portugal as well as northwest Spain. Elsewhere across Spain and Portugal will be dry and fine with sunshine. It will be a dry day across the rest of the central Mediterranean as well as over Greece and Turkey with plenty of sunshine.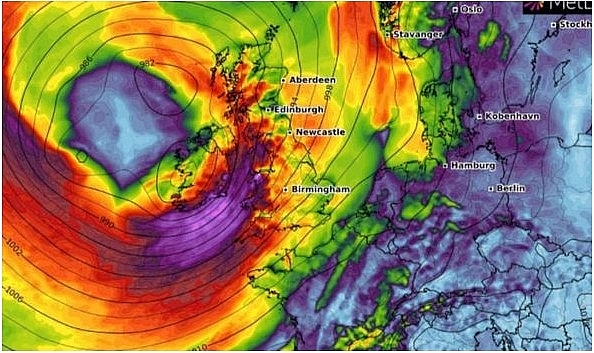 Storm Ellen tracker: The system will track from the Bay of Biscay towards Ireland and Northern Ireland (Image: WXCHARTS)
On August 20
Largely dry for France, although windy for the far northwest tip and a few scattered showers over some northern regions. Becoming drier and brighter across Belgium and the Low Countries and mostly dry and fine for Germany although cloud and rain is expected in the northwest. Largely dry across Poland but with outbreaks of rain for eastern areas of Europe. Generally dry across the Alpine countries as well as through the Czech Republic and Croatia but with some scattered showers possible in the afternoon.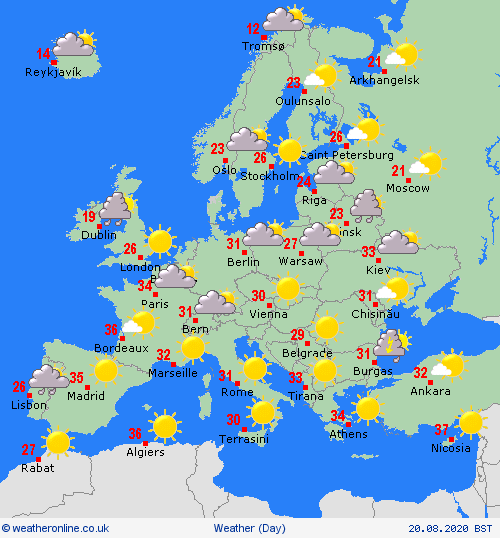 Photo: Weather Online.
Weak low pressure over Scandinavia will bring largely cloudy skies to southern regions mainly with some brighter spells further north. Showery rain will affect mainly southern parts of Sweden and Norway but also central regions too as well as across central Finland. Wet with rain across Denmark. Largely dry however across the Baltic States.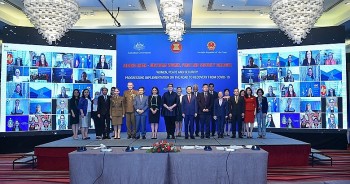 Viet's Home
ASEAN-Australia dialogue themed "Women, peace and security: progressing implementation on the road to recovery from COVID-19" was held to emphasize that women and girls are the most vulnerable social components but play an important and respectable role on the front lines in the fight against the epidemic.