UK and Europe weather forecast latest, August 19: Thunderstorms and showers to smash Europe before heatwave up to 40C returns
Heavy thunderstorms are forecasted to battle Europe before this continent bear a sharp heatwave climbing up to 40C. Meanwhile, gales warning is issued towards the UK.
UK's weather forecast
According to Express, forecaster Carol Kirkwood of BBC warned the disruptive Atlantic front will sweep in overnight between Tuesday and Wednesday and will dominate the picture for the rest of the week. Heavy showers and gusty winds will batter western areas of the country, with Friday expecting to be the windiest day of the week, the weather forecaster warned.
She said: "Through this evening and overnight many of the showers will die away and there's going to be some clear skies as well."
"Still some low cloud hugging the east coast. And then you can see the next system coming in from the south-west. Whenever you see greens and yellows in the charts that's telling you we're looking at some heavy bursts of rain."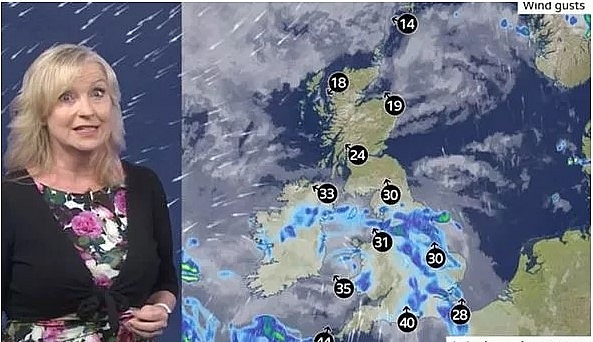 BBC Weather: Carol Kirkwood warns of gales battering UK this week (Image: BBC)
"And the wind is also going to strengthen. What's happening is low pressure coming in from the Atlantic will be dominating our weather. Thus is the front bringing the rain into the south-west overnight."
"Look at the size of the iso bars, telling you it's going to be a windy day tomorrow. In fact, for the rest of the week it will be windy. The windiest day on Friday when we're looking at gales in western areas."
A yellow weather warning for rain has been issued by the Met Office from 1pm to 9pm on Tuesday, covering central Scotland. Thunderstorms are set to be replaced by heavy rain and strong winds in the UK.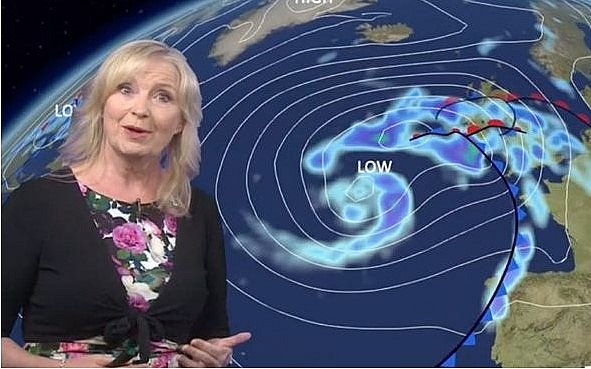 BBC Weather: A new Atlantic front will reach the UK overnight (Image: BBC)
Temperatures will remain warm in the 20s but will be offset by a south-westerly breeze over England and Wales.
According to Met Office, forecaster Jo Farrow, said: "On Tuesday there will be a lot of cloud and wet weather about for northern Britain and Northern Ireland with a low pressure nearby."
She added: "The risk of heavy showers or thunderstorms remains across Britain. There will also be thick low cloud and murk giving a gloomy day for some. Temperatures gain high teens to low twenties but with a SW breeze for England and Wales."
Warm and tropical air accelerating in from the south contains the remnants of Tropical Storm Kyle and will shift the weather this week.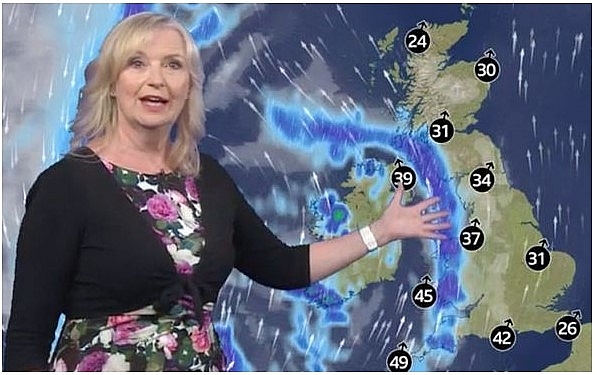 BBC Weather: A new Atlantic front will reach the UK overnight (Image: BBC)
Ms Farrow said: "We've had a week of thunderstorm warnings, slow-moving storms bringing torrential downpours and so flash flooding with lightning, sometimes hail."
"The winds have been light and so the storms crept along dumping high rainfall totals in one place, flooding roads or car parks. The second half of the week brings a change with gales being mentioned."
"As our weather changes, the Atlantic will have more influence with a large area of low pressure heading in. This contains the remnants of Tropical Storm Kyle."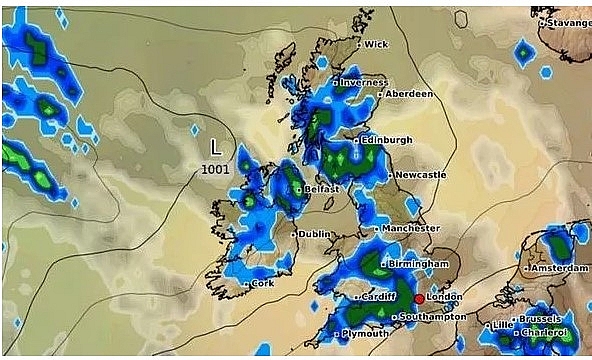 Thunderstorms are set to be replaced by heavy rain and strong winds in the UK (Image: WXCHARTS)
The hottest temperature on Tuesday is expected to be reached in London at around 25C. Some areas could have bursts of 20-25mm rainfall in an hour or up to 50mm in a few hours according to the Met Office.
Heavy rainfall could lead to properties being flooded, delays to transport and road closures. The Environment Agency has also issued flood alerts for parts of the Midlands around Birmingham. The heavy rain will continue through the week bringing unusually windy weather.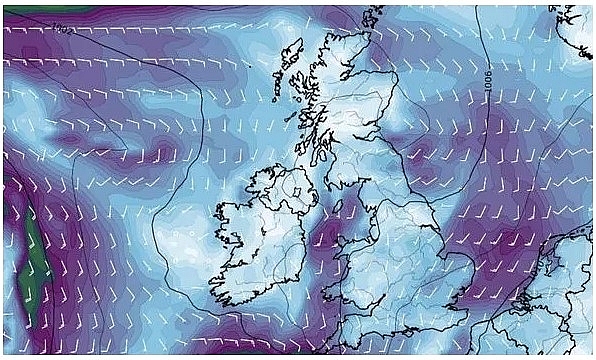 Britain will be battered by a brutal Atlantic low pressure system (Image: WXCHARTS)
Europe's weather forecast
According to BBC, forecaster Darren Bett said central Europe would see some of the wettest weather over the next few days. He noted there would be thunderstorms and heavy showers in central, eastern and parts of western Europe. Following the showers, Mr Bett said Europe can expect temperatures to rise with some areas reaching as high as 40C by the end of the week.
Mr Bett said: "It is very warm across parts of Scandinavia and the heat will build. It will build perhaps only briefly across other parts of Europe this week."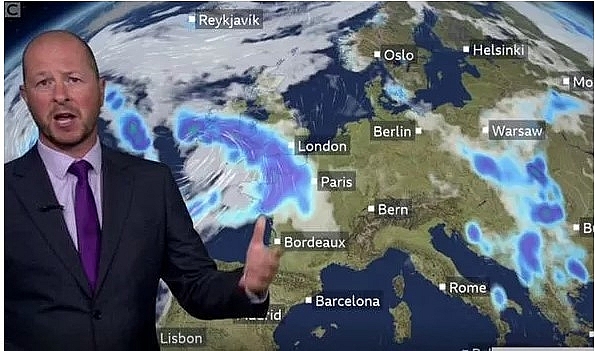 Britain will be battered by a brutal Atlantic low pressure system (Image: WXCHARTS)
The BBC Weather forecaster said the heavy rain, thunderstorms and humid air would be experienced across Europe before temperatures begin to rise.
He said: "In central Europe, we have got this cloud here swirling around an area of low pressure, that is producing some heavy rain and some thunderstorms again."
"There will be quite humid air and most of those storms will push their way across eastern parts of Europe on Tuesday on into Wednesday. There will still be some showers in Iberia into France but the heat is beginning to build here."
Across southeastern Europe, there will be some rainfall but temperatures will still remain high and dry for most. Across Turkey, Greece and the Greek Islands temperatures are expected to exceed 30C during the week.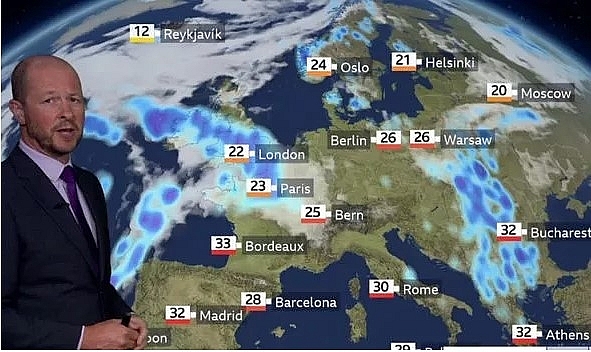 Britain will be battered by a brutal Atlantic low pressure system (Image: WXCHARTS)
Mr Bett continued: "For the southeast of Europe it looks mostly dry with plenty of sunshine. Temperatures will be into the mid-30s at best."
"As we move northwards you pick up this rain that can be heavy and thundery particularly through the Balkans."
"This spell of rain will be making its way through northern Germany and southern Scandinavia. The temperatures are expected to build through the Baltic states as well in the next few days."
Mr Bett closed by explaining the temperatures where expected to surge during the week for some regions.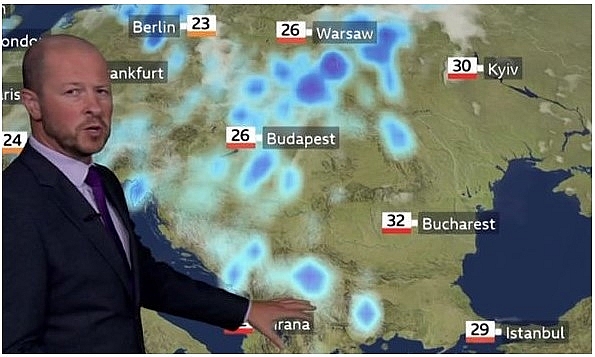 Britain will be battered by a brutal Atlantic low pressure system (Image: WXCHARTS)
Paris will see temperatures as high as 30C on Tuesday with London only reaching as high as 25C for the week. Rome will also remain around 30C or higher. In Seville, temperatures will be just shy of 40C with Sunday expected to exceed it.
On August 19
According to Weather Online, rain affecting northwest Spain on Wednesday. Fair for the rest of Spain and Portugal with plenty of sunshine. Further sunshine across the central Mediterranean and into Italy. Greece will be fine overall, but some thunderstorms in the north. Fair and hot in Turkey with lots of sunshine here.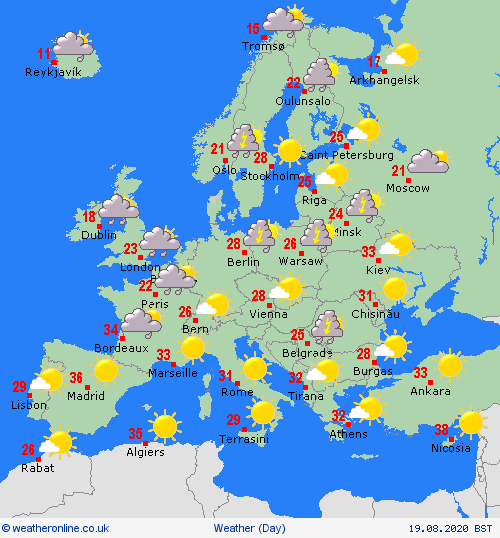 Photo: Weather Online.
Rain affects the far west of France, but mostly dry in the rest of the country. Increased cloud in the Low Countries. Germany will be fine with loong spells of sunshine. It will be staying fine in Poland too with more sunshine here. A fine day in Austria and Hungary as well as Switzerland.
Denmark will be dry and warm with plenty of sunshine. Southern Norway will be dry and sunny. Some showers affect the Baltic States and Finland, these being heavy and thundery. Showers in western Norway but dry and fair to the south.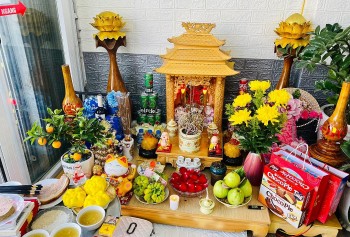 Handbook
Learn more about an ancient Vietnamese tradition that may bring you good fortune!