UK and Europe weather forecast latest, August 4: Scorching to melt Britain as 45.7C heatwake bakes Europe
Temperature in Europe is forecasted to rise up to 45.7C as Britain battles with 37C heatwave. 
UK's weather forecast
BRITAIN is set to bake in a heatwave with temperatures reaching 37C as scorching hot air blasts in from Europe, express.co.uk reported.
The Met Office has predicted Friday or Saturday might be even hotter than last week, according to the Times. Last week, Britain saw the hottest day of the year and the third hottest since the record began in 1865 with the mercury reaching 37.8C.
Most of the country is set to have temperatures around the high twenties, but London and the southeastern region are expecting scorching temperatures of 35C to 37C.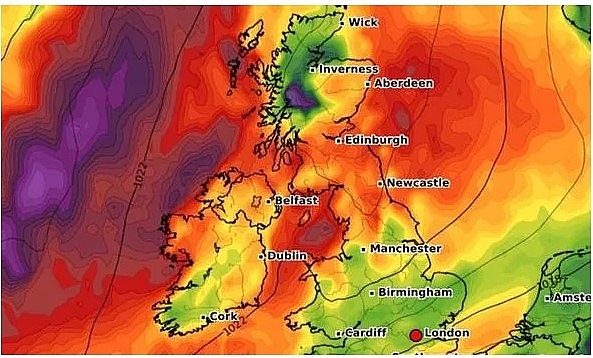 UK heatwave MAP: Britain to melt in 37C Continental plume (Image: WXCHARTS)
The Met Office warned that Britain could pass the threshold for a heatwave, which entails three days of temperatures over 25C across most of the nation and 28C in London.
Hot air is sweeping north from France, where a fire broke out in Chiberta forest park, in the southwest of the country.
In large regions of Italy thermometers recorded temperatures above 40C.
On BBC Breakfast, BBC meteorologist Matt Taylor said: "In the second half of the week, temperatures are set to climb across the country once again.
"Once we hit Friday and Saturday, we could be in the very hot category once more, especially across the eastern half of the country.
"Today it will be warm when the sun's out, cooler when the cloud is around.
"Some clouds will bring some showers today, with the weather wettest in Scotland and northern England.
"There could be outbreaks of heavy showers across Northern Ireland into the afternoon while at the same time, some of these showers could turn to thunderstorms in Scotland.
"Temperatures will stay around 15C in Scotland, but reach as high as 24C in southern England and Wales."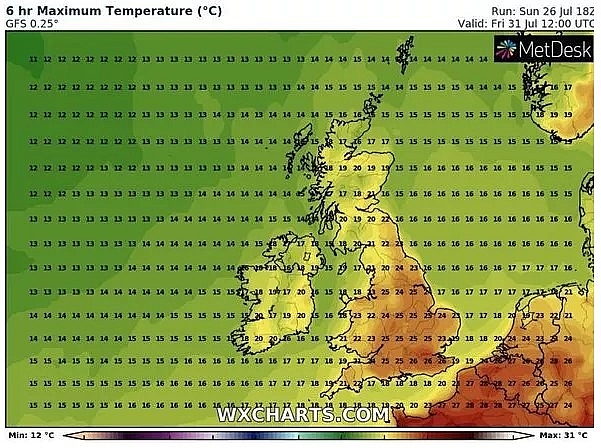 The Met Office warned that Britain could pass the threshold for a heatwave (Image: WXCHARTS)
The UK coastguard reported 329 callouts on Friday, the highest number for four years, after people swarmed to beaches.
Some of the reports include people being cut off by the tide and children going missing. Police reported the death of a man in Barmouth, Gwynedd, north Wales, after he got into difficulty.
On Saturday a man died after he was rescued from the sea near Porthcurno, Cornwall. Last night, a coastguard helicopter, rescue teams and an RNLI lifeboat searched for a person who had been reported missing off East Sussex.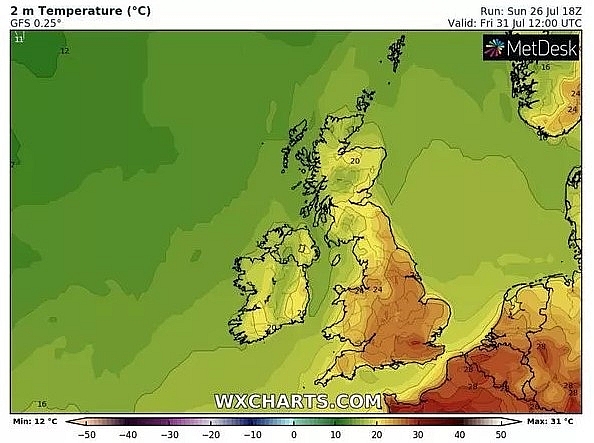 Most of the country is set to have temperatures around the high twenties (Image: WXCHARTS)
Coastguard officials reported that a person had been seen kayaking off Hove Lagoon, near Brighton. The kayak and a paddle were later found on the coast.
Police also had to dissipate illegal parties in London and the Forest of Dean in Gloucestershire. In Cornwall, locals urged visitors to return home due to fears of coronavirus speed.
Adam Paynter, deputy leader of Cornwall council, said residents believed tourists' irresponsible actions could cause a wave of coronavirus infections.
Speaking to LBC radio he said: "I've heard two different incidents where people have been overheard saying: 'Well, I'm not going to wear a mask. I came down here to get away from all of that.' That's pretty ignorant."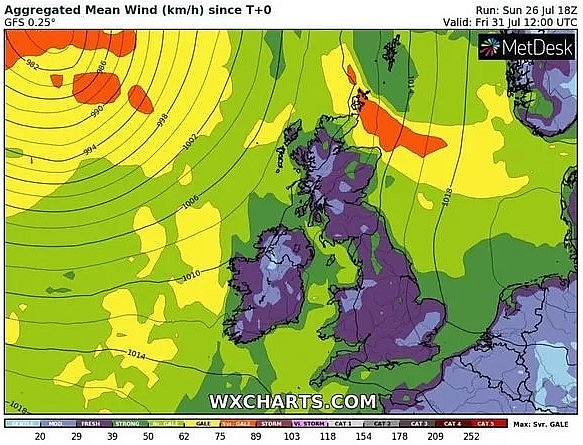 Hot air is sweeping north from France (Image: WXCHARTS)
According to Daily Mail, while the start of this week is due to be cooler, with rain spreading across the country from the North West, the sun is expected to return by Thursday.
And forecasters have predicted temperatures will rise to more than 30C (86F) by Friday – and are expected to last through the weekend. It is hoped next weekend marks the beginning of more prolonged sunny conditions, following a summer which has so far failed to materialise.
Forecasts have indicated the 'possibility of some further very warm weather, especially in the South East'.
As beauty spots and tourist destinations were flooded with sun seekers, pub patrons spilled out on to the pavements in central London, making the most of the new outdoor seating areas which have taken over the streets.
Friday was the third hottest day since records began in 1910 reaching temperatures of 37.8C (100F).
Forecasters have warned of outbreaks of rain from today, particularly in the North West, until Wednesday.
At Broadstairs in Kent, hordes of people flooded onto the beach to take in the sea air and enjoy the sunny weather. Photo: Daily Mail.
The outlook is due to improve again by next weekend, with the possibility of 'two or three days of hot weather' which could see temperatures back above 30C (86F).
Marco Petagna, senior forecaster at the Met Office, said: 'On Monday we are looking at a mixture of sun and showers with most of them looking like they will be in central and eastern parts of England.
Any showers across Wales will dry away during the afternoon and we are looking at temperatures between 19 and 23C generally... the North of England should be slightly cooler.'
He said there would be outbreaks of rain across the North West on Tuesday – but that the South East should expect dry, sunny weather. Mr Petagna said the outlook for Wednesday would be similar, albeit a little breezier.
He said: 'In the second half of the week the heat should build, especially on Friday and Saturday,' and that we 'could see two, possibly three, days of hot weather'.
The Met Office's long range forecast read: 'For the following week, a fair amount of dry, bright warm weather looks likely for much of the UK with the possibility of some further very warm weather, especially in the South East.'
Europe's weather forecast
BBC Weather has forecast a resurgence in hot temperatures across parts of Europe after a heavy thunderstorm weekend.
BBC Weather forecaster Stav Danaos said temperatures will begin to rise midway through the next week in Europe. He claimed a current weather front will cause thunderstorms and rain which will result in a reduction in temperature. However, temperatures will rise in the new week as both Spain, France and the UK could see highs just shy of 40C.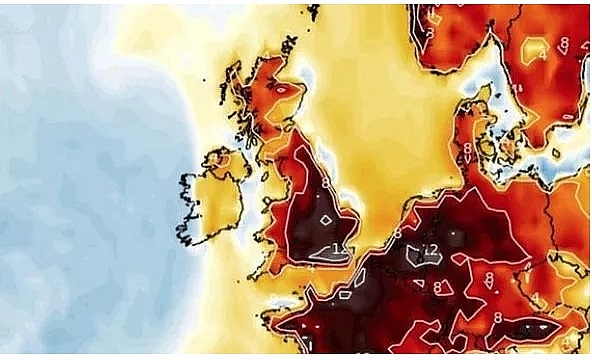 The extreme heatwave that swept across Britain this week is set to return next weekend (Image: WXCHARTS)
Mr Danaos said: "We are looking at heat building back in across much of central and western Europe as we move through the new working week.
"We also had very high temperatures last week across western areas.
"That was broken down in spectacular style over the weekend thanks to this cold front moving in.
"There have been some very big thunderstorms and some heavy rain at times."
The BBC Weather forecaster noted this wall of rain in central Europe will force temperatures to drop for a brief period.
However, as we move through the new week temperatures will begin to rise again.
Mr Danaos highlighted how this weather front will impact countries like Germany and Italy over the coming days.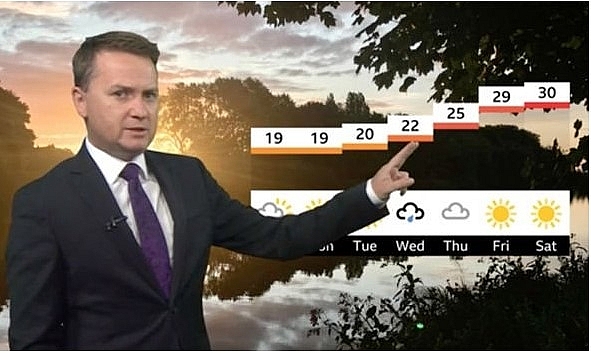 Taylor showed a temperature chart of Nottingham, which revealed temperatures will stay around 19C on Sunday and Monday (Image: BBC)
He said: "This area of low pressure will continue to bring some thunderstorms and showers to parts of southern Germany, northern Italy and parts of Austria.
"There will be a risk of hail as well due to these intense thunderstorms."
Contrastingly, the south eastern countries will see more warm weather and sunshine.
Mr Danaos said: "The eastern Mediterranean will be dry sunny and warm.
"Much of the Balkans will be warm as well but it will be cooler behind this system which is why on the boundary we see heavy rain and thunderstorms.
"Temperatures will be in the low 20C for Berlin and Frankfurt in addition to parts of southern Scandinavia."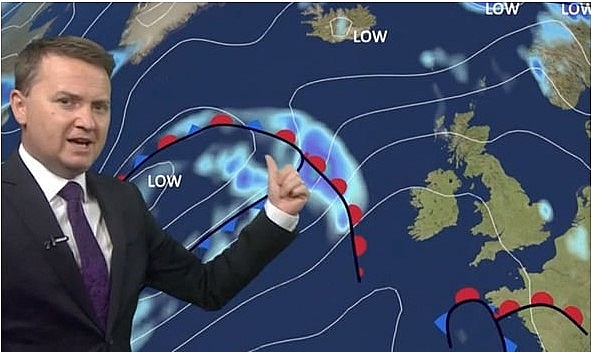 Taylor added that Monday will be a drier day, ahead of the scorching heatwave moving into the UK (Image: BBC)
The heat will begin to rise again in western Europe from Tuesday onwards.
The BBC Weather forecaster said: "The heat starts to build back in across western Europe.
"Temperatures will be hotter in Bordeaux and Paris once again.
"As we move deeper into the week we will see temperatures back into the 30s and into the upper 30s for places like Paris as we end the new week.
"There will be lots of sunshine for Madrid and Rome as well."
In London, temperatures begin in the low 20s for the new week but by Saturday the city could see highs of 34C.
Paris is forecasted to have a similar trajectory with temperatures starting to rise from Tuesday onwards to a high of 36C on Saturday.
Madrid will be one of the hottest cities in western Europe next week and from Friday could see temperatures exceed 38C.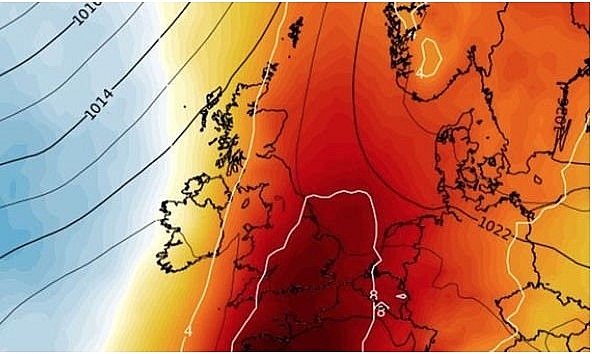 The Met Office has also forecast "deja vu" days of sweltering heat next week (Image: WCHARTS)
On August 4
Another mostly dry and fine day for Portugal and Spain although some scattered showers could affect easternmost regions. The Balearic Islands too could see some morning thundery downpours. Still windy across Sardinia and Corsica with some blustery showers about but mainly dry. Unsettled for Italy with showery rain across many places. Largely dry over Greece and Turkey.
Tuesday will see thundery downpours continue across Austria, Slovenia, Croatia and Hungary while Switzerland will gradually become drier through the day. Largely dry and fine across France and the Low Countries and into northern Germnay however central and southern Germnay will see cloudier skies and some rain. Rain gradually clearing eastern Poland. Mostly dry further west. Rain across the far east of Europe.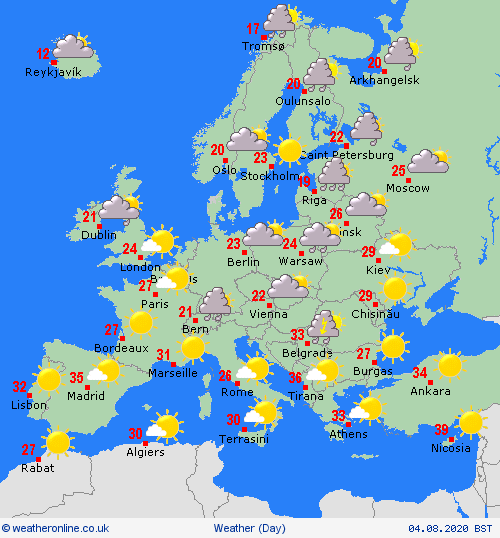 Photo: weatheronline.co.uk
Remainig unsettled across Scandinavia with outbreaks of rain for Norway and across more northern regions of Sweden. Finland too will remain largely unsettled with heavy rain in the southeast. The Baltic States look to be largely dry with sunny spells.