UK and Europe weather forecast latest, July 29: Searing 32C heatwave to bake Britain
Extreme heat is forecasted to bake Britain in just a few days and scorching heatwave sweeps across Europe with temperatures exceeding 40C.
UK's weather forecast
THE UK is bracing for searing 32C temperatures to grip the nation later this week in a 48-hour blast, according to the latest weather charts, express.co.uk reported.
A weather chart appears to turn black as a blistering heatwave sweeps across much of the nation this week. Temperatures could tip to as high as 32C on Friday as the searing conditions bake Britain for around 48-hours. According to the WxCharts, hotter air will start to move across parts of the nation on Thursday afternoon.
Temperatures are then expected to soar on Friday as the colour of the weather chart turns from a dark red shade to black, suggesting warmer conditions.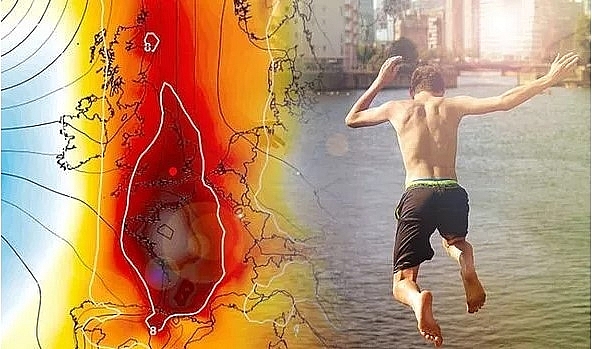 UK weather forecast: Chart turns black as hot weather strikes this week (Image: getty•wxcharts)
The hot air appears to then quickly sweep past Britain, with cooler temperatures then likely to move in on Saturday afternoon.
The latest weather maps by Netweather also suggest warmer air will move across Britain later this week.
Temperature charts show conditions hitting 30C in London on Friday, and widely across England, Wales and parts of Scotland between 24C to 28C.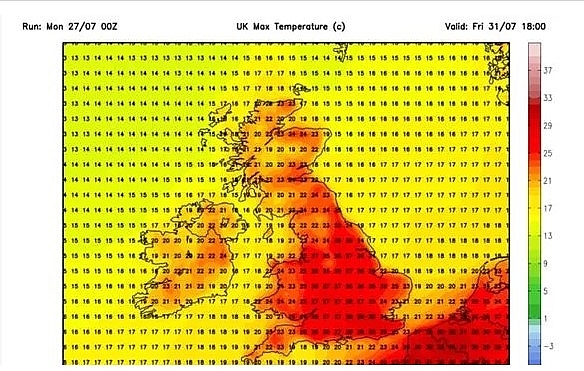 UK weather map: Temperatures this Friday (Image: netweather)
On Saturday thermometers are also expected to reach 26C in parts of the capital.
And The Weather Channel claims the UK could even see highs of 32C on Friday.
Forecaster Brian Gaze from The Weather Outlook, warned of a week of mixed conditions before the warmer air moves in.
He said: "Wednesday is looking mainly dry and bright. Temperatures will be higher than in recent days and in the south, it should feel quite warm.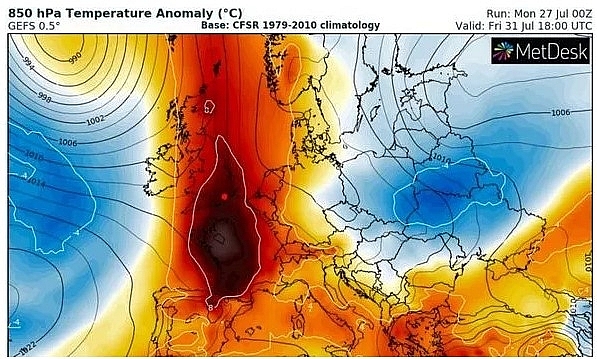 UK weather latest: Weather charts turn black on Friday (Image: wxcharts)
"During Thursday and Friday outbreaks of rain are possible in the northwest. Other areas have a lot of dry and sunny weather.
"It is set to turn much warmer and the last day of the month could see 30C (86F) being exceeded in the south.
"Through the weekend cooler air returns southeastwards and there is a risk of heavy showers or thunderstorms for a time.
"By Sunday showers could become restricted to central and eastern counties as a ridge of high pressure builds in from the west."
UK heatwave latest: Hot air moves in on Thursday, before gripping the UK on Friday (Image: wxcharts)
The Met Office also predicts hotter temperatures towards the end of this week but warns the warm conditions will quickly change.
The weather service's long-range weather forecast from Friday, July 31 to Sunday, August 9, claims the UK will soon face "scattered showers and thunderstorms".
Its outlook said: "A brief very warm spell is likely for many areas at the end of this week with a good deal of sunshine, although increasing cloud may bring rain to the northwest.
"It may become hot in southeastern areas. However, scattered showers and thunderstorms will probably introduce cooler, more changeable conditions from the west next weekend.
UK weather update: Weather charts on Thursday as hotter air moves in (Image: netweather)
"Through early August changeable weather is likely to continue with bands of rain, perhaps accompanied by strong winds, interspersed with brighter, showery conditions.
"However, all areas should have some dry spells, these most likely in the east, with a better chance of dry spells more generally late in the period.
"It is likely to be on the cool side for western areas, but with temperatures closer to average across the east and southeast."
And, before the hot blast later this week, forecasters have warned of unsettled conditions for some parts of the nation.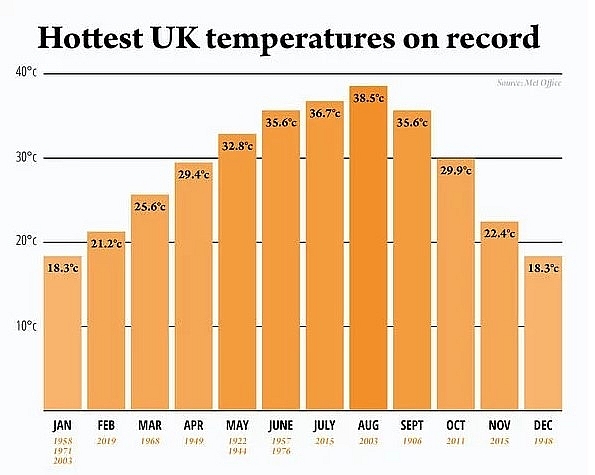 Hot weather temperature record in the UK - chart (Image: nc)
Looking at Tuesday's forecast, the Met Office said: "Cool and showery in northwestern parts of the UK but largely dry further southeast with only isolated showers. Persistent heavy rain and gales, locally severe, continuing for northern Scotland."
And its outlook for Wednesday to Friday added: "Most places dry Wednesday with lighter winds. Bright for many Thursday but rain may reach northwestern areas. Friday, sunny and very warm, perhaps hot, though with thundery showers possible later."
It comes as leading bookmakers have slashed odds on the UK to see the wettest day of the year being recorded this week.
Alex Apati of Ladbrokes said: "It looks like summer could be cut short with record-breaking rain for the year likely to fall over the coming days."
Europe's weather forecast
BBC WEATHER has forecast a scorching heatwave across Europe with many countries exceeding 40C temperatures in the next few days.
BBC Weather's Tomasz Schafernaker forecast summertime heat for Portugal, Spain and France. But Scandinavia will struggle to reach temperatures higher than 18C due to an Atlantic cold front. The meterologist added that temperatures will continue to rise this weekend.
Mr Schafernaker said: "Lots of hot sunshine across Portugal, Spain and France. We'll see temperatures in the coming day potentially exceeding 40C. A lot of summertime heat on the way.
"In the northwest of Europe and Scandinavia, it will be a good deal cooler.
"We're seeing currents of air coming off the Atlantic and along spells of rain.
"In the south of Europe, the coasts of Turkey will be around 33C. Very similar in Greece.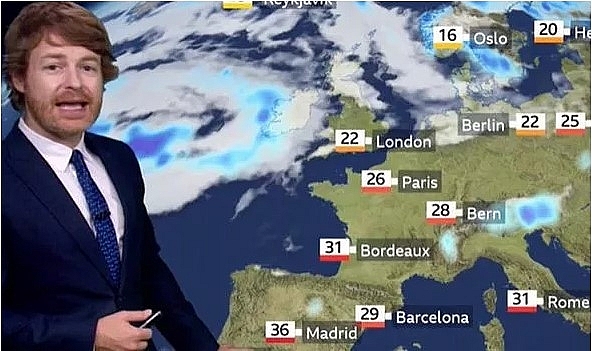 BBC weather has forecast a scorching heatwave across Europe (Image: BBC)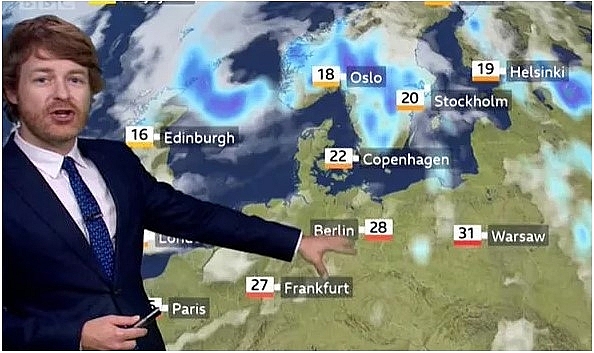 BBC Weather's Tomasz Schafernaker forecast summertime heat for Portugal, Spain and France (Image: BBC)
"Sunshine across the Balkans with hot air in Bucharest and temperatures reaching 34C.
"The warm air has spread across Hungary and Germany.
"But a good deal cooler in Sweden and Norway. Oslo will reach only 18C.
"Hot temperatures mid-week and temperatures will rise even further by the weekend."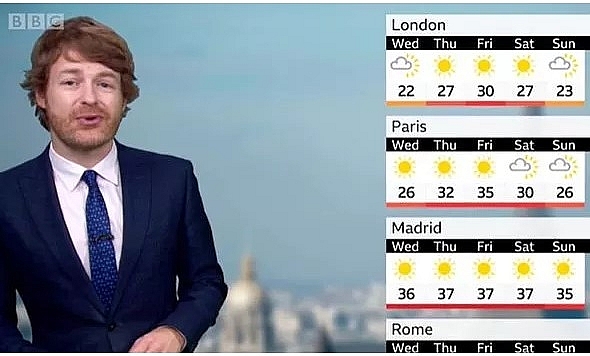 Temperatures will continue to rise this weekend (Image: BBC)
It comes as researchers say it is currently impossible to know whether more people contract coronavirus in hot or cold weather.
The arrival of summer in the Northern hemisphere has drawn attention to the question of whether warmer weather might slow the spread of COVID-19.
But new analysis from researchers at the University of Oxford highlights key limitations of available data.
Dr Francois Cohen, study lead author and senior researcher at Oxford's Smith School of Enterprise and the Environment, said: "Our study found several problems with trying to understand the influence of weather using existing data on confirmed COVID-19 cases.
"The existing data can't reliably tell us whether warmer weather slows down the spread of Covid-19, as some earlier studies have tried to assess, so we urge both policy makers and the public to act with caution."
The analysis, published in the Environmental and Resource Economics journal, says there are a number of potential problems with the data.
The main issue, according to the study, is that the weather itself could be influencing the number of tests carried out and who gets tested.
For example, patients suffering from pre-existing diseases could develop Covid-19 unrelated symptoms due to the prevailing weather conditions and hence be selected for Covid-19 testing more frequently than other population groups.
On July 29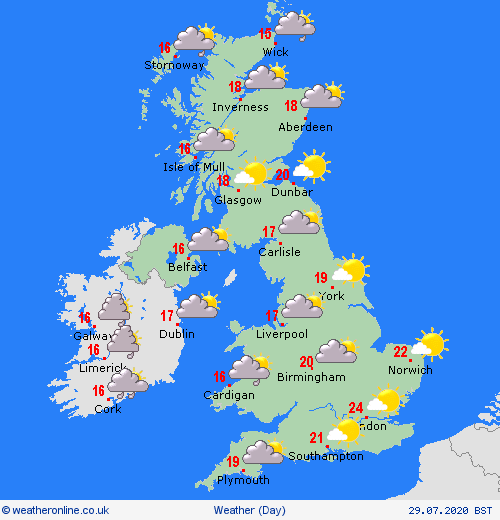 Photo: weather.online.co.uk
On July 30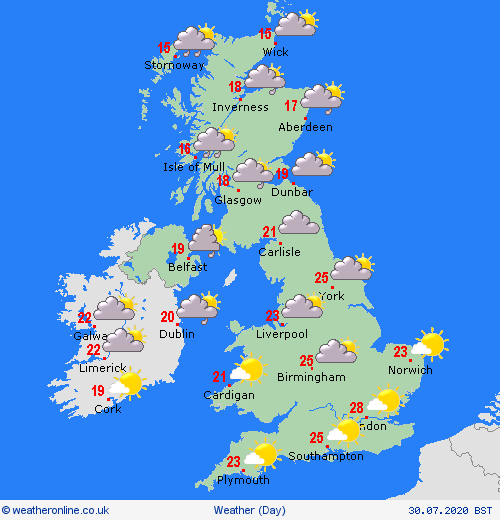 Photo: weather.online.co.uk