UK and Europe weather forecast latest, December 1: Temperature plunges and five day snow blitz expected in the UK
The UK is forecasted to cope with five day snow blitz from December 3 with plunging temperatures. Meanwhile, mist and fog are expected in Europe's east and heavy rain in Italy.
UK's weather forecast
Weather forecasters predict a "grey and murky" day to wrap up the weekend with parts of the UK waking up to freezing temperatures. The Met Office expects parts of the north to see clearer skies after a dull and cloudy Saturday, while further up north in Scotland conditions will remain frosty. Forecasts have also called for snow next week with plunging temperatures and a 'five-day snow blitz' from Thursday, December 3.
Temperatures have plunged overnight on what has been dubbed the coldest night in the UK this autumn, Express reported. Freezing temperatures were recorded in Aboyne today at -6.1C and in Dundee at -1C.
Further down south conditions are milder with York waking up to 5C, Nottingham at 8C and Swansea at a much more pleasant 12C.
According to the Met Office, conditions will remain dreary today, with occasional showers in the north-west.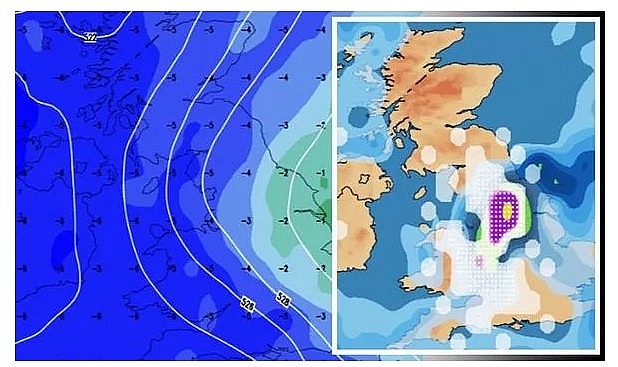 UK snow forecast: Forecasters also suggest the vast majority of the country will see snow on Friday (Image: The Weather Outlook)
The forecaster said: "Dull, grey and misty for many, although sunny spells across north-eastern Scotland and also some sunshine possible over parts of west Wales and southwest England. Rain into far north-west later."
A chart from The Weather Outlook shows much of England, Wales and parts of Scotland will be hit by flurries of snow from 6am on Friday, December 4.
The map shows vast areas covered in white patches and circles, which indicates up to 4cm of snowfall. The chart also shows parts of the north of England forecast to bear the brunt of the wintry conditions, with estimates of up to 10cm of snow.
The Weather Outlook, which is run by forecaster Brian Gaze, shared the charts on Twitter and wrote: "GFS06z brings the risk of snow a long way southwards by Friday."
A second map from the forecaster shows temperatures are expected to be as low as -6C on Friday in the early hours of the morning. The graph, which sees the vast majority of the UK turn bright blue, shows the west of Britain will be much colder.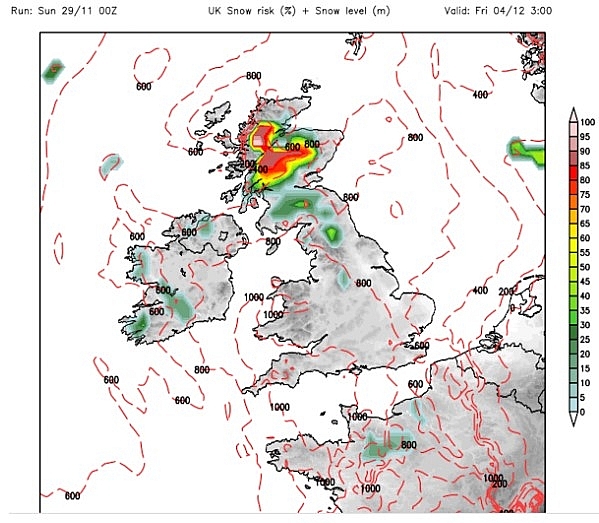 UK snow forecast: There is between an 80-100 percent risk of snow in northern Scotland at 3am (Image: Netweather)
While the east of England can expect the mercury to just slightly dip below freezing. Maps from Netweather also shows that snow is forecast on Friday, December 4.
The forecaster's snow risk chart suggests there is between an 80-100 percent risk of snow in northern Scotland at 3am. The high risk is represented by the large red area. By 6pm the map shows parts of England and Wales can also expect to see some snow.
The graph shows areas of the country turn yellow and green, which indicates a moderate snow risk of between 30-70 percent.
BBC Weather forecasters have claimed snow could fall in the north and west on Friday, as temperatures fall.
They said: "Cold enough for some snow over the hills and mountains in the north and west by Friday. A rather cold and showery end to the week."
Looking ahead, Met Office forecasters expect the conditions to be fairly unsettled and colder than the rest of the week.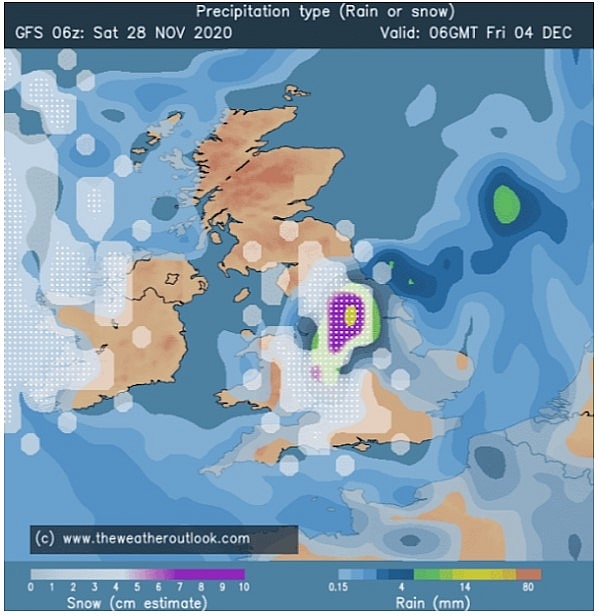 UK snow forecast: Much of England, Wales and parts of Scotland can expect to see flurries of snow from 6am on Friday December 4 (Image: The Weather Outlook)
They state: "High pressure and generally settled weather will likely give way to wetter, and at times windier, conditions through the first week of December. Some showers are likely too, these perhaps wintry at times in the north."
"Temperatures may start off near normal, though often feeling colder in windier and wetter spells. Below normal temperatures are then slightly more likely for later in the period."
On December 1
According to Weather Online, high pressure pushes back in across the UK and Ireland on Tuesday. Misty and murky for many with some fog again in places particularly in the southwest. Winds strengthening across northern and western Scotland as well as western parts of Ireland with some rain moving into the far north and west of Scotland as well as western areas of Ireland and Northern Ireland. Staying mostly dry elsewhere. Cool in the north and east with highs ranging between 4 to 9C. Milder in the west with highs between 10 and 12C.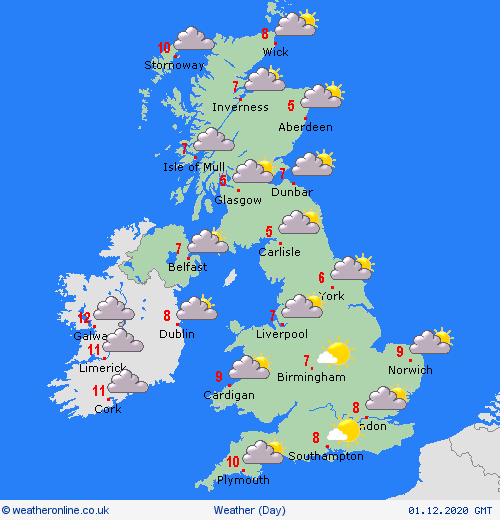 Photo: Weather Online
Europe's weather forecast
Cloudy skies still affecting much of Portugal and southwestern areas of Spain with rain expected in the far south of these countries through Monday. Dry and fine elsewhere. A largely dry and bright day across the Balearic Islands as well as Corsica and Sardinia. An improving day for southern Italy and Siciliy as rain clears to the east here. Largely cloudy across Greece with rain in eastern areas mainly. Cloudy with patchy outbreaks of rain across Turkey. Rain mainly in the south.
A dry day with mist and fog patches across much of central and western Europe, although clouds will thicken and rain will push into northwest France, the Low Countries and northwest Germany. A few scattered wintry showers across Poland but largely dry conditions here as well as for Austria, the Czech Republic, Hungary and Slovakia.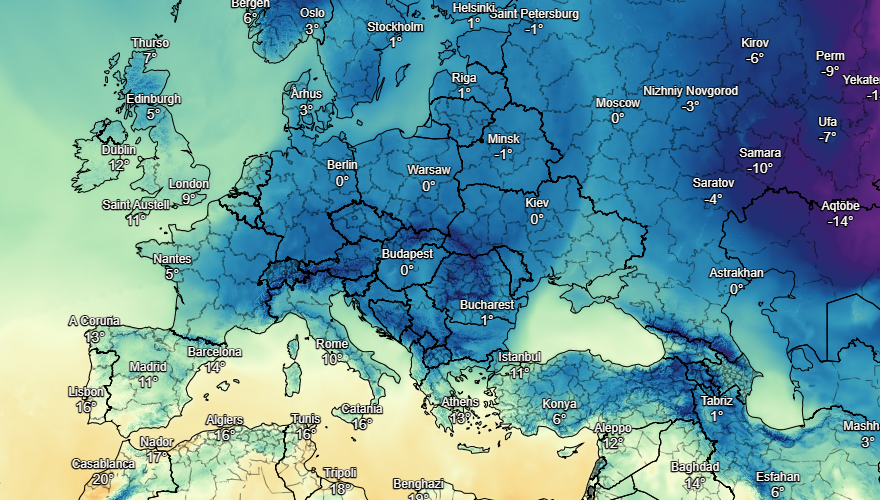 Photo: Stirimeteo
Cloud thickening across Denmark and rain pushing in, turning heavy later, with winds picking up across the country. This spreads into southern and western areas of Norway as well as southern parts of Sweden. Cloudy skies and patchy light rain, sleet and snow across Finland and wintry showers through the Baltic States.
On December 1
Early rain clears southeast from Iberia to leave a mostly dry and fine day for Portugal and Spain. Cloud thickens over northern Spain later with rain for far northern areas. Starting dry and fine for the Balearic Islands, Corsica and Sardinia but cloud thickens from the north and rain arrives here later. A dry and fine start for Italy too but low pressure develops to the northwest bringing increasing clouds and outbreaks of rain later. Mainly cloudy for Greece and Turkey with scattered showers here.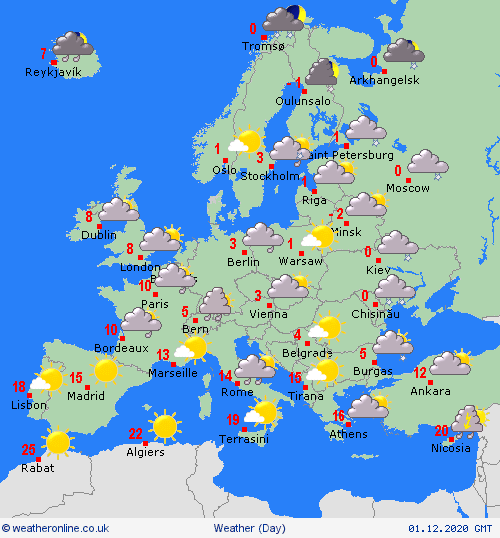 Photo: Weather Online
Rain eases over eastern France, the Low Countries and Germany to leave a fair day here. Some showers linger over eastern France. Snow fades over the Alps though may linger a little longer over the Swiss Alps. A dry day for eastern parts of Europe though mist and fog patches remain a risk in Poland, the Czech Republic, eastern Austria, Hungary and Slovakia.
Rain eases over Norway, Denmark and Sweden and cloud breaks too to leave a fine and dry end to the day here. Outbreaks of rain, sleet and snow spread east over Finland and Estonia to leave a dry and bright end to the day here. Staying rather cloudy but mostly dry for Latvia and Lithuania.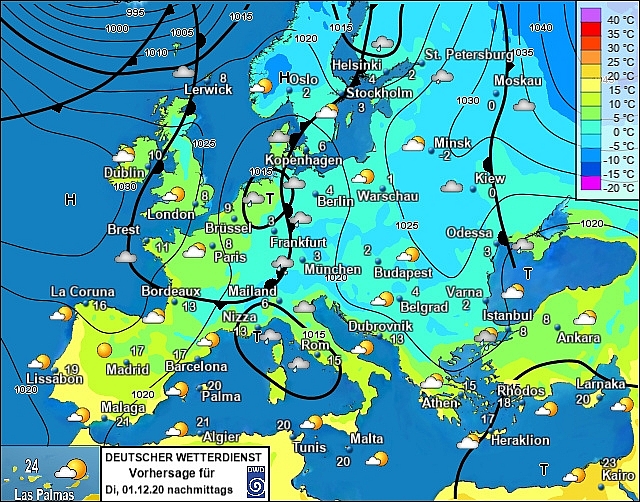 Photo: Stirimeteo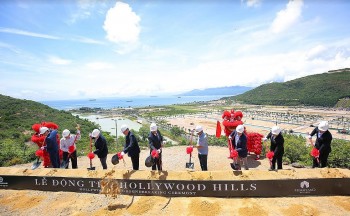 Economy
On October 2, at Hai Giang peninsula (Quy Nhon city, Binh Dinh), Hung Thinh Corporation held the groundbreaking ceremony of Hollywood Hills by YOO Inspired by Starck – a subdivision at MerryLand Quy Nhon. The event marks the first time that the world's No.1 ranked design and branded residence company YOO Inspired by Starck is officially present in Vietnam, with a collection of villas designed by creative director, Philippe Starck.