UK and Europe weather forecast latest, November 29: Severe weather with dense icy fog lingers
Britain is forecasted to cope with severe weather accompanied by dense icy fog disrupting visibility. Meanwhile, snowfall and cold air set to cover across Europe.
UK's weather forecast
According to Express, Britain was smothered in an icy fog disrupting visibility and causing chilly temperatures after the Met Office issued a severe weather warning for the fog which is predicted to linger until the afternoon.
The Met Office yesterday issued a yellow weather warning for fog lasting from Thursday evening through to midday on Friday. The fog is predicted to blanket Britain and led to temperatures dropping to -5C overnight as forecasters continue to predict December will be the coldest on record.
Weather forecasters expect the start of December to be characterised by plunging temperatures, icy winds, fog and snowfall. Weather charts predict Scotland to be especially affected by the wintry conditions, with 11 days of snow forecast from Thursday December 3.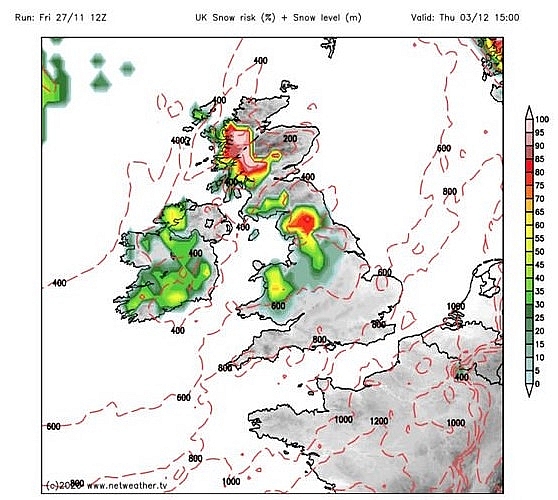 UK weather today LIVE: Netweather maps show heavy snow on December 3 (Image: NETWEATHER)
While just 5cm is expected to start with, heavier snow showers are forecast on Sunday December 6, with up to 10cm. The forecasters expect the risk of snow to continue into the following week, with flurries expected every day until Sunday 13.Weather maps from WXCharts show snowfall is expected from the early hours of Thursday December 3 in the Highlands region of Scotland.
Netweather also predicts snow to fall over the same period, with weather maps showing a high chance of snow on December 3, with the risk increasing as we head into the weekend.
Netweather's snow risk chart shows there is a 100 percent chance of snowfall across Scotland on Saturday December 5 at 9am. They also forecast high snow risk on December 6, 9, 10, 11 and 12.
Major snow risk is shown with bright colours, with red, dark red and white indicating between 80-100 percent risk of snow. Weather maps from WXCharts also show the period is expected to be characterised by freezing temperatures.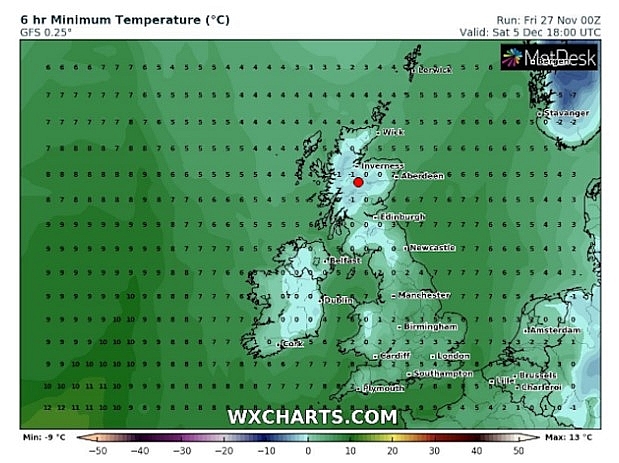 UK weather forecast: The north of the UK is expected to bare the brunt of the cold temperatures (Image: WXCHARTS)
One chart, valid for Saturday December 5 at 6pm, shows the entire UK turn blue, indicating that temperatures are forecast to be below 0C. Other maps by WXCharts show the north of the UK is expected to bare the brunt of the cold temperatures, with the mercury forecast to plunge to -2C on December 6 at 12pm.
The south of England is expected to see temperatures stay in the low single digits. Bookmakers Coral have evens for this winter to be the coldest on record in the UK. Coral's Harry Aitkenhead said: "The outlook for this winter looks very cold and we make it just evens now that we go on to suffer the coldest since records began in the UK."
They also have odds of 3/1 for snow to fall in Edinburgh on Christmas Day and 5-1 for a White Christmas for Londoners. Manchester, Liverpool, Leeds and Birmingham, Belfast stand on 4/1.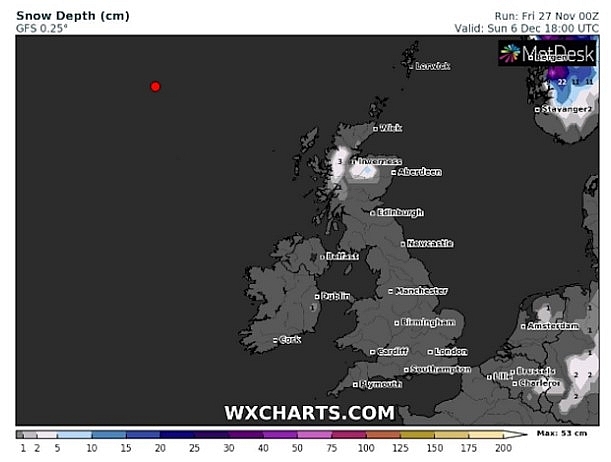 UK snow forecast: Up to 10 cm of snow is forecast for Sunday December 6 (Image: WXCHARTS)
The Met Office expects the period from December 2 to December 11 to feel colder, with spells of rain and gales forecast. They said: "High pressure and generally settled weather will likely give way to wetter, and at times windier, conditions through the first week of December".
"Outbreaks of rain are likely in most areas, notably northern areas at first, and perhaps more southern areas into the weekend. Gales may also develop, these most likely for exposed western areas. Later in the period it may well turn more settled, though colder, with a return of night frost and fog."
"Some showers are likely too, these perhaps wintry at times in the north. Temperatures may start off near normal, though often feeling colder in windier and wetter spells. Below normal temperatures are then slightly more likely for later in the period."
On November 29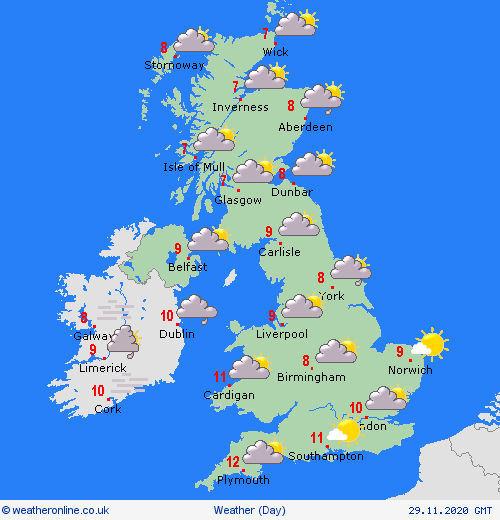 Photo: Weather Online
According to Weather Online, high pressure remains over the UK and Ireland on Sunday. A murky day for many with mist and some fog. This will be slow to clear. Some drizzle affecting eastern coasts and hills. A few brighter spells in the west though patchy light rain may affect northwest Scotland. Highs at 5 to 10C.
Europe's weather forecast
BBC Weather forecast a wintry week for Europe as snowfall covers parts of the continent and freezing cold air blows into other parts, dropping temperatures to minus figures.
Temperatures will plunge below freezing for some parts of Europe this week, prompting snowfall, according to BBC meteorologist Chris Fawkes. The weather presenter also forecast that heavy rain and thunderstorms are expected across particularly eastern areas of Spain over the next few days. He explained that an area of low pressure is bringing these "heavy downpours" to the eastern side of Spain, and quite widely they will bring 50 millimetres of rain to parts of the continent.
Mr Fawkes told viewers: "But some areas could see as much as 100 millimetres from these downpours as we go from Friday into Saturday. If anything, those showers will tend to move a little bit further eastwards across the Balearic islands into Corsica and also Sardinia during Saturday."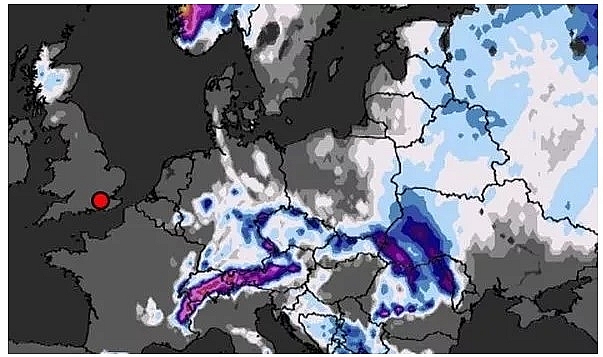 BBC Weather: 10cm of snow threatens to freeze Europe as temperatures plummet to -2C (Image: WXCHARTS)
"An odd shower for eastern areas of the Mediterranean to watch out for too. You might see one or two in Cyprus. Working into northeast Europe, we've got some cold air with us at the moment." He continued: "That's going to be bringing some snowfall, particularly across west Russia into northern areas of Belarus. We could see around five to 10 centimetres of snow building in between Friday and Saturday."
"Some snow flurries further north as well, but the amount will tend to be much less across Scandinavia. Looking at the charts for Sunday, we've got more in the way of rain and thunderstorms extending in across Italy."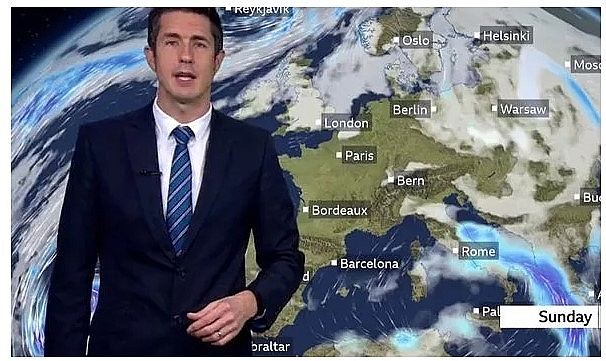 'We could see around five to 10 centimetres of snow building in.' (Image: BBC)
The BBC presenter added: "It will change the weather for Greece, and also eventually western Turkey. Rain or thundery showers will be developing here. For Spain, the rain will ease off across eastern areas, it should become dry on Sunday. After that, while we're in Madrid, we're looking at partly cloudy skies."
Mr Fawkes said: "Some bright or sunny spells, a lot of dry weather to come. In Paris, it gets a little bit colder as we get into next week, with temperatures dropping down to four degrees. Still quite chilly air in Moscow, perhaps snow easing to sleep for a time. But for next week, temperatures will dip below freezing to minus two degrees. Similarly in Kyiv, temperatures will level off at zero degrees."
On November 29
Cloud and rain still about across much of Portugal as well as affecting western parts of Spain. Eastern areas of Spain could still hang on to cloud and patchy rain but it will be largely dry elsewhere. Possible heavier bursts of rain across the Balearic Islands in the morning but this will ease and the day shoudl improve here. Staying generally unsettled across much of southern and central Italy and the surrounding islands with outbreaks of rain. Rain, some heavy, pushing into Greece and western parts of Turkey through the day. eastern Turkey staying dry but turning cloudy.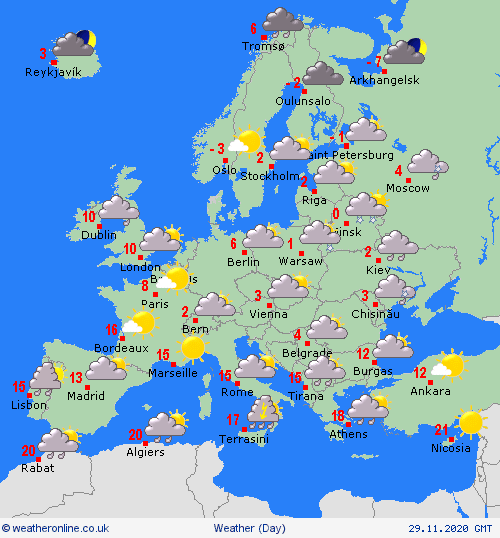 Photo: Weather Online
Largely settled across central Europe; dry for France, the Low Countries, Germany and the Alpine countries thanks to high pressure here. Also dry across northern Italy. Poland, however, will see cloudier skies and some patchy light rain.
A dry and fine day for Denmark and Sweden. Eastern areas of Norway will be dry too but rain, sleet and snow affecting western areas. Largely dry across Finland but with some patchy light rain in the south. Cloudier with wintry showers across the Baltic States.