UK and Europe weather forecast latest, November 28: Icy temperatures with heavy snowfall to cover Britain
The UK and Europe is facing with icy temperatures with heavy snowfall in some parts of the former and wintry storms expected in the latter.
UK's weather forecast
Britain is bracing for a big freeze next week with the mercury set to plummet to as low as -8C and up to 18cm of snow forecast, according to the latest weather charts.
Weather forecasters predict the temperatures will plunge to well below freezing from Thursday, December 3, as many towns and cities leave the strictest lockdown levels. The chilling weather is set to be accompanied by heavy snowfall, which is expected to hit Scotland and parts of Northern England.
Weather charts show temperatures will start to plunge from late next week, as the mercury dips below zero. The Arctic blast will bring with it heavy snow flurries which could spark widespread chaos in the north of the United Kingdom.
Charts from Netweather show snowfall is expected from December 3, lasting for over a week. The weather map shows there is currently a 100 percent risk of snow in parts of Scotland at 6am on Thursday 3.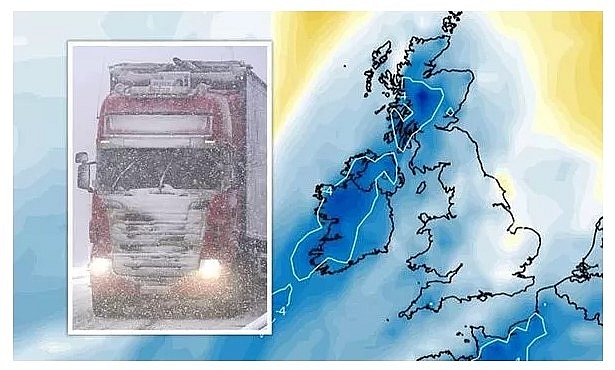 UK snow: Britain is bracing for a big freeze next week as the mercury is set to plummet (Image: WXCHARTS/Getty)
The snow risk is shown by the bright colours, with the red and white areas indicating between a 80 and 100 percent snow risk. Temperature charts show Scotland is set to reach lows of -5C on Friday at 9am, which coincides with further snowfall.
The map shows the north of the UK turn dark blue, while the south east stays green as it is set to avoid the plummeting temperatures. Netweather's snow risk chart shows the chance of snowfall spreads further south on Friday into northern cities, which is indicated by the colourful areas on the map.
Monday December 7 is expected to be particularly cold in Scotland, with temperatures as low as -8C forecast by Netweather. Weather maps from WXCHARTS show a similar drop in temperature is expected in northern parts, with -6C forecast at 12pm.
A second chart shows Scotland is set to be blanketed in heavy snow by Monday evening, with up to 18cm (7inches) forecast in the north west. The icy temperatures are set to continue into Tuesday, with a weather map showing the UK turn blue as the mercury stays below freezing for much of Britain.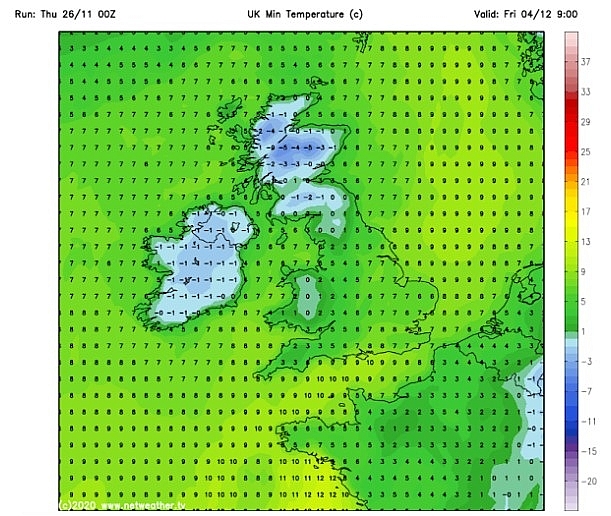 UK snow forecast: Weather charts show temperatures will start to plunge from late next week (Image: Netweather)
The Weather Outlook's 14-day weather forecast said: "Temperatures often close to the seasonal average, although it could be quite cold in places where fog forms at night and lingers late into days. Frost is likely to be patchy."
"Towards the end of the period the risk of rain may increase and over high ground in the north there could be sleet or snow."
Netweather's forecast for November 30 to Dec 6 said: "While precipitation from the fronts is forecast to fall entirely as rain at low levels, some hill snow is likely, particularly in Scotland. Mean temperatures will therefore be a little below the 1981-2010 long-term average over much of the country."
BBC forecasters also warned colder temperatures are expected from the end of next week. They state: "The most likely outcome for the second half of the week is for Atlantic low pressure areas to encroach from the north-west…"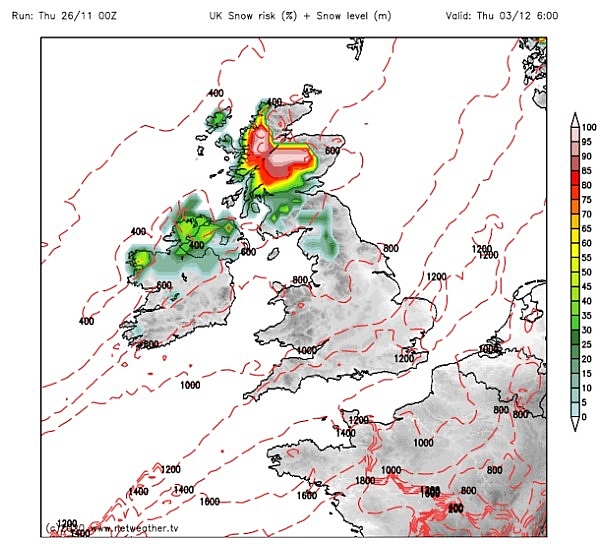 UK snow forecast Charts from Netweather show snowfall is expected from December 3 (Image: Netweather )
"By the end of the week, there is a reasonable chance of colder air returning from the north, with some night frosts and scattered wintry showers."
Met Office forecasters said: "Most confidence can be placed in that the south is likely to continue to see the majority of fine and settled conditions, and the north and west seeing the worst of any unsettled conditions."
On November 28
According to Weather Online, high pressure to the east with an east to southeast flow. There will be quite a lot of mist and low cloud with some drizzle in places. The risk of more persistent rain or drizzle in the east. There will be a few brighter spells though, these most likely in northern Scotland and northwest England. A cold day for many with highs at 4 to 6C, around 8 to 10C in the southeast.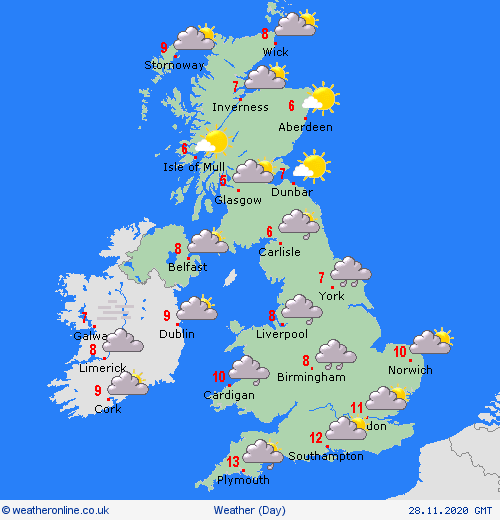 Photo: Weather Online
Europe's weather forecast
BBC Weather forecast mixed fortunes across Europe for the end of this week as temperatures plummet to "little above freezing" in some parts while others remain mild, although with a threat of storms incoming.
Storms are set to arrive in Spain and parts of Portugal over the next few days, according to BBC meteorologist Tomasz Schafernaker. The weather presenter explained that a big area of low pressure just parked off the coast of Portugal is to blame. However, elsewhere across the continent the conditions are expected to be relatively quiet.
Mr Schafernaker told viewers: "It's that time of the year where we often see high pressures building, mist and fog, that sort of thing."
"But I think there'll be a lot of clear weather across the continent. It won't be particularly cold either. Temperatures in Istanbul will be around 16 degrees."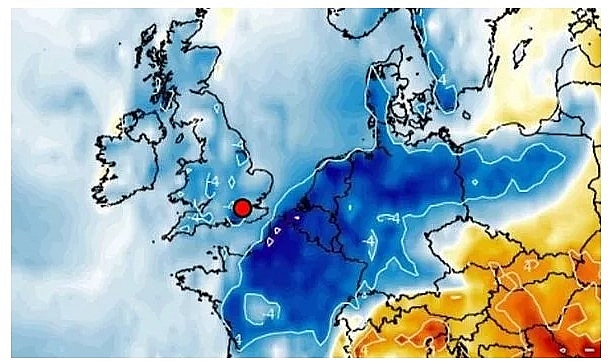 BBC Weather: 'Wintry' storms blow into Europe as temperatures almost freeze at 2C plummet (Image: WXCHARTS)
He continued: "Bucharest will see 10 Celsius while it will be a little bit colder in central parts of Europe. We can see temperatures will be only a little above freezing, four degrees in Kyiv for example."
"It's because we often have cloudy, foggy conditions here. In Moscow, there's the possibility of a bit of wintriness at around two degrees Celsius."
The BBC presenter added: "Similar values are forecast for Oslo and Stockholm as well. On Saturday, the low pressure from Spain is going to move into the western Mediterranean. It will be parked around the Balearics so there will be some rain and wind here."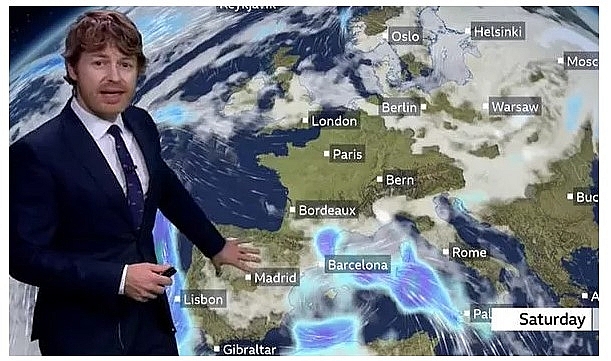 'But I think there'll be a lot of clear weather across the continent.' (Image: BBC)
Mr Schafernaker said: "North of that, across the Alps, France and into the UK, the weather's actually not looking too bad at all."
"London's going to be fairly cloudy, temperatures will be around the average nine degrees Celsius. I think it will be marginally better in Paris, at least there'll be some sunshine in the coming days."
"Elsewhere in Berlin, it will also be pretty cloudy. It will feel quite chilly where those clouds remain grey."
On November 28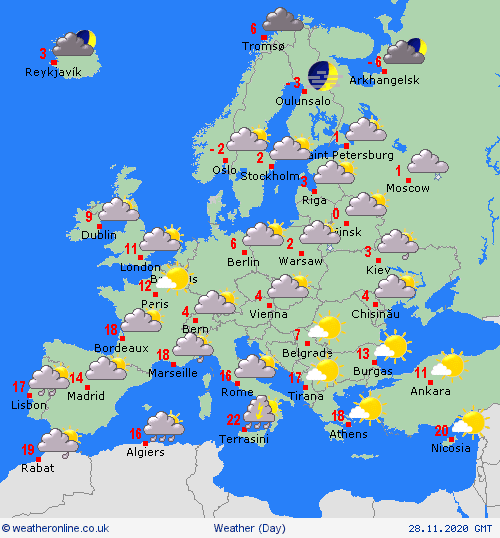 Photo: Weather Online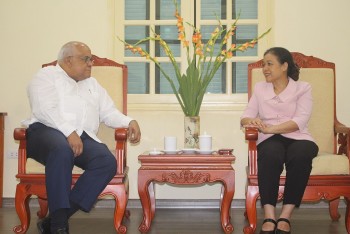 Friendship
Ambassador Nguyen Phuong Nga - President of the Vietnam Union of Friendship Organizations had a meeting and worked with Cuban Ambassador Extraordinary and Plenipotentiary to Vietnam Orlando Nicolas Hernandez Guillen. The two Ambassadors agreed to work closely in organizing solidarity and friendship activities.