UK and Europe weather forecast latest, November 25: Persistent mist and fog set to cover Europe
Persistent mist and fog set to cover Europe while icy rain and strong winds batter large parts of the UK.
UK's weather forecast
According to Express, weather forecasters predict a mixed weather forecast for today with milder conditions at the beginning of the day for many before cloudier and more unsettled conditions breakthrough. Heavy bands of rain will hit parts of the north-west today and will linger throughout much of the day. Temperatures will drop to 3C in some regions and will not get much warmer during the day.
Britons across parts of the country awoke to overnight frosts on Monday as temperatures fell on Sunday night. Central, southern and eastern counties remained dry overnight, with many regions experiencing patchy frost in places.
The Met Office for Monday reads: "Rain spreads to northwestern areas of the UK, turning heavy over western hills of Scotland in particular, accompanied by strong to gale winds. A little patchy rain in some other western areas, but elsewhere some brightness after the early fog clears."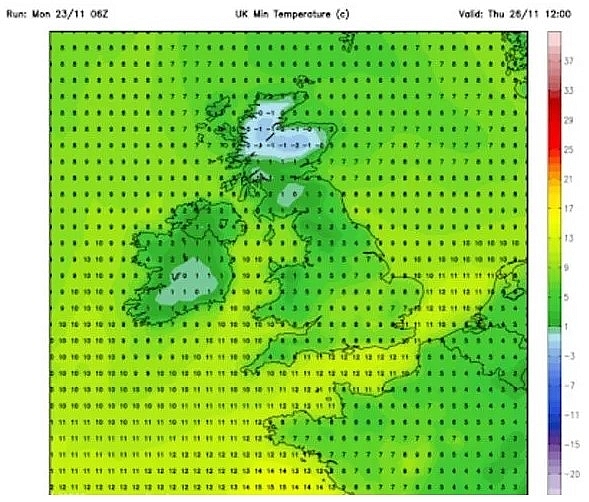 UK cold weather forecast: The mercury is set to plunge to -2C in parts of Scotland (Image: Netweather)
The Met Office said the rainfall is likely to be accompanied by strong winds, as an Arctic blast moves in. The chilly weather front is expected to be the first wave of bitter air before a colder-than-average December is predicted to hit.
They said: "Rain spreads to northwestern areas of the UK, turning heavy over western hills of Scotland in particular, accompanied by strong to gale winds. A little patchy rain in some other western areas, but elsewhere some brightness after early fog clears."
The forecasters expect the wet weather to continue overnight and into Tuesday morning for northern areas. The southeast of England looks set to avoid rainfall, but temperatures are set to be notably colder than the weekend. Tuesday's forecast reads: "Rain continues across northwestern areas, heavy for some hilly areas. Elsewhere mostly dry, with a few clear spells. Chilly for a time in the southeast, with the odd mist patch."
Temperatures are expected to be around 7C in the southeast on Tuesday morning, with the mercury struggling to break into the teens throughout the day. A weather map from Netweather also shows parts of Scotland could see up to 46mm (1.8inches) of rainfall by 3am on Tuesday.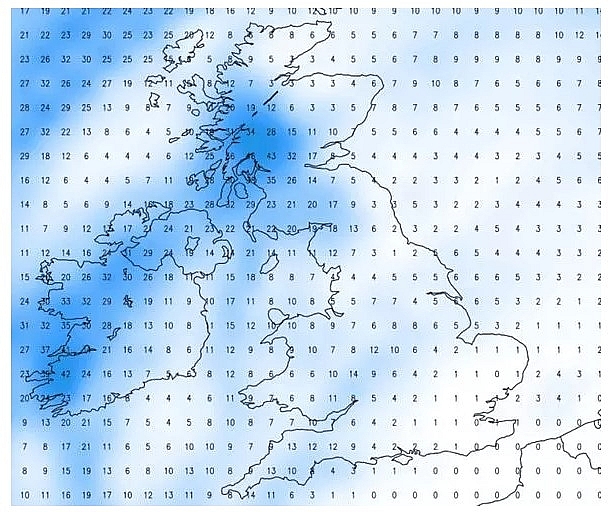 UK weather today LIVE: Rain will be heaviest across parts of western and southern Scotland (Image: Weather Outlook)
The chart shows that while the south of England and much of Wales will avoid the rain, northern parts of the UK are set for downpours. Scotland is poised for the worst of the wet weather, with areas of the map turning red and orange to indicate a higher rate of precipitation.
Weather maps from WXCharts paint a similar picture, with the west of Scotland expected to see as much as 5mm of rain an hour from 3pm today. The chart then shows the rain clouds are expected to move further south, with parts of northern England experiencing heavy rainfall overnight.
WXCharts also shows the UK turn largely red, indicating strong winds are expected to sweep across Britain early tomorrow morning. Jo Farrow, a senior forecast at Netweather, warned Northern Ireland, western and southwest Scotland and Cumbria will see a significant amount of rainfall over the next few days.
She said: "The occlusion and warm front bring rain to western Scotland and more patchy outbreaks over Northern Ireland from the west this morning... .As the light fades the cold front will be reaching northwest Scotland and Co. Tyrone bringing some heavier bursts of rain and stronger winds, even coastal gales for northwest Scotland."
UK weather today LIVE: A flood alert is in place for the Lake District (Image: Environment Agency)
"The frontal band wavers about over western Scotland with more heavy rain, also for Northern Ireland, into Cumbria with outbreaks of rain over northwest Wales, mainly for Snowdonia."
Ms Farrow forecasts the downpours will continue for the north of the UK through Tuesday. By Wednesday, she expects the showery conditions to slowly edge southwards, bringing wet and windy weather for much of England.
On November 25
According to Weather Online, a front brings rain across much of England and Wales on Wednesday. Most of the rain through Southwest England, Wales and the Midlands. Probably dry for East Anglia and the south-east although plenty of mist and some fog patches here, but also one or two brighter spells.
Cold weather reaches Scotland and Ireland, this eventually moving into northern England. Showers in northern and western Scotland, drier in the east. Highs near 6 to 8C for much of the north and west, but 12C in southern and southeastern areas.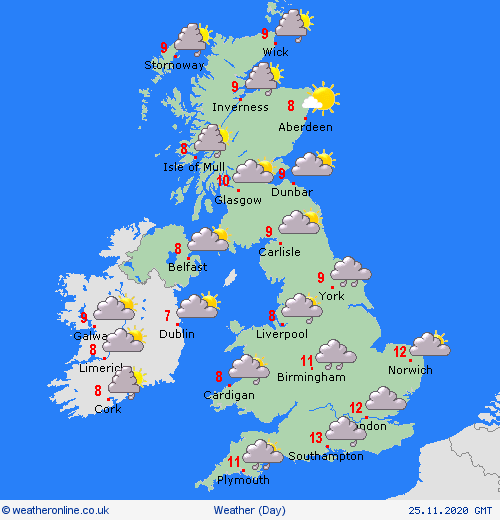 Photo: Weather Online
Europe's weather forecast
BBC Weather has forecast a storm will descend across Europe bringing persistent mist and fog to the continent.
BBC Weather meteorologist Susan Powell forecast a big area of high pressure across the core of Europe. She added most of the continent will experience fine and fair weather but Scandinavia is set for wet and windy conditions.
Ms Powell said: "There is a storm that will push rain into the northern coast of Africa. By Tuesday we start to see it drifting further eastwards, there are quite strong winds around that weather system. We will see them digging down across the Aegean in the next 24 hours. There is a lot of fair weather on Tuesday further east for Turkey and Cyprus."
"This is also across the core of Europe with a big area of high pressure in place there will be a lot of fine weather. There are some areas struggling with persistent patches of mist and fog."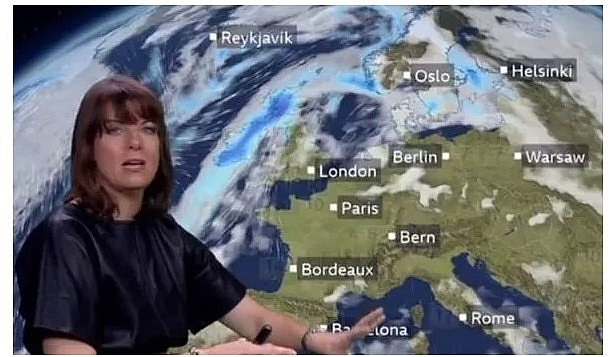 Susan Powell is a meteorologist for BBC Weather Europe (Image: BBC)
She added: "Further west a weather front is set to approach Portugal and Spain, creating a much wetter and winder picture from midweek onwards. We are also looking at quite a mobile weather system to the northwest, it will be wet and windy across Scandinavia."
Earlier today, BBC meteorologist Carol Kirkwood forecast rain across Britain during this evening and overnight. Ms Kirkwood added that rainfall will continue in Scotland and Northern Ireland on Tuesday.
The BBC meteorologist said: "Through this evening and overnight, our rain continues across Scotland into Northern Ireland, parts of northern England, the odd spot getting into Wales and southwest England too. There'll be some clear skies and where we've got the clear skies, it will be cooler but it will start off cold in eastern areas, with the temperature rising as the cloud cover does come across."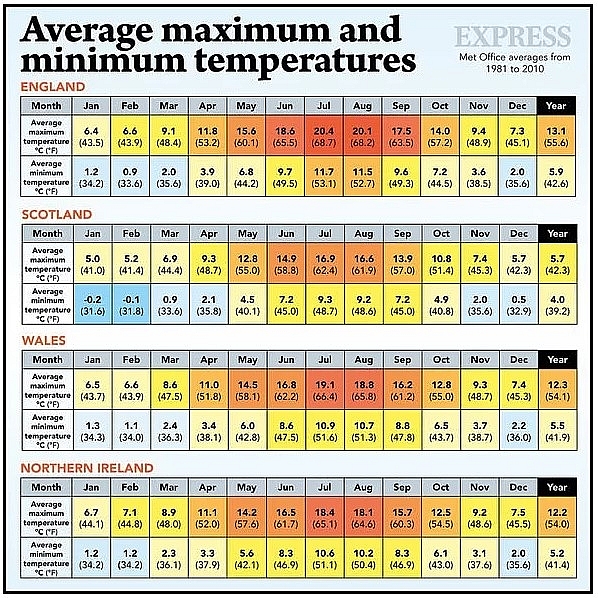 The average temperature across Britain throughout the year (Image: Express)
Ms Kirkwood added: "So into tomorrow, we've still got all this rain across Scotland and Northern Ireland. Rainfall totals starting to really accumulate. Some of that getting into Cumbria and the Pennines at times."
"But to the north of that, some brighter skies. To the south of it, quite a lot of cloud, with temperatures between 9C and 13C. Then it's going to get colder."
On November 25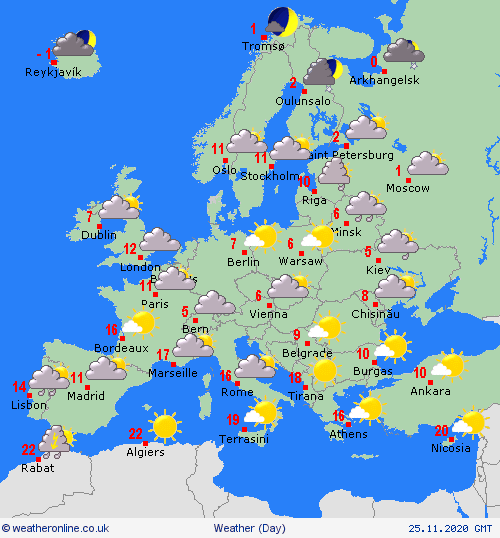 Photo: Weather Online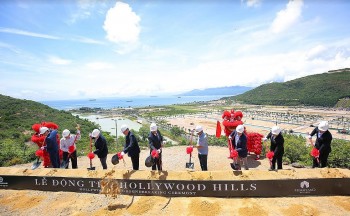 Economy
On October 2, at Hai Giang peninsula (Quy Nhon city, Binh Dinh), Hung Thinh Corporation held the groundbreaking ceremony of Hollywood Hills by YOO Inspired by Starck – a subdivision at MerryLand Quy Nhon. The event marks the first time that the world's No.1 ranked design and branded residence company YOO Inspired by Starck is officially present in Vietnam, with a collection of villas designed by creative director, Philippe Starck.