UK and Europe weather forecast latest, December 12: Strong winds and outbreaks of rain cover the UK
The UK is forecasted to face a weekend washout, as multiple weather fronts unleash outbreaks of rain across the country. Meanwhile, unsettled conditions bring rain and thunderstorms to southern Europe.
UK's weather forecast
The UK faces a weekend washout, as multiple weather fronts unleash outbreaks of rain across the country. The latest BBC weather forecast showed that "it is going to be quite wet for some" as the Met Office issued rain warnings. BBC meteorologist Matt Taylor warned that the weather will worsen for many into the weekend, as stronger winds and heavier rain piles in, although this will be accompanied by warm southernly air.
He told BBC Breakfast: "Friday will be mostly cloudy. Although, there will be some sunshine to the south and to the west of the country, particularly this afternoon. If you were kept awake at night by heavy rain, it was this weather front here. It is only slowly moving away from eastern counties this morning, so heavy rain here."
"It is going to linger over eastern Scotland, as you can see. The rain in eastern Scotland is piling in and will continue to pile in throughout the day."
He continued: "We then see another weather front sweep into the country later today, with outbreaks of showers in the west as well. It is going to be quite wet for some. The showery rain continues across many parts of Scotland, England and northern and eastern Wales."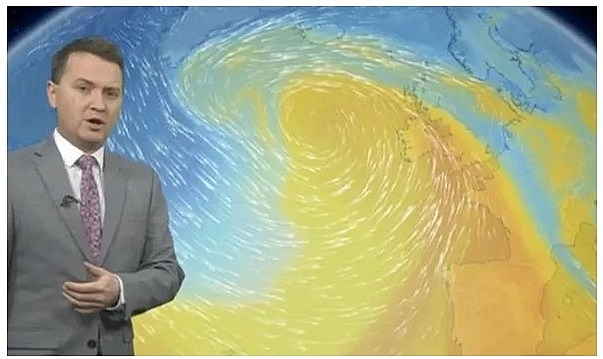 The UK faces a weekend washout, as multiple weather fronts unleash outbreaks of rain (Image: BBC)
"There will be some clear skies in Northern Ireland and the south-west of England. It could even be quite a pleasant day here compared to what we see elsewhere, with some sunshine."
"We should be frost-free into Saturday. As we move from Saturday night into Sunday a more active area of low pressure starts to push its way into the UK."
"The winds will get that bit stronger. Those winds are coming in from a more southernly direction, which means we will see some milder air gradually working its way into our shores."
"This weekend will not be as cold as it has been recently. Although we will experience heavy, persistent rain pushing its way northwards."
"It will also be a windy one. Temperatures above where we should be at this time of year. Up to 14C in the south and west of the UK, in the sunnier areas."
The latest BBC weather forecast showed that 'it is going to be quite wet for some' (Image: BBC)
A yellow Met Office weather warning is in place from 3am Friday until noon Saturday for north east Scotland. The rain may lead to flooding and major disruption to transport, with bus and train services probably affected. Up to 100mm of rain could fall across higher ground in the affected areas, Express reported.
For the rest of the UK, cloud and rain is expected on Saturday before downpours and stronger winds batter the rest of Britain on Sunday.
The downpours follow a period of "severe cold weather" which saw temperatures plummet to sub-zero in some places of the UK earlier this week.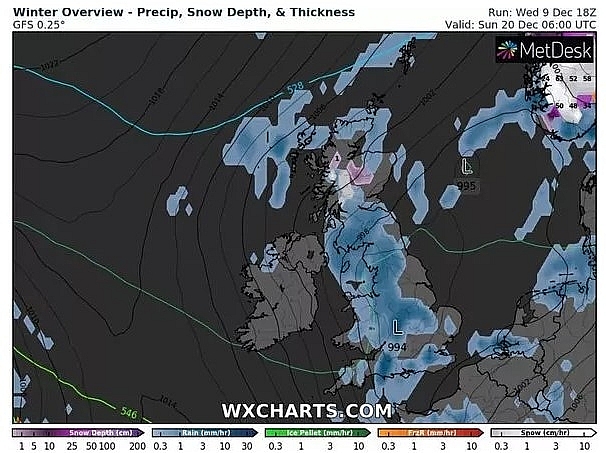 UK snow forecast: Temperatures could plunge as low as 0C (Image: WXCHARTS)
On December 12
According to Weather Online, outbreaks of showery rain across much of England and Scotland on Saturday morning. Some of these will continue across parts of northern England and Scotland into the afternoon. Brighter and dry weather passing into Ireland, Wales and southwest England although there will be a few showers affecting coasts and hills here.
These brighter spells should also arrive through central and southern England in the afternoon. Cloud thickens across southwest Ireland later in the afternoon with rain arriving here by evening. High temperatures at 6 to 9C.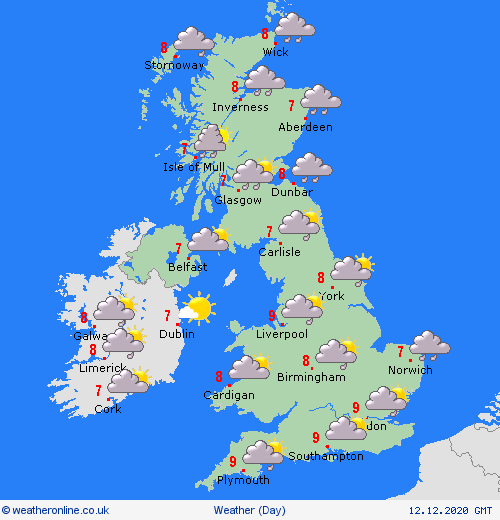 Photo: Weather Online
Europe's weather forecast
BBC Weather forecast "unsettled" conditions for the end of the week in Europe into the weekend as below freezing temperatures bring snow into some countries while others are thrashed with "heavy rain".
The weather for the end of the week in Europe is expected to be "changeable" and "very unsettled", according the BBC. Meteorologist Tomasz Schafernaker warned of "flurries of snow" as temperatures plunge below freezing. He also said that some parts of the continent would be subject to "heavy bouts of rain" as a "powerful jet stream" pushes low pressure in.
Mr Schafernaker told viewers: "The most unsettled weather at the moment is across the southern half of the continent. Low pressures being pushed by a powerful jet stream have been moving across Portugal, Spain, the Mediterranean and into the Balkans for the last few days. This has been delivering heavy bouts of rain, wind and mountain snow, particularly around the Alps. This pattern is going to continue for the rest of the week."
BBC Weather: Snow flurries freeze Europe as temperatures plummet as low as -4C (Image: WXCHARTS)
He continued: "There'll be heavy rain also across parts of Greece during the course of Friday. That's also pushed milder air across the Balkans so it will be above the average here for the time of the year."
"To the north of that, it's colder. High pressure has persisted across this part of the world for quite some time. It will be below freezing by day in Moscow around minus three degrees Celsius. Some flurries of snow will be expected here as well."
The weather presenter added: "Across Scandinavia, temperatures will generally be above freezing, so it's cold but it's not that cold.The forecast for Saturday shows yet more changeable, very unsettled weather. It will move from the Balearics, Corsica, Sardinia and even clipping parts of northern Africa as well."
Mr Schafernaker said: "Across the western part of Europe, temporarily on Saturday, it is actually going to quieten down. Out city forecasts over the next few days show there's also some changeable weather there in the UK."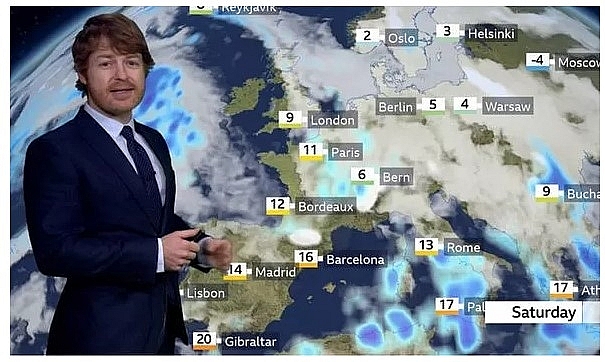 'The forecast for Saturday shows yet more changeable, very unsettled weather.' (Image: BBC)
"It looks as if things are going to turn a little bit milder into the weekend and next week as well. Elsewhere in Europe, it will be sunny in Moscow on Saturday at minus four degrees. It looks as though it will stay below freezing by day in the coming days."
On December 12
According to Weather Online, patchy rain clears east of Spain on Saturday to leave a mostly bright day with isolated showers along northern and southern coasts. Cloudier for Portugal with patchy rain here. Showers clear south from the Balearic Islands and northern Italy to leave a fine and dry afternoon here. Further thundery showers affect Corsica, Sardinia, Sicily and southern Italy. Showers and thundery outbreaks of rain for Greece and western Turkey. Staying dry and fine to the east of Turkey.
Cloudy with showers for eastern France, Switzerland, the Low Countries and western Germany. Dry and fine for western France and for eastern Germany. Mostly dry but cloudy for Austria, Hungary and the Czech Republic with isolated wintry showers. Some brightness for western Poland while eastern areas stay cloudy with wintry showers.
Photo: Weather Online
Mostly dry but cloudy for Denmark. Early brightness over the Baltic States is squeezed north as cloud and wintry showers move in from the south. Wintry showers also spread across Finland as well as central and northern Sweden and southern Norway. Staying dry over northern Sweden while central and northern Norway will see some spells of wintry sunshine.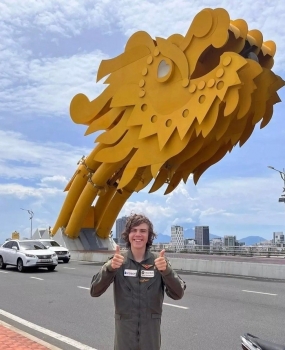 Expats in Vietnam
Mack Rutherford relished the chance to eat cuisine from the area and explore Da Nang on a motorbike. Meanwhile, Vietnamese citizens were happy to host the pilot.