UK and Europe weather forecast latest, December 16: Strong wind and a band of squally rain to cover western parts of the UK
The UK is forecasted to bear strong wind and a band of squally rain in many parts, especially in western areas. Meanwhile, weather conditions stay unsettled in the west but high pressure across central and eastern Europe.
UK's weather forecast
The Met Office has issued new weather warnings for Wales and south west England as rain is expected to batter parts of the country.
The Met Office warnings are in place for four days, from Wednesday, December 16 until Saturday, December 19. Warnings for wind have been issued for Wednesday, while the rest of the week will see torrential downpours. Parts of Wales, south-west England, and Northern Ireland will be affected by the vicious weather patterns coming in.
The Met Office warning for wind on Wednesday reads: "An area of strong wind is expected to affect western parts of the UK on Wednesday.
"Wind gusts of 55 to 60mph are likely for the far southwest of England and the east of Northern Ireland. The strongest winds will affect Cornwall before transferring to part of eastern Northern Ireland later as winds ease from the southwest. A band of squally rain will move across the area through the period and may also prove an additional hazard."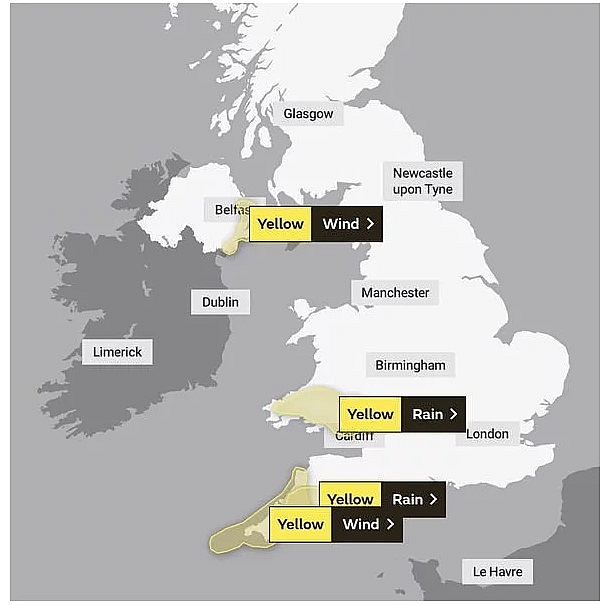 Met Office warnings: The warnings in place for Wednesday are for wind and rain (Image: Met Office)
The warning for rain on Thursday through to Saturday reads: "Outbreaks of rain are likely to spread across these areas later Thursday, with further spells of, at times, heavy rain then following through Friday, before clearing to the east early Saturday."
"Many areas are expected to see 20 to 30mm, with Dartmoor and higher ground of South Wales likely to see some 50 to 60mm. After wet weather on preceding days, some flooding is likely, this in turn affecting transport and travel."
The Met Office also warns flooding of a few homes and businesses is likely, while spray and flooding on roads will undoubtedly extend journey times.
Thursday's warning is in place from 9pm until 3am on Saturday. There is also expected to be some interruption to power supplies and other services, with some homes seeing electricity go out over the affected days.
Met Office forecaster Alex Deakin said: "The winds are going to strengthen [on Wednesday] and could really be quite lively. Coupled with some big tides, it could bring some coastal issues with potential for coastal flooding in the far south west of England and the east coast of Northern Ireland."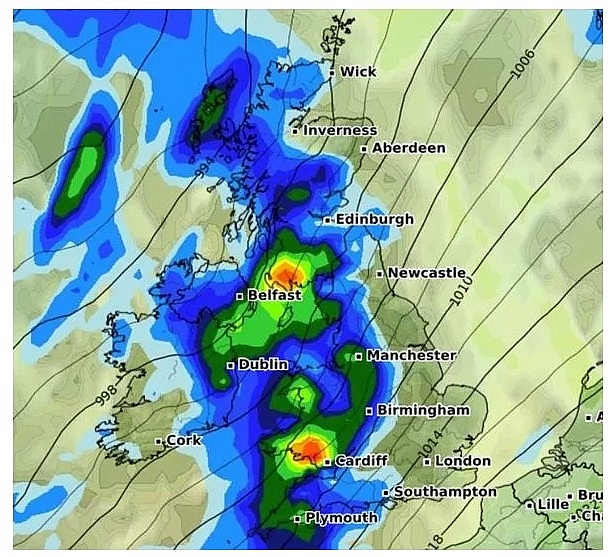 Met Office warnings: Rain will be particularly heavy across western parts of the UK (Image: WXCharts)
"There will be gusts of 50 to 60mph and problems for high sided vehicles. Wet and windy weather swings its way into Scotland and Northern Ireland and right across Wales for much of Wednesday too. Most of the east of England won't see that rain until Wednesday night. It's going to be blustery and gusty making it feel cooler than temperatures would suggest."
It comes as bookmakers have predicted this could go down as the wettest winter on record. Ladbrokes have slashed odds in half from 6/1 to just 3/1 on this winter breaking the record as the wettest in history, with heavy downpours expected to ravage the country, Express reported.
Ladbrokes spokesman Alex Apati said: "We're strapping ourselves in for a record-breaking wet winter with heavy rain seemingly here for the foreseeable future."
Elsewhere, odds are set at 1/4 for any part of the UK to see snowfall on Christmas Day this year.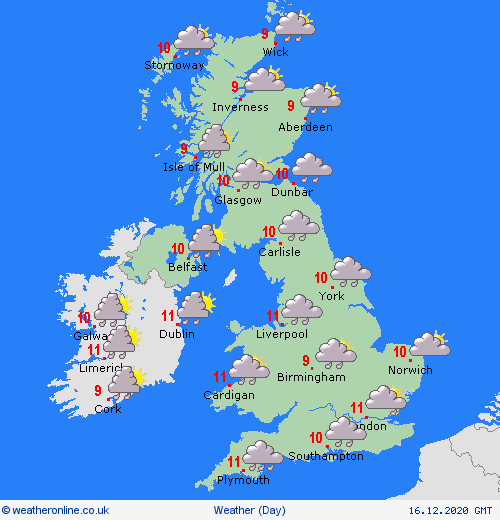 Photo: Weather Online
On December 16
According to Weather Online, low pressure, now racing north up Ireland, will bring strong to gale force winds initially in the west but these should ease through the day. Rain heaviest across Northern Ireland and Scotland but also with some heavy bursts expected across south Wales and parts of southern and southwest England. Eastern England staying dry through much of the day, but it will be breezy. Staying relatively mild, particularly in the far south. Highs between 7 to 11C.
Europe's weather forecast
An improving day across Portugal and Spain with exception to the far northwest where rain is still expected. It will become progressively drier. Dry and fine conditions across the Balearic Islands and Italy. Improving conditions across Greece and it's islands as well as west Turkey as thundery showers become more confined to eastern areas of Turkey, Weather Online reported.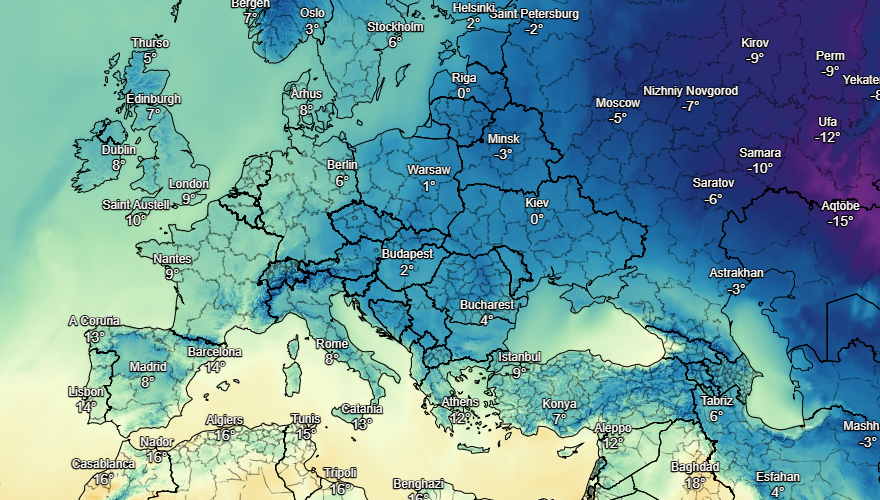 Photo: Stirimeteo
A band of rain will push southeastwards across France with heavy rainfall expected in the southeast of the country. Rain will also affect the Low Countries through the morning but should clear with drier conditions in the afternoon. Western areas of Germany will too see rain but this will turn patchy as it moves into central areas through the afternoon. Eastern areas staying dry. Western parst of Austria will see more cloud and some patchy rain (snow over higher ground) while eastern parts should remian dry. Dry across Switzerland as well as the Balkan States and eastern Europe.
Rain will sweep from south to north across Norway and Sweden. Drier weather inbetween. Largely dry across Finland through the morning but cloud and patchy light rain will push in during the afternoon. It will be an increasingly unsettled day across Denmark as rain becomes heavier and more persistent. Largely dry across the Baltics, however, western fringes will get hit by some cloud and patchy rain.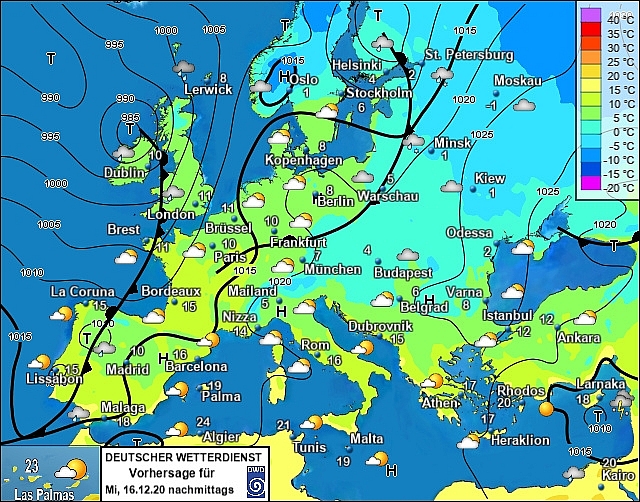 Photo: Stirimeteo
On December 16
Rain, heavy in places, pushing into Portugal and western parts of Spain. Drier in the east of Spain. With high pressure, albeit weak, across the Mediterranean, expect dry conditions for the Balearics, Italy, although there is the small risk of an isolated shower or two across northern Italy, as well as across Greece. Dry in west Turkey with improving conditions in the east.
Northwest France will see rain push in. Southerly winds strengthening here too. Largely dry elsewhere. Dry across the Low Countries and for much of Germany although some rain is expected through the morning across southeastern areas here. Cloudy with patchy rain across western and central Poland. Drier and brighter further east. Rain clearing Austria in the morning with patchy rain over Switzerland. Dry down the Balkan States.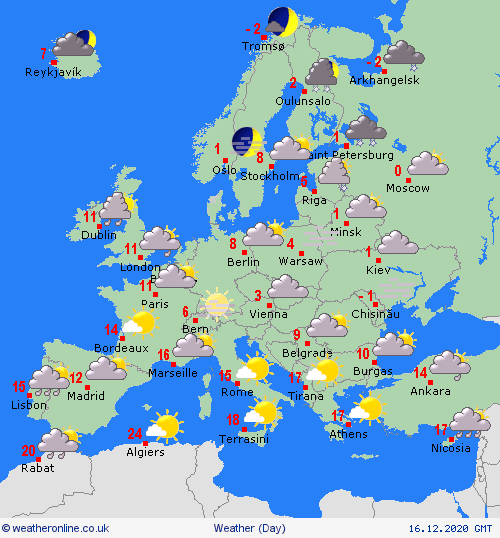 Photo: Weather Online
Morning rain clearing southern areas of Sweden allowing for a dry rest of the day here. Mainly dry across Norway but with some patchy rain or snow affecting more northern areas. Wet with rain across southern Finland with possible snow over higher ground centrally, drier further north. A wet start for the Baltics but weather should improve here. Dry and relatievly mild across Denmark.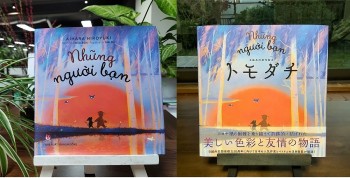 Viet's Home
The comic book Ehon "Friends" illustrated by local female artist Dom Dom has just been published by Japan's Sunny Side Publishing House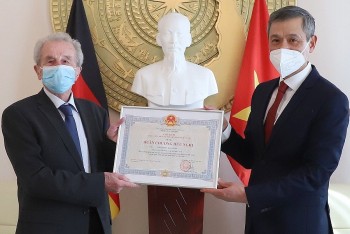 Friendship
The Vietnam-Germany relationship goes from strength to strength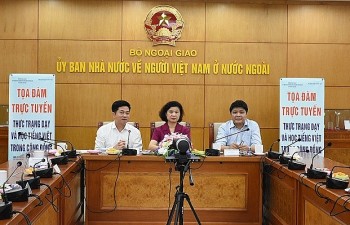 Overseas Vietnamese
The teaching of Vietnamese abroad continues to be strengthened despite the Covid-19 pandemic.