UK and Europe weather forecast latest, January 3: Brutal freezing air to blast the UK with significant snow and harsh frost
Brutal freezing conditions will continue to blast the UK in the first week of January. Meanwhile, low pressure brings unsettled conditions to the Mediterranean.
UK's weather forecast
Britain is bracing for a brutal -11C deep freeze to blast 17 days of snow in January, with 31 inches expected in one day, according to the latest forecasts.
Cold air from the Arctic has been forecast to sweep across the UK, bringing heavy snow with it from January 1 to 17. Scotland could see a mammoth 31 inches (80cm) of snowfall on Wednesday, January 13, the latest snow depth maps from WXCHARTS show. Central and western parts of Scotland may also see 30 inches (77cm) of snow today as northeasterly winds push across the north.
The wintry weather is predicted to push further down England this month, with five inches potentially striking in the north-west, including Cumbria.
Temperatures are also likely to plunge to freezing sub-zero levels across the whole of the UK this month. Central Scotland could experience -11C on Saturday, January 9, with other parts of the country being hit with -10C and -7C on the same day.
The bitterly cold air could also sweep down the UK, as Carlisle is forecast to see lows of -7C and Liverpool may see -6C.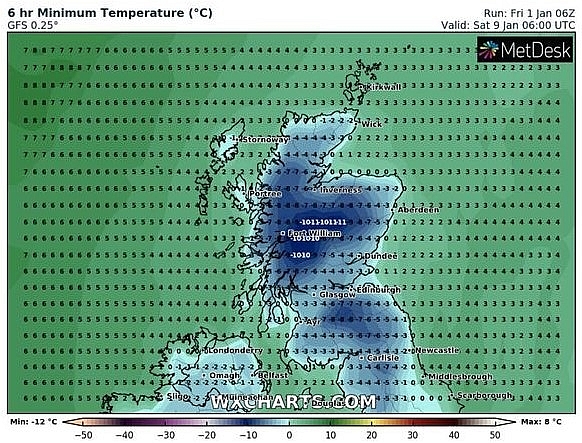 UK long-range forecast: Temperatures could drop to -11C (Image: WXCHARTS)
Southern regions including London and Southampton are expected to shiver at -2C on Monday, January 11. Brian Gaze at the Weather Outlook warned "disruptive snow" striking next week.
He told Express.co.uk: "Next week winds will go into an easterly or northeasterly direction. It will stay cold with an increased risk of showers in eastern Britain. I expect them to bring a mix of rain, sleet and snow."
"Snow is most likely inland and over the hills where disruptive accumulations are possible."
The BBC's long-range forecast between Monday, January 4 and Sunday, January 10, added cold air from the Arctic should sweep as low as the south of the UK.
The forecast said: "The succession of Atlantic low-pressure areas and fronts that normally bring the UK frequent south-westerly winds, cloud and rain will be diverted to southern Europe, and then down into northern Scandinavia."
"This means that western areas of the UK, in particular, will see less rainfall than normal, with a reduced threat of gales and flooding. Indeed, after the very wet mid-December period, the river levels will get a chance to return closer to normal."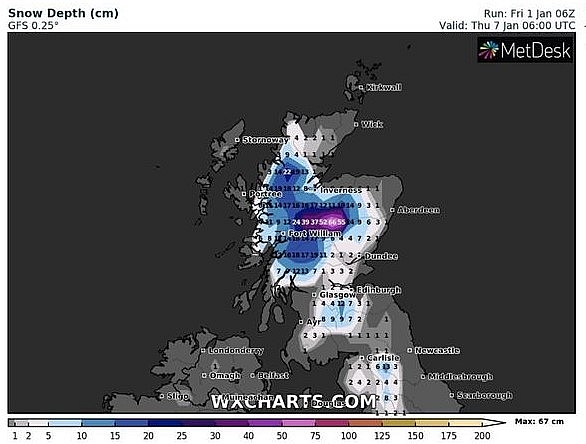 UK long-range forecast: Parts of Scotland could see heavy snow (Image: WXCHARTS)
"It will still be cold enough for showers to fall as sleet and snow, leading to additional accumulations in places. Frost, ice and freezing fog are all potential hazards."
"There is a chance that a new blast of cold air from the Arctic will sweep south in the second half of the week."
"But at the moment it doesn't look anywhere near as intense as the 'Beast from the East' cold spell in early March 2018! That will take some beating."
The Met Office added the end of January is seeing "increasing chance of snow".
The forecast between Friday, January 15 and Friday, January 29 said: "During the middle of January unsettled conditions are likely to affect southern and central parts of the UK with drier weather expected for the north and west. Whilst generally remaining colder than average some milder interludes are possible in the south."
"Toward the end of the month colder conditions become more probable, this bringing an increasing chance of snow."
Paul Michaelwaite at Netweather said 2021 is already off to a cold and wintry start. He said: "The weekend begins mostly dry with sunny spells inland, but wintry showers will be about from the off nearer to the coasts."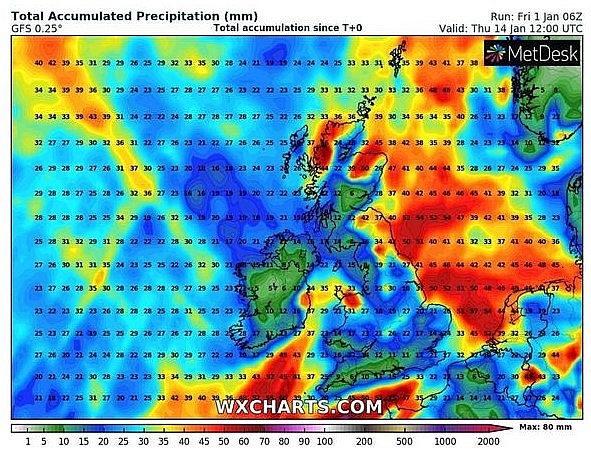 UK long-range forecast: Southern parts of the UK could also see -2C (Image: WXCHARTS)
"Into the afternoon, it looks likely that the wintry showers may organise themselves and push further inland from the east, potentially getting right across England and even into Wales."
"After another hard frost, particularly in the north and west, Sunday then brings a very similar day with wintry showers most frequent in eastern coastal counties but coming further inland at times."
"Winds by this point will be tilting more into the northeast or east. They'll be mostly light across the far north of the country, and strongest near to the coasts."
"Into next week, those northeasterly winds will continue. It'll be western and northern areas which therefore see the best of the sunshine during the day, but it'll also be those areas seeing the hardest frosts overnight. Further wintry showers will blow in from the east, organising at times to head well inland as the wintry start to 2021 continues."
On January 3
According to Weather Online, winds veer easterly into Sunday as low pressure develops to the southeast and high pressure pushes across northern Scotland. This brings wintry showers to eastern areas of the British Isles. Becoming breezy over southern areas too. Staying drier over northern and western areas with the best of the sun for Ireland, Northern Ireland and northern Scotland. Highs at 2 to 5C for most, 6 or 7C again possible for coastal areas.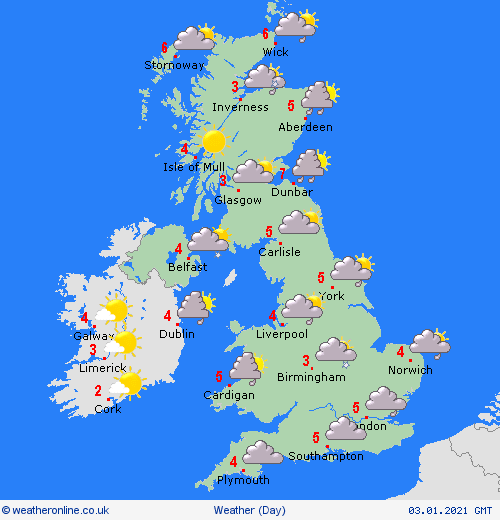 Photo: Weather Online
Europe's weather forecast
Showers, some wihtry, fade over northern parts of Spain and Portugal. Staying mostly dry and fine for central and southern areas. Staying wet and generally unsettled through the central Mediterranean with heavy showers or longer spells of rain across Italy and the islands as well as for the Balkans; these could wintry over higher ground here. Staying dry for Turkey and much of Greece but rain will push into the far west of Greece later in the day.
A mix of rain, sleet and snow affecting the southeast of France throughout the day with showers for northern coastal areas. Largely dry elsewhere with good spells of sunshine for central France. Heavy snow over southern parts of Switzerland and Austria but dry to the north of the Alps. Staying largely dry with variable amounts of cloud for Germany, the Czech Republic, Poland, Slovakia and Hungary.
Snow showers affect southern areas of Norway and Sweden but dry and fine further north. Wintry showers spread across Finland through the day. Snow showers affecting the Baltic States through the morning but these should fade through the afternoon. Some wintry showers affecting coastal areas of Denmark but largely dry otherwise.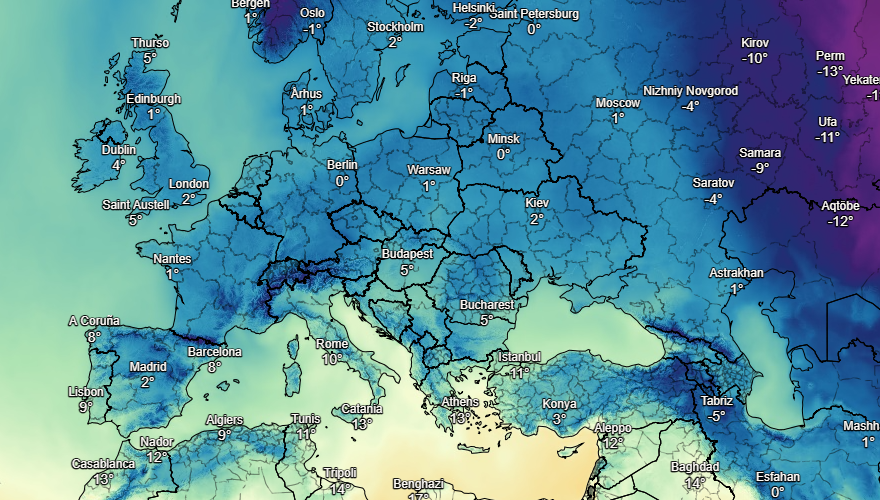 Photo: Stirimeteo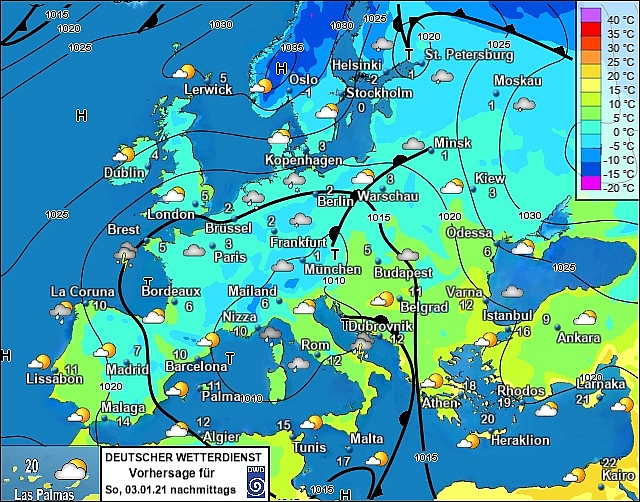 Photo: Stirimeteo
On January 3
Wintry showers continue to spill in over northern parts of Spain and Portugal. Dry and fine over central and southern Iberia. Showers fade from the Balearic Islands but continue for Corsica, Sardinia, Sicily and Italy where they may be locally heavy to the west of the Apennines. Heavy showers affect the Balkans and western Greece while southeastern Greece and Turkey stay dry and fine.
A front moving north brings outbreaks of sleet and snow to France, Germany, the Low Countries, the Czech Republic, Poland, Hungary and Slovakia on Sunday. Wintry showers fade over Switzerland and Austria to leave a dry and fair day in the Alps.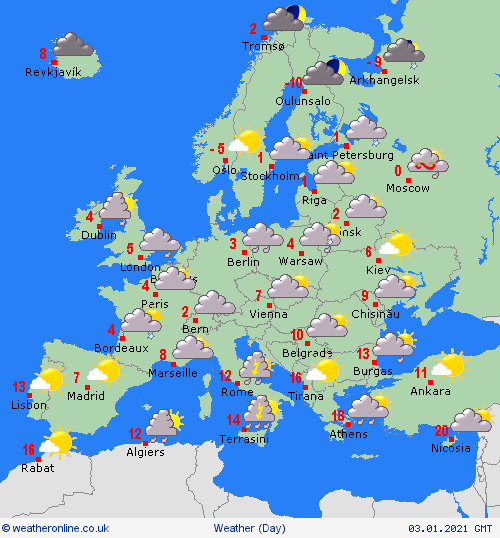 Photo: Weather Online
Showers fade over Denmark, Finland and the Baltic States as high pressure builds to leave a fine and dry day here. Dry and fine for much of Sweden and Norway though some showers may develop later over northwest Norway.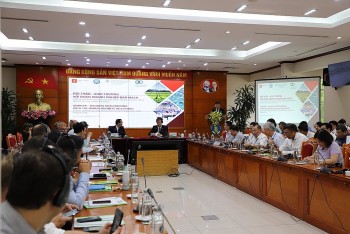 National
A Danish agriculture and food delegation visited Hanoi and Ho Chi Minh City on August 16-19 to exchange opportunities for cooperation and making business with their Vietnamese potential partners.