UK and Europe weather forecast latest, December 31: More ice, snow and wintry showers to blanket large parts of the UK
UK and Europe weather forecast latest, December 31: The UK is forecasted to bear more ice and snow as forecasters predict further wintry showers for large parts of the country for the rest of 2020.
UK's weather forecast
The UK is bracing itself for an extreme Arctic snowstorm that could see temperatures plummet to as low as -10C this week. The latest BBC weather forecast shows up to 15cm snow could submerge parts of the country on New Year's Eve. BBC meteorologist Stav Danaos said a powerful Arctic wind " will be with us for the rest of this week and into the start of 2021".
He told BBC viewers: "Parts of the UK have seen quite a bit of snowfall over the last few days, mainly across northern and western parts of England into Wales, and northern Scotland."
"The south-east corner of England still hasn't seen any snow but you could still see some over the next few days. We are expected to see further bouts of rain, sleet and snow. Ice, in particular, is going to be an issue pretty much wherever you are over the next few days."
"This cold northerly wind blowing right down across the entire country will be with us for the rest of this week and into the start of 2021."
Mr Danaos continued: "It is going to be a cold night wherever you are, we could see -8C, -9C in the snowy glens of Scotland. On Wednesday, we continue with the coastal wintry showers. Southern England and Wales could see some sleet and snow tomorrow afternoon."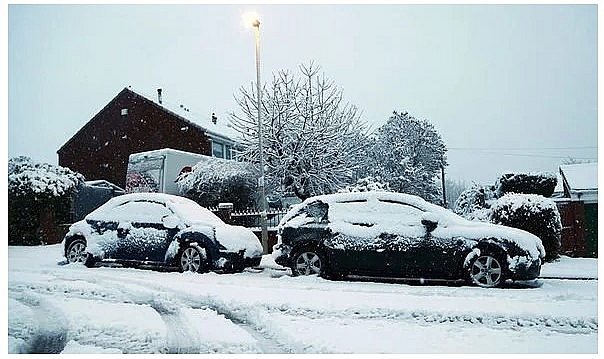 The latest BBC weather forecast shows up to 15cm snow could submerge parts of the country (Image: GETTY)
"This one feature running south across central, southern Scotland, northern England overnight could bring some substantial snow, certainly to the higher grounds here."
"We could see big disruption to start New Year's Eve. The first weekend of 2021 and January also looks cold, with further rain, sleet and snow in places."
John Hammond, chief forecaster at WeatherTrending, said that the cold snap could last "two weeks" with lows of -10C. He said: "It is a long game, this cold is set to stay with us for, well I would say at least another two weeks."
This comes as most of Wales, Northern Ireland, Scotland, and England are now subject to a "be aware" warning for ice and snow issued by the Met Office for the next two days.
On higher ground in areas of southern England from Cornwall to Kent and Essex as much as 15cm could fall, with 3-5cm more likely on lower ground.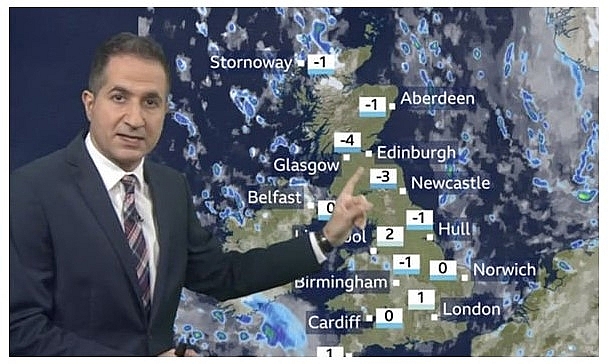 Most of Wales, Northern Ireland, Scotland, and England are now subject to a 'be aware' warning for ice and snow (Image: BBC)
The Met Office warned there was a chance that bus and train services might be delayed or cancelled, while power cuts may occur.
In east Lancashire, there were "lots of collisions coming in as the snow falls heavily", according to Terry Woods, the county's deputy chief constable. Edinburgh Zoo was forced to close on Tuesday due to the icy weather.
On New Year's Eve
According to Weather Online, Hogmanay remains cold. An area of rain, sleet and snow slides south through eastern and southern Scotland into northern and western England and Wales. Staying drier over eastern England with just a slight chance of isolated wintry showers here. Brighter later over Scotland and for Northern Ireland and Ireland with frequent showers, some wintry, over northern and western coasts. High temperatures range from 1 to 5C.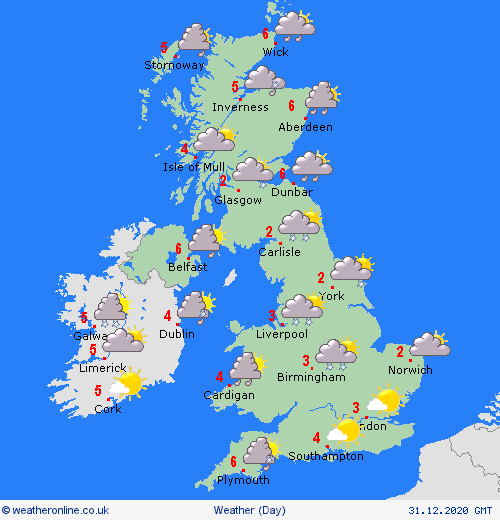 Photo: Weather Online
Europe's weather forecast
Snow showers for northern Spain but a dry and bright day across the rest of the country and for Portugal. Early showers fade over the Balearic Islands to leave a dry and fine day here. More persistent showery rain affects Corsica, Sardinia and western parts of Italy. This turns to snow over the Apennines. Showers turn to heavy rain over western Greece while eastern Greece and much of Turkey sees a dry and sunny day.
Wintry showers fade over eastern France while, after a dry and fine start, heavy showers arrive over western France later. Wintry showers affect the Low Countries and western parts of Germany throughout the day. A mostly dry and fair day for eastern Germany, the Czech Republic and western Poland. Outbreaks of rain, sleet and snow affect Hungary, Slovakia and eastern Poland, some of which will be heavy. Isolated snow showers for Switzerland and Austria.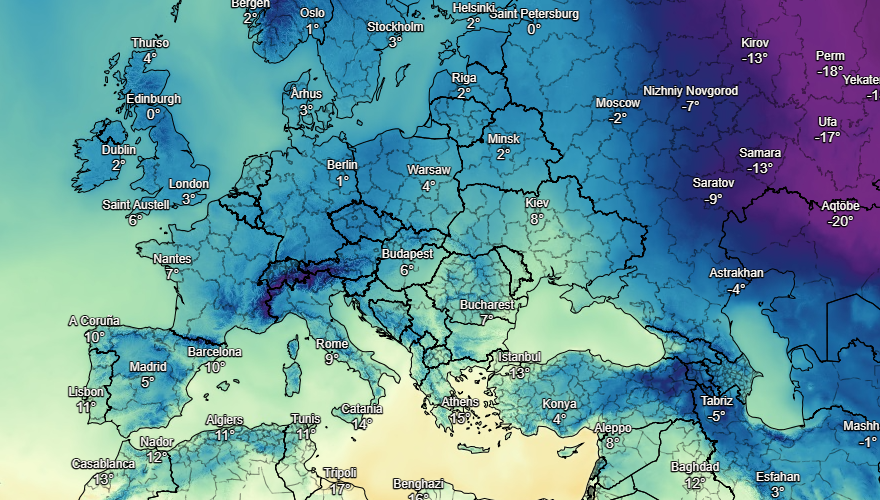 Photo: Stirimeteo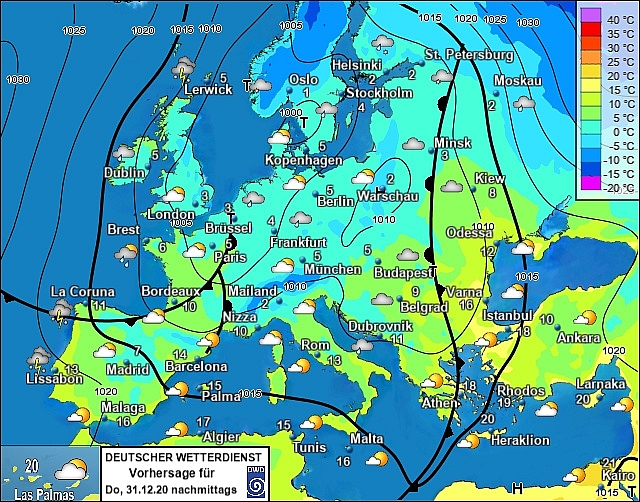 Photo: Stirimeteo
Cloudy for Denmark with patchy rain and sleet to the far north and south. Mostly dry for Norway though southeastern areas may see some sleet and snow. Widespread outbreaks of snow across Sweden - this turns to sleet and rain to the south. Snow showers fade over Finland to leave a dry but cloudy afternoon here. After a dry start, rain and sleet arrive from the south over the Baltic States.
On December 31
Showery outbreaks of rain spread over Portugal and the northwestern half of Spain on Thursday. These turn wintry over higher ground. Staying dry and fine to the southeast and for the Balearic Islands. Showers, these locally heavy, affect Corsica, Sardinia, Sicily and far southern and northern parts of mainland Italy. Staying dry and bright for central areas. Heavy showers spread across Greece and into western Turkey though much of Turkey stays dry and sunny.
A front brings showery outbreaks of rain, sleet and snow across much of France, the Low Countries and into western Germany. These will be locally very heavy.Some snow showers spread into the far west of Switzerland too but otherwise it's a dry and fine day across the Alps as well as for the Czech Republic, eastern Germany and Poland. Cloudy for Slovakia and Hungary with rain and sleet for far eastern areas.
Photo: Weather Online
Frequent outbreaks of rain, sleet and snow for Denmark, southern Sweden and Finland as low pressure starts to fill up here. Isolated snow showers affect southern Norway as well as central and northern parts of Sweden. An area of wintry precipitation clears north of the Baltic States through Thursday morning leaving a dry afternoon with a few spells of sunshine.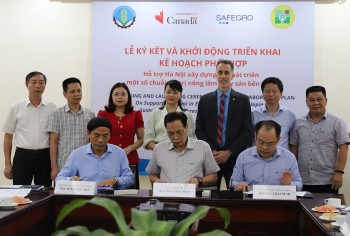 Make in Vietnam
As Vietnam furthers its international intergration, building agro-forestry-fishery high value chains is crucial for the sustainable development of the agriculture sector.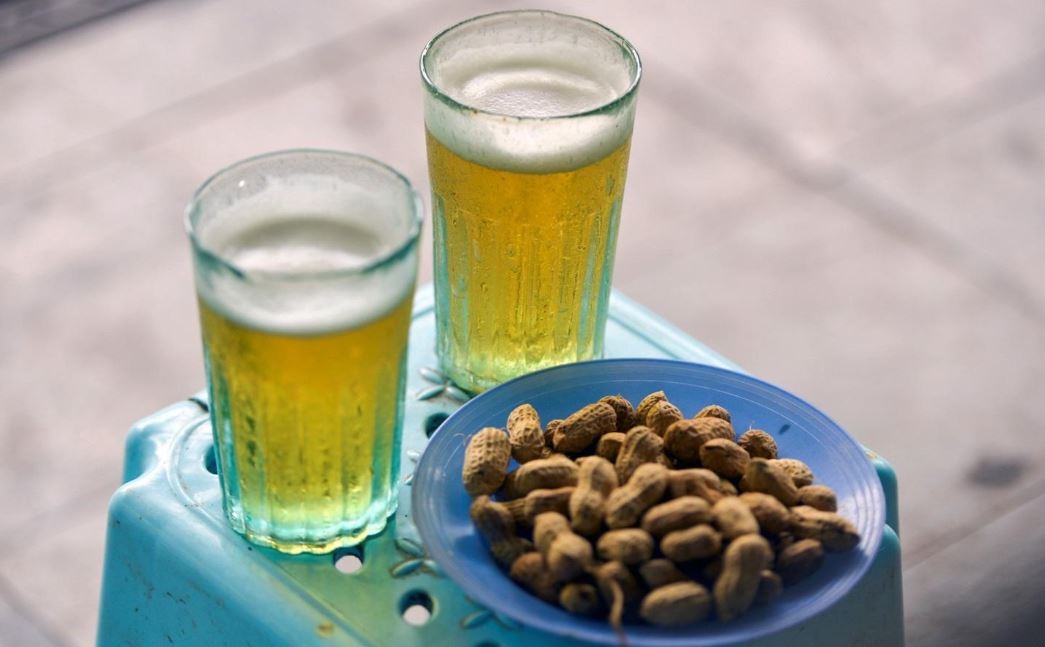 World
Among Vietnamese best beer destinations voted by foreign travelers, Hanoi is followed by Ho Chi Minh City, Hoi An, Nha Trang, and Da Nang.
August 06, 2022 | 14:54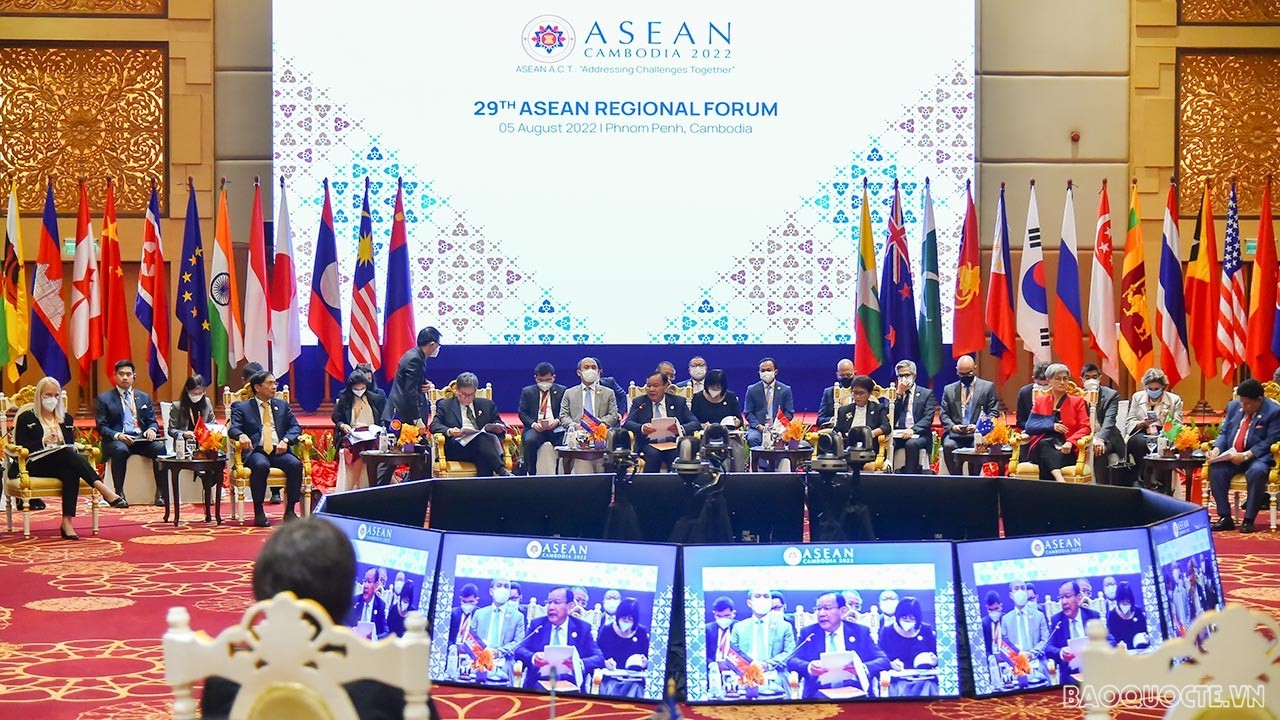 World
Foreign Minister Bui Thanh Son attended the 29th ASEAN Regional Forum (ARF) that took place in Phnom Penh, Cambodia on August 5 within the framework of the 55th ASEAN Foreign Ministers' Meeting (AMM-55), and held several bilateral meetings on the sidelines of the event.
August 06, 2022 | 09:12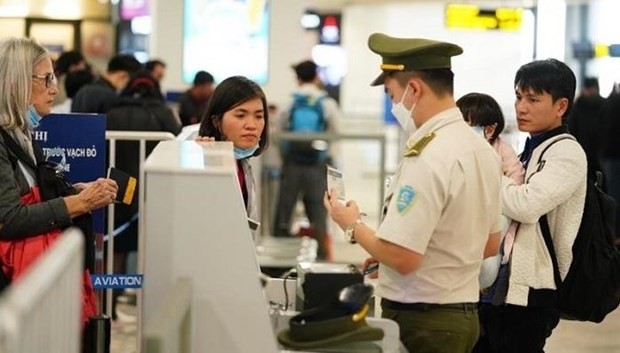 World
The Ministry of Health has asked localities nationwide to monitor foreign arrivals from countries with monkeypox as an early response after infections were spotted in the region.
August 05, 2022 | 16:11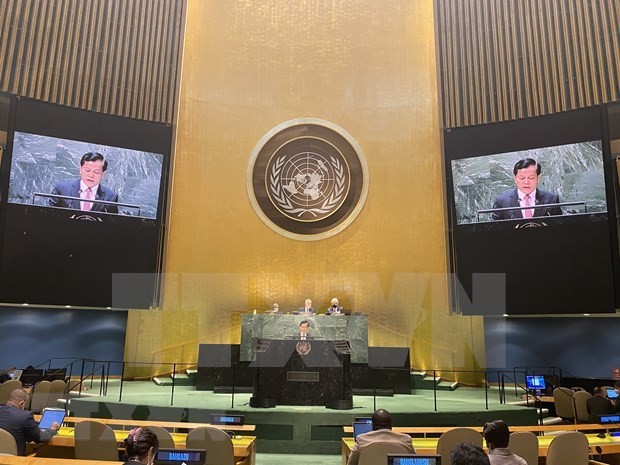 World
Deputy Foreign Minister Ha Kim Ngoc had a meeting on August 3 with United Nations (UN) Secretary-General Antonio Guterres who highly valued Vietnam's active and responsible contributions to the common work of the organisation, especially the country's strong commitments in the fight against climate change, and promised to continue supporting Vietnam in this work.
August 04, 2022 | 16:57