UK and Europe weather forecast latest, December 28: Storm Bella heading to Britain as shown by horrifying weather maps
Storm Bella is forecasted to sweep across the UK bringing more strong gales and heavy rain as a handful of weather alerts issued.
UK's weather forecast
Storm Bella is set to sweep across the UK today, bringing yet more strong gales and heavy rain after several parts of England saw severe flooding. The Met Office has issued a handful of weather alerts in response to the storm, which has been spotted surging towards Britain on several weather maps.
One map shows the ferocious storm approaching the UK from the north west. The chart, from Magicseaweed, characterises the storm by a large mass of red and purple.
The eye of the storm is shown by an area of dark grey, with small areas indicating where the unsettled conditions are heading. A second weather map from WXCharts shows the UK turn dark purple as Storm Bella moves across the whole of the UK by 6pm on Sunday.
Another weather chart from the forecasters show the UK turn a deep red as the storm sweeps over Britain at 12pm on Sunday.
According to the chart the south of England looks set to see the worst of the tumultuous conditions. The Met Office has predicted 15-25mm of rain will fall in Wales and southwest England today, reaching 40-60mm over some hills.
Bouts of heavy rain are also expected to affect wester and southern regions.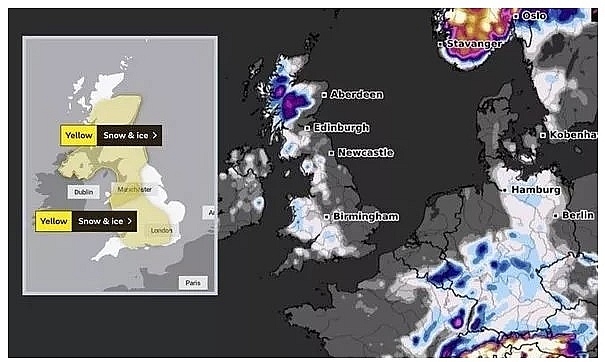 Met Office warnings EXTENDED: Snow warnings are in force across the UK (Image: Met Office/WXCHARTS)
The Met Office have issued a number of weather warnings in response to Storm Bella. An amber warning for wind covers parts of Wales and southern England from 8pm today to 9am on Sunday.
The severe weather warning has been issued as gusts of up to 60-70mph are forecast in exposed coastal locations.
The Met Office said the strong winds could cause damage to buildings, with warns flying debris "could lead to injuries or danger to life".
They add: "Injuries and danger to life is likely from large waves and beach material being thrown onto coastal roads, sea fronts and properties."
The forecasters also warn power cuts may occur. Five additional yellow rain and wind warnings also cover swathes of the UK today and tomorrow.
Deputy Chief Meteorologist Tony Wardle, said: "Conditions will turn very unsettled after Christmas day, with a large area of low pressure sweeping across the UK from Boxing Day".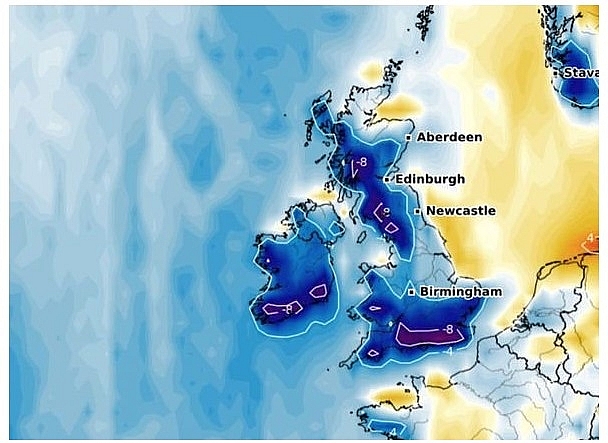 Met Office warnings EXTENDED: Temperature maps show continuously cold conditions over the next few days (Image: WXCHARTS)
"Very strong winds will impact much of England and Wales, with particularly strong gusts on south west facing coasts. Heavy rain will also move in from the north, with heavy downpours through the afternoon in Scotland and Northern Ireland moving south across England and Wales overnight."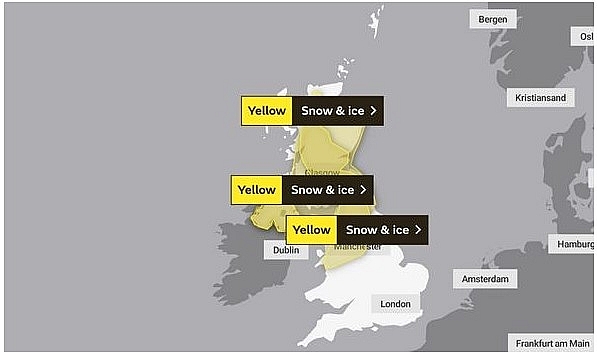 Met Office warnings EXTENDED: Today, snow and ice is confined to the north of the UK (Image: Met Office)
"This will be a notable change from the calmer conditions over Christmas Eve and Christmas Day so take extra care and stay up to date with the latest forecast."
On Christmas Day, residents in more than 1,300 homes along the River Great Ouse in Bedfordshire were asked to leave by police after the river burst its banks, causing bridges and roads to be flooded.
The widespread rainfall which caused the flooding has passed, but the Environment Agency (EA) has warned that a significant flood risk remains - with river levels in Bedfordshire and Cambridgeshire remaining significantly high.
On December 28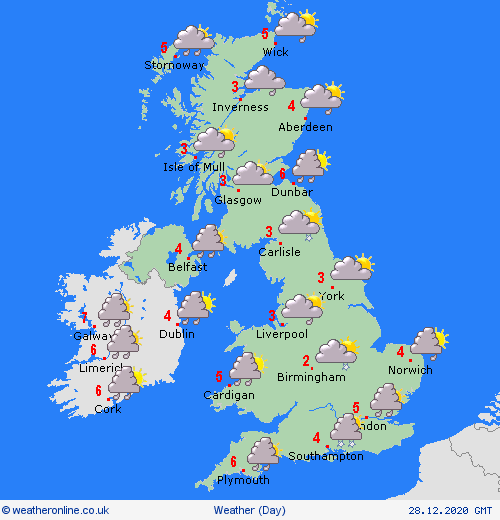 Photo: Weather Online
According to Weather Online, low pressure drifts southwards across Britain. This brings a cold day with snow showers, sleet or rain confined to the lowest ground near coasts - most prolonged over northern Scotland and Northern Ireland. Clusters of wintry showers for coasts in west Wales and southwest England, these pushing into central and some southeastern areas of England later. Drier and brighter elsewhere. Strong northerly winds in western areas but lighter winds elsewhere. Highs 2 to 5C.
Europe's weather forecast
Low pressure dominates across northwest Europe, and cold air moves into northern France behind a cold front, which brings heavy rain for several hours. Rain spreads southeastwards through France and into northern Spain. Windy across a large part of west and northern continental Europe, gales or severe gales in places from northern Spain to central France, Germany and the Alps.
Low pressure over the central Mediterranean brings heavy rain to southern Italy, Greece and the southern Balkan states. Elsewhere around the Mediterranean it will be dry with some sunshine. Fairly warm in southern Spain and Portugal.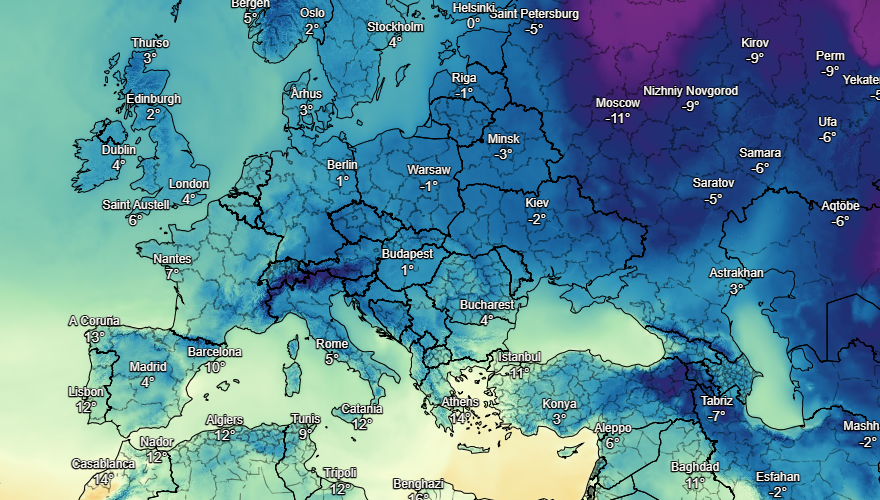 Photo: Stirimeteo
Mild southerly winds affect Scandinavia, risk of gales for Denmark and Norway, plus heavy rain and snow for southern Norway. Snow spreads across much of Sweden and southern Finland. Staying very cold toward the far north.
On December 28
Windy and wet conditions continue across many parts of Spain and Portugal on Monday with the windiest and wettest areas in the far north. Strong winds through the Balearic Islands with rain and or showers about. Italy will also see heavy rain push across the country and brisk winds. Showers or longer spells of rain affecting Greece as well as Turkey.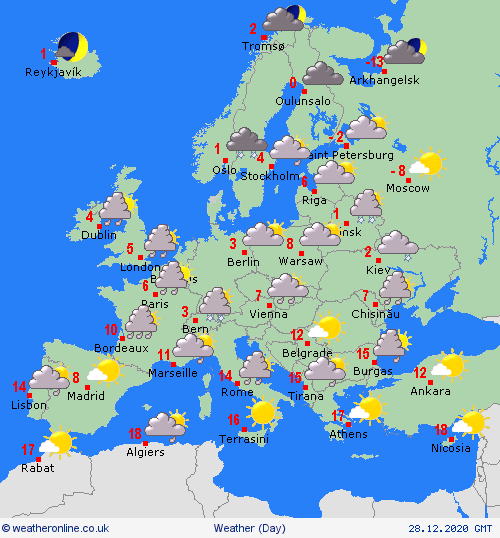 Photo: Weather Online
Unsettled across France with heavy rain concentrated across more western areas with strong to gale force winds along the Biscay coast. Sunshine and showers for the Low Countries and Germany. Outbreaks of rain across Austria and Switzerland with heavy rain down the Balkan States. Rain in eastern Poland but largely dry elsewhere here.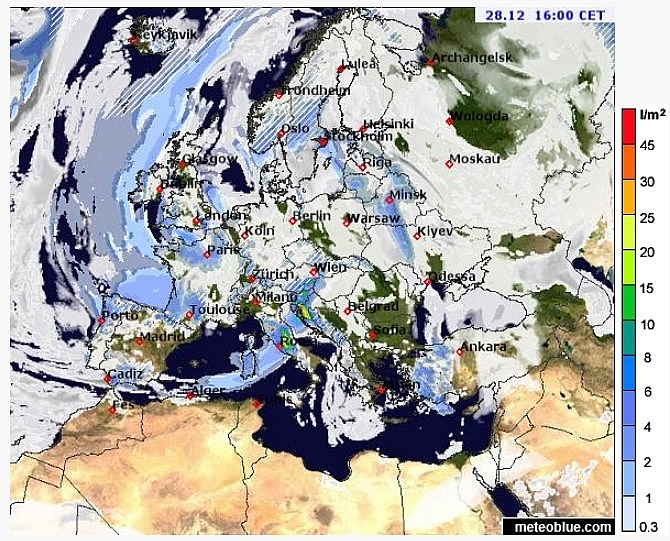 Photo: Meteoblue
Rather unsettled for large parts of Scandinavia as rain, sleet and snow sweep through many parts of Norway and Sweden. Mainly dry across Finland but with some wintry showers in the far north. A wet start for Denmark but it should dry up through the day. Showers developing through the Baltics and it will be windy here.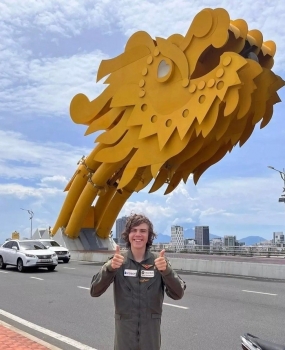 Expats in Vietnam
Mack Rutherford relished the chance to eat cuisine from the area and explore Da Nang on a motorbike. Meanwhile, Vietnamese citizens were happy to host the pilot.