UK and Europe weather forecast latest, November 10: Warmer weather in some parts of the UK with an Indian summer heatwave
An Indian summer heatwave is forecasted to bring warmer weather to some parts of the UK. Meanwhile, a largely dry and fine spell of weather continues for much of Europe.
UK's weather forecast
According to Express, Britain is set for a warm start to the week as temperatures bring an Indian summer. Weather forecasters have said that wintery conditions will be paused thanks to a 700 mile-wide "African heat bulge". Temperatures are expected to soar up to 17C brining warmer weather for some parts of the country.
The Weather Outlook forecaster, Brian Gaze, said: "People will be calling this Indian summer-style warmth." He added: "15C possible on Monday in eastern Scotland and a mild southerly flow for most of the next 16 days."
The jetstream is way up to the north this week, according to forecasters. Alex Deakin, Met Office Meteorologist, said: "An unusual position to see that far north early [this] week extending across Greenland and Scandinavia. So we're on the warm side of the jet which is why it's mild. With the jet really no influencing things, well the pressure pattern at the surface close to the UK is going to kind of stick."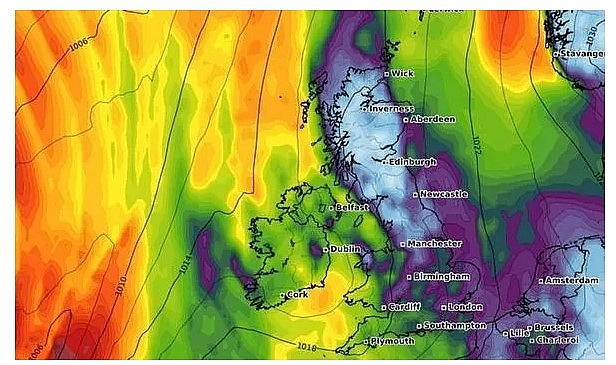 Britain is set for a warm start to the week as temperatures bring an Indian Summer (Image: WXCHARTS)
Mr Deakin said the position of the jetstream will last for most of this week. He added: "That's the battleground. High pressure to the east, low pressure to the west and when we have that set up well that means the winds are going to be coming in from the south."
Southerly winds will cause temperatures to be "above average" according to Mr Deakin. Tuesday is also set to be a mild day with patches of sunshine.
Netweather forecast, Paul Michaelwaite, said: "Tuesday won't be an especially different day." But he added: "There may even be some more chances to see some sunshine, but there'll still be a reasonable amount of cloud drifting about."
From Wednesday, however, winds will return to Britain as wintery conditions are expected to hit the UK later in the month. Mr Gaze said: "Wind gusts over 60mph are shown on forecast models for midweek."
Temperatures are expected to soar up to 17C brining warmer weather for some parts of the country (Image: Netweather)
He added: "It looks mild or very mild further ahead, before an increased chance of colder-than-average conditions from late November."
Met Office forecaster, Marco Petagna, added: "Mild southerly and south-westerly winds will be pumped up from a long way to the south.
"But more vigorous low pressure systems could make inroads, and an Atlantic-driven pattern is the trend for the long-term."
Britons should make the most of the mild conditions at the beginning of this week as forecasters warn that rain and winds will come in midweek.
The Met Office said: "Through Wednesday we'll start to see some weather fronts push in from the west and that's going to bring a spell of heavy rain. With the rain it's going to turn windy, particularly along the western coast where we could see some gales on Wednesday."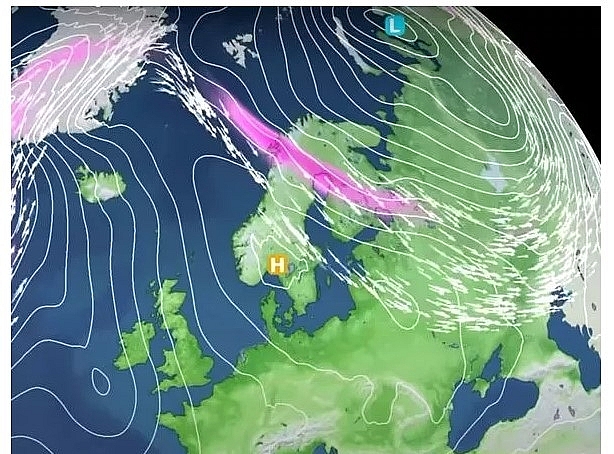 Weather forecast: The jetstream is way up to the north this week (Image: MET OFFICE)
Mr Michaelwaite warned that the weather will take a turn from late Tuesday into Wednesday. He said: "Later in the day, a band of rain will approach from the Atlantic and is likely to close in on the west of Ireland and Western Scotland by evening."
"With it, southerly winds will strengthen with gales possible near to western coasts from then on, through into Wednesday. The rain will make quite erratic progress east during Wednesday, perhaps not clearing eastern counties of England and Scotland until well after dark."
On November 10
Low pressure fills up as it moves across the UK on Tuesday. Showery bursts of rain pass eastwards and eventually fade allowing for sunny spells and largely dry conditions to develop. All areas look set to stay milder too as a south to southwesterly flow prevails. Cloud thickens over Ireland and Northern Ireland later with a band of rain arriving over western areas through the evening. Highs at 11 to 15C.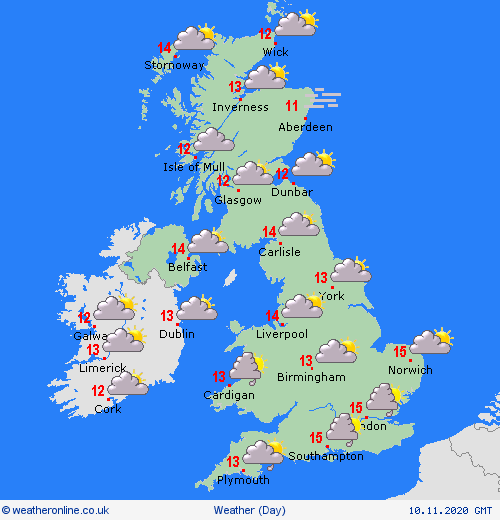 Photo: Weather Online
Europe's weather forecast
According to Weather Online, patchy rain affecting Portugal as well as western and central Spain. Drier further east. A dry day across the Balearic Islands as well as across Italy. Cloud and rain pushing in to some southern Greek islands through the day. Largely dry elsewhere but with one or two isolated showers. Largely dry across Turkey although southern coasts could see more in the way of cloud and outbreaks of rain.
Rather cloudy with some patchy outbreaks of rain affecting western regions of France. Drier and brighter further east. Largely dry across the Low Countries and Germany although there could be isolated showers to the northwest. Dry over the Alpine Countries and for the Czech Republic, Slovakia and Hungary where there will be good spells of sunshine. A dry day with sunny spells too across Poland.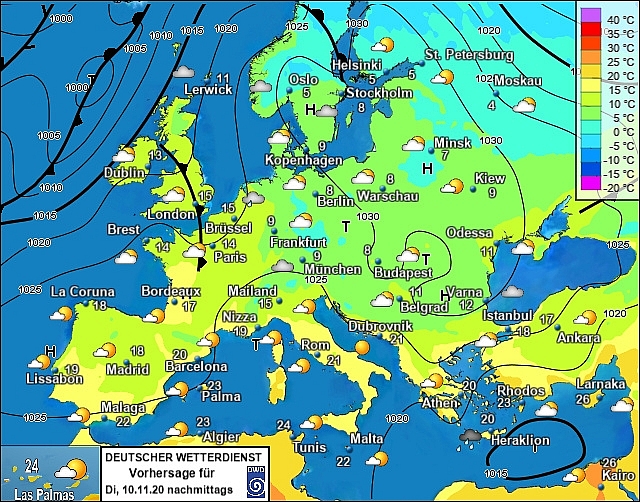 Photo: Stirimeteo
Largely dry and fine across Scandinavia although northern parts of Norway and the far north of Sweden will see some patchy rain and sleet. Finland will see rain clear to the east through the day. Dry and sunny across Denmark as well as the Baltic States.
On November 10
A mostly dry and sunny day for Portugal and Spain though isolated showers may develop to the south east and, perhaps, over the Balearic Islands too. Dry and fine too for Italy though there could be some cloud around to the north which extends to Corsica and Sardinia. A dry and sunny day for much of Greece and Turkey though thundery showers over the far eastern Mediterranean extend into Cyprus and the southernmost of the Greek Islands.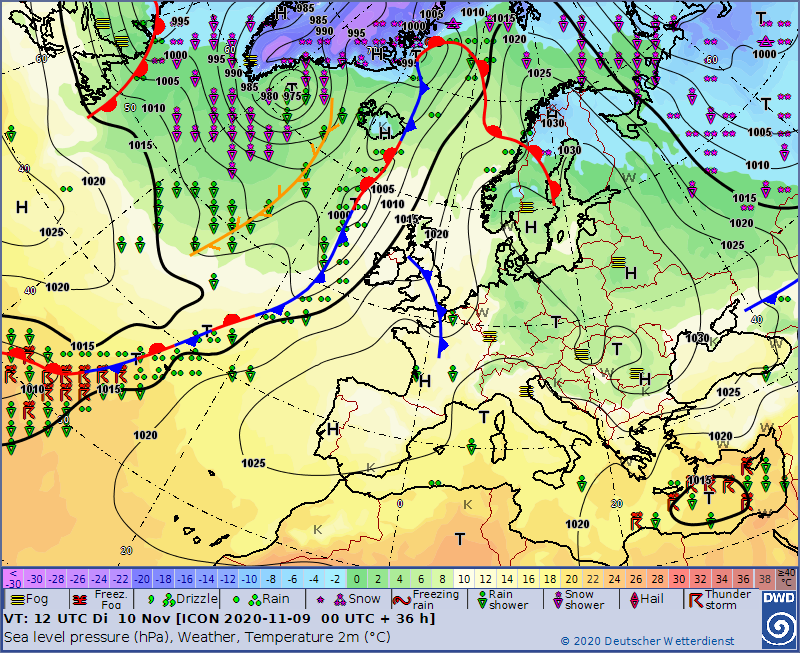 Photo: Stirimeteo
A band of cloud and patchy rain spreads eastward over central and northern parts of France and into the Low Countries on Tuesday. Staying dry and fine for southern France. A dry and bright day for much of Germany with cloud building to the west at times. This extends over Switzerland and Austria too though it stays dry here. A dry and sunny day for much of Poland and for the Czech Republic, Slovakia and Hungary.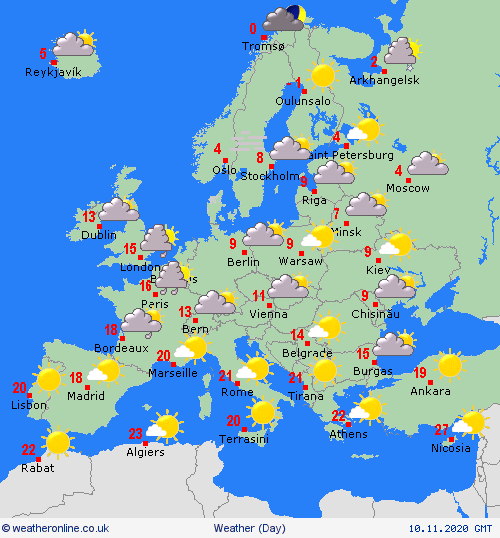 Photo: Weather Online
High pressure brings a dry and fine day to much of Scandinavia. Sunny and fine for Denmark, the Baltic States, Finland and Sweden while western coasts of Norway are cloudier with patchy outbreaks of rain developing here at times.