UK and Europe daily weather forecast latest, April 1: Mostly dry with plenty of sunshine, best in the North and West of the UK
Thursday looks mostly dry, with plenty of sunshine, best in the North and West. Meanwhile, fair conditions set to cover most of Spain and Portugal, unsettled and chilly in Greece and Turkey.
UK's weather forecast
According to Sky News, Thursday looks mostly dry, with plenty of sunshine, best in the North and West. It will turn noticeably cooler for most, even chilly for some North Sea coasts, but 20C (68F) is possible across southwest England. The Easter Weekend will start mostly fine, with temperatures around average, but the North and West will turn cold, wet and windy on Easter Sunday.
The UK has experienced the hottest March day for more than 50 years with highs of 24C and more warm weather to come tomorrow. But the mini-heatwave will be short-lived as an Arctic freeze sends mercury spiralling down to lows of around 8C, according to the latest weather maps.
Glorious sunshine and soaring temperatures have been felt across the country today as lockdown-weary Britons enjoy a much-needed upturn in the weather. The Met Office has confirmed temperatures reached 24.2C this afternoon in St James' Park, London. The provisional recording is the hottest day in March for 53 years, since 25.6C was measured in 1968 in Cambridgeshire.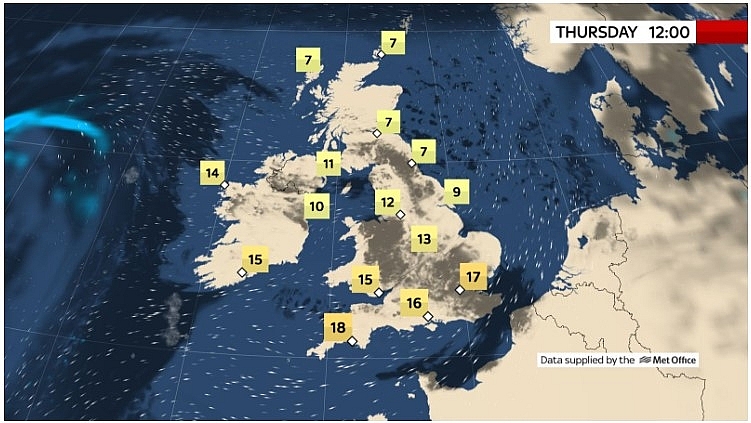 Photo: Sky News
The area of high pressure is set to continue over the UK on Wednesday with highs of 24C again forecast in the South East and the low 20Cs elsewhere, according to the Met Office.
However, the balmy conditions are set to be replaced by a deep-freeze tomorrow evening and into Thursday.
In the space of just 24 hours, temperatures are poised to plummet from highs of 24C in London and the South East on Wednesday afternoon to just 8C on Thursday lunchtime, before reaching a high of 13C, according to the latest weather maps.
Netweather charts also show temperatures will struggle to stay in double figures by midday on Thursday.
It will be much colder elsewhere, with lunchtime highs of 8C in the Midlands, 7C in the North and 6C in Scotland.
Temperatures are then expected to fall away further overnight, with lows of 0C expected in parts of the north and Scotland during the early hours of Friday morning.
Heat maps show a cold-blast descending over the UK from around 9pm on Wednesday night. Weather models also show a huge ice-blue shaded area of freezing air descending over northern parts of the UK.
UK cold weather forecast: Temperatures will struggle to reach double figures on Thursday (Image: WXCHARTS)
Northern and western parts of the UK are set to be the worst affected by the cold conditions and there could also be dusting of snow across the far north of Scotland.
Met Office Chief Meteorologist Steve Ramsdale, said: "The UK will see a few days of notably warm weather to end March, with a maximum of 24C on Wednesday in the south and east of England."
"There will also be plenty of sunshine across England and Wales however parts of Scotland will see some persistent rain over the next couple of days. Conditions will start to change through the day on Thursday as cooler air moves in from the northeast."
Temperatures are set to remain cold into the four-day Easter weekend, with unsettled conditions and the risk of rain across northern and eastern areas.
Mr Ramsdale said: "Through Sunday an even colder pool of air will start to push in across the UK from the northwest, bringing a notable change to temperatures compared to the start of the week."
"This also brings a move towards more unsettled conditions with stronger winds and the chance of some wintry showers."
BBC Weather's outlook added: "Heading into the Easter holiday weekend, the weather will likely be a few degrees colder than normal but largely dry with patchy cloud. There is a chance of some scattered showers for northern and eastern areas, and these could bring some lowland snow if they develop."
On April 1
According to Weather Online, a colder day for all on Thursday with high pressure remaining west of Scotland. Easterly winds will be bringing some cloud through England and Wales, although this breaks here and there to relieve some sunny spells to come through. The best of the sunshine always in more western areas. Scotland and the far north of England will also be dry and should be sunny throughout the day. It will be a breezy day in the south. Temperatures around 9C on eastern coasts, 15C in the far southwest of England, mostly 10 to 12C.
Early cloud over parts of southern Scotland, Northern Ireland and much of England and Wales breaking leaving sunny spells. Fine and bright elsewhere. Breezy and less warm than today, Met Office reported.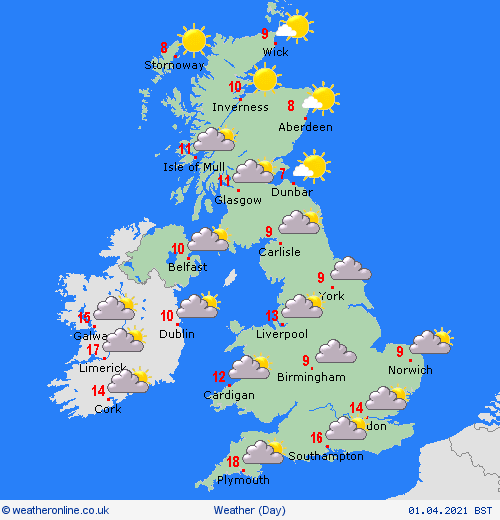 Photo: Weather Online
Outlook for Friday to Sunday
Mostly dry with sunny spells and some overnight frost on Friday and Saturday. Becoming unsettled and windy with rain then showers on Sunday, with showers turning wintry.
Europe's weather forecast
Mosty fair and sunny across most of Spain and Portugal today. There will be lots of warm, spring sunshine in the Balearics and through Corsica and Sardinia too. Staying sunny and dry in Italy. More unsettled conditions with wind and rain for Greece, this heavy and thundery. Heavy showers, some thundery in central and southern Turkey but drier to the north.
France will be fair with lots of sunshine throughout. The Low Countries should be fair with more sunshine here. Staying fine in Germany with lots of sunshine, and remaining fine in Poland. Hungary, Austria and Switzerland wil have plenty of sunshine and should be dry.
Denmark is going to be dry and sunny. Breezy for the south of Sweden but dry, More sunshine to come in the Baltic States. Finland will be cooler with some showers here. Cooler too in central and northern Sweden. Some rain will be affecting the western coasts of Norway.
Photo: Stirimeteo
On April 1
According to Weather Online, rain and showers across Portugal and western Spain on Thursday. Eastern areas should be dry and bright. Plenty of sunshine in the Balearics, Corsica and Sardinia with scattered showers in central Italy. Greece will have a few showers whilst some heavier, more persistent ones affect Turkey. A risk lof thunderstorms here.
Fair in France with plenty of sunshine. Some showers for the Low Countries and central Germany as well as Poland. Hungary will be unsettled as well be Austria and Switzerland with broken cloud and some outbreaks of rain.
Coud and showers in Denmark. More cloud and periods of rain across the Baltic States. Cool and dry with sunshine for Finland. Sweden will be dry and bright, lots of sunshine here. Fine for the south of Norway but some rain and sleet in the north.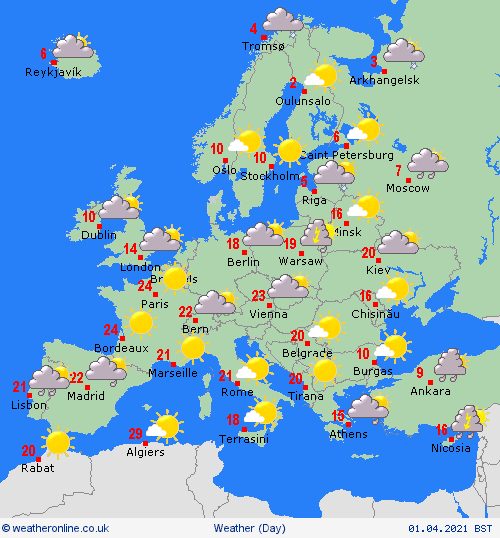 Photo: Weather Online