UK and Europe weather forecast latest, October 5: Record breaking rainfall and thunderstorms savage Britain
Thunderstorms is forecasted to savage Britain as heavy rain shows dangerous road conditions. Meanwhile, it will continue to be unsettled across northwest Europe with spells of heavy rain and brisk winds.
| | |
| --- | --- |
| | UK and Europe weather forecast latest, October 4: Storm Alex to smash Europe with heavy rain and potential flooding |
| | UK and Europe weather forecast latest, October 3: Ferocious Storm Alex to cause flood warnings and drench Britain |
| | UK and Europe weather forecast latest, October 2: Storm Alex brings severe flood in the UK |
UK's weather forecast
BBC weather forecast revealed that a month's worth of rain has already drenched the UK since Thursday as next week's forecast show dangerous road conditions and severe flooding alerts.
The UK has suffered "non-stop rain" since Saturday, as Storm Alex takes its toll on the country. The latest BBC weather forecast showed a surge in flood warnings and "struggling" temperatures will dominate the next week. BBC meteorologist Chris Fawkes told BBC Breakfast pointed out that parts of the UK have already reached their average rainfall amount for the entire month of October - in just three days.
Mr Fawkes explained: "It has been raining all night. Wiggonholt in West Sussex has nearly had a month's worth of rain in the last three days. It has been very very wet."
He showed a rainfall chart that showed that Liscombe in Somerset, with an average October rainfall of 162mm, had already seen 100mm. Winchcombe in the Cotswolds had already experienced 86mm of rainfall - more than the average 81mm seen throughout in October.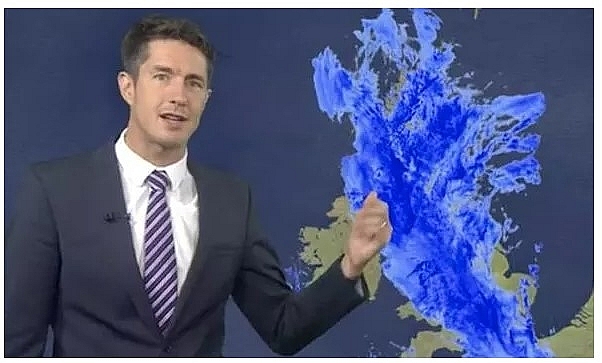 The latest BBC weather forecast showed a surge in flood warnings (Image: BBC)
Mr Fawkes added: "The area of low pressure that has brought us rain is the load that brought severe flooding in Italy this week, and the south-east of France."
In the last few days, at least two people have died and at least 25 people are missing after Storm Alex hit southern France and north-western Italy, Express reported.
The mayor of Nice described it as the worst flooding in living memory while in northern Italy, roads and bridges were swept away by floodwater.
The BBC meteorologist continued: "For many of you, it has been raining solidly since Saturday and overnight - and there is a lot of more to come on the charts."
"There is still an Amber warning in place in Wales - with heavy rain and flooding likely. Because of the rainfall accumulation, we have started to see some flood warnings. There are some 30 warnings in place in Scotland and another 10 in England."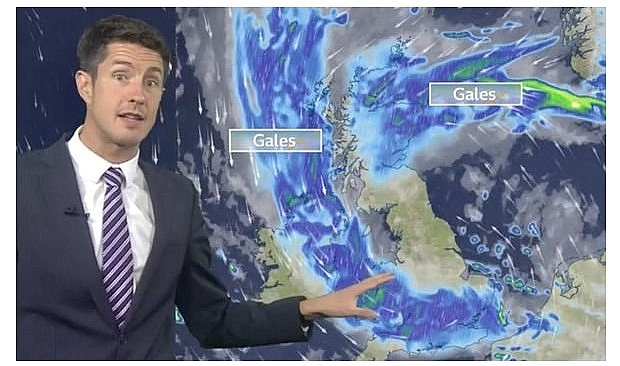 The UK has suffered 'non-stop rain' since Saturday, as Storm Alex takes its toll (Image: BBC)
"And with more rain to come, we could see those flood warnings increase in numbers through the day. This same area of low pressure will loiter over the UK until Wednesday and most temperatures will continue to struggle, with highs of 14C on Monday."
RAC Breakdown spokesman Rod Dennis has warned drivers that road conditions will be "miserable if not downright dangerous" on Sunday.
The severe amber warning for the South West, Midlands and Wales says there is a "good chance of some communities being cut off by flooded roads". The Environment Agency has confirmed that widespread and persistent rain is likely to lead to more flooding into Sunday.
Carol Holt, from the Environment Agency, said: "We urge people to stay away from swollen rivers and not to drive though flood water - it is often deeper than it looks and just 30cm of flowing water is enough to float your car."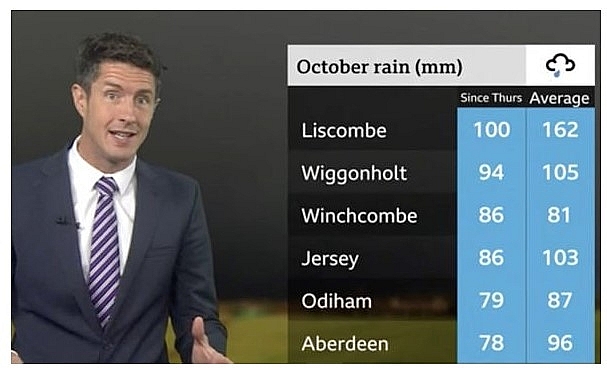 The UK has suffered 'non-stop rain' since Saturday, as Storm Alex takes its toll (Image: BBC)
On October 5
According to Weather Online, low pressure remains over the UK and Ireland on Monday but as a more weakened feature by now. Bands of rain affect eastern Scotland, northern Ireland, Wales and southwestern parts of England. A mix of sunshine and showers elsewhere, some of which could be locally heavy and thundery. Breezy still in the far south and in parts of the west. High temperatures at 11 to 15C.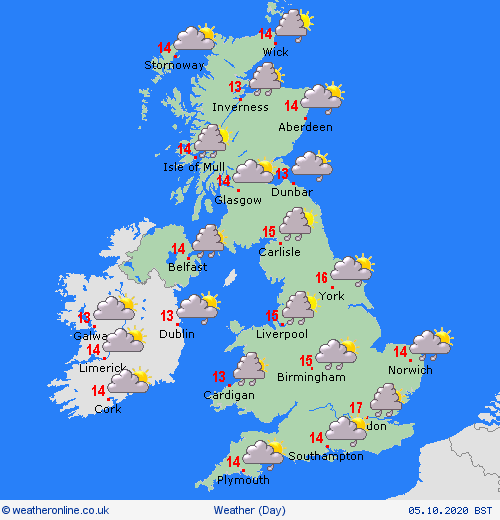 Photo: Weather Online
Europe's weather forecast
According to Weather Online, cloud builds from the northwest across Portugal and Spain on Sunday with patchy outbreaks of rain for northwestern areas. Mostly bright but with scattered showers for the Balearic Islands, Corsica, Sardinia and northern Italy. These showers may become heavier over Italy later. Staying dry and fine for southern Italy, Sicily, Greece and much of Turkey.
Breezy again with outbreaks of rain for France, the Low Countries and Germany. Heavy rainfall over the Swiss and Austrian Alps. Drier and brighter for eastern Austria. A band of heavy rain sweeps through Poland and the Czech Republic and is followed by drier, brighter conditions. Mostly dry and bright too for Slovakia and Hungary though some rain may edge into the far southeast.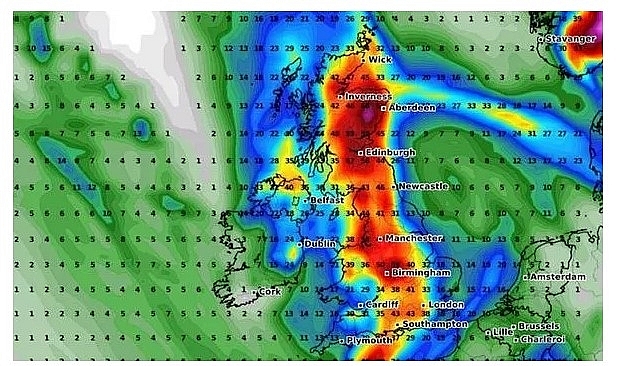 The UK could be hit with thunderstorms on Sunday evening as heavy rain continues (Image: WXCHARTS)
Another breezy day for northern parts of Europe. A band of heavy rain spreads from northern Denmark into southern and central parts of Norway and Sweden on Sunday. Staying drier further north. Outbreaks of rain also affect the Baltic States, though perhaps staying drier for Lithuania. Dry but cloudy for Finland.
On October 5
Still cloud and patchy outbreaks of rain affecting northern and northwest Spain and Portugal but drier and brighter elsewhere. Showers still for the Balearics but an improving scene is expected later in the day from the west. Scattered showers across Italy and the surrounding islands. Largely dry across Greece but cloud will build in the north later. Dry and fine across Turkey.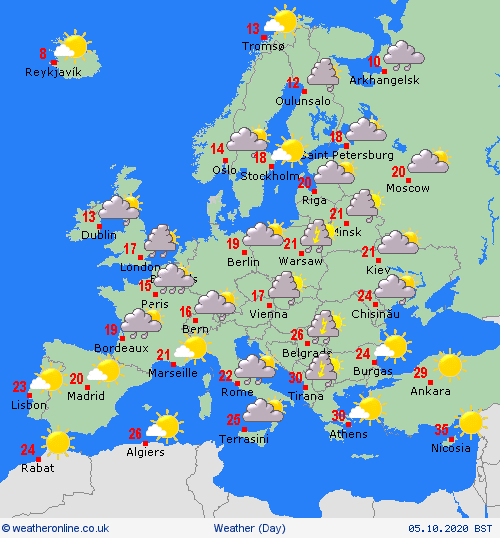 Photo: Weather Online
Another unsettled day across much of France with the heaviest of rain affecting the northern regions. The Low Countries will see rain spread in from the west with strengthening winds here too. This rain will later affect west Germany. Drier further east. Heavy rain will ease over the Alpine countries first thing leaving sunny spells but also showers about. Dry to start for much of eastern Europe, but rain will become more widespread through the afternoon.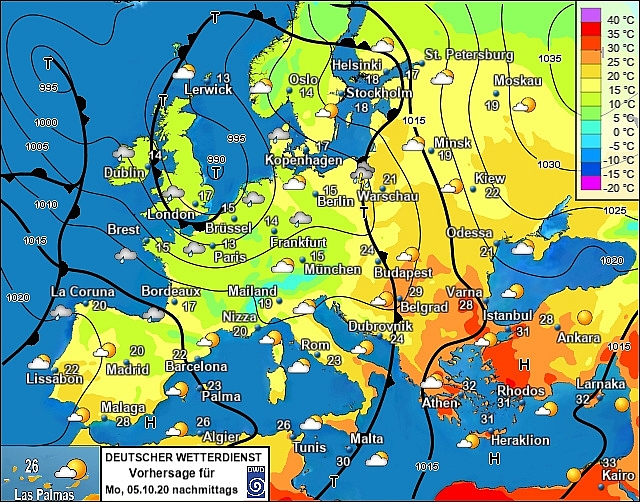 Photo: Stirimeteo
A potentially bright start for Denmark but turning cloudy with some outbreaks of rain later. Breezy too. A band of heavy rain over south Norway, Sweden and Finland will ease while pushing northwards slightly. Dry and fine across the northern half of Scandinavia. Largely dry with sunny spells over the Baltic region but it will turn cloudier later with some showers spreading in from the south.