UK's weather forecast
Britons are bracing for one more day of thundery downpours ahead of a 25C mini-heatwave this week, the BBC has warned.
BBC Weather forecaster Tomasz Schafernaker warned heavy rain showers between Sunday and Monday could be thundery and lightning is also to be expected in northern and western parts of the country.
But as we go through the week, hot weather will make a prompt return thanks to high pressure and warm air coming from the south. The BBC forecaster said: "If you're unlucky today you might run into a downpour, thunder and lightning. We have clouds streaming in through the north-west. It's a fairly thin broken cloud for most of us so the sunny spells are getting through."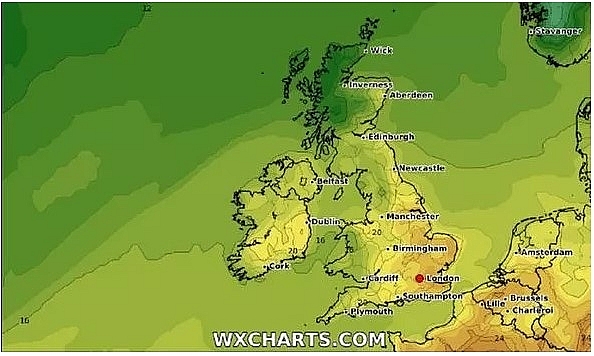 Temperatures are due to rise next week, as seen here for Tuesday (Image: WX Charts)
He added: "Tonight will stay dry in England and Wales but rain is expected in Scotland and Northern Ireland so in Belfast and Glasgow it looks like it's going to be a soggy Monday morning."
"Temperatures overnight will be around that 10C mark."
"On Monday, we have high pressure to the south of the country so keeping things dry for the southern counties. In the north, we have weather fronts also quite close to low pressure, so more of a breeze here and quite windy around the western isles of Scotland and you can see all that cloud and rain moving across Scotland, Northern Ireland, the Lake District, the north-west and northern Wales."
"But the south-east and East Anglia will probably stay quite bright on Monday with temperatures getting up to 21C."
On Tuesday, the picture will start to change as high pressure takes hold of our weather bringing warm air from the south.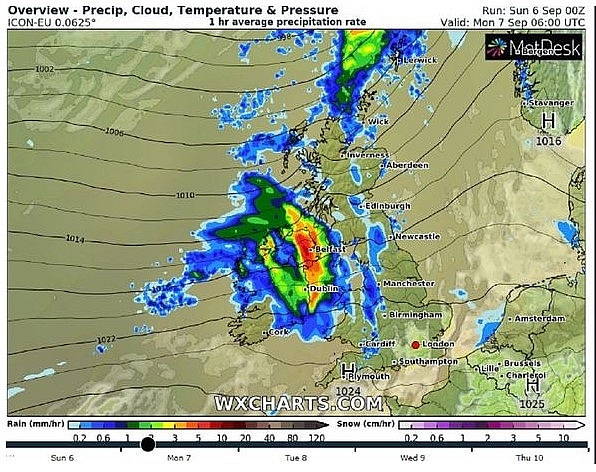 Rain seen coming in on Monday (Image: WX Charts)
Mr Schafernaker warned temperatures will get as high as 25C for some in the south and south-east, making for a welcomed return of summer conditions.
According to the Met Office, next week will see tropical maritime air "drawn across the UK".
A spokesperson said: "It is likely to turn warm in the south-east of England where temperatures will rise into the low 20Cs, perhaps mid-20Cs in one or two spots."
"At present, this is not expected to fit the criteria for a heatwave, however, as this requires temperatures of 27C or higher in the south-east for at least three consecutive days."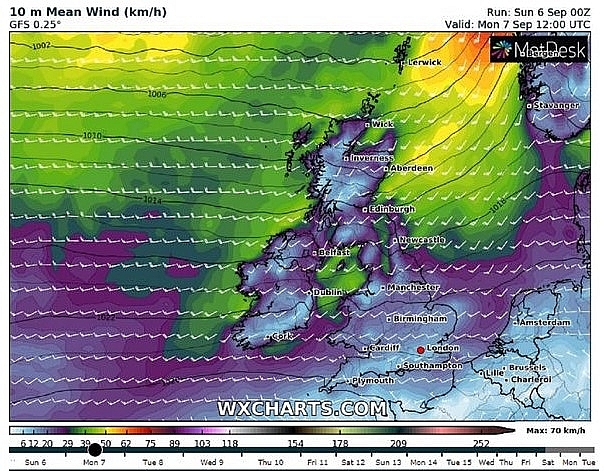 A wind map for Monday afternoon (Image: WX Charts)
Warmer Atlantic air will track across the UK from the west with England and Wales forecast to see the mercury soar as high as 24C next week.
However, the Met Office said: "This warm weather will be associated with cloud and rain for some of us, as the jet stream remains over the UK."
According to Met Office weather maps, sunny skies will be seen widely across the East of England, up into Scotland and across the North West on Wednesday.
Maps from both Netweather and WXCharts show warmer temperature anomalies around Tuesday, September 8 and Wednesday, September 9.
Maps have turned red with the heat anomalies, with up to 24C possible in the south of England.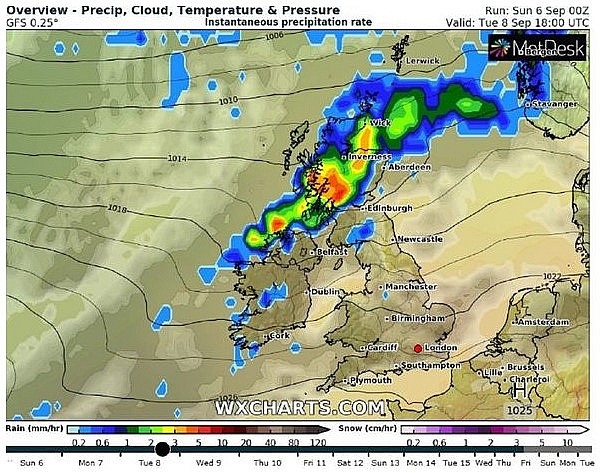 A rain map for Tuesday showing activity over Scotland (Image: WX Charts)
The Met Office long-range forecast for Monday, September 7, through to Wednesday, September 16, predicts cloudy and dry conditions, but with the potential for heavy rain.
Despite this wet start to the period, more settled conditions are forecast from the West, with sunny spells.
While there will be scattered showers and strong winds, temperatures will be near normal "perhaps just above normal for a time when the rain moves in midweek."
If the UK has several days of consistently warm weather above-average temperatures, this would be known as an Indian Summer.
This is a term used to describe a period of unseasonably warm weather, typically in September, October and November.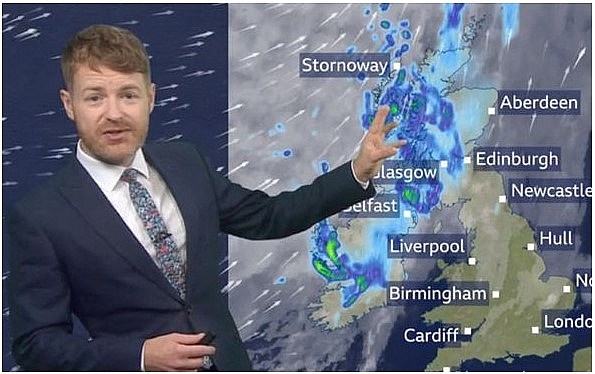 BBC Weather: Heavy downpours are expected for Scotland and Northern Ireland on Monday (Image: BBC)
The Met Office Meteorological Glossary first published in 1916, defines an Indian summer as "a warm, calm spell of weather occurring in autumn, especially in October and November."
Despite a baltic bank holiday last week and meteorological autumn beginning on September 1, the hot weather may not yet be over.
With sun and warmer weather forecast to shine down on the UK over the next couple of weeks, bookmakers have cut odds on heatwave conditions, an Indian Summer and even September being the hottest month of the year.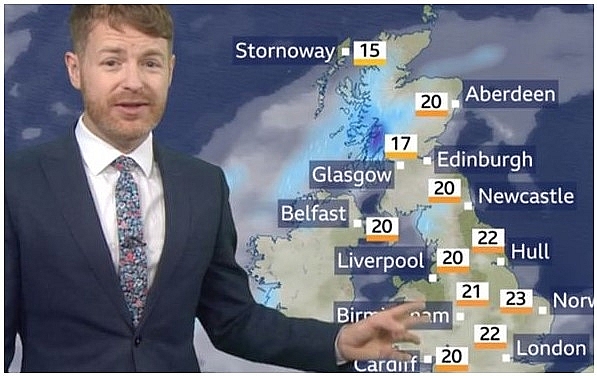 BBC Weather: Temperatures will begin rising on Monday and will peak on Tuesday and Wednesday (Image: BBC)
Europe's weather forecast
According to BBC weather forecast, there will temperatures in the high 20s and low 30s across Cyprus, Turkey and Greece. Meteorologist Alina Jenkins added a weather front of cooler air and outbreaks of rain will flow through Germany, France and northern Italy.
Ms Jenkins said: "We are following a passage of a cold front across central Europe with cooler air across much of France and Germany."
"The weather front itself brings potential of rain and heavy thunderstorms through parts of Switzerland and norther Italy."
"The weather front will continue to slide its way eastwards as we head through Sunday night and into Monday."
"We will also see some heavy rain develop across the Balearics on Monday, that could bring quite a lot of rain in a short amount of time."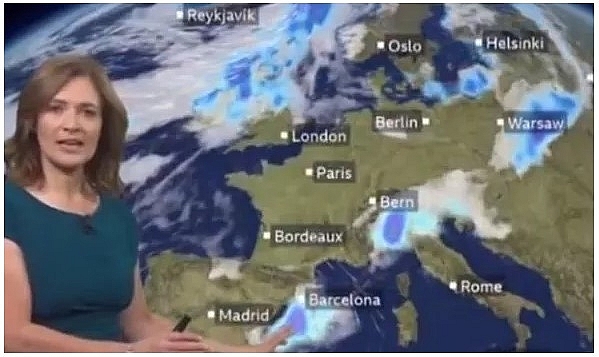 BBC Weather Europe highlighted heavy rain coming towards Scandinavia (Image: BBC)
She continued: "On Monday in Turkey, Cyprus and Greece things are looking dry. There will be lots of sunshine and temperatures in the high 20s or low 30s. There will still be some outbreaks of rain across northern Italy."
"A frontal system will arrive in the north west of the British Isles and push its way across to Scandinavia."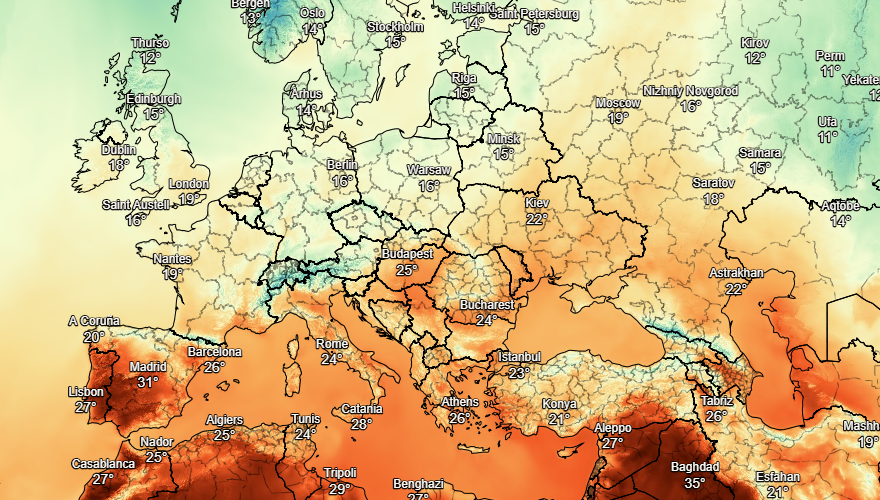 Photo: Stirimeteo
On September 7
According to Weather Online, hot, dry and sunny for Portugal and western Spain. Warm for eastern Spain with isolated showers to the north. Heavy, thundery downpours are expected for the Balearic Islands, Corsica and Sardinia. Showers also affect Italy and Siciliy but they are more scattered here and there is plenty of sunshine around. Continuing dry, hot and sunny for Greece and Turkey.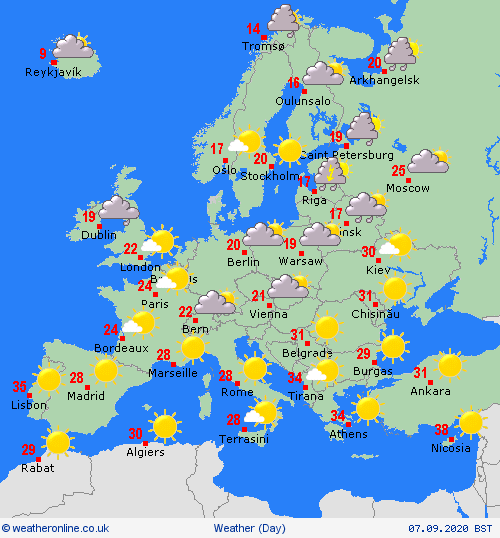 Photo: Weather Online
High pressure builds from the west across France, the Low Countries and Germany bringing a dry and fine day here. Early showers over Switzerland, Austria, the Czech Republic, Hungary, Slovakia and Poland are pushed east as high pressure ridges in here bringing a dry and fine end to the day.
Dry and fine for much of the day for Denmark and Sweden though patchy rain arrives here from the west later. Showers affect Finland and the Baltic States for much of the day but fade into the evening. A rather wet day for much of Norway as fronts bring rain across the country. Wettest to the west.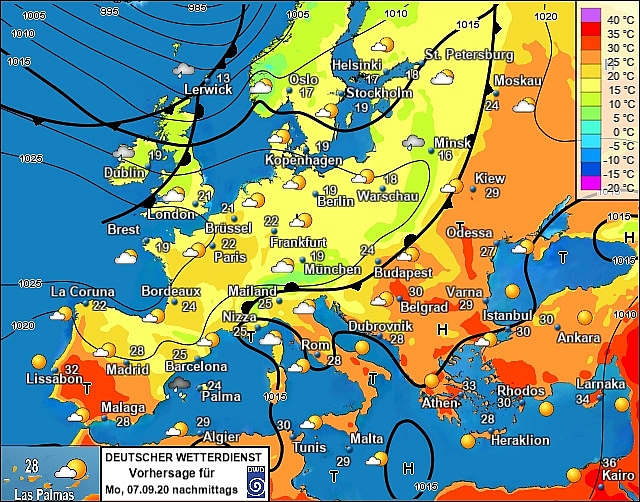 Photo: Stirimeteo
Ruby Lee