UK and Europe weather forecast latest, September 5: Warning for extreme heatwave to cover across Europe
Fog clouds will cover Britain with severe gale force winds, meanwhile, Europe is forecasted to brace for heatwave over coming days.
UK's weather forecast
According to Express, the UK can expect a bright start to the day before rain and wind sweeps in as a thick cloud of fog creeps over Britain. Temperatures will remain in the mid-teens bringing a chilly start to Autumn.
Netweather forecaster, Terry Scholey, said: "Cloud in the South could spread as far north as Monmouth, the South Midlands and parts of East Anglia on Friday giving patchy rain.
"A few heavier bursts are possible before the weather begins to clear from the West through the afternoon."
"Scotland and Northern Ireland see further showers some heavy in the North and West, while remaining parts of the country apart from the odd shower in the West, see sunny spells."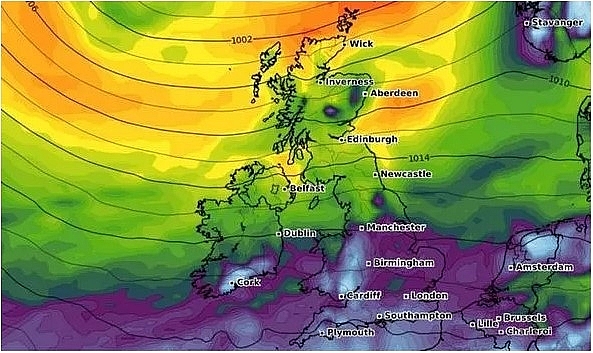 Britain will be tormented by severe gale force winds on Friday (Image: WXCHARTS )
"A chilly west wind remains blustery in the North so it won't be particularly warm, with top temperatures only 13 to 15C in the North and 17 to 19C in the South."
Southern areas in Britain will be hit by light winds leading to mist and fog.
The northern parts of the UK will experience strong winds, especially in coastal areas where gale force winds are expected. Met Office Meteorologist, Aidan McGivern, said: "Light winds in the south will lead to some mist and fog patches."
"But further patches of rain or showers into western parts of England and Wales and more, especially northern and western Scotland and Northern Ireland where it will be breezy."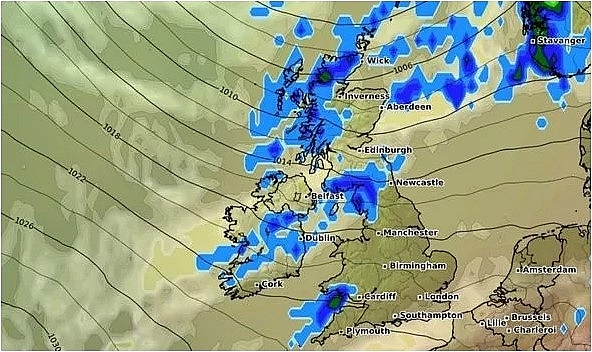 The UK can expect a bright start before rain and wind sweeps in with a thick cloud of fog (Image: WXCHARTS )
"Actually fairly windy in the north and the west exposed to coasts of northwest Scotland seeing gale force winds at times."
Friday will start with bright and sunny weather which will quickly change dramatically.
Mr McGivern said: "But after a bight start it then turns cloudy. Layers of high and medium clouds sweep across the southern third of the UK. By the end of the afternoon just the first signs of some rainfall appearing into the southwest as well as south Wales."
As Friday draws to an end, blustery rain will continue over Scotland.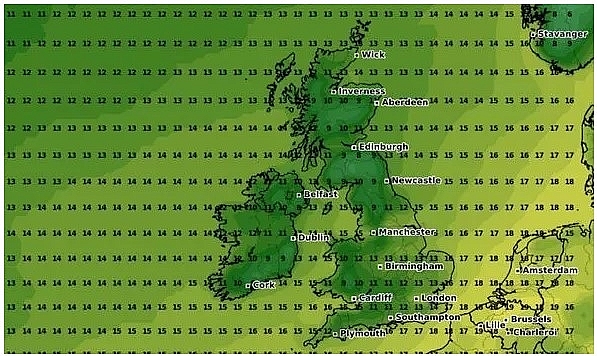 UK weather forecast: Temperatures will remain in the mid-teens bringing a chilly start to Autumn (Image: WXCHARTS )
Mr Scholey said: "Blustery showers continue into the evening over Scotland, before becoming largely confined to the North and West after dark, when winds may decrease a little."
"Northern Ireland and the far North of England may also see a few evening showers, but these should fade to leave a dry night over much of England and Wales."
Winds will be blustery over the North of Britain and will give gale force winds in some areas.
Gusts were expected to reach 45 to 50mph across the Northern Isles, Highland and over exposed western coasts and hills on Thursday, according to Mr Scholey. A chilly breeze will drop temperatures to 7C overnight.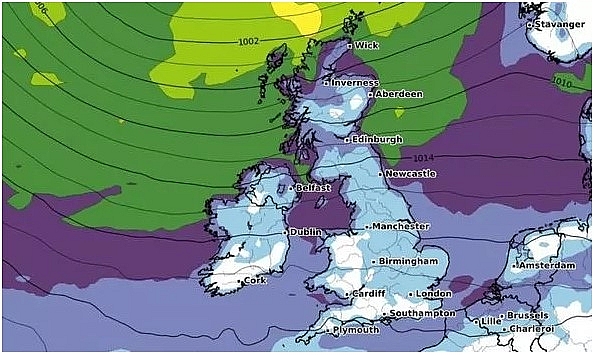 UK weather forecast: Southern areas in Britain will be hit by light winds leading to mist and fog (Image: WXCHARTS )
Mr Scholey said: "There'll be clear spells, and with lighter westerly breezes. Here it could turn slightly chilly in some sheltered rural areas by dawn, when temperatures should be in the range 7 to 12C."
"By the start of Saturday there will be a return to clear weather at the beginning of the day before rain sweeps in again."
"Scotland, Northern Ireland and most of northern England will be covered by cloud and rain as the weekend begins."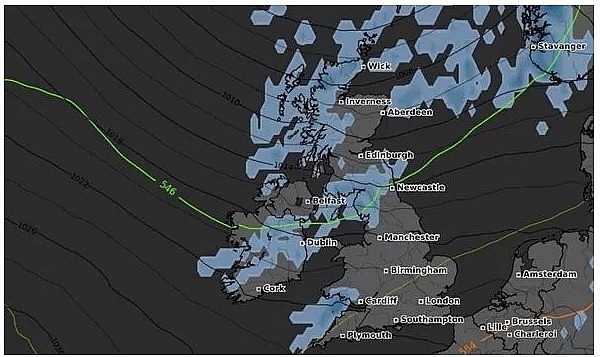 UK weather forecast: As Friday draws to an end, blustery rain will continue over Scotland (Image: WXCHARTS )
Europe's weather forecast
BBC WEATHER has forecast extreme heat in eastern Europe over the coming days as Cyprus is set to reach 44C.
BBC Weather meteorologist Louise Lear stated there will be settled conditions and sunshine across most of Europe, with extreme heat in eastern areas. She added temperatures are way above average for this time of year in Cyprus, Greece and Russia.
Ms Lear said: "I relatively quiet weather theme across most of Europe at the moment but some extreme heat in eastern Europe."
"There is one weather front moving its way towards Russia and another pushing into Scandinavia. Elsewhere there is a good deal of dry settled weather on offer."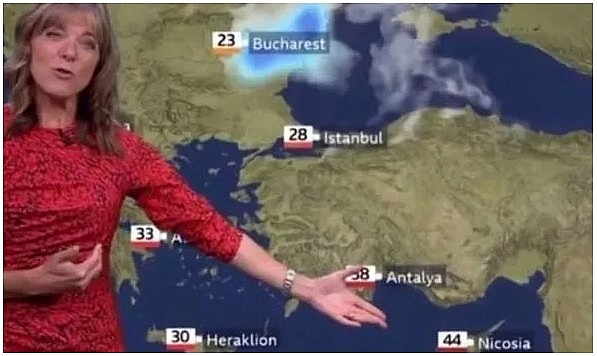 Louise Lear is a BBC Weather meteorologist (Image: BBC)
She continued: "The extreme heat is across eastern Europe. In the south Mediterranean we are looking at 44 degrees in Cyprus, that is way above the average for this time of year."
"That heat extends across Greece and into much of eastern Europe. Moscow is 23 degrees but further west of that there is a fair amount of cloud across Germany and Poland. There will be an outbreak of rain effecting Norway."
The weather in Britain at the start of next week will be dry before becoming increasingly wet and windy towards the weekend.
Although temperatures will remain mixed, forecasters are predicting warmer conditions in the south.
BBC Weather Europe highlighted extreme heat in eastern Europe (Image: BBC)
Commenting on the forecast between September 7-13, the BBC said: "After a potentially dry and settled start to the week, low pressure will become the dominating feature of our weather from midweek onwards."
"The second half of the week will often be wet and windy, and with temperatures likely to close to or below where they should be for this time of year."
"In fact, there is the potential for a deep area of low pressure to move right across the UK, bringing strong winds and heavy rain."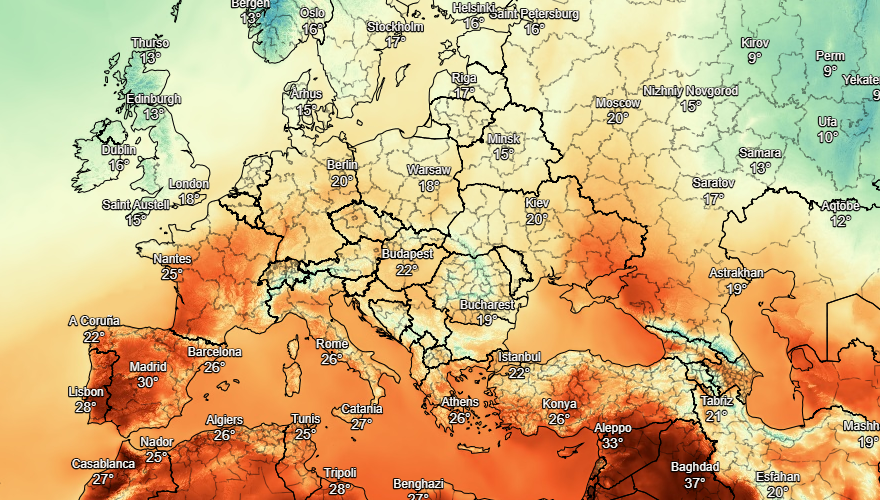 Photo: Stirimeteo
"If this were to pan out, further damage and disruption could be expected, following on from recent storms, Storm Ellen and Storm Francis."
"That being said, there is a slight chance that low pressure remains away to the west of the British Isles and over the Atlantic."
"In this scenario, it would be a much drier and calmer week, and also much warmer, with a plume of warm air pushing up from the south."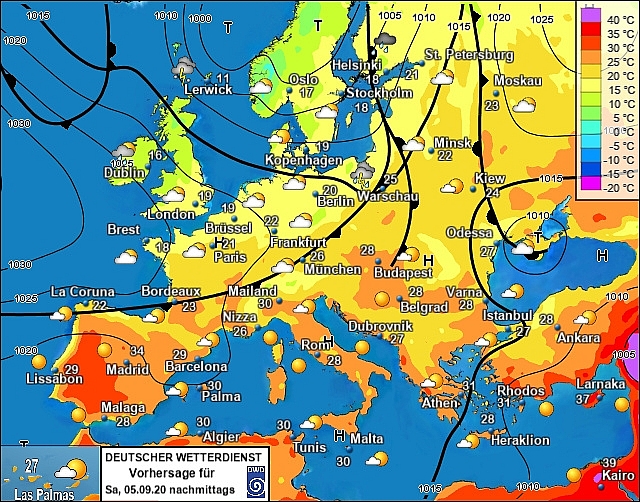 Photo: Stirimeteo
On September 5
Largely dry and fine again throughout the Mediterranean although northern Spain could see cloudier skies and possible showers as well as for Malta and Siciliy later on.
Starting cloudy and wet in northeast France, the Low Countries and northern Germany but drier with sunshine across the rest of France and south Germany. Rain should soon clear these parts with sunny spells and showers thereafter. Poland will see rain spread from the northwest to the southeast through the day. Some rain pushing in to the Alpine countries later on but staying dry and fine over Croatia.
Staying unsettled across Scandinavia; Demark will see blustery showers and these merging into longer spells of rain at times. Norway will see heavy showers or longer spells of rain affect mainly the north and west with the east allowing some sunny spells. Sweden will see showers becoming widespread through the day. Rain will push into much of Finland. Rain through the Baltic States to start but this should clear with sunny spells and a few showers developing behind on the brisk wind.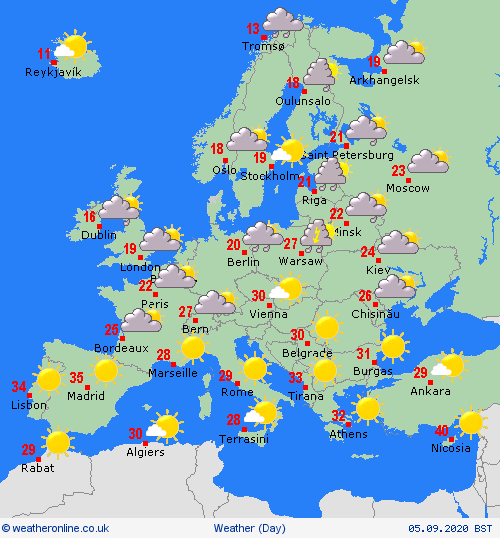 Photo: Weather Online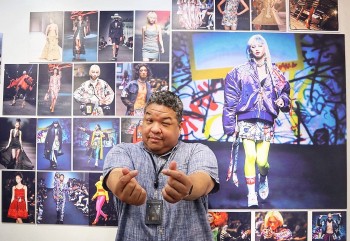 Viet's Home
Experience the striking colors and styles of Korea's fashion, captured by American photographer Dr. Michael Hurt.